How sculptures enhance a sense of community at Tower Oaks
At EYA, it is often said that we don't just build homes, we build neighborhoods. Every neighborhood is built with a holistic approach to not only create housing opportunities, but also with an eye towards enduring design, place making and connecting residents with each other and their community. This may be done in various ways, such as creating parks and playgrounds where neighbors can meet and become friends, or through unique art installations that give the neighborhood a sense of place and makes it feel like home.
A recent example is EYA's Tower Oaks community in Rockville, MD, featuring a curated array of outdoor sculptures that not only blend in with the architecture of the homes, but also add a sense of playfulness and identity to the community.
---
New Townhomes in Rockville, MD
Tour Tower Oaks
---
In total, 13 large-scale installations by artist Dale Rogers dot the community landscape of 217 townhomes, 128 condos and 30 single family homes. Created with a combination of weathered Core-Ten, stainless and painted steel, the sculptures evoke modernity and playful sophistication that blend with the community's architecture, EYA LLC Vice President of Development Jason Sereno says. "It plays into the nature theme and the contemporary theme the same way our homes do," he notes, explaining that the townhomes combine modern, metal accents with organic materials such as wood, brick and stone. EYA Co-Founder Bob Youngentob added: "The architecture was really designed to be a natural palette of materials, a contemporary interpretation of row homes. The art reflects the materials of the architecture – the juxtaposition of the Core-Ten steel with the more refined stainless steel."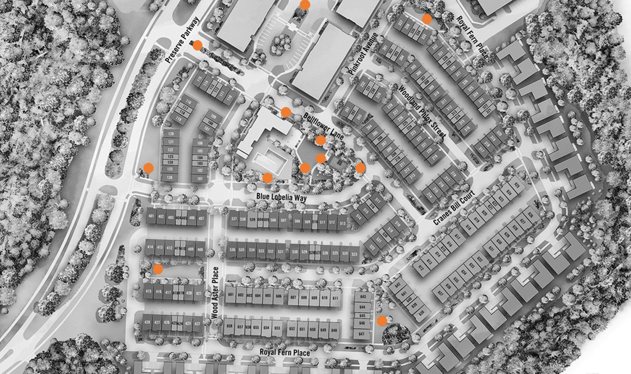 A map of the art locations
Community Expression
The sculptures are located at various places throughout the community. Visitors are greeted with an artistic homage to Tower Oaks at its main entrance: A custom oak "'T'REE" with geometric forms representing trunks and branches that together form the letter T.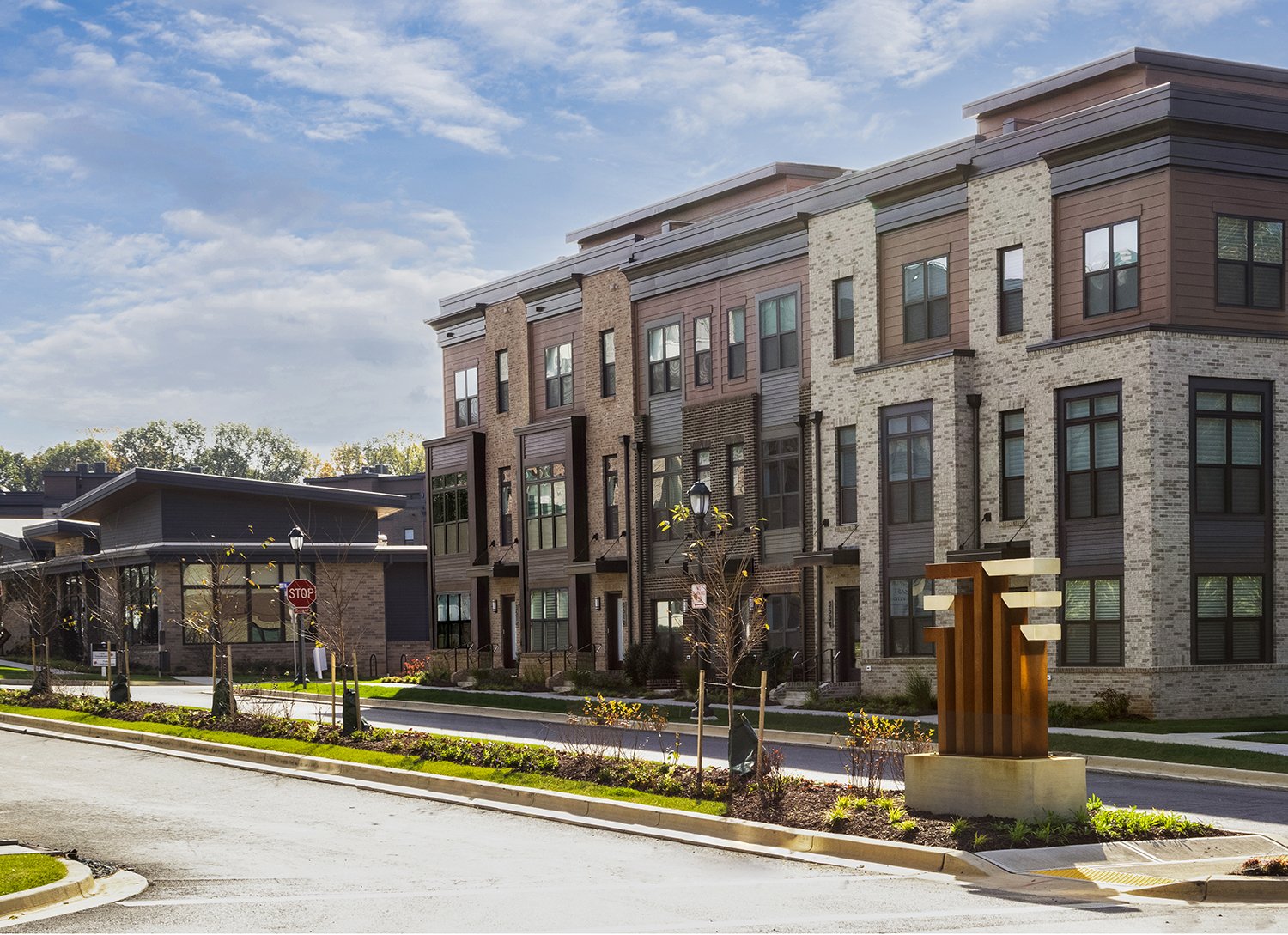 Another custom sculpture greets residents at The Core: an angular heart with links that seem to float within.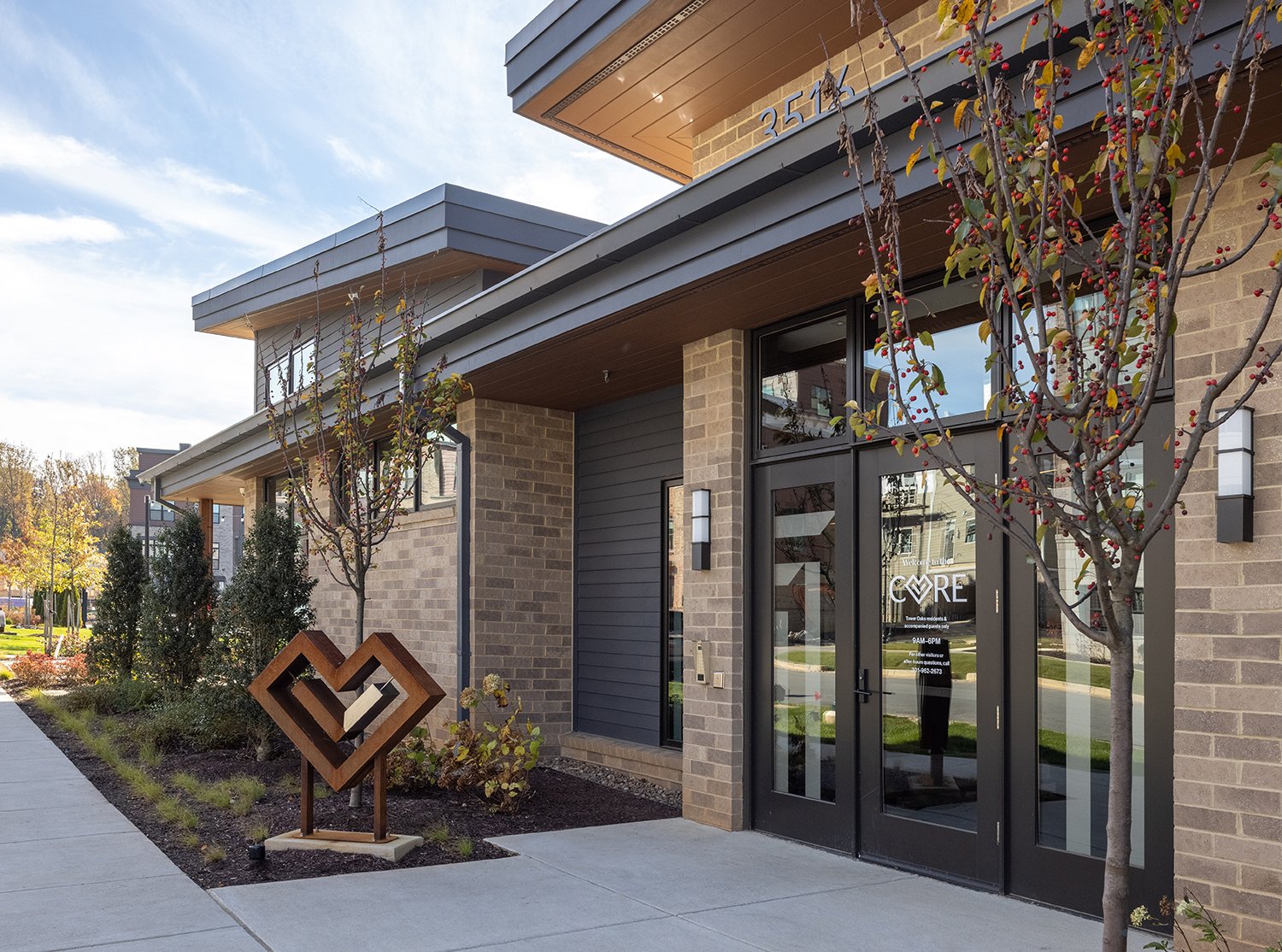 A "family" playfully swings two children in the air adjacent to the neighborhood's sport court and lawn that spreads out from The Core, a central community amenity featuring fitness center, cafe and outdoor pool for residents.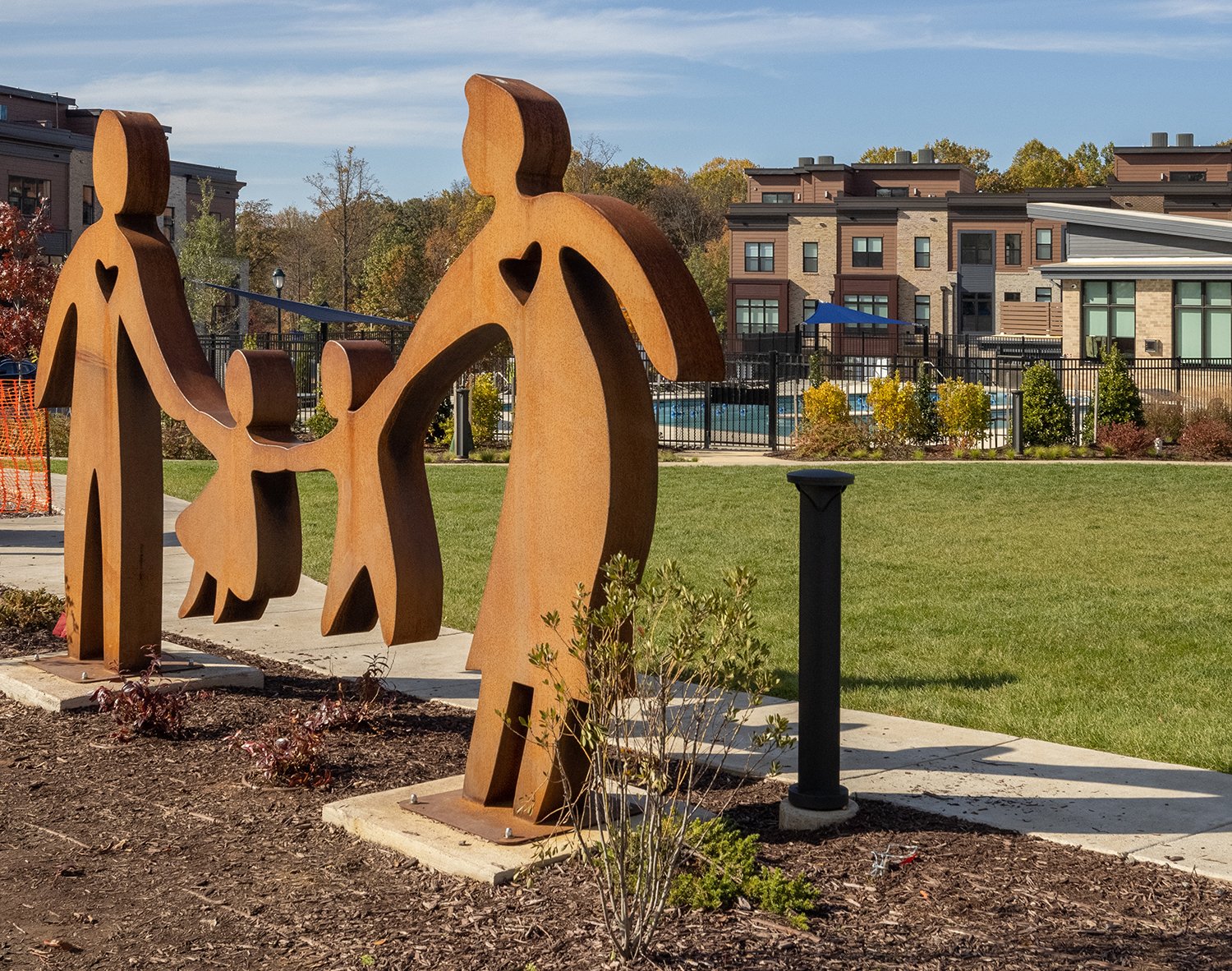 Other works include an all-stainless sculpture called "Joy," forming the focal point of a courtyard between the two condo buildings, and a whimsical owl with yellow orbs for eyes and glossy black crows atop a Cor-ten tree, anchoring small pocket parks amidst the townhomes.
"The scale and design changes as you move from the townhomes to the bigger multifamily buildings," Sereno explains. Youngentob adds, "It tells a story and adds a dimension that gives these spaces character and identity."
An Arftul Mandate
For the City of Rockville, publicly accessible art is a priority – and a requirement. The city council passed an ordinance in 2004 saying commercial and residential developers have to allocate a portion of their construction costs to art installations that are easily accessible to the public. Developers also have the option of donating a fee, either to a city fund for artistic endeavors or to an arts non-profit of their choice. "It's been a very successful program – there are millions of dollars of artwork that has been installed around the city," says Christine Henry, Rockville's deputy director of recreation and parks who administers the program. The city leaves it up to developers to decide what kind of art is installed. "It's really exciting to go around the city and see some of the creative expression. Some of it's whimsical and spontaneous and kind of surprises you," she says.
Eschewing the fee, EYA embraced the spirit of the initiative and commissioned Rogers, a Massachusetts-based artist to create sculptures that define the personality they envisioned for this new neighborhood at Rockville's southern edge. "As a developer, you're looking to create a sense of community," Youngentob says. "It was a substantial amount" of investment, Sereno adds. "It allowed us to do something really special."
The Artistic Process
The developers discovered Rogers through local art consultant Jack Devine, principal of Artists Circle Fine Art, who works with corporate clients to identify artists and artwork for their offices, buildings and developments. Devine took cues from Tower Oaks' diversity of housing, from condos to townhomes to larger single family homes. Also important was the landscape architect's focus on native species to fill the grounds while preserving its wooded border. "Because of the mix of demographics there, we wanted something that could appeal to a lot of people, and thematically riff off the natural environment," Devine says. "Mixing abstract designs with animals, we're using the art on some level to create connectivity in the diverse experience you have walking around the community – that's what led us down the road to finding Dale."
"Jack was really the catalyst that helped put it all together," affirms Rogers, who started working with EYA in 2019 as the architectural and site plans were coming together. The process was meticulous, he explains, as EYA's executives were closely involved at every step. "We went through multiple rounds of planning to make sure we got things right," Rogers says, noting that he designed the custom pieces in a 3D modeling program, sharing his screen during Zoom calls with the development team. "It got down to the placement of bolt holes" that secure the sculptures to their bases, Rogers adds. "I don't usually work with a team that pays so much attention to detail. It was a great experience."
The artist describes why he thinks his work is a good complement to the community's overall design. "The way my mind processes things – it loves shapes, it loves lines," Rogers says. He points to "Bubble Birds" as an example – a sculpture that stands watch over a stretch of green space between two rows of townhomes at the front of the development. Three sets of circles are stacked on a conical base, each fastened with an outstretched perch for a bird to rest upon. "It's abstract, but the birds add warmth – an organic feel," he says.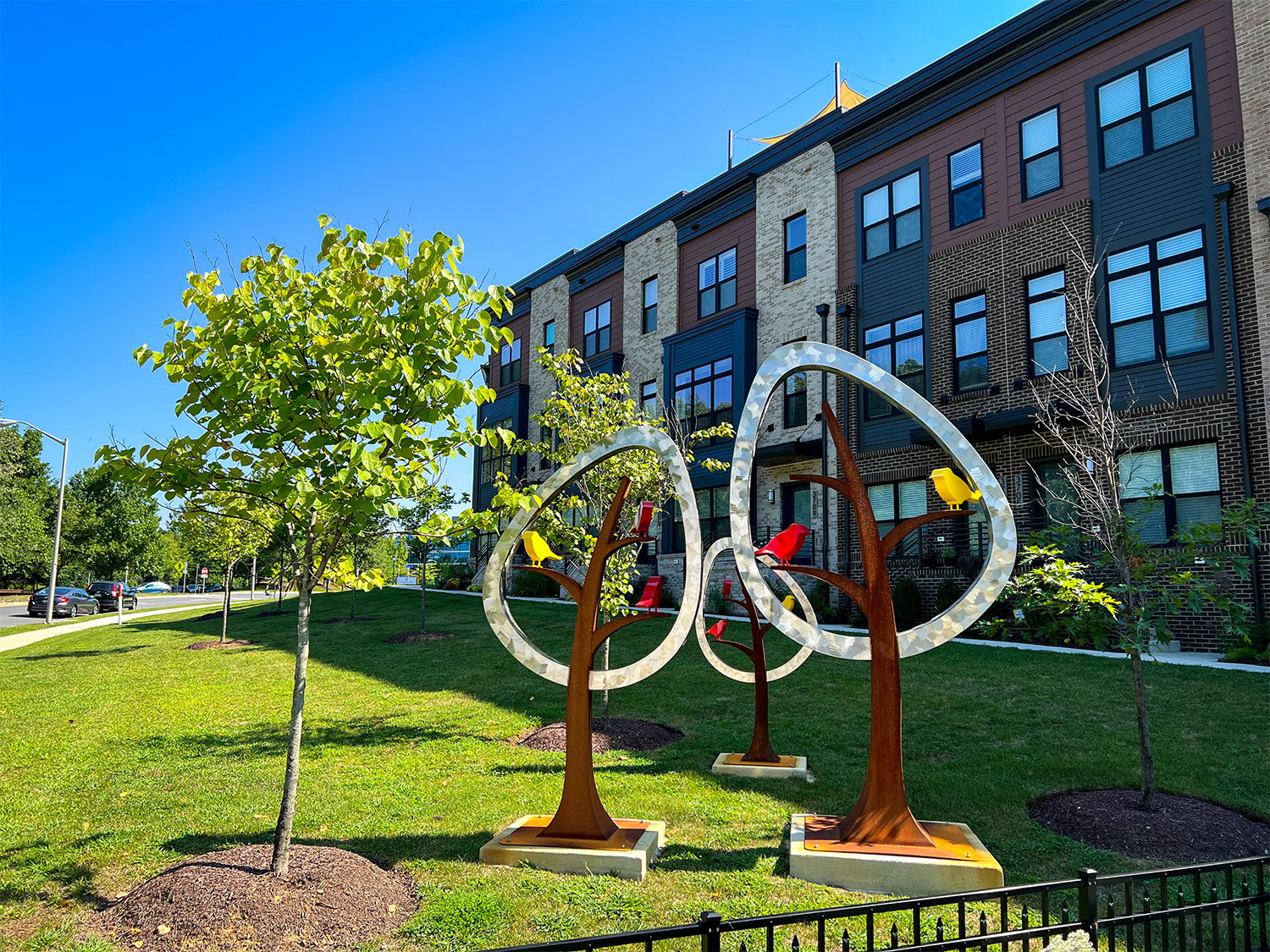 A New Neighborhood
When Rockville's Christine Henry visited Tower Oaks to inspect the installations, she said, "Bob and Jason are really taking pride in what they're creating. It's really just the start of what that area of Rockville is going to become." The Tower Oaks property nestles into a stretch of wooded land that abuts the golf course at Woodmont Country Club. Residents need only bike a couple blocks to reach the Carl Henn Millennium Trail, which forms a 10-mile ring around the city. "We call it the Bicycle Beltway," Henry says – a pedestrian and bicycle network developed under the city's Vision Zero master plan. In that respect, Rogers' sculptures speak to the city's commitment to retain and celebrate green space and recreation amidst its booming development. Although Tower Oaks feels like a secluded enclave, it's really just minutes from Rockville's Town Square and the retail and restaurant scene along Rockville Pike. "A few developers install more artwork than the requirement," Henry says. "EYA is one of those – they recognize the value and they want to create a vibe, a destination, and a sense of place."
"The Complete Package"
By relying on a single artist to provide all the art, EYA sought to reinforce the sense of destination, a place that incorporates nature within the contemporary context of our lives. "The story really holds together as a complete package," Sereno says.
As for Rogers, "It made me feel part of something that wasn't just a single piece of art," he says. And though his work graces public squares, schools, offices, and parks in 27 states across the country, he adds, "This is by far the largest single collection I've done to date. It's a huge honor to have my body of work represented like this."
The sculptures add a whimsical and playful element to the community while seamlessly blending in with the overall design aesthetic, and will enhance the community identity for many years to come.
Click here to learn more about the Tower Oaks community.