By: admin on June 8th, 2010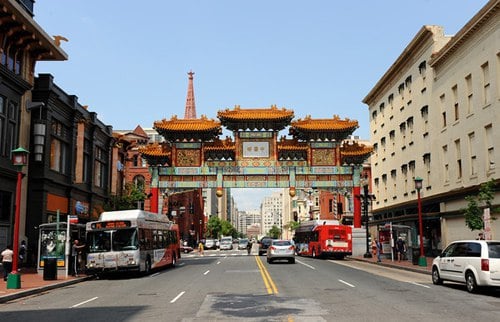 A short walk to Metro from Chancellor's Row and you have easy access to the entire city. Five stops from the red line Brookland-CUA Metro stop is Gallery Place/Chinatown and that's where I visited today. As I exited the subway, the Chinatown arch rose before me. It is ornate and yet huge in size, brilliant in color and reminiscent of the rich cultural heritage that it represents. To either side of the arch is an array of restaurants, some chinese, some not. I am tempted to step in and grab a bite but I keep walking. With the Verizon center down the block, a variety of stores, bars and restaurants are positioned to serve the thousands who come to witness the both sports and entertainment. The hardest lunchtime decision is deciding what to actually eat, a decision I will save for later.
Located at 8th and F St. is what I think to be one of the jewels of the this area, the Smithsonian Institution American Art Museum and National Portrait Gallery. It really is two museums in one. A full city block with three floors of amazing examples of American artistry, the National Portrait Gallery and American Art Museum is a great way to see an amazing range of portraits and paintings created centuries ago as well as in the last several decades. Civil War portraits live in one area, while American folk art lives in another. A painting of LL Cool J portrait hangs in a hallway and is just amazing. Monster size paintings of the midwest occupy a room that makes you almost feel you are looking into the valley of the painting.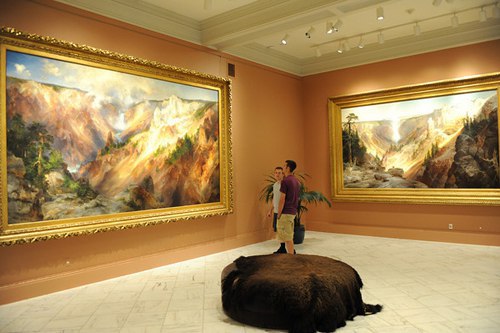 Featured through August 29, 2010 is the One Life: Echos of Elvis exhibition. Featuring art that displays some form of Elvis Presley, the room had both some familiar and not so familiar views of him. I recognized the Howard Finster cut out, Elvis at Three hanging and enjoyed a second Finster piece, Elvis in army uniform. Some not so recognizable works include Ralph Wolfe Cowan's portrait aptly named Elvis Presley and Robert Arneson's glazed ceramic Elvis.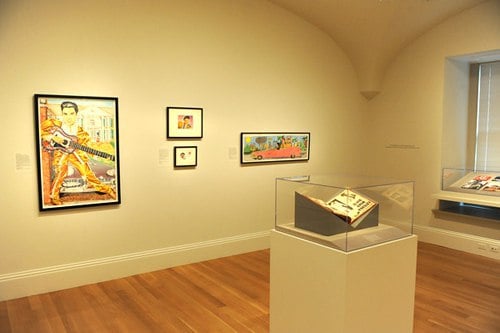 After you navigate the first floor you can step into the center courtyard. This is the Robert and Arlene Kogod Courtyard. A closed area that offers a rest to eat lunch from their cafe or just an amazing view through the windowed roof. It was pleasantly air-conditioned this day with the temperature outside hovering around 90 degrees. The design of the roof structure made it an artistic rendering unto itself. If you choose to sit in the courtyard and eat, then it also serves as a nice break between floors.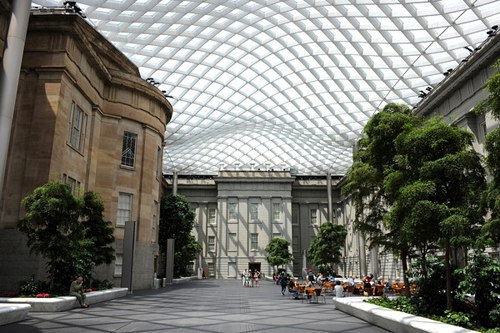 You can easily spend several hours walking through the museum that includes Smithsonian American Art Museum exhibits of Folk Art, American Experience, and The Art of William Christenberry. I suggest you take a look at the gallery floor plan in advance and bring your most comfortable walking shoes.