Have you ever wanted to see your favorite inspirational interior design photos come to life? Now's your chance! We're hosting our first ever Interior Design Throwdown, where the winning design will be featured this spring in a model home at Tower Oaks, our newest Rockville, MD community.
In this article we'll be highlighting one of the contenders: Contemporary Cool.
---
Two Designs. Only One Can Win...
It's up to you to decide.
---
If you love a contemporary, modern interior design style that mixes a sleek aesthetic with unique and eye catching elements, the Contemporary Cool look might be for you. This trend plays with space, shape, and color to create a layered look that exudes a balance of sophistication and comfort. With a neutral color palette to really let the textures and metallic accents shine, this look has something extra special about it – a coolness factor.
To learn more about the inspiration behind the design trend and tips for how to get this style in your own home, we spoke with Missy Sinsel, Furniture, Fixtures & Equipment Design Director at Carlyn & Company Interiors + Design.
---
What's your interior design style?
Take our interior design style quiz to find out!


---
How would you describe the design style Contemporary Cool?
Contemporary Cool is the balance of a subtle, sophisticated space with clean lines, textures, and pops of interest to add a coolness factor.
Begin with the space – start with the shell, which would be the walls, ceilings, and floors. From there, use subtle wallpaper or wood to contrast with the paint. Layer soft textured rugs on the floor and add in lighting with dark or metallic finishes for a cool element to the space.
What are some design elements that set Contemporary Cool apart from other similar modern design styles?
Design elements for a Contemporary Cool setting would include a neutral color palette, textural details, and clean lined furniture pieces with a mix of metal. Other modern design styles could be mid-century modern, for example, which is streamlined and sleeker, with more wood and leather elements mixed in.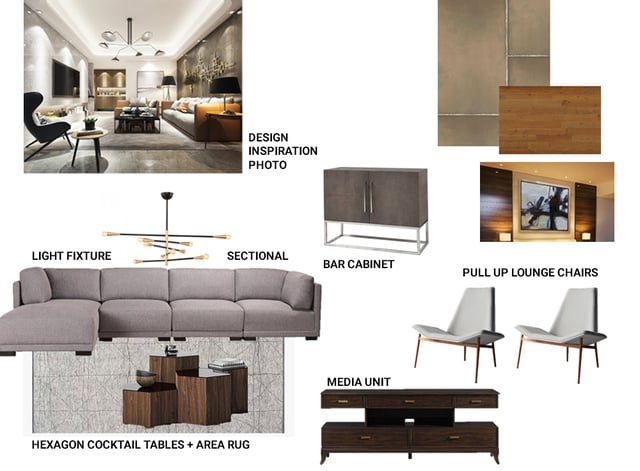 *Interior design mood board for Contemporary Cool via Carlyn & Company Interiors + Design
What would be your top tips on how to get the Contemporary Cool style in your home?
First, edit, edit, and edit again! Start with a clean palette and then sparingly add back elements into the space. Look at your walls, flooring and ceiling to decide what's next. Add an area rug for softness and texture underfoot. Add a light fixture for a sculptural element. Find interesting pieces (like the hexagonal pull-up tables in our mood board!) to add function as well as interest.
Does the color palette need to be neutrals to achieve the Contemporary Cool style?
One could add color, but if you do, make sure to use it more sparingly. Artwork is a great place to bring in some color. Keeping a mostly neutral palette is a great way to achieve the subtle sophistication and calmness of the Contemporary Cool look.
Any last tips on how to get the Contemporary Cool style in your own home?
Layering area rugs is a great way to bring in a subtle pattern to the space! Tone on tone is best so it isn't overwhelming.
Focus on clean lines, metallic accents, and finding special pieces, whether that's shape, pattern, or shine. While pieces in your room will need to be functional, they can also be fun – and cool.
---
Have you voted for your favorite design in our Interior Design Throwdown? Click here to view the competitors and cast your vote!