If you've ever scrolled through Pinterest and wished you could see one of your favorite interior design photos come to life, now's your chance! We're hosting our first ever Interior Design Throwdown, where the winning design will be featured this spring in one of the model homes at Tower Oaks, our newest Rockville, MD community.
In this article we'll be highlighting one of the contenders: Monochromatic Mod.
---
Two Designs. Only One Can Win...
It's up to you to decide.
---
If you love dramatic statement pieces when it comes to interior design, the Monochromatic Mod look might be for you. This bold look is set apart from other modern styles in that it draws its inspiration from one single color, whereas many modern and contemporary designs work within a neutral palette. While the focal color can vary in shade, the Monochromatic Mod style layers color upon color, breaking it up with unique and eye-catching accent pieces to create a rich and vivid look.
We spoke with Missy Sinsel, interior designer and Furniture, Fixtures & Equipment Design Director at Carlyn & Company Interiors + Design, for tips on how to get this bold, fun look in your own home.
---
What's your interior design style?
Take our interior design style quiz to find out!


---
How would you describe the design style Monochromatic Mod?
Monochromatic Mod is the use of one focal color for a bold, modern look that is dramatic. In our mood board, the sofa and the lounge chairs are both in an emerald green fabric paired with a wall color in a similar shade. Layer in eye-catching gold accents as we've done with the cocktail tables and light fixture to create a bit of glamour.
What are some design elements that set Monochromatic Mod apart from other similar modern design styles?
Monochromatic Mod starts with a single color. Choose a color that you love and do the entire room. Monochromatic Mod is set apart from other modern styles using a single color, which can be in varying shades of that same color, whereas other modern styles have a more neutral color palette.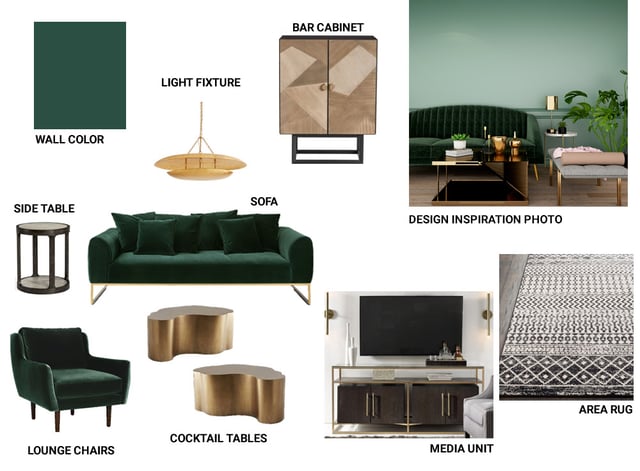 *Interior design mood board for Monochromatic Mod via Carlyn & Company Interiors + Design
What would be your top tips on how to get the Monochromatic Mod style in your home?
Start with a color that really wows you and build from there. I would recommend starting with a smaller room, such as a bedroom or study, because this style can be overwhelming in a large space. Paint and furniture should be in the same hue. It's fine to go lighter or darker, but stick to the same palette for a dramatic effect.
Any last tips on how to get the Monochromatic Mod style in your own home?
People often fill their space with furniture or items they need, but it's worth it to take the time to find pieces that are not only useful but speak to you. Remember, if you love it then it will always work in your space!
---
Have you voted for your favorite design in our Interior Design Throwdown? Click here to view the competitors and cast your vote!