Bikes are a fun way to get around and great for exercise. But if you live in a townhome or small condo, figuring out how to store your bike without scuffing up your walls or losing valuable space can be a challenge. We did a bit of research for you—whether you're looking for simple, affordable bike storage or cool contraptions.
Many of these options also work for e-bikes, though wall-mounted storage for e-bikes can be a bit more complicated because they're so heavy. If you choose a wall-mounted solution for an e-bike, triple-check the weight limit on it and make sure you won't mind lifting the bike in and out of it on a regular basis.
---
New Townhomes in DC, MD and VA
Get Details
---
Hang it from your wall or ceiling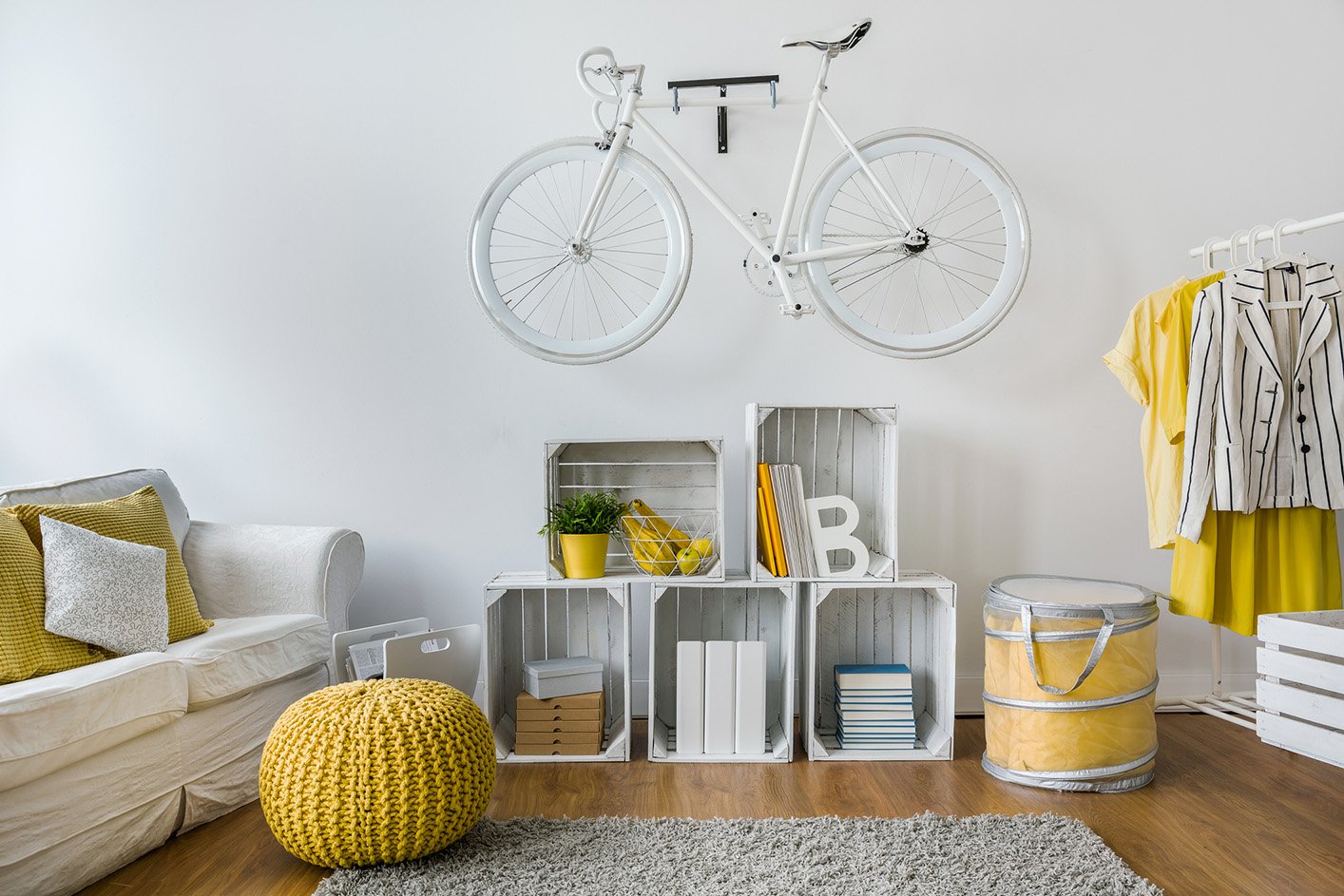 If you don't have the option to store your bike in a garage, there are plenty of ways to store your bike inside your home.
Ceiling or wall hooks
The simplest and cheapest way to get bikes off the ground is to hang them on vertical ceiling hooks or horizontal wall hooks. Experts often recommend bike hooks over other more expensive options because they are unobtrusive, quick to install and easy to move if you change your mind. Bike hooks can be found in most bike shops and hardware stores—the most common type are colorful vinyl-coated steel hooks. To make sure they are safely secured, check that your bike doesn't exceed the hook's weight limit, and always attach the hook to a stud.

Wall hangers
Horizontal bike hangers such as those made by Ibera or Pro BikeTool function like hooks, but with added benefits such as the ability to adjust the hanging angle so that it can be used for different bikes. Elfa makes a horizontal hanger that works in conjunction with its storage track system. Other manufacturers are dressing up horizontal racks in cool designs, such as this one from Onefortythree in wood veneer, and this one from Connubia in cool pastels.

Wall-mounted racks
Racks that allow you to hang your bike vertically against the wall, from the front wheel, are bit more expensive than simple hangers and they require a more involved installation. But once they're up, they are much easier to use because you don't have to lift your bike up into them—you can typically just tip your bike up on its rear wheel and slip the front wheel into the rack. And because the front wheel (and usually also the back wheel) attach to the rack, you have much less risk of scratching up your walls when you're moving the bike. Steady Rack is one popular brand whose rack requires little lifting.
Use a stand or column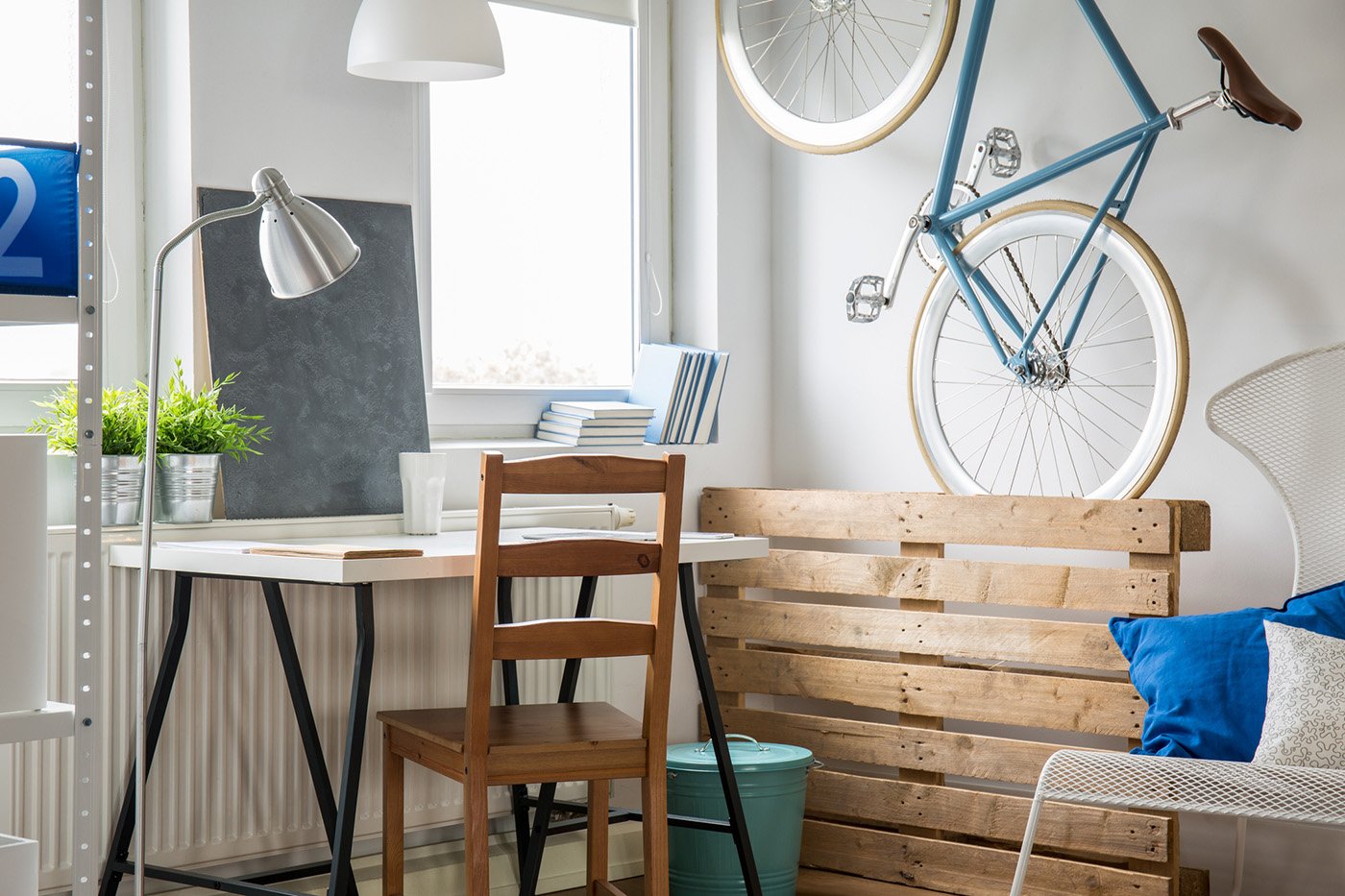 If you don't want to drill holes into your wall, consider a floor stand or column. You can also get creative and make your own stand, from a wooden crate for example, as shown in the photo above. A stylish and clever way to store your bike!
Stands
One popular stand option is the Delta Cycle Gravity Stand, which leans against the wall and has cushioned wall supports and feet to protect your wall and floors. This type of stand is great if you have two bikes, or if you want to use the upper hooks to hang bike gear such as helmets or locks. If you want a stand that's less conspicuous and simply keeps your bike from tipping over, consider a lightweight portable stand such as the vertical BikeNook or the Rakk from Feedback Sports.
Columns
Columns are a bit like stands, in that they don't require any drilling and they won't damage your walls if you're careful, but they have the functionality of hooks or racks. The Feedback Sports column reaches from floor to ceiling and is held in place by a spring mechanism, similar to the one that holds tension shower curtain rods in place.
Integrate it into your decor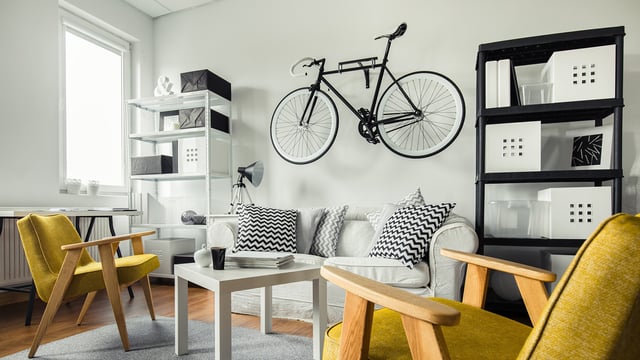 Rather than tucking your bike away, why not make it part of your decor? There are some great ways to integrate your bike into your design. Make it a focal piece of the room, whether it's on a hook, stand or just leaning against the wall. If you don't bike very often, placing it above your sofa or bed could work fine. But if you use it frequently, you'll likely want to have easier access to it.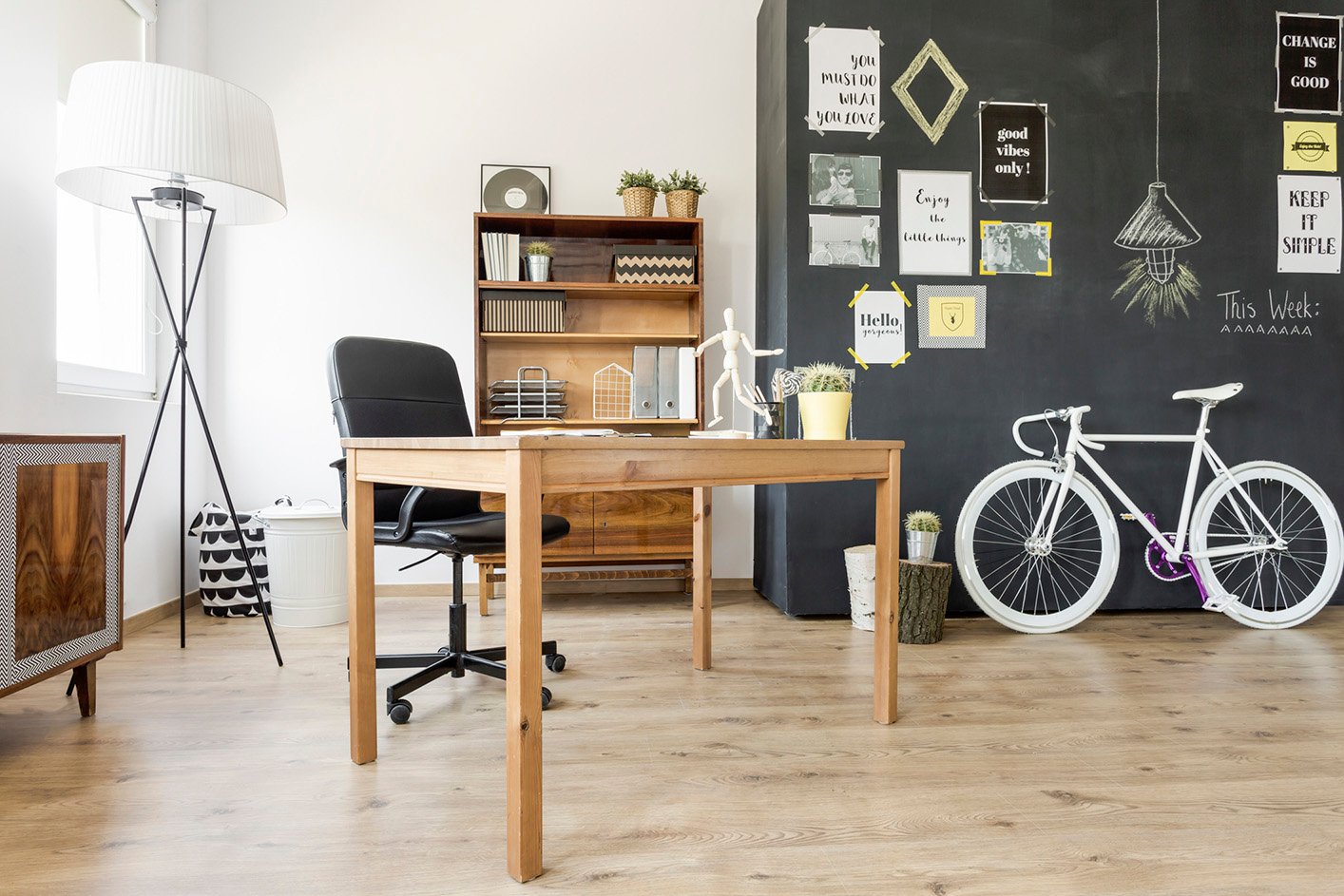 Check out this blog post for some stylish hooks, storage furniture built specifically for bikes and cool ways to integrate your bike into your decor.
Fold it up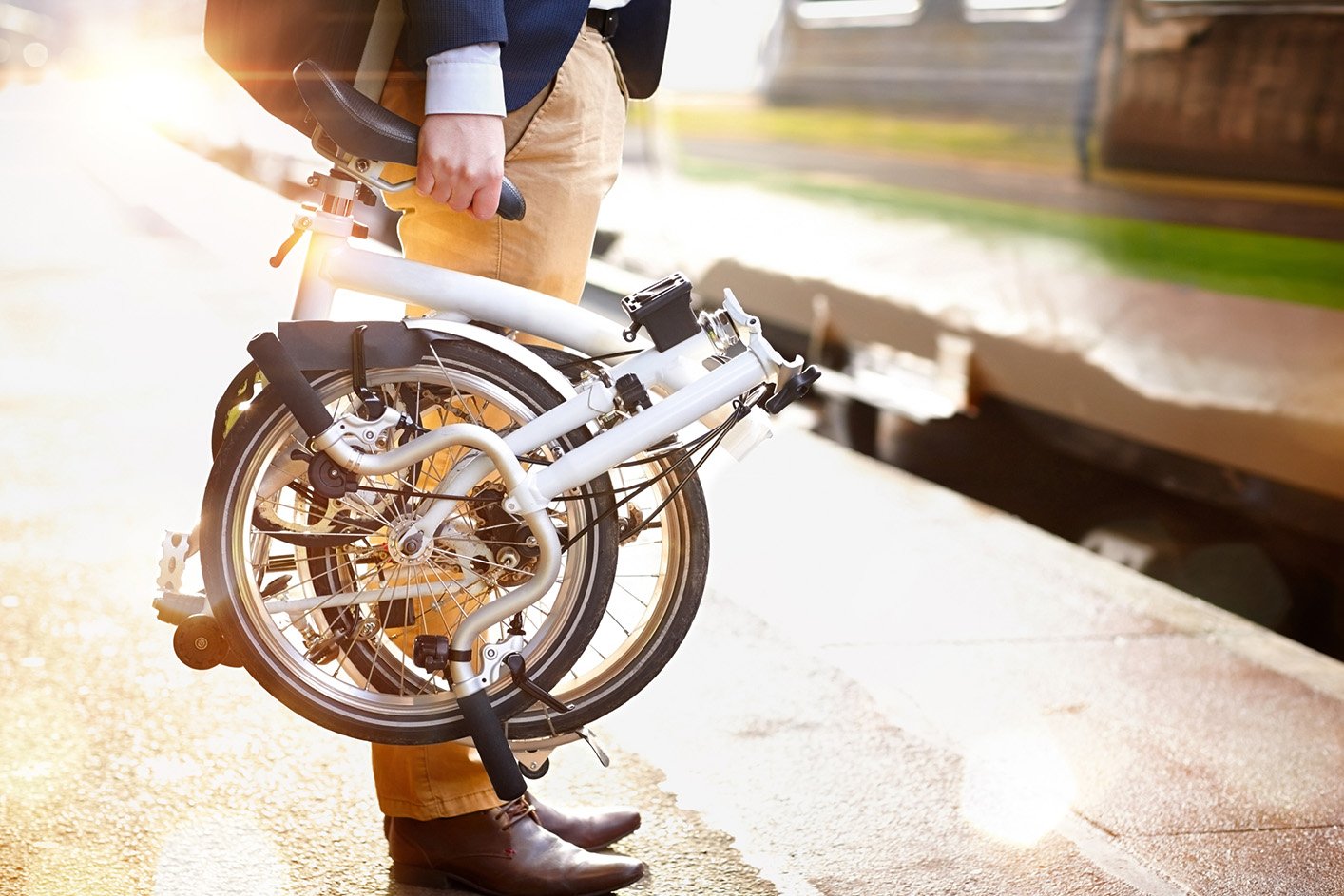 If you're daunted by the prospect of having to store a big bulky bike, or you simply don't ride your bike frequently enough to make the space commitment worthwhile, consider a folding bike. They're growing in popularity—not only will they fit in your closet or under your bed, but they're also much lighter than they used to be. And commuters are embracing folding bikes because they can be taken on the Metro or bus. Some bikes even fold small enough that you can tuck them away in an airplane overhead compartment. These days, folding bikes come in all types, from folding e-bikes to folding mountain bikes and cargo bikes that have space for a child seat.
Whether you bike to work or simply enjoy occasional cycling on nearby trails, we hope these tips will help you to live happily with your bike at home and enjoy the best of life within biking distance in the greater DC area.