One of the advantages of purchasing a new construction home is that you get to choose many of the features and finishes to customize the home for your lifestyle and personal preferences. This could include everything from the number of bedrooms and baths to choosing whether to add optional features such as an outdoor wet bar or built-in grill on the terrace.
---
Check Out the Complete Guide to Purchasing a New Construction Home
---
While this can be very exciting for some, it can also be stressful for others as there are many decisions to be made. To help make this process less overwhelming, familiarize yourself with key terms and the selections process, while allowing plenty of time to make the decisions that will bring you happiness for years to come.
Understanding Key Terms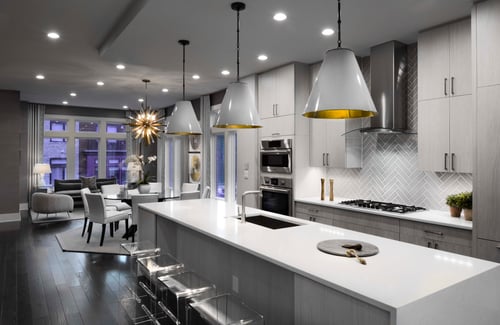 Standard vs Upgrade
Standard Features: Builders typically offer standard items that are included in the negotiated sales price of the home. This may include items such as standard flooring, cabinets, faucets, appliances and more. Be sure you are clear what items are included in the sales price of the home before you sign the contract.
Upgrade Features: Available upgrades can vary greatly by builder. They may include structural options such as rear decks and finish options such as faucets, fireplaces, and lighting.
Structural vs Finish Options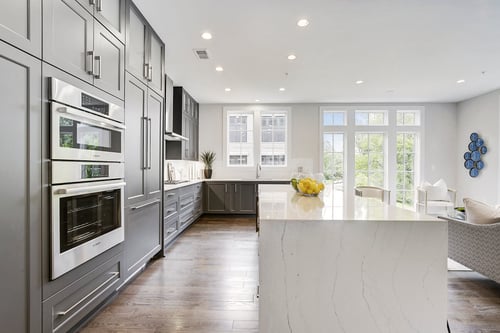 Structural Options: Structural options include items that impact how the home is built. Examples include whether you would like to turn a study into an extra bedroom, add a rear deck or other changes to the home's layout. If you are purchasing a custom built home, you will likely have more options to choose from than if you are purchasing a production home.* These decisions need to be made early in the construction process.
Finish Options: Finishes refer to items that are the finishing touches of the home – cabinets, countertops, faucets, lighting and more. Decisions on finish options can be made later in the construction process.
Mix and Match vs Packages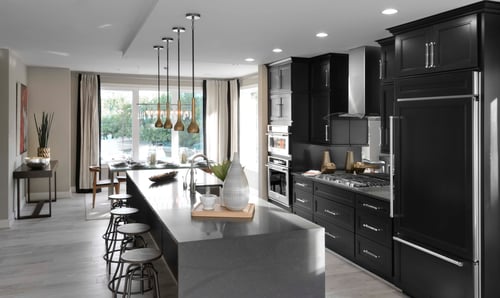 Mix and Match: Custom home builders may offer purchasers the option to select each individual option in the home, or at least a wide variety of them. This is typically called mix and match as you can mix appliances, cabinetry or whatever you desire.
Packages: Builders may offer various packages, such as a standard kitchen package vs an upgrade kitchen package. You would not get to choose the individual items in the package (refrigerator, dishwasher, oven, etc) but would select all the appliances as a group. This type of options process may be preferred by those who would like to make fewer decisions and is likely offered more often by production builders.
Options Selection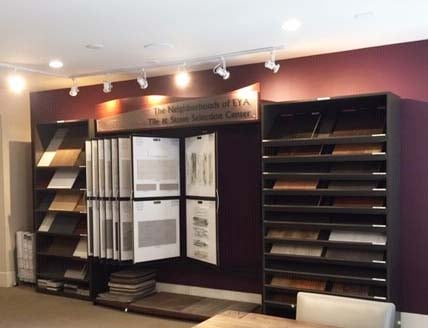 Builders typically have a variety of resources to help you in the options selection process. While some builders may have a showroom, others may have model homes that feature various products.
Visiting the showrooms and model homes is very useful for seeing color combinations and how the items will actually look in the home. Many builders will also have a dedicated staff member to help you with the selections process. This person will offer guidance on selecting options for your lifestyle, what items do or do not go well together, pricing and more.
If construction on your home has started prior to your entering into a contract, it may be too late to choose certain options. The options you will be able to select will vary depending on how far along your home is in the construction process. For example, it may be too late to select structural options but you may still have time to select finish options.
Selecting options is time-sensitive as it could impact how quickly your home gets built. Be sure to stay in communication with your builder on the necessary timing for options meetings.
Between the time you select the options and the time they are put in the home, occasionally models may be discontinued and options may need to change. Most builders will work to ensure a comparable product is selected and will notify you of any change.
Top Tips for Selecting New Home Options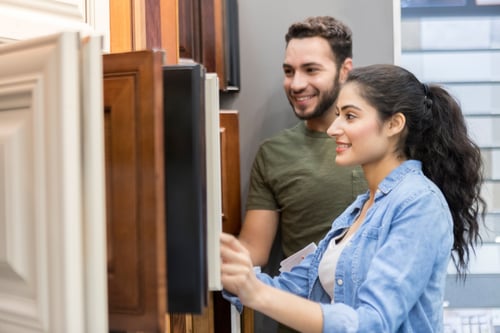 Choose what makes you happy
This will be your home for years to come so select the features that suit your lifestyle and represent your personal preferences. Consider your present and future lifestyle: what are your activities, hobbies and entertaining style? Trends will come and go, so be sure to select items that appeal to you personally. And remember that neutrals never go out of style.
Consider what features will improve the home value
It may be easier to justify spending money on upgraded options if you think they will help you sell the home in the future. Items such as upgraded kitchens, smart home technology and hardwood flooring are typically at the top of buyers' wish list for a new home.
Make sure you don't exceed your loan qualification amount
While that extra bedroom or bath may sound great, be sure to check with your lender so you do not exceed your maximum loan qualification.
In the end, if you take the time to prepare for the selections process and choose items that suit you personally, your new home will represent your unique style and bring you happiness for years to come.
For more tips on the new construction home buying process, check out our comprehensive guide to purchasing a new construction home.
*Production homes are built as part of new community and typically offer fewer options. Custom homes may be a single home or part of a community and offer more options and customization.