Could it be that this holiday season's hot gift item is – The Nissan Leaf? That's right, Nissan expects to debut its first mass produced, affordably priced electric car for sale this December. Priced from $32,780, the compact 5-door hatchback electric car can travel up to 100 miles on a charge, which is perfect for city commuting and around-the-town errands. Available features include built-in navigation and smart phone connectivity, rearview monitor, and a solar panel spoiler. Eligible purchasers can take advantage of a $7,500 tax credit on the car, plus up to $2,000 in credits on an in-home charging station.
Now that the big automakers are rolling out electric vehicles, a variety of businesses are entering the market producing in-home charging stations – designed to recharge the car's battery in about 8 hours from the comfort of your own home. While 8 hours seems a bit steep, the positive is that the 8-hour period could be overnight, say when you're sleeping, at the time of day when electric rates are lowest. New charging station models sell in the $2,000-$3,000 range, but require a licensed electrician to run 240-V power to a junction box in your garage.
Now, EYA is offering the electrical option during the construction of its new homes. And running electrical wire is definitely easiest, and cheapest, while the home is under construction. EYA has designed its 240-volt electrical car charging station junction box to accommodate the GreenlightAC charging station, developed locally, but other charging stations will work in the EYA home, too.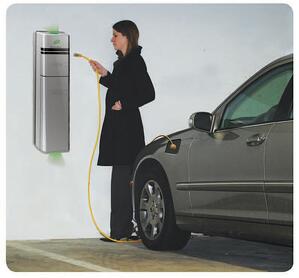 GreenlightAC, pictured here, offers a sleek design, illuminated sockets to make the plug-in easier, and automatic shutoff to prevent the risk of electrical fire. In fact, the company has recently signed an agreement with the District of Columbia to assist the City in setting up as many 250 City-owned electric cars this year.
For longer trips, the Leaf's built-in navigation system will alert you of re-charge stations along your route. To date, there are only 500 electric charging stations around the nation, but the Department of Energy is working with billions of "Recovery Act" dollars to implement 20,000 stations by late 2013. A nation-wide network of charging stations, similar to traditional gas stations, would certainly lead to a boom of electric car sales.
At three times the efficiency of gas-powered vehicles, a 50-mile trip would cost you a measly $2.75 – which is the equivalent of paying sixty cents for a gallon of fuel. The electric cars feature zero tail pipe emissions and a simpler engine design which, over the long run, reduce maintenance costs significantly.
If you're in the market for the Nissan Leaf, you better hurry. The reservation list has over 15,000 people and the company only expects to sell 25,000 cars in this first release. Other options coming soon include the Chevy Volt and the pricier Tesla (which is already available). And of course, opt for the electrical car charging station junction box in your new EYA home. Even if you're not running out to pick up your Leaf today, the buyers of your home at re-sale probably will be.