We're pleased to present this post from our friends at Danziger Design:
Homes with an open floor plan provide homeowners with the ability to entertain and carry on day to day family activities with a greater ease than homes of the past. Because of the open plans, family members easily participate in conversation while preparing dinner, watching TV and entertaining.
There are some things consider when planning interiors for these indoor open spaces:
COLOR – Select a paint color that will be carried throughout the space. If choosing more than one color, keep shades in the same color family. This will help unify the space and make it feel even more open and airy. If the dining room is separate, this is a great place to break off from the color family rule. The "new" neutral color palette by Benjamin Moore is a great place to start.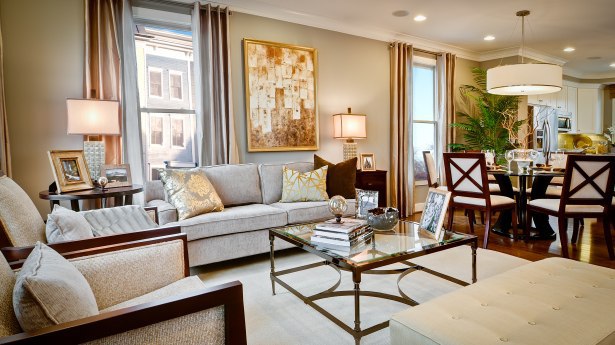 EYA's Duncan model home at Old Town Commons features a timeless design that flows seamlessly from room-to-room.
FABRICS & FINISHES – When selecting upholstered furniture, also think of a unifying color. You don't have to use the same fabric everywhere, but coordinating fabrics will give the space a put-together look. The same is true of finishes. You may decide you like satin nickel knobs, pulls, light fixtures and door hardware. Keeping these details uniform creates harmony within an open concept space.
FLOW – In order to keep the open floor plan "open", edit what is put into a space. Too much furniture or too many accessories can overwhelm an open floor plan. Also, arranging furniture which closes off walking paths may stop the eye. Avoid placing the backs of chairs and couches in the eye's path to the other side of the room. Glass tables are helpful, as well.
FLOORING AND RUGS – Hardwood floors throughout an open floor plan provide the space with continuity. Coordinating rugs (with common colors) provide a connection within a space. For example, a geometric rug with cream, tan and green in the family area would pair nicely with a floral rug with similar colors in the dining area.
WINDOW TREATMENTS – Selecting shutters or wood blinds for an entire space is another way to master the open floor plan. EYA's window covering partner, Dan Kugler, offers blinds, shutters, valances, drapery and motorized shades - all of which can be included in the price of your home (and financeable in your mortgage, too).
LIGHTING – The style of lights should coordinate in an open floor plan. Balance the amount of hanging fixtures vs. recessed lighting. For example, you may use pendants above a kitchen island, a large pendant in the dining room, and recessed lights everywhere else.
The idea for the open floor plan is to allow the eye to take everything in without being stopped by something that just doesn't seem "to fit". Want a private design consultation? Contact Danziger Design today and be sure all of your finish, paint and furniture selections blend seamlessly in your new EYA home!