Best Restaurants at Cabin John Village in Potomac MD: Guide to Great Eats
Whether you're celebrating an anniversary, grabbing lunch to go, or treating yourself to a sweet treat after an afternoon spent hiking at Cabin John Regional Park, there's a restaurant for every taste and every occasion at Cabin John Village. With so many choices all just steps from one another, we've gathered a guide of our favorite places to eat, drink, and grab dessert at Cabin John Village.
---
Interested in living within walking distance of these restaurants?
Click here
---
Here is the ultimate guide to the restaurants at Cabin John Village:
Best for Brunch & Breakfast

$
Serving: Breakfast, Lunch
Located: 7731 Tuckerman Ln, Potomac, MD 20854
Voted "Best Bagel" by Washington Jewish Week, this local spot offers a variety of Kosher breakfast and lunch options from bagels and sandwiches to soups and salads. Guests can stop in to order at the counter and take their coffee and freshly made bagel to go or sit down and enjoy in the restaurant. Looking to cater a morning meeting or entertaining guests for the weekend? You can also place an order from their catering menu for both breakfast and lunch. Just keep in mind they are closed on Saturdays.
$ - $$
Serving: Breakfast, Lunch, Dinner
Located: 7993 Tuckerman Ln, Potomac, MD 20854
Le Pain Quotidian (LPQ), or "the daily bread," serves fresh, simple, and elegant fare in a warm and inviting atmosphere. With long gathering tables, the scent of freshly baked bread wafting through the air, and a European aesthetic, LPQ is a favorite breakfast, lunch, and dinner choice. Guests are welcome to stop in for a cup of coffee to go, hold a business meeting over lunch, or simply relax and read with a hot pot of tea. Their brunch menu provides guests with a variety of tasty options like skillet eggs, breakfast bowls, breakfast sandwiches, frittata, pancakes, and more.
---
New modern townhomes in Potomac, MD
Discover two sides of the perfect location
---
Best for Dinner or Date Night

$$
Serving: Lunch, Happy Hour, Dinner
Reservations available
Located: 7745 Tuckerman Ln, Potomac, MD 20854
A local, family-owned restaurant, Gregorio's is a place where diners can find comfort in authentic Italian dishes and relax with family and friends. This neighborhood favorite offers an extensive menu of classic dishes like Fettuccine Alfredo and Piccata, in addition to gluten-free items and a children's menu. They also offer daily happy hour specials from 4pm – 6pm and Wine Down Wednesday, where guests can purchase select bottles of wine for half price.
$$ - $$$
Serving: Brunch, Lunch, Happy Hour, Dinner
Reservations available
Located: 7943 Tuckerman Ln, Potomac, MD 20854
Voted as one of Open Table's "Top 100 Neighborhood Gems," this locally owned restaurant and raw bar serves a variety of fresh seafood options from local fisherman and farmers. Their casual, elegant atmosphere invites guests to sit and stay awhile, with an extensive menu of traditional seafood fare, specialty cocktails, and more. They're open daily, serving lunch, dinner, and a weekend brunch menu. Happy hour is also every day from 3pm – 7pm.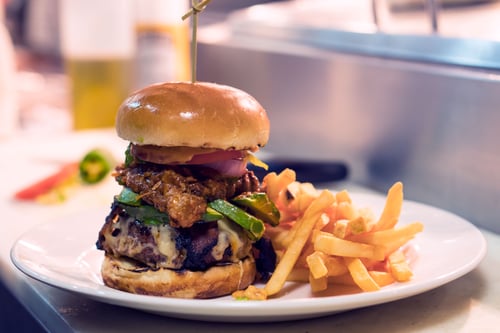 $$
Serving: Brunch, Lunch, Happy Hour, Dinner
Reservations available
Located: 7747 Tuckerman Ln, Potomac, MD 20854
A neighborhood favorite, Lahinch Tavern and Grill offers a mix of traditional American cuisine alongside traditional Irish dishes – each with a unique twist. Using locally grown produce and local meats whenever possible, they pride themselves on supporting local farmers in a farm to table approach. With a warm and charming pub atmosphere, guests are invited to grab a table or post up at the bar to watch a game. In warmer weather, garage door walls go up and outdoor seating is available. They also feature live music four nights a week, host trivia nights, weekday happy hour, and a weekend brunch.
$$
Serving: Lunch, Dinner
Located: 7995 Tuckerman Ln, Potomac, MD 20854
Sisters Thai is known for its cozy, trendy, living room atmosphere. Serving authentic Thai food that emulates the comforts of home, their menu combines upscale Thai options alongside traditional street food. Not only do they have private booths and bar seating, but the outdoor patio is perfect for warm evenings and romantic date nights. Try one of their refreshing or sparkle drinks with your meal and afterwards delight in their Magnolia Dessert Bar to end the night on a sweet note.
---
How to Walk Your Way to Healthy Living
---
Best for Healthy Lunch Options
$
Serving: Breakfast, Lunch, Dinner
Located: 7733 Tuckerman Ln, Potomac, MD 20854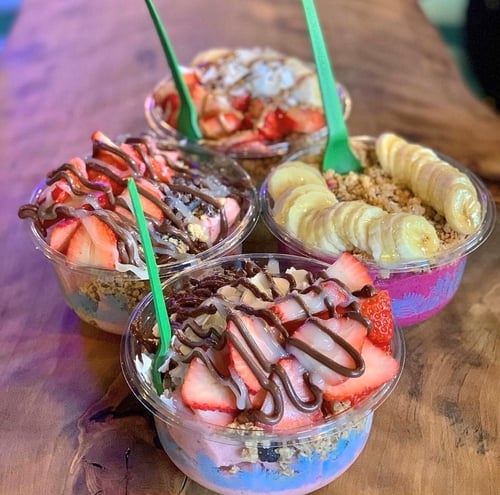 A taste of summer throughout all four seasons, this new smoothie bowl restaurant recently opened up in Cabin John Village. Serving healthy, fresh, and delicious bowls and smoothies, their philosophy is focused around sustainability and community. In addition to their wide variety of bowls and smoothies, they also serve soup, poke bowls, and fresh juice. Open every day from 8am – 8pm, it's the perfect spot to grab a healthy breakfast, lunch, or snack to go.
$
Serving: Lunch, Dinner
Located: 11325 Seven Locks Rd, Potomac, MD 20854
A fun fact about CAVA: It started as a single restaurant in Rockville, MD and quickly grew to about 80 restaurants across the country. This Mediterranean fast-casual chain features customizable salads and grain bowls, fresh pita, chef-crafted dips, spreads, and more. Guests order at the counter, choosing their ingredients, toppings, and sauces and can either take a bowl to go or eat-in. Whether you place an order online, stop by to grab and go, or sit down to eat, CAVA is a healthy choice for an easy lunch or dinner.
Best for a Kid-Friendly Meal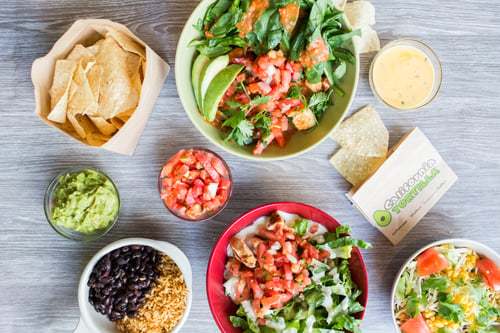 $
Serving: Lunch, Dinner
Located: 7727 Tuckerman Ln, Potomac, MD 20854
Bringing a fresh perspective to Mexican food, California Tortilla offers a twist on Mexican favorites including burritos, bowls, tacos, salads, quesadilla, fajitas, nachos, and more. They also serve daily specials like Monday Night Burrito Wheel or Taco Tuesday. With customizable and gluten-free options, every member of the family can find something to try.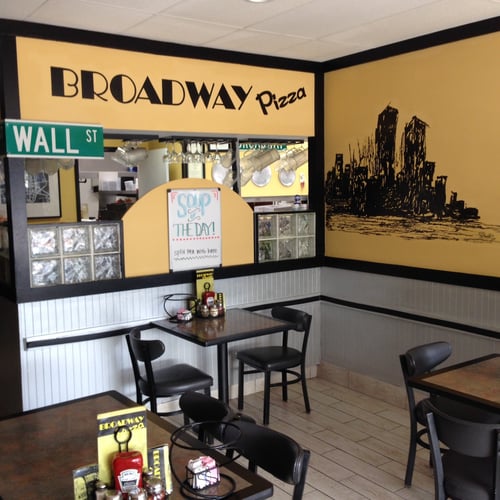 $
Serving: Lunch, Dinner
Located: 7965 Tuckerman Ln, Potomac, MD 20854
Serving New York Style Pizza, this local spot is a great choice for an easy dinner with the kids. They not only offer gluten-free options, but have a diverse menu with sandwiches, subs, burgers, pasta, calzones, and more. A kids' menu also offers classic items like chicken fingers and hot dogs for little ones. With such a wide variety, there's something for every member of the family to enjoy.
$
Serving: Lunch, Dinner
Located: 7997 Tuckerman Ln, Potomac, MD 20854
Shake Shack is a modern-day burger stand, with classic favorites like burgers, chicken sandwiches, hot dogs, crinkle fries, and more. But that's not all. They also offer a variety of mouth-watering shakes and frozen custard flavors. Salted Caramel, Cookies and Cream, and Coffee Fair are menu staples, and specialty custom shakes change seasonally. Families are welcome to eat inside or find a place on the patio to enjoy their meal during the warmer months. You can even bring your pup along and order a Bag O' Bones filled with dog biscuits.
---
Wondering what life could look like in Potomac, MD? Click here to find out
---
Best for Dessert

$
Serving: Dessert
Located: 7909 Tuckerman Ln, Potomac, MD 20854
This colorful ice cream parlor is known across the country for its unique and delicious ice cream flavors. Whether you just finished dinner at a nearby restaurant or walk over from Cabin John Regional Park for an afternoon treat, Baskin-Robbins is the perfect stop for something sweet.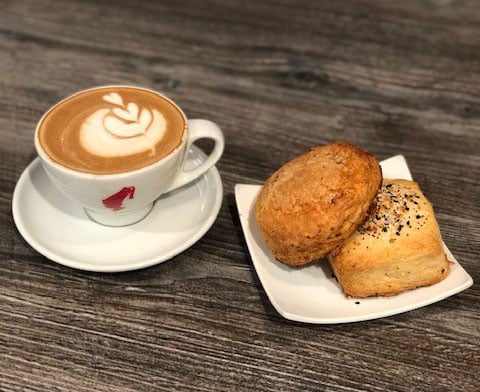 $ - $$$
Serving: Custom desserts & pick up baked goods
Located: 11325 Seven Locks Rd, Potomac, MD 20854
For a freshly baked treat, head over to Sweetly Anchored Patisserie. This locally owned and operated pastry shop creates beautiful custom cakes, pies, cheesecakes, cake pops, cupcakes and more. While many of these options are custom ordered in advance, guests are also invited to stop by for a hot cup of coffee and choose from fresh pastries, cookies, brownies, cupcakes, and more made in-house daily.
$
Serving: Breakfast, Lunch, Dinner
Located: 7739 Tuckerman Ln, Potomac, MD 20854
One of America's favorite breakfast chains, the Dunkin' Donuts at Cabin John Village is located on Tuckerman Ln. Serving a variety of breakfast items from donuts and bagel sandwiches to freshly crafted beverages and seasonal brews, this classic chain is perfect for breakfast on-the-go or a mid-afternoon pick-me-up. It's also the perfect spot to satisfy your sweet tooth. From classic glazed to apple fritters, stop by for just one donut - or treat yourself and take home a dozen.
---
Now that you've found a few restaurants to try, it's time to plan the rest of your day at Cabin John Village. Click here to discover where to explore next, from local shops to new fitness classes, beauty salons, and more.
** Price ranges: Approximate and average price for one meal: $= under $10, $$= $11-$30, $$$= $31 & up. Subject to change, tax and tip not included in approximation