Dogs are man's best friend and who doesn't want to spend the day with their best friend? Rockville dog owners are lucky to be in an area that offers so many opportunities to get out and about with their four-legged friends.
---
Check out Rockville's new dog-friendly neighborhood
---
With 65 community parks, the city and its surrounding area makes it easy to get outdoors for two and four-legged exercise. And the pooch-friendly atmosphere doesn't stop there. Restaurants, shops, and attractions throughout Rockville roll out the welcome mat to accommodate not only their customers, but their furry friends as well.
Here are the best places to eat, drink and play with your dog in Rockville, MD:
Dog Dining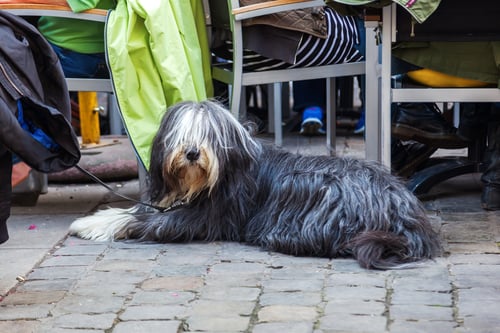 More than 35 Rockville restaurants offer outdoor areas where leashed pups can join you for quick bite or a night of al fresco dining.
The area's top outdoor dining spot on many pet forums is Nantucket's Reef, where your dog will receive a personal bowl and treats while you enjoy seafood favorites from New England to Cajun country.
The diverse choice in international favorites with pup-permitted outdoor patios include Thai dining at Thai Farm and Thai Pavilion; Mediterranean at Mykonos Grill, Trapezaria and Lebanese Taverna; Indian at Spice Xing; Spanish at La Tasca and Italian at Fontina Grille.
You can even enjoy a steakhouse atmosphere outdoors at Nick's Chophouse, where there is tons of dog-accommodating seating. And Giuseppi's Pizza Plus invites furry friends to come inside when the weather doesn't cooperate and enjoy a pie at a pet-designated table.
Brewery Fun with Fido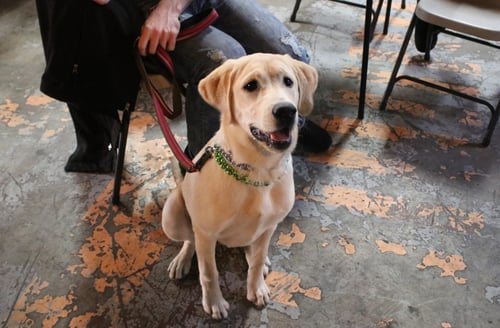 How about an afternoon of sampling new beer releases with your pup in-tow? Yes, please! Three Rockville breweries make it possible.
Saints Row nanobrewery is constantly brewing new styles. Their roll-up doors make it easy to bring leashed dogs. 7 Locks Brewery celebrates dog-friendly Sundays when you can bring your pup inside the taproom.
At Brookeville Beer Farm, all exterior areas are open to owners and their dogs. And if downtown taps are your choice, Gordon Biersch at Town Square welcomes dog owners at nine pet-friendly outdoor tables.
Coffee, Ice Cream, and Treats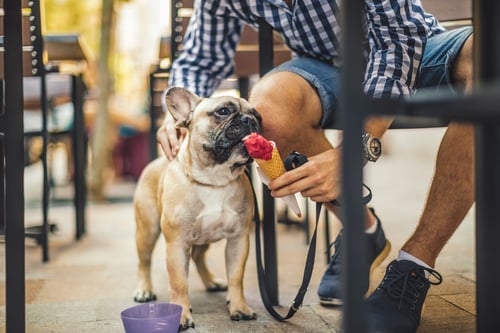 If you enjoy a morning walk for a cup of java or a spot for casual conversation with friends, your tail-wagger can come along to several Starbucks in the area. Two top choices are the Fallsgrove shop on Shady Grove Road and the location at Westside at Shady Grove Metro. And if sitting outdoors with a bubble tea is more your speed, Ten Ren at Rollins Park is the spot.
At Carmen's Italian Ice, enjoy a cup of joe, ice or gelati, while your dog cools off with a puppy pup. Or head over to Ben & Jerry's at Rockville Center where small bowls of dog-friendly ice cream are available.
It's a little further north, but Bruster's Real Ice Cream in Gaithersburg is a can't-miss for dog lovers. They even make a free sundae for pups topped with a dog biscuit.
Best Puppy Parks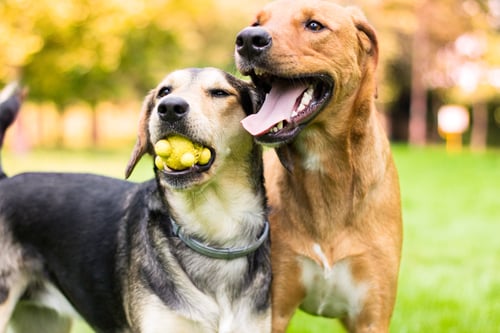 Dog parks are a great place for dogs and their owners to meet and mingle.
When it comes to Rockville's best dog destinations, King Farm Dog Park at Mattie J.T. Stepanek Park is truly royalty. Within this impressive fenced-in area where canines go unleashed are dog drinking fountains, a 20 x 20-foot shade shelter, Mutt Mitt stations, picnic tables and benches for owners to relax. To keep the park free of non-vaccinated and unlicensed dogs, registration is required with the City of Rockville to receive an access code to the locked gates.
---
For more Rockville things to do & places to go, click here
---
In nearby Gaithersburg at the western terminus of I-370 is the dog exercise area at Green Park. This outdoor palace for pups offers an acre of fenced-in space split in two sections. The smaller upper section has a bluestone dust-based ground cover while the lower section is grass. Both levels have benches, seasonal drinking stations and dog waste dispensers. The lower level includes shade trees and a pavilion with seating. Registration with the City of Gaithersburg or the owner's home jurisdiction is required.
Top Trails for Tails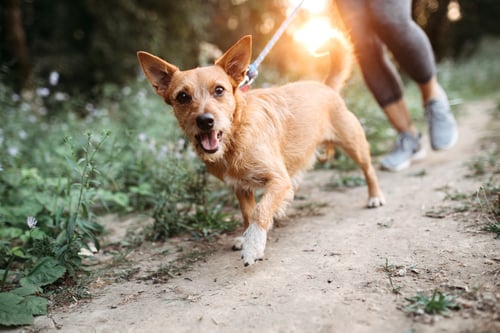 Outdoor adventures in Rockville are twice as much fun with a furry friend.
If a longer walk is in your plans, there are many trails to explore that are maintained by Montgomery County Recreation and Parks. At the north end of Rock Creek Regional Park are 13 miles of trails with naturals surfaces and beautiful views surrounding 75-acre Lake Needlewood and 55-acre Lake Frank. Dogs are not permitted to swim in either lake. Woodland and meadowside paths are also available.
The meandering Rock Creek Trail extends south. It's a paved, multi-use path, so just be respectful of bikers and hikers when walking your pooch on a lease.
For shorter outings, the City of Rockville's Fallsgrove Stream Valley Park has several small trails with a drinking fountain for pups. The park trails connect with the Carl Henn Millennium Trail that weaves throughout the Fallsgrove neighborhood.
Best Bets for Year-Round Indoor Fun
The opportunities to spend time with your pet away from the house aren't limited to the outdoors. There are some great indoor choices that make dog activities available throughout the year.
Your Dog's Friend, a non-profit training center in Rockville, offers an annual summer camp where both kids and dogs attend a week of summer sessions to form a relationship as partners. It's an opportunity to play games, learn tricks and practice agility. Throughout the year, their training center in the Parklawn area of Rockville offers a variety of obedience classes to meet your dog's needs. They range from puppy classes to agility games to obedience for competition.
Swimming is the best exercise for dogs at any stage of life – not to mention wading and and retrieving just for fun. In nearby Potomac, the K9 Aquatic Center makes it easy with five pools separated with boardwalk access.
The pools are cleaned with a state-of-the-art UV system that requires no chlorine or bromide. Filters are changed every week and water is kept at a comfortable 85 degrees with the ability to increase temperature to 90 degrees for some swimmers.
Swim sessions can be purchased individually or 10 at a time at a discounted rate. Water toys, towels and bowls of fresh water are provided.
Another great location for dog training and fitness is Zoom Room, where classes range from positive training to urban herding and scent work. There's an indoor dog park with private gym sessions available for quality exercise time.
Best K9 Food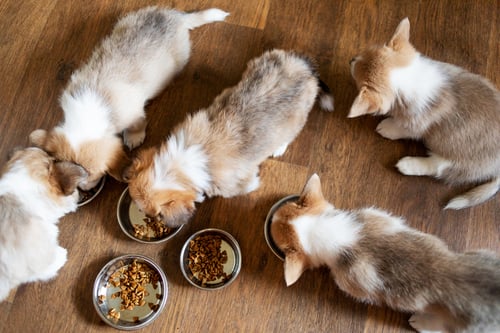 Healthy eating is an important part of nearly everyone's daily routine, so why should your pooch be any different? Loyal Companion has two Rockville locations where you can choose from a selection of dog and cat foods made exclusively with natural ingredients. No meat by-products, wheat glutton, animal digest or artificial preservatives. Animal treats, toys and other supplies also available.
With so many choices and cooler temperatures on the way, we encourage you to get outside with your four-legged friends and discover everything Rockville offers. As the city's slogan suggests: "Get Into It." For a community calendar of activities and events in Rockville, click here.
Looking for even more ways to spend a day in Rockville? Check out an insider's guide to the area for entertainment, activities, shopping, dining options, and more.