Townhouse or Condominium? Tips to Help You Make the Right Choice in the Bethesda Housing Market
Both condominiums and townhomes offer today's homebuyer the option of low-maintenance living, a lock and leave lifestyle and, in locations like Bethesda, a variety of choices for living in walkable neighborhoods.
---
What's a new townhome or condo without an interior to fit your taste? Discover your interior design style with our quiz.
---
These amenities are particularly appealing to empty nester purchasers who want the freedom to travel or winter in a warmer climate and are ready to give up a lawn, gardening and other outdoor interests. And increasingly, they are also appealing to young professionals who value an urban lifestyle that includes walkable access to transit, recreation, dining and retail.
If you're among the many homebuyers weighing the choice between a new luxury townhome or condominium in the Bethesda market, consider the following as you make your decision.
Understanding the Difference in Ownership
Let's start with a basic understanding of the two ownership options.
The majority of new luxury condominiums in the Bethesda area are in downtown high-rise buildings.
Condominium interior units are purchased by individuals who are responsible for repairs within their walls. A condominium association owns and maintains the land, building and common areas. It's joint ownership, and all residents share in those costs and pay a monthly condo fee based on square footage. There may also be special assessments for major repairs, renovations and improvements.
In townhome communities, the buyer typically owns and is directly responsible for the individual home's interior and immediate exterior. Owners pay a homeowners association (HOA) fee that covers common area maintenance. One significant difference is that you and your neighbors still enjoy a private entrance and front door.
Purchase Price Comparison
Price differences between new luxury condominiums and townhomes in the Bethesda area can be significant. A townhome can offer more space at a lower cost per square foot, while a condo may offer more luxury amenities.
To compare, EYA recently looked at the cost of its new three-bedroom Everett Model at Grosvenor Heights just off Grosvenor Lane and compared it to two- and three-bedroom units in three downtown Bethesda high rise condominiums: Hampden Row, The Lauren and Stonehall.
Square footage among the three condo units and The Everett is roughly equal (within 330 square feet of each other). Each offers at least 2.5 baths with The Everett having the highest number at 3.5.
Additionally, The Everett's cost per square foot is $446 while the condos range from $828 to $1,179.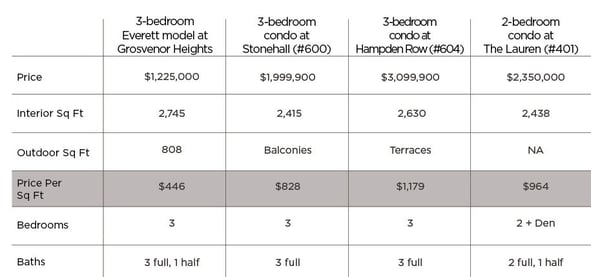 Everett homeowners have a private 800-square-foot rooftop terrace, their own two-car garage and an elevator that operates from the ground level to the rooftop terrace.
The condo residents' outdoor space may be a balcony or shared rooftop terrace and they park in an underground garage. High rises often provide owners additional amenities such as a fitness room, concierge service, entertainment areas and additional storage.
Additional Maintenance and HOA Costs
Both condominiums and townhomes offer residents a low maintenance lifestyle that doesn't exist with single detached homes. There's no need to mow and fertilize the lawn, rake leaves and shovel the sidewalks.
In a townhome community, the HOA typically secures an outside contractor to handle those responsibilities, which are paid for by monthly association fees. The HOA will approve annual fee increases as the costs for contractor services rise, but the jump is nominal and predictable based on standard cost of living statistics.
In a townhome community like Grosvenor Heights, the monthly HOA fee is $180.
For condominium residents, the costs of building services, maintenance and repairs is shared among all owners in the building. This includes systems such as HVAC, electric, plumbing and elevators; common areas such as hallways, lobbies, outdoor terraces, amenity rooms and spaces; and the building's exterior including roofs, facades, windows and doors, sidewalks, driveways and green spaces.
In addition, a property management company is engaged or salaried personnel are hired for daily building maintenance, security and often front desk concierge services that include visitor sign-in, mail and package delivery.
From time to time, professional services also need to be hired for taxes, auditing and legal matters To cover this broader set of building responsibilities, much higher monthly fees are charged to owners. In addition to the monthly maintenance and services budget, money is put into a reserve fund to cover larger repair issues when they occur.
At the three downtown Bethesda condominiums, monthly fees range from $1,655 at Stonehall to $2,145 at The Lauren for the comparable units.

What You Control in a Townhome or Condo Association
In addition to joint ownership and sharing costs, condo owners must also abide by decisions made by the board and fellow residents. You'll know about rules and bylaws at the time of purchase, but they can always change. Common subjects that often come into question are noise restrictions, visitor hours, pet regulations and outdoor balcony stipulations.
Townhome HOAs also have their own set of rules and regulations, particularly when it comes to making any visible additions to your home's exterior such as satellite dishes, planters or decorations such as flags and flower baskets. Rules may also govern where you can walk your pets, the types of vehicles you can ride in the neighborhood (skateboards, motorized bikes, etc.) and where your children can play. But in general, townhome regulations are less restrictive and only pertain to outside space vs. interior areas at condominiums.
Ultimately the choice between townhome or condominium is a decision that comes down to personal preferences. A townhome can offer dramatically more space with lower monthly costs, while a condo may offer more luxury amenities. Talking with your Realtor, accountant, financial advisor and owners living in the building or community will help you make the right choice for your next move.

*HOA/condo fee information is taken from MRIS listings. This for informational purposes only and does not guarantee condo fees or features.