This year, with July 4th falling on a Wednesday, there are two full weekends as well as the holiday to enjoy or even host a celebration with family and friends.
To help you plan, we've turned to our friends at Balducci's, the food lover's market with locations near EYA communities in Bethesda and in Old Town Alexandria.
Whether you're packing a picnic, visiting friends, or entertaining on your rooftop terrace with a view of the fireworks, here are some great menu recommendations and recipes guaranteed to help you deliver a Star-Spangled experience.
And if time doesn't allow for shopping and cooking, or you just prefer to let someone else do the work, Balducci's can cater your event from any of its D.C.-area locations.
---
Are you transitional, contemporary, urban industrial or more of a minimalist?
Take our interior design style quiz to find out!


---
Grilling
It all begins with the main course, and what's more American than a great steak or a Cowboy Steak for that matter? This cut of ribeye has a short frenched bone and is rich, juicy, and very flavorful with generous marbling throughout.
This recipe tops the dish with chanterelles. These wild mushrooms will complement your steak nicely with their nutty flavor and aroma reminiscent of apricots or peaches.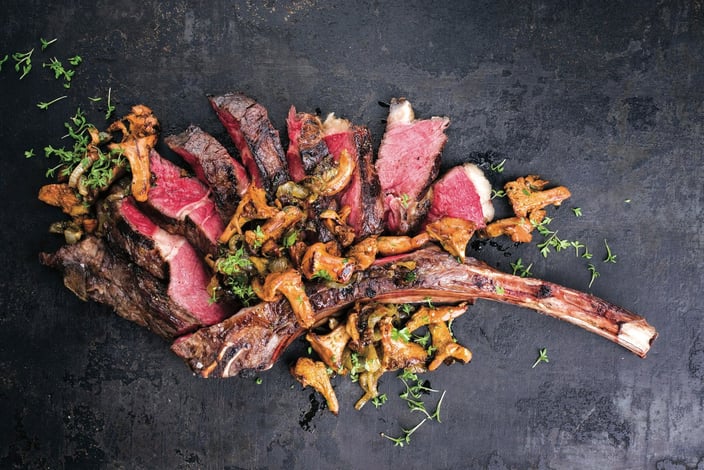 Cowboy Steak with Sautéed Mushrooms
Ingredients
2 (2 pound) Balducci's cowboy cut bone-in rib-eye steaks
1 teaspoon black pepper
2 Tablespoons organic olive oil
¼ cup minced shallots
¼ cup dry white wine
2 teaspoons minced garlic
8 ounces chanterelle mushrooms, cut into large pieces
½ teaspoon black pepper
¼ teaspoon salt
2 teaspoons fresh minced thyme
4 Tablespoons cold butter, cut into small pieces
Directions
Preheat the grill to 450 degrees.
Remove the steaks from the fridge, pat dry with a paper towel, and season both sides with 1 teaspoon of black pepper. Place the steaks directly on the grill and cook for 5 minutes per side for medium rare or longer for desired doneness. Remove the steaks from the grill to a plate to rest before serving.
Add the olive oil to a sauté pan over medium high heat, add the shallots and mushrooms, and cook for 3 to 4 minutes. Add the wine and garlic and cook until all the liquid is reduced, 2 minutes. Add the salt, pepper, and thyme and cook for 30 seconds more. Remove the pan from the heat, add the butter, and stir until combined. Serve with the cowboy steaks.
If you really want to celebrate right, why not go Surf and Turf for the July 4th holiday? Serve some delicious grilled day boat scallops as an appetizer to the steaks.
Known for their delicate texture and flavor, dry day-boat scallops (or diver scallops) get their name because they are harvested from the sea and sent to market the day they are caught. Unlike wet scallops, they have not been treated with brine to extend their transport life. Nor are they frozen and thawed like some other scallops.
Here's a recipe for grilling them up with a delicious citrus marinade.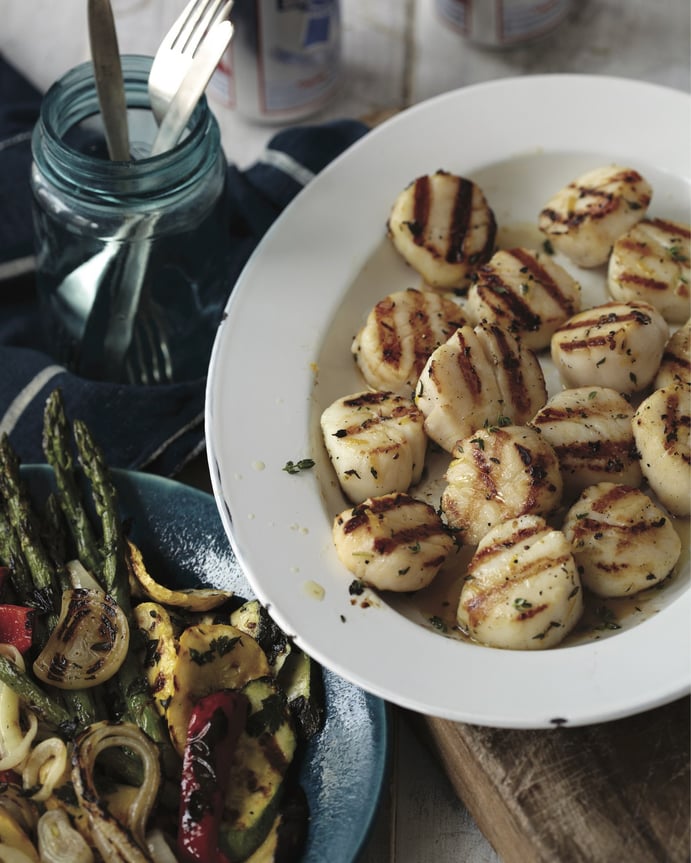 Garlic Herbed Citrus Grilled Dry Day-Boat Scallops
Ingredients
1 pound Balducci's dry day-boat scallops, cleaned an patted dry
2 cloves minced garlic
2 Tablespoons fresh mint, minced
2 Tablespoons lime juice
2 teaspoons orange zest
1 teaspoon lemon zest
½ teaspoon salt
¼ teaspoon black pepper
¼ teaspoon cayenne pepper
2 Tablespoons organic olive oil
Directions
Add the garlic, mint, lime juice, orange and lemon zest, salt, pepper, cayenne pepper, and olive oil to a glass bowl. Stir to combine. Add the scallops and marinate for 30 minutes in the refrigerator. Do not use a metal mixing bowl as it will react with the acid from the fruit.
Preheat the grill to 500 degrees.
Remove the scallops from the marinade and place directly onto the grill grate. Grill for 1 minute and turn the scallops over and grill for 1 minute more. Remove the scallops from the grill and serve immediately.
Wines to Pair
If you're looking for the ideal wine to complement these dishes, Balducci's wine merchant recommends two of its own label choices. Begin with the Sauvignon Blanc from the Curico Valley in Chile to accompany the scallops, followed by the Old Vines Garnacha, an intense, full-bodied Spanish red from Calatayud, to go with the Cowboy Steaks. Both wines are moderately priced.
Dessert
Of course, we can't forget dessert. If you're looking for a red-white-blue theme that will be the center of your July 4th celebration, you can't beat a Berry Fool. In addition to seasonal blueberries and strawberries, the dessert also uses rich, fresh cream, mint, and macarons, which can be purchased at Balducci's bakery.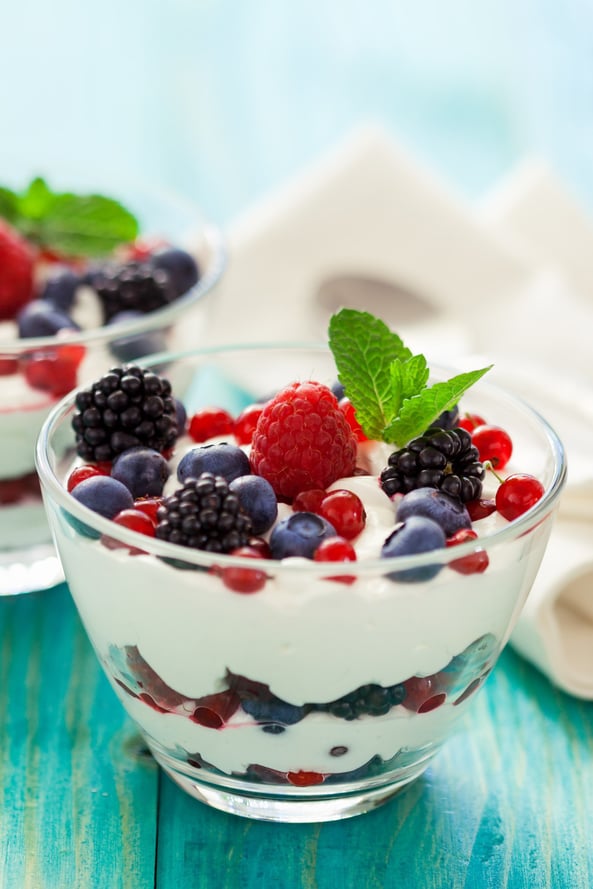 Red, White and Blue Berry Fool
(6 servings)
First the Red…
1 cup of quartered big, ripe, red, delicious strawberries
1 Tablespoon of sugar, or to taste
2 Tablespoons of water
A good squeeze of lime
A few strokes of lime zest
A tiny bit of black pepper and a pinch of salt
1 cup of fresh halved strawberries – uncooked, untouched by sugar
And the White…
3 cups cold heavy whipping cream
1/4 cup plus 2 tablespoons powdered sugar, or to taste
2 teaspoons of vanilla
Whole berries, 6 broken macarons, and 6 sprigs of mint for garnish
Then the Blue…
1 cup fresh, large blueberries
1 Tablespoon of sugar, or to taste
2 Tablespoons of water
1 squeeze of fresh lemon
A few strokes of lemon zest
A tiny sprinkle of black pepper and a scarce pinch of salt
1 cup of fresh blueberries – clean but otherwise, untouched
Here's how you put it together:
Cook the berries separately in their water and sugar for about 5 minutes, or until the juice begins to thicken. Smash and mash them just a bit with a fork. You want them to be a cross between a fresh juicy berry and a sauce. Don't let them get too liquidy. Cool the mixtures to room temperature.
Whip the heavy cream in a large bowl until frothy. Add powdered sugar and vanilla, and continue mixing until peaks begin to form.
Break up the macarons, but keep them in six portions. One macaron per serving.
Dollop a big spoonful of whipped cream into the bottom of an individual sorbet glass or drinking glass. Sprinkle in half of your broken macaron. Add a layer of blueberry mash, add a few uncooked berries for texture. Follow by another layer of cream, and the balance of your macaron pieces. Top this with a layer of strawberry mash to which you've added a few quarters of fresh berries. Another generous spoonful of whipped cream goes on the top.
Garnish with whole fresh berries and a sprig of mint. Serve immediately, or chill for up to three hours.