In January, EYA team members attended the International Builders' Show (IBS) to learn more about the latest products and trends in home building and design. This month, we are continuing our blog post series on new products and trends by delving deeper into kitchens and baths.
Are you transitional, contemporary, urban industrial or more of a minimalist?
Take our interior design style quiz to find out!


---
With smart phones, blue tooth technology and home assistants now controlling security systems, lighting and entertainment, it's no surprise that similar automation and technology is being integrated into kitchen and bath design.

Here are some observations from our team who attended IBS on the latest product trends to make your kitchen and bath more efficient, desirable and maintenance-free.

Talking to Your Shower
Brian Zdgiebloski, Director of Architecture: There are many emerging technologies surrounding showers. In recent years, we've seen the development of digital touch pads where you dial in what shower components you want to run and at what temperature and velocity.

Now, that's all voice-activated. You just walk into the shower and say what you want, or you can do it entering the bathroom so in a certain amount of time, it's ready to go. Also, several plumbing manufacturers are incorporating televisions and other audio-visual options into shower units as a standard item. It's no longer like the Jetsons, it's happening!

In addition, we saw new approaches for shower door design and drainage that look great, require less maintenance and reduce soap scum accumulation. Where you would normally see a drain cover, they now have integral options where the grout joint becomes your drain. It's so much easier to clean and maintain, and it looks much nicer.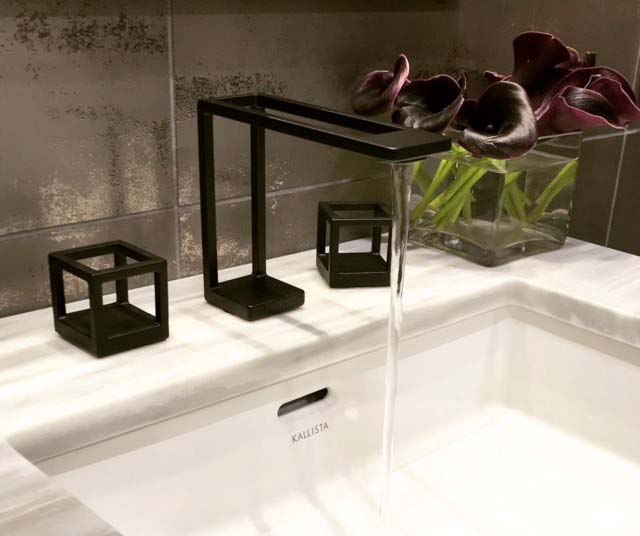 3D printed faucet by KALLISTA
Magic Faucets

Amanda King, Design Manager: The coolest thing I saw during the entire show were faucets manufactured on a 3D printer that literally looked like magic faucets. They had a very intricate design and you couldn't see where the water was coming from. But in general, we saw a pervasive trend toward darker finishes, particularly in matte black. We saw it on faucets, other bathroom fixtures and even accessories such as towel rings.

Brian: Some of it is a bit of a testing area with the faucets. In the kitchen, they have models controlled by voice or remote touch pads on the countertop. You don't have to use a lever. They want it to be voice activated so your hands are completely free.
Mirror Mirror on the…
Kelly Whelan, Development Analyst II: We saw home assistant activation of lighting in bathroom mirrors and make-up mirrors—both freestanding and integrated into medicine cabinets—so you can dim or increase the brightness of the lighting without hitting a button.
Brian: You can even choose more white or yellow lighting to match your skin tone! Some medicine cabinets also had television screens and speakers so you could watch your favorite morning show as you get ready.
The Family Hub
Amanda: I think integrating technology like this is an interesting way to appeal to Millennials. In the kitchen, we saw refrigerators with tablet screens that connect to your Wi-Fi. You can watch television, access movie channels and check your calendar. It becomes a family hub so you can check everyone's schedule. And it's available at an entry-level price point.
Kelly: We saw a refrigerator model with a built-in camera allowing you to use your phone and an app to see what's inside while you're at the grocery store. So if you don't know whether you have enough milk, for instance, you can take a look inside from afar! There are also features that allow you to assign expiration dates to different products and then have it create suggested recipes for those foods.
Hands-Free Toilets
Kelly: Technology and smart automation has even made its way to the least sexy feature of the bathroom—the toilet. On display, were models with seat warmers and LED lights, motion sensors to raise and lower seats and self-cleaning and washing features using water jets and deodorizing sprays. These enhancements were being touted for the simple reason that many people don't want to touch toilets…even in their home.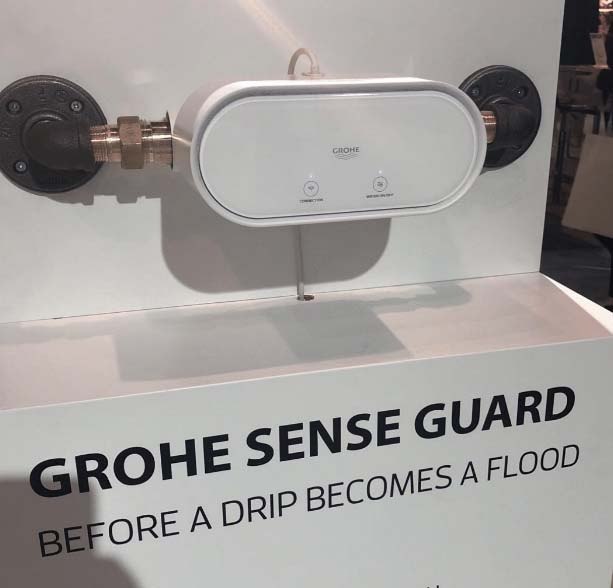 Smart and Green
Brian: I'm an energy-saving nerd, so I think it's important to also talk about this technology as well. Everything is getting smarter from an operational and control standpoint—from using valve solenoids to regulate hot water better to thermostats that allow you to utilize the equipment at a lower energy usage.
For hot water-generation, they're coming out with hybrid systems that learn how you are using your water on a daily basis. The systems know whether to cycle from electric to a heat pump operation based on the volume you're going to ask it for and the temperature outside.
We also saw a manufacturer demonstrating blue tooth water bug sensors that you can put anywhere in your home. They go to a primary solenoid on your main water service. If a bug ever senses a leak, it sends a message to the solenoid, which has the ability to shut the water down while also sending you a text or email! It's very affordable and user-friendly and a handy item if you spend a lot of time away from the home.
Moving to Man-Made
Brian: Due to price, availability and the desire to be better stewards of our natural resources, we're seeing a trend toward man-made products that I think is going to stay with us. We saw bathroom vanity tops and kitchen counters where manufacturers were using reclaimed bits and pieces of quartz and stone with polymers to make incredible products. They're also doing a fantastic job with porcelain tiles that make the graphics of the tile more natural and stone looking.
Amanda: A lot of the quartz manufacturers were rolling out quartz slabs that looked like travertine or marble…very natural textured finishes.

To read more about new trends in home design based on our team's observations at IBS, read our blog post, The Top 5 Trends for New Homes. And stay tuned for more as we continue our series on new products and trends for 2018.