We are excited to announce that our brand new onsite sales center is now open for in-person appointments at The Townhomes at Reston Station! Be among the first to tour the site, view the scale model, take 3D virtual walk-throughs of the homes, and more.
Priced from the upper $700s, with elevator townhomes from the upper $900s, the townhomes are located just steps to Metro's Wiehle-Reston East Station, new shopping & dining, and the ever-popular W&OD Trail. The only new elevator townhomes in the area, these contemporary homes offer the best of urban living with the established convenience of Reston.
---
Schedule your appointment to learn more
New elevator townhomes in Reston, VA
---
Newly Designed Sales Centers for Safety & Social Distancing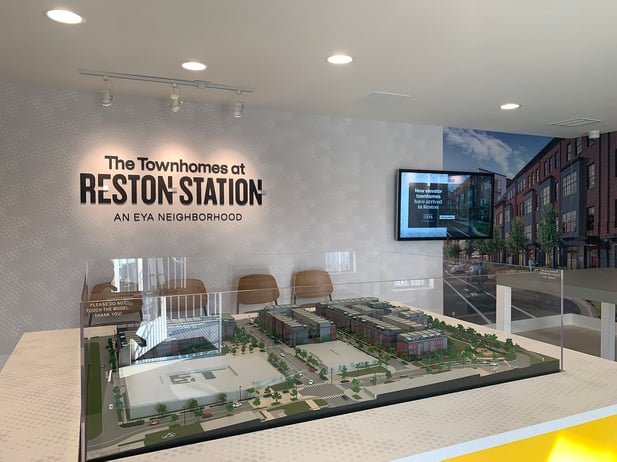 With the ever-changing environment, our priorities remain the health, well-being, and safety of our team, homeowners, neighbors, and community. We have reorganized and re-imagined the layout and design of each of our sales centers to ensure the safety and comfort of guests during their appointments. You may now schedule both in-person and virtual appointments at The Townhomes at Reston Station.
The new design of the sales centers has been thoughtfully reconfigured to ensure a seamless appointment. Each sales center is now divided into two zones: a sales manager zone and a guest zone. They will also feature new 6-foot wide tables with seats on each side to ensure safe social distancing during meetings, strategically placed monitors, and displays for optimal viewing––all done to create a seamless and safe experience.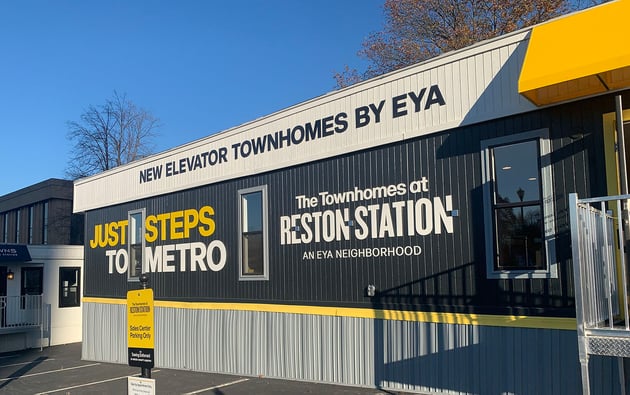 When you arrive at your appointment, you will be asked to call or text the sales manager to let him or her know that you have arrived while waiting in the comfort of your car. He or she will conduct a brief verbal health assessment before welcoming you to enter the sales center. These questions will be sent in advance as part of the appointment confirmation email you will receive prior to your appointment.
All visitors must bring and wear their own face covering for the entire duration of the appointment. EYA will provide both hand sanitizer and gloves for guests, but visitors are not permitted to bring their own gloves. All safety precautions will be clearly outlined in an email you'll receive before your appointment.
To further these measures, only one sales person or design consultant will be present at a time and each visiting party may only have up to three members. EYA team members will also be wearing required protective face coverings throughout the appointment.
---
We're Ready to Connect With You
Tools, Resources, & How to Connect with Us During this Time
---
Virtual Appointments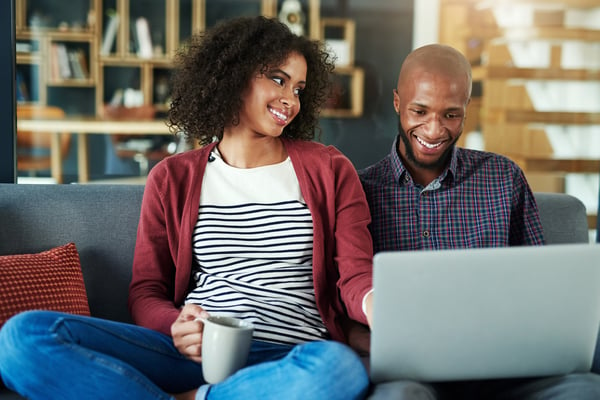 If you would prefer to book a virtual appointment, we are ready to connect with you through a variety of online tools. We also offer live video chat tours to guide you through the home buying process when and how is easiest and most convenient for you. Whether you're more comfortable with video, phone calls, texts, or emails, our team is just a call, tap, or click away.
The video tour and appointment will be conducted through live video chat with a member of our team. Just as we would in person, we will carefully explain and go through all of the details, discuss contract information, talk over options, and more. With our virtual tour options, we can walk you through the homes virtually, room by room, and guide you along the way.
---
Whether you prefer to meet in-person or virtually, we look forward to meeting with you! If you have any questions about the safety precautions, appointment scheduling, or any other element of the process, please feel free to contact us at any time.