Whether you have a large kitchen pantry or a few shelves dedicated to storage, many of us can agree that this area often gets disorganized, messy, crowded, and, let's be honest, becomes a place where jars and bottles of goods frequently remain well beyond their expiration date.
If you've been considering a pantry overhaul, read on for some tips from EYA's longtime storage solution partner The Tailored Closet of Greater Washington, DC. Their experts have honed the craft of designing pantries that accommodate the needs of the entire household while maximizing space and functionality. Below are some of their most popular pantry design ideas and organization tips to help you create the look and functionality of your dream pantry space.
---
New EYA Townhomes in DC, MD and VA
Learn More
---
Maximize

the

Space
Pantries are typically built into the corner of a kitchen or in a separate adjoining space. Often used for storing everything from small kitchen appliances to canned goods and spices, maximizing the space is key. Here are a few tips:
Continue your cabinetry, shelves and storage solutions all the way up to the ceiling. And store a small step stool on the pantry floor or in a nearby place for easy access to reach the top.
Better utilize the corner spaces with a Lazy Susan so you can easily find and reach all the items tucked in the back.
Consider non-wire shelves for better organization and to ensure nothing falls through the cracks.
Don't forget the back of the door. Hanging storage solutions and spice racks can make excellent use of this extra space.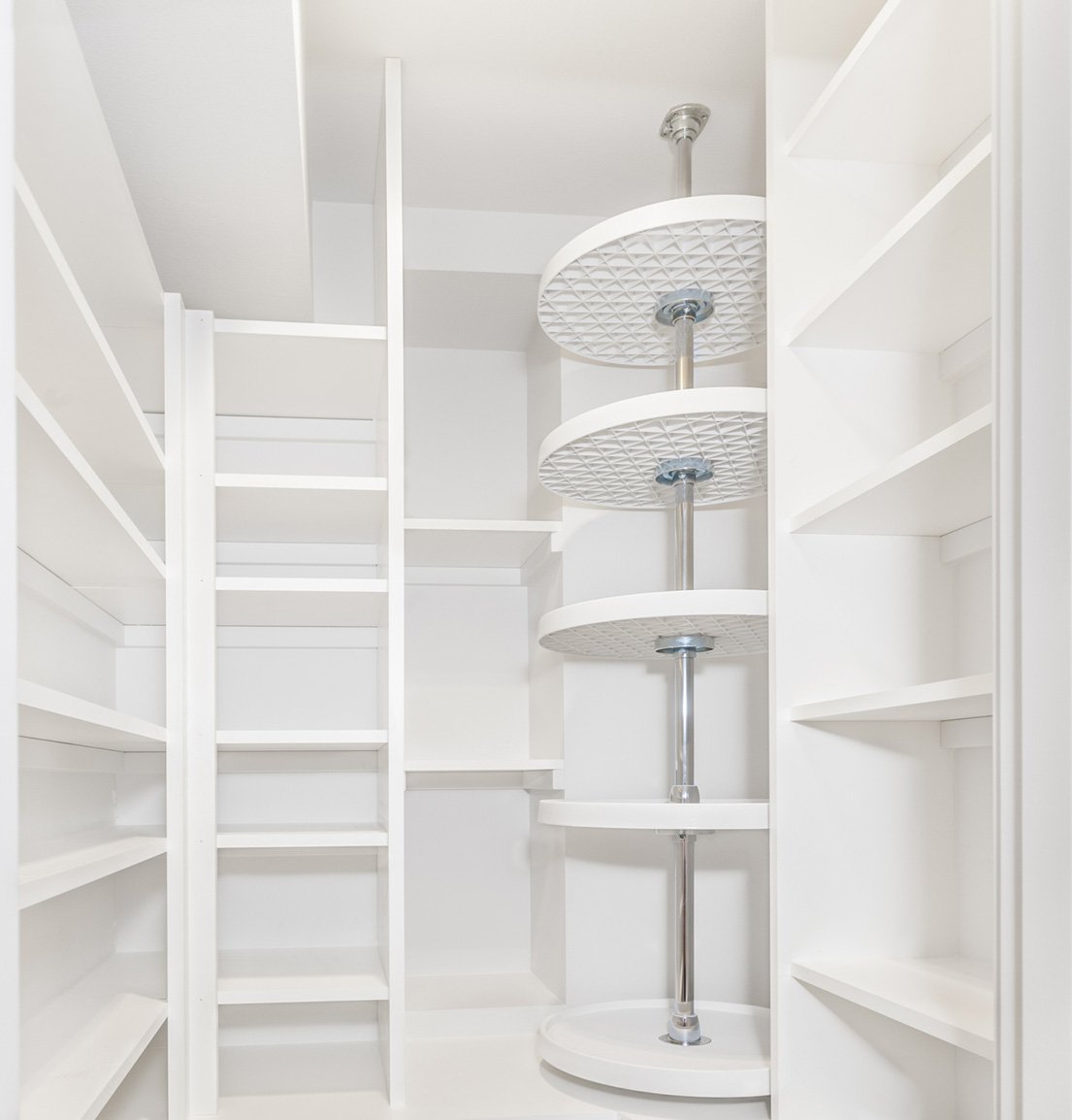 Use Varied Types of Storage Solutions
Think about what you'll be storing in your pantry and use the best storage solution to fit your needs. For example, if you will be storing small appliances such as a mixer or blender, perhaps you'd like more shelf space. Or if you have lots of spices, consider a pullout spice drawer or hanging spice rack on the back of the pantry door. Here are some types of frequently used storage solutions.
Structural
Cabinets: Good for storing small appliances or items that may not look presentable on open shelves (such as canned goods), cabinets can provide some needed "hidden" storage.
Open Shelves: A way to add fun design along with functionality, open shelves are great to showcase (and store) pretty baskets, jars and containers.
Pullout Drawers: Helpful for better seeing and reaching what's in the back of a space, vertical or horizontal pullout drawers can be a good solution for containers, canned goods and more.
Pullout Spice Racks: Also, have you ever tried to find the right spice at the right time in a disorganized pantry? It's not fun. Pull-out spice racks (horizontal or vertical) make the best use of space and provide ease of finding the just the spice you are looking for.
Other options include custom wine racks, tall cabinets (for items such as brooms and mops), shelf dividers and more.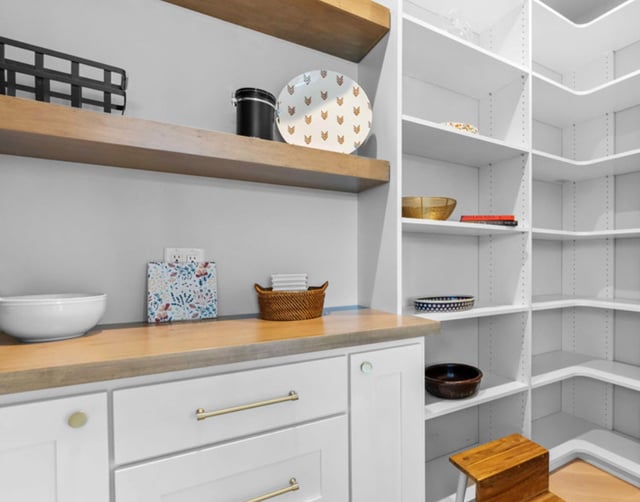 Accessories
Lazy Susans: Perfect for pantry corners, Lazy Susans can help you better access items from the corner/back of the pantry shelves.
Baskets: Baskets are a great way to store snacks, fruits and other loose items that can clutter up the shelves if left unorganized.
Clear Glass Jars & Plastic Containers: Store flour, sugar, nuts, pasta and other perishable items in these sealed containers. Tip: Add a label to each container to make it faster/easier to find items.
Back of the Door Storage Solutions: Make use of the back of the door with hooks, hanging spice racks, over the door storage systems and more.
Slat Walls: Installing slat wall optimizes vertical space that isn't being used for cabinetry and storage. This is great for hanging items such as brooms, dustbins and shopping bags.

Organize Items for Ideal Function & Presentation
Now that you have considered how to maximize the space and what storage solutions are best for your needs, think about how to organize your pantry items. Many people prefer to organize items in groups so they are easier/quicker to find. For example, baking supplies such as flower and sugar can be stored in one area, while various types of rice and pasta in another.

The key is determining what works best for you—and each of your family members. If you have kids, perhaps you can use a basket for approved after school snacks that is placed on a lower shelf they can easily reach.
To add a pop of color or fun design element to your pantry, paint the wall a color that complements the rest of the kitchen. Or use peel-and-stick wall paper to really make the back of the pantry walls stand out.
For any pantry areas in view, such as open shelves, don't forget about the presentation. Here are a few tips:
Clear glass jars and containers can look very nice on open shelves. You could either use identical containers, or varying heights/sizes, depending on your preference.
Colored containers matching your kitchen decor can also add a nice pop of color to the shelves.
Canned goods aren't as presentable on open shelves, so leave these in a cabinet or drawer.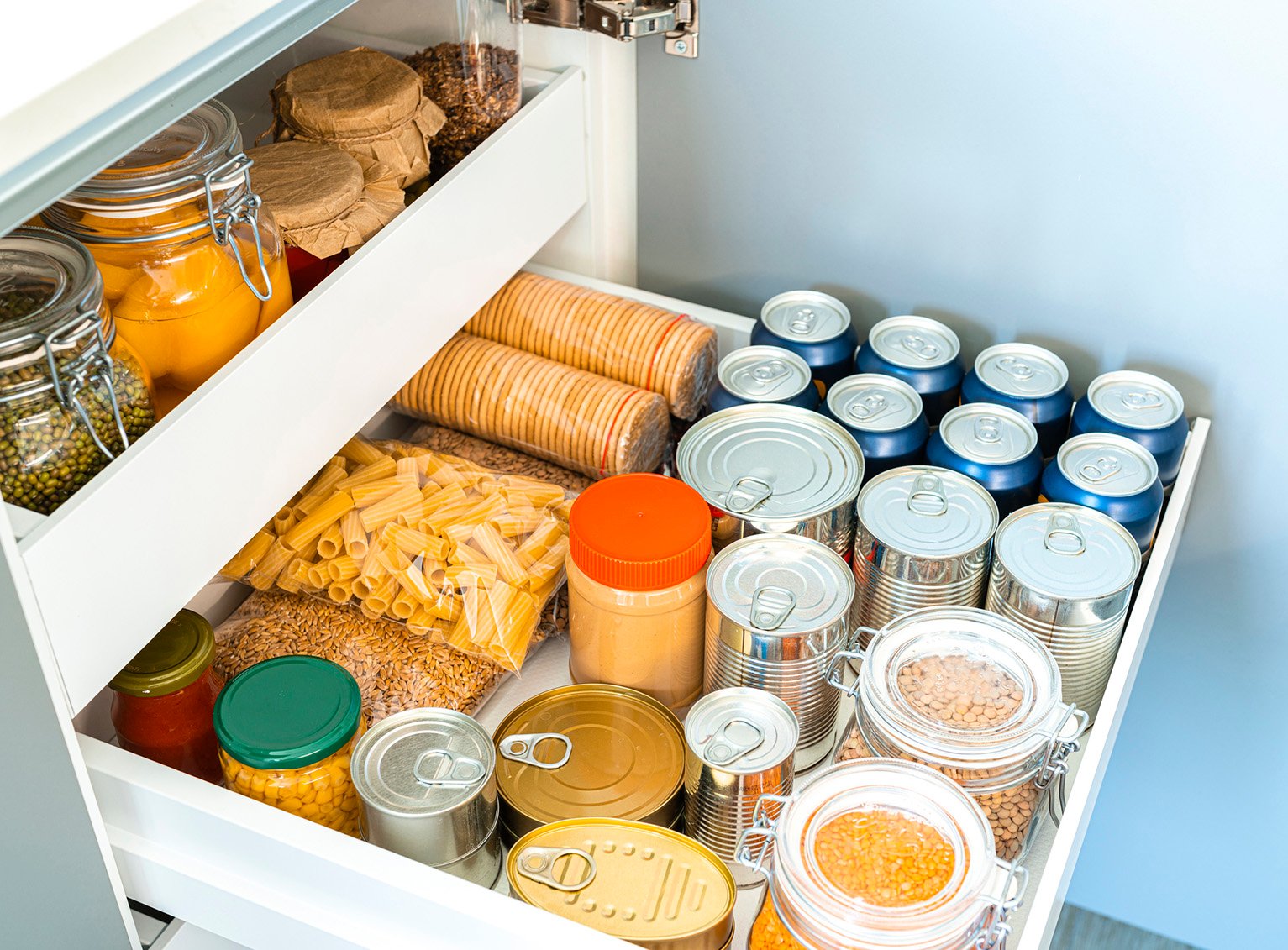 Don't Forget About Lighting
When it comes to lighting, pantries tend to be an afterthought—but they shouldn't be. Customizing your pantry lighting can lead to better organization and ease of finding items quicker. Functionality is key for keeping a pantry clean and organized, especially with busy households.
We hope these tips help you turn your pantry into an area that maximizes space and meets your storage needs, while adding a beautifully organized element to your kitchen. And if you'd like help from the pros, the folks at The Tailored Closet can provide expert advice and solutions for any size pantry.