Happy & Healthy: Wellness in the Mind, Body - And Home
When you hear the word 'wellness' what springs to mind? An unplugged weekend long yoga retreat with morning meditation circles? Putting on soothing music, lighting a candle, and slipping into a warm bubble bath after a long day?
It's all of the above – and more. A 'wellness' lifestyle is a holistic approach to living; capturing mental, physical, emotional, and spiritual connections that contribute to our overall health. This kind of healthy living begins with establishing a foundation and routine in the place where we spend most of our time: in the home.
---

---
What is a Healthy Home?
A healthy home is designed and constructed with both the residents' overall health and well-being in mind, as well as environmental considerations. Since we spend about 90% of our time indoors, and 70% of that time inside our homes, it's important to consider how to create a healthy environment from the start.
EYA Director of Architecture Brian Zdgiebloski and Procurement Manager Tim Shaver agree that architects and designers are now prioritizing more than just style and location when building, but focusing on how homeowners actually use the space they live in. Brian and Tim attended this year's International Builders' Show and observed a number of trends in building and architecture where Brian says, "the general energy was around wellness and ease of life in your home."
Why Should I Consider a Healthy Home?
Both mental and physical health are essential to your overall well-being. By creating a home environment that values and optimizes your health, you're taking the first step in incorporating lifestyle changes that ultimately promote longevity. Healthy homes are also built with the intention of reducing environmental impact by using environmentally friendly materials that minimize waste, maximize energy, and conserve water.
How to Create a Healthy Home Environment
From building materials and floorplan designs to creating space for mindful activities, here are areas of wellness to consider when building and living in a healthy home:
Optimize Indoor Air Quality
Indoor air quality is at the center of a healthy home vision, with homeowners and their families spending the majority of their time living (and breathing!) in the home. "We're a big proponent of fresh air supplies and making sure that we are not only recycling air inside the house," says Brian, discussing the many developments being made to ensure homeowners can breathe easy knowing their air is clean. Here are a few options to consider when it comes to air quality in the home:
Optimize indoor air quality with a built-in central air purifying system and whole-house mechanical ventilation system to help circulate air and tackle airborne pollutants like pollen and dust particles
Use low VOC paints and finishes

What is a VOC? VOC stands for Volatile Organic Compounds that are a variety of chemicals used in many home building materials. They emit gases that can have both short and long term effects. When building or living in a healthy home, it's important to choose materials that have as low VOC as possible

Use eco-friendly cleaning products to eliminate unnecessary VOCs that disguise themselves in mainstream industrial cleaners
Plants are a great way to help purify the air, add a calming aesthetic to your decor, and remind you to let the natural light in
Plan for Plenty of Natural Light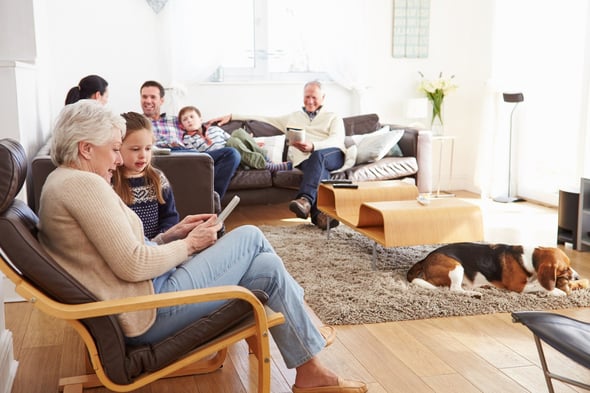 Natural light has been shown to increase concentration and focus, reduce stress, boost your immune system, and regulate important bodily functions. Here are some of the recent innovations in lighting with healthy living in mind:
Plan for plenty of natural light in the home with large glass windows to help improve overall mood and productivity throughout the day, while conserving energy at the same time
Open floor plans eliminate interior walls, making it easy for light to travel through the living areas families spend most of their time in
Connecting lamps and ceiling lights to smart devices can help regulate the intensity of the light based on time of day, while also controlling the temperature
Sensor activated and automatic lights help to conserve energy and avoid higher electricity bill costs
Brian expanded on these exciting innovations, summing up the ways in which lighting systems in new homes are saving money and making life easier. "Huge energy efficiency is what it's all about. It used to be where lighting controls systems in a new home would at least double your electrical construction costs. Not anymore. Now we're talking about buying a blue-tooth enabled bulb that goes into your fixtures and blue-tooth enabled switches that are user-friendly to integrate with Alexis and any kind of home automation controller. It could be as simple as your little Amazon Dot or as complicated as a full software system."
"These movements forward in lighting your home mean the next phase in LED lighting is connecting smart devices and home systems that know what time of day it is. They not only adjust the intensity of the light but can also control the temperature of the light because in the morning you want much whiter, cooler tones and in the evening you want lighting to be warmer," says Brian.
Incorporate Nature into Your Home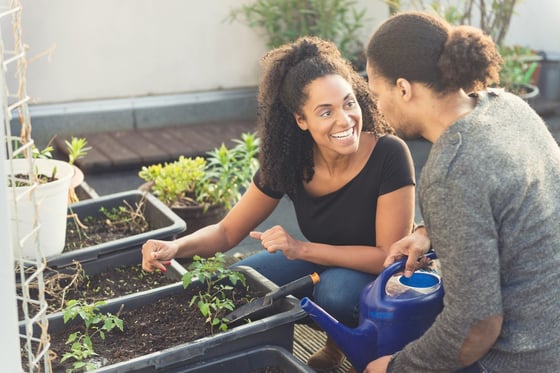 The human-nature connection has been studied by psychologists for years. There is no debate that our affinity for the outdoors is a powerful and valuable component of our well-being. Time in nature has been proven to help regulate emotions, improve memory functions, increase problem-solving skills, and even improve creative abilities. By staying close to nature, people feel more empowered with more energy and ultimately feel happier.
Since staying close to nature improves physical, mental, and spiritual well-being, it's important to incorporate naturalistic elements into your home.
Rooftop or backyard gardens are a great way to get fresh air and exercise, while providing fresh and organic vegetables for meals
Choose eco-friendly materials when it comes to building, but also when it comes to decor. From bedding to rugs, be mindful when choosing products
Place fresh flowers and plants throughout your home to help improve concentration, increase productivity, and feel more calm
Install large glass windows and choose light curtain fabrics to let light stream through living spaces, while also getting a view of the outdoors
Set up an outdoor space for entertaining that will encourage not only family members, but friends to enjoy the space
"With more glass, it's about integrating the indoors with the backyard or patio and making them feel connected. [Residents should] be able to step right from the kitchen to your backyard," says Tim.
"Incorporating outdoor spaces is a trend that's here to stay. At EYA, we picked up on this with our outdoor terraces many years ago, but it's really catching on in the condo and single-family home market as well. [At the show] we saw 10 to 12-foot sliding and folding walls that open up your indoor living space so you're basically outside," says Brian.
Design with Hydration and Water Conservation in Mind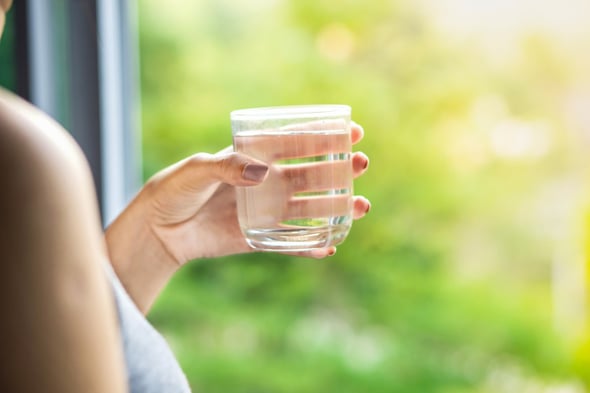 Water is the essential building block of life on this planet, and the key to maintaining a healthy body, mind, and lifestyle. Benefits of hydration range from staying energized to maintaining blood pressure and reducing stress. Brian and Tim saw countless examples of ways that builders and designers are working to build plumbing systems in new homes from the ground up.
"[We're seeing] conveniences that you can put in your shower so you don't have to worry about wasting time getting up to temperature or scalding yourself…while at the same time helping you conserve water," says Brian. "The general GPM (gallons per minute) of fixtures is coming down and a lot of the manufacturers are modeling what is being required in California to promote conservation. So extreme water sense fixtures are becoming the norm."
"This includes developing different spray patterns and ways to feed water through the shower heads to make them more powerful," added Tim.
Here are some additional ways in which homes are being designed smart from the start with hydration and conservation in mind.
Built-in water filters encourage hydration, making it easy to grab a glass and stay hydrated
Installing touchless faucets in the bathroom and kitchen not only save water, but avoid the spread of germs and contaminates
Low flush capacity options help the environment by saving water, while reducing your water bill costs at the same time
Try out conveniences that you can put in your shower so you don't have to worry about wasting time or water getting up to comfortable temperatures, while also conserving water
Integrate Smart Technology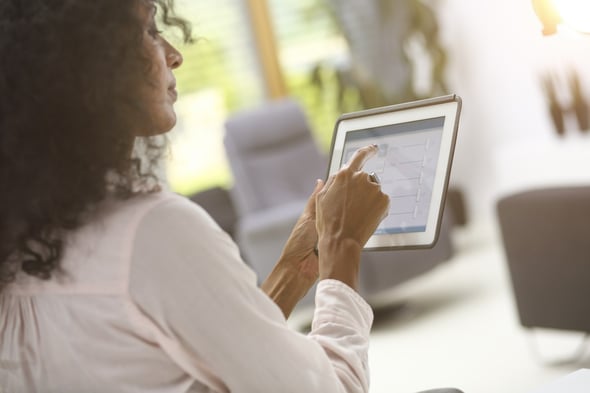 Smart technology is changing the game when it comes to how we're living both in and out of the home. Apps and features help to monitor everything from how long your kids are watching TV to making sure you remembered to close the garage door when you left for vacation.
There are even some unexpected ways technology is evolving in the home. "Fireplaces are becoming more 'fire art' as opposed to just burning wood and keeping you warm. Electric fireplaces are making a run at it where they're using different ways to omit flame and LED lights. You can deflect the heat omitted by your fireplace to a different room or area of your house, so you don't have to worry about your room being too hot or your baby touching the glass. There's an automated fan system that gets rid of the heat so it's cool to the touch like a wall," says Brian.
---
Ways to Make Your Townhome "Smart"
---
Here are a few additional ways smart technology is helping residents live a healthier lifestyle:
Apps & smart technology features have the ability to regulate screen time, encouraging family members to put their phones down and connect over the dinner table
Smart humidifiers monitor air and adjust for better sleep
Connected appliances even allow you to monitor your kitchen remotely to make sure your dinner isn't burning or check the fridge to see if your husband picked up the milk on his way home
Plan Ahead for Ease of Living
The number one priority of a healthy home is for the homeowners to live their best life. To make living and planning ahead easy, designers and architects are thinking strategically and thinking ahead to anticipate homeowners' needs, even ones they might not even be thinking about yet.
One example of planning ahead is elevators becoming more and more common in modern floor plans, helping homeowners plan for the future and stay in the homes they love as long as they'd like. "Elevators are becoming a more normal option in homes because people are living longer and recognizing the need to plan ahead," said Brian.
Stair well railings, grab rails in the shower, and elevators in the home make it easier for residents and their family members to move freely and safely throughout their space
Open floor plans encourage families to connect, engage in conversation, and entertain neighbors and friends
Design Each Room with Intention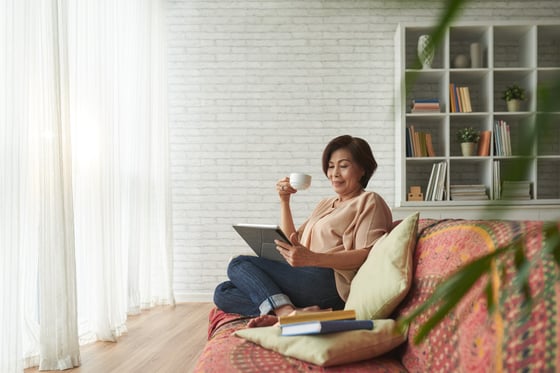 There's a reason the expression 'mind, body, and soul' starts with mind. Caring for your mind and mental health is just as important as caring for your body. When designing your space, designate areas to unwind, reconnect, and truly relax. Here are a few ideas for how to make your mind a priority in your home:
Design each room with intention. Make your bathroom an oasis for relaxing baths, your bedroom a cozy space to promote better sleep, and a living room to encourage socialization
Reading has been proven to benefit mental health and help relax the mind and body. Create an in-home library or reading nook to tap into this natural method of relaxation
Set up space for groups to sit, talk, and connect with one another, from family members to friends and neighbors
Commit to Daily Healthy Habits in the Home
It's no secret that a healthy lifestyle includes exercise and healthy eating habits. Keeping these two core intentions in mind, there are ways to make sure you take the time each day to commit to both. Here are a few simple ways to weave healthy daily lifestyle habits into the fabric of your home:

Design a space to devote to physical fitness. Critical to a person's health, having a dedicated workout room or area makes it easier to get your daily exercise in
Create a meditation space or indoor yoga studio relieves anxiety, promotes better sleep, and helps to improve overall quality of life
Kitchens with lots of counter and storage space allow for an easier cooking environment
Commit to cooking at home for healthier meals that not only promote a healthier lifestyle, but encourage quality time spent eating and cooking together as a family
Wellness in the home is about more than the materials. It's about mindful, thoughtful, and health conscious intentions for a way of life. As technological advances transform the way we live and interact, these healthy home elements integrate and work together to create a living space that promotes longevity and ultimately, a happier and healthy life.
With the fundamentals in place, designing your space for optimized comfort, relaxation, and happiness is the next step. Architects, interior designers, and even scientists have found that design and decor can affect our mood on a daily basis. Take our interior design style quiz to get started on making your home into a haven.