When searching for a new home, many factors come into play to decide where and how you want to live from location and price to choosing between new construction and resale. One of the most exciting parts of the process when purchasing new construction is choosing the options and features you want, offering personalization to your home as well as options you've been dreaming of. A feature that can truly transform the home and elevate lifestyles is an in-home, private elevator. Private in-home elevators offer the freedom and longevity of keeping a home over the years, as well as the option of taking care of older relatives.
---
What do homeowners like about an in-home elevator?
---
"We particularly wanted the elevator because we really want to plan for the future." – Barry L., Grosvenor Heights homeowner
The benefits of an in-home elevator have multiple levels (pun intended). For empty nesters it offers the chance to plan for the future as well as stay in an urban, walkable area. In the past, in order to avoid a home with stairs, the options would be more limited to condominiums, apartments, or single-level homes, which could be further out from city centers.
While many empty nesters are ready for their next chapter, they are looking to stay in a community that supports their active lifestyle. Living within walking distance of coffee shops, gyms, grocery stores, restaurants, and public transportation is all still an option with an elevator townhome – merging the best of both worlds.
"If I have my father who is elderly or visitors who are not as mobile, it goes from the ground floor all the way to the top floor, unrestricted on any level and you can get easy access whether you're limited in your mobility and that's very, very attractive." – Kevin E., Grosvenor Heights homeowner
Whether an elevator is for your own mobility or for the mobility of relatives or visitors, an elevator makes it convenient, easy, and safe to get to each level of the home.
---
Top 5 Questions Every Empty Nester Needs to Ask
Before Downsizing
---
"We knew what it was going to be like to age in place, and we wanted to be able to age in place in a home that we actually owned and lived in without somebody taking care of us. And we know we can do it here." – Lenore P., Grosvenor Heights homeowner

"And also, you never know what may happen in life and so it certainly is a feature that could be put to use to the extent that something happened to one of us." – Clyde R., Chevy Chase Lake homeowner
When deciding if an in-home elevator is the right choice for you and your family, the level of convenience in and of itself is unprecedented. Homeowners have taken to the ease of transporting groceries, bringing dinner up to their rooftop terraces, and much more.
"Initially, I didn't think we'd be using the elevator very much, but having the convenience of the elevator driving in the garage with groceries and taking them up two floors to the kitchen or taking the kids, coming home from college, taking all their luggage up to the fourth floor on the elevator - makes it so much easier." – Michael C., Chevy Chase Lake homeowner
---
New Elevator Townhomes in Reston, Virginia
---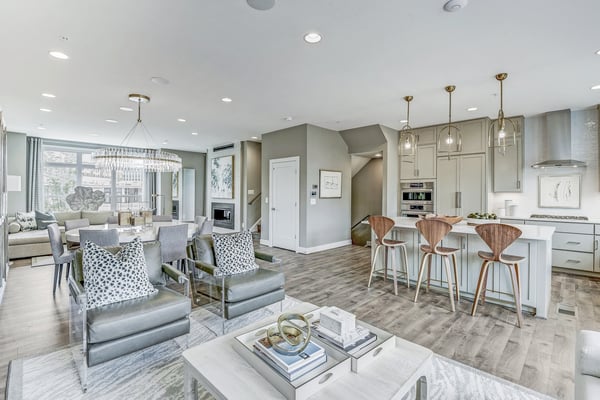 Over the years, many of our neighborhoods have featured in-home elevators as an optional feature. Not only does it offer a level of convenience, but it's a way for homeowners to actively plan for the future. Whether it comes to relatives with lesser mobility coming to visit, an unforeseen change of circumstance, or a seamless way to move about your home, an in-home elevator can change the way you live your life in your new home.
Explore our currently selling neighborhoods featuring elevator options:
The Townhomes at Reston Station
The Townhomes at Cabin John Village