New Restaurants in Your EYA Neighborhood
Subscribe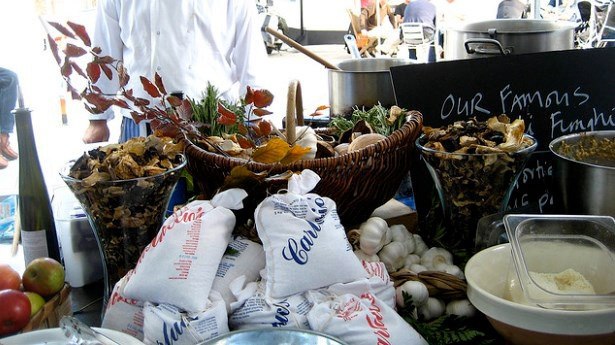 Carluccio's coming soon to Old Town Alexandria. Photo courtesy of Flickr's Jeremy Keith.
EYA homes are not the only new additions to Old Town Alexandria, Bethesda, Mosaic District, Arts District Hyattsville, and Silver Spring. Take an exciting look at what is coming to your neighborhood!
Old Town Alexandria
Carluccio's - The UK-based restaurant and market plans to open its first location in the United States at 100 King Street in Old Town. As mentioned in an Old Town Alexandria Patch article, the man behind the vision, Italian Chef Antonio Carluccio, describes Carluccio's as "an Italian café, restaurant and food shop, renowned for bringing authentic and traditional Italian cooking and ingredients to families in a relaxing and friendly environment." Our newest Old Town neighborhoods at The Oronoco and Old Town Commons are perfectly situated minutes from Carluccio's future location and all the other acclaimed King Street shops and restaurants.
Bethesda
MoMo Chicken and Jazz - Bethesda recently welcomed this Korean restaurant and bar to the neighborhood at 4862 Cordell Avenue. Under the same ownership as the popular New York City restaurant, Turntable, MoMo Chicken and Jazz offers delicious food, great music, and a wonderful overall environment and experience. Be sure to try the Korean fried chicken and exotic cocktails while enjoying the unique restaurant décor. MoMo Chicken and Jazz is a great neighborhood addition and just moments from our brand new townhomes at Little Falls Place.
Mosaic District
True Food Kitchen - The restaurant focused on an anti-inflammatory diet under the guidance of Dr. Andrew Weil will be coming soon to Mosaic District at 2905 District Avenue. True Food Kitchen is located in five other states around the country, but Mosaic will be the first in the Mid-Atlantic region. Diners will enjoy a wide range of healthy, yet still delicious, dishes proven to make you feel better. True Food Kitchen is proud of its vegan, vegetarian, and gluten free options, ensuring there is something for everyone on the menu. Our homes at Mosaic District are within walking distance of this soon to be healthy oasis.
Arts District Hyattsville
The Vigilante Coffee Co. Roastery and Cafe - The previously nomadic coffee company opened shop earlier this month in Hyattsville at 4327 Gallatin Street. The Vigilante Coffee Co. Roastery and Cafe, featured in The Washington Post's Going Out Guide, also sells pastries and snacks to accompany their original coffee blends. While waiting in line at the coffee bar, costumers are entertained by the stages of coffee production happening right before their eyes. Founder, Chris Vigilante, plans to get involved in the Hyattsville community by holding "Coffee College" for those interested in starting their own coffee business and will lead weekly small single-origin coffee cuppings for anyone to participate in. The new Vigilante Coffee location is conveniently located steps from our homes at Arts District Hyattsville.
Silver Spring
Denizens Brewing Co. – Earlier this summer, Silver Spring welcomed Denizens Brewing Co. to 1115 East-West Highway. Costumers love the sense of community at the brewery because it was founded by and is run by locals. Denizens offers expansive outdoor seating in their beautiful biergarten. It's a great place to enjoy a nice Summer day! For the time being, all beers are on tap. Denizens is only minutes away from our townhomes at Chelsea Heights.