Subscribe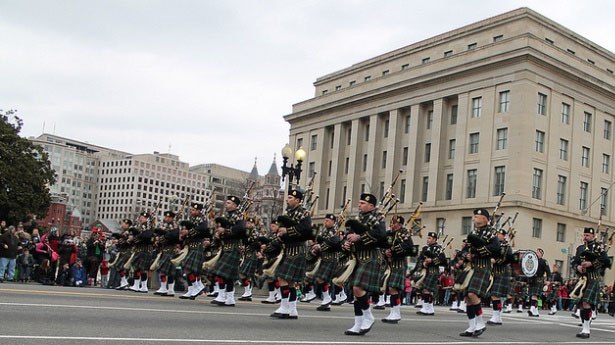 DC's St. Patrick's Day parade will be held on Sunday, March 16, 2014. Photo courtesy of Flickr's Elvert Barnes.
Grab your green attire and get ready for the upcoming St. Patrick's Day celebrations! From parades and live music to pints of your favorite drink, here are some fun ways to celebrate the Irish in your EYA neighborhood.
Silver Spring, MD
Kick off your St. Patrick's Day celebrations on Sunday, March 16th with Kegs and Eggs at McGinty's Public House. Then head over to the Fillmore for ShamROCK the Block beginning at 1 PM. The concert will feature several Celtic bands and dance groups offering high energy infused Irish music and "spontaneous bedlam." Tickets are $12 for general admission.
On Monday, March 17th, skip out of work a wee bit early for the Downtown Silver Spring St. Patrick's Day Festival. Stop by Fountain Plaza from 4 PM – 7 PM for live music and Irish Dance performances. McGinty's Public House will have an outdoor patio and drink specials all afternoon. Steps from EYA's Chelsea Heights townhomes in Silver Spring.
Washington, DC
Just moments from EYA's Chancellor's Row townhomes in DC, the annual St. Patrick's Day Parade will take place on Sunday, March 16th beginning at noon. The parade will proceed down Constitution Avenue from 7th Street to 17th Street NW featuring floats, marching bands, pipe bands and much more. Grand stand tickets are available for $15.
Also on Sunday, Shaw's Tavern is hosting its Pre-St. Patrick's Day Party. Doors will open at 10 AM with live music all day and no cover charge! The party continues on Monday with live music beginning at 7 PM.
Old Town Alexandria
Head over to the Old Town Boutique District on Saturday, March 15th for a "Wee Bit O'Irish Tasting" at Olio Tasting Room. Taste Guinness Irish Stew and other Irish-themed delights. Pick up the recipes and receive 10% off the ingredients.
On Sunday enjoy a hearty brunch at Murphy's Grand Irish Pub from 10 AM – 3 PM. Start out with the Irish Country Breakfast and wash it down with your favorite draft beer. If you are up for a pub crawl, both Murphy's and Ireland's Own Pub will have live music on Sunday and Monday evenings, all steps from the Old Town Commons townhomes in Alexandria and Oronoco Condos in Alexandria.
Bethesda, MD
Celebrate St. Patrick's Day in Bethesda near Little Falls Place townhomes at Flanagan's Harp & Fiddle. Dine on tasty Irish Lamb Stew or Shepherd's Pie while enjoying a pint of your favorite beer. Live music will begin at 11 AM with singer Kevin James' "energetic approach" to traditional Irish folk tunes. Then the 19th Street Band will entertain guests with their rock/Celtic/bluegrass mix of music beginning at 4 PM.
No matter your pleasure, there's plenty to do within walking distance of your EYA neighborhood this St. Patrick's Day!