It was an unlikely setting for one of Alexandria's most significant archeological discoveries: an enormous storage garage in the city's West End, typically used to house unused school buses and emergency vehicles. Instead, nine giant pools filled half the industrial facility, each holding a unique piece of history.
---
Exciting Progress & Updates for the
Condominiums at Robinson Landing in Old Town Alexandria
---
Submerged under the muddy water in the 12-by-24-foot containers were piles of ancient wood, each plank being scanned to its last splinter to create 3D computer models of their origins: One of three 18th-or-19th-century ships. The ships' partial hulls were discovered in 2018 during excavation for an underground parking garage at Robinson Landing, a new waterfront condominium and townhome residences at the corner of Duke and South Union streets.
"To have one ship is really exciting, but now we actually have a collection of ships, which is pretty rare," City Archeologist Eleanor Breen says. "They're incredibly important. They tell us how people reclaimed land from the Potomac River. We're still learning about how Alexandrians used the land they created."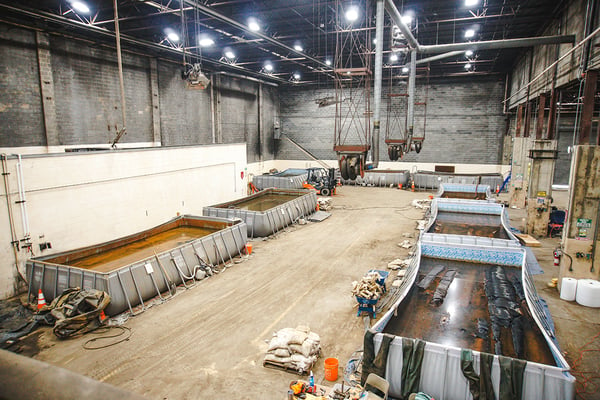 Planks from the three ships recovered at Robinson Landing await 3D laser scanning in a series of nine giant pools.
Ship's Bounties
Since the discovery, the developer for Robinson Landing, RT South Associates LLC, has funded the careful removal of the ships' centuries-old wood framing along with artifacts from multiple structures whose foundations were discovered at the project site, built mostly between 1780 and 1830, says archeologist John Mullen of Thunderbird Archeology, who led the extraction effort. "It was like a slice of time," he says. "We found an entire city block—foundations and cellars of dwellings and warehouses."
Greg Griffin, Senior Director at EYA Multifamily Construction LLC, adds: "When it was unearthed, it looked like an archeology dig you'd see in Egypt or Italy. You could see the old wall foundations, the cobblestone streets, a brick oven and well, and brick and wood floors."
Yet the ships, ranging in length from 50 to 80 feet, are considered to be the crown jewels, left remarkably intact because they were preserved under the water table—away from the deleterious effects of oxygen. "These are highly, highly preserved ship remnants, and that's because of their burial environment," Breen says.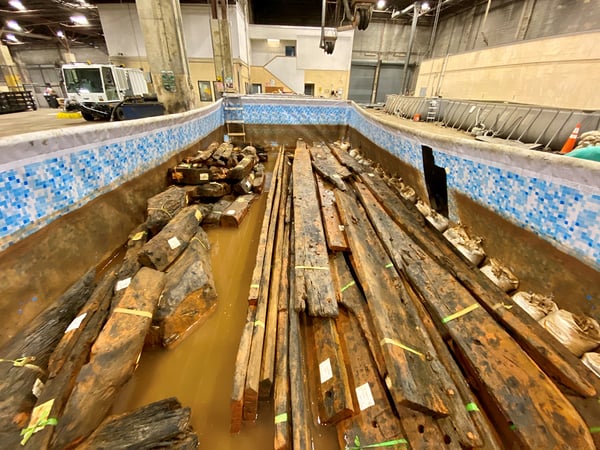 The remarkably intact planks from the ships' hulls have holes in them from where wooden tree nails, or trunnels, once held them in place.
Ultimately, using a process of examining tree-ring patterns called dendrochronology, they'll be able to tell not only what kind of wood was used to construct each ship, but where and when those trees were felled.
The same technique was used on a similar discovery nearby, where a ship was unearthed during excavation for the Hotel Indigo, a block up from Robinson Landing. The archeologists determined through dendrochronology that the wood used to build that ship was cut from trees that were taken down in Massachusetts sometime after 1741, placing its construction into better context.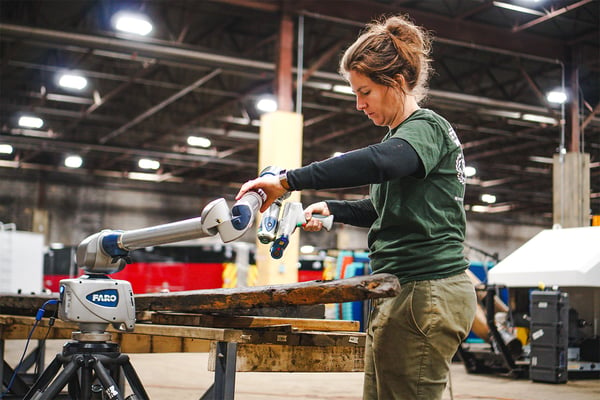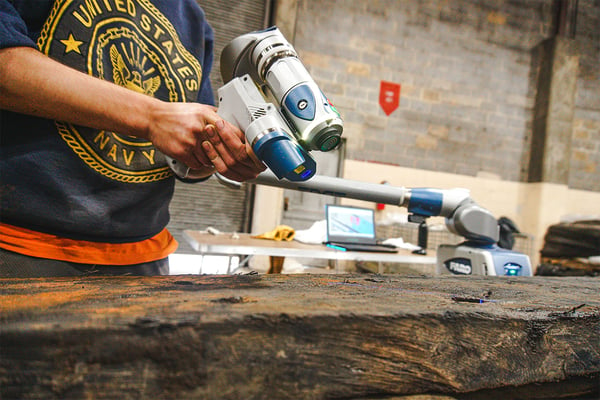 A Texas A&M researcher reads a computer monitor tracking progress of the scanning as she sweeps the laser over every crevice of a ship's plank.
The City of Alexandria invited researchers from Texas A&M's Center for Maritime Archaeology and Conservation to perform the 3D scanning of the wood recovered from the Robinson Landing site. From September 2019 through March of this year, researchers spent a week extracting each piece of wood from the pools, scanning and marking it with labels and green tape to denote its completion and return it to the pool. This is a conservation process they've performed on discoveries all over the world, including Boston Harbor and the Hudson River near the tip of Manhattan when One World Trade Center was being developed in the wake of 9/11. Each of these projects, including the Alexandria excavations, revolve mostly around discoveries made within sodden and underwater environments. This website describes their work analyzing the ship discovered at the Hotel Indigo site using the same methods they applied at Robinson Landing.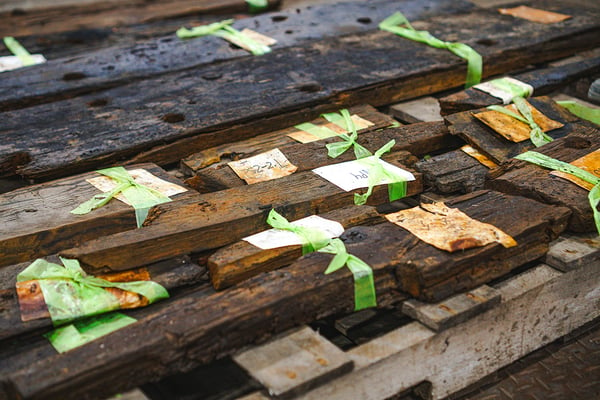 White waterproof tags affixed to each plank describe where it was located within the ship's hull, its orientation in the ground where it was discovered, and other archeological identifiers. The green tape is tied around it once the scanning of that timber is complete.
"All these things are underneath our major seaports," says Peter Fix, an assistant research scientist and the principal investigator for the Alexandria project. "I'm finding as much interest in how America was built—and built out—as the ships themselves. This is a two-part story." The World Trade Center site in New York, for example, is located several blocks from the water. Those intervening blocks are built on fill that ship remnants were used to construct, Fix explains.
---
New Waterfront Residences in Old Town Alexandria, VA
---
In Alexandria, these particular ships were dismantled in order to reinforce infill as early Alexandrians built out their shoreline about 400 feet into the Potomac River. The research team's computer models of these three latest discoveries will be used for 3D printers to replicate the hull fragments and then extrapolate fully formed wire frames of the complete ships based on plans from that era. And because the dendrochronology is expected to reveal where each ship was constructed based on where the trees were taken down, "you can see how ship construction is changing from shipyard to shipyard," says Emma Richardson, the city archeology museum's education specialist.
The 1":12" replicas go on display at the Alexandria Archeology Museum, joining the model of the ship found during the Hotel Indigo construction. "We have one of the best groupings of 18th- and maybe early-19th-century ship styles here," Fix says. "We're going to have four ships, all of them totally different—different construction techniques, different shapes, different sizes. It's a window on commerce—what was coming in and from where."
---
Top 5 Reasons to Live in Old Town Alexandria
---
Historical Proof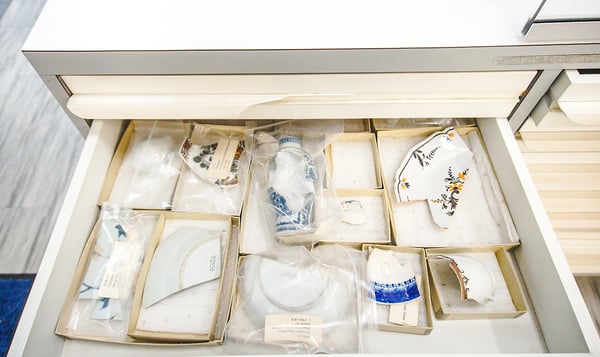 The Alexandria Archeology Museum keeps a huge range of artifacts that survive from Old Town's earliest days.
The ships' hull fragments were among a staggering 200,000 artifacts also recovered from the Robinson Landing dig, which all await further study. But several finds immediately lent validation to the waterfront's historical records. Dozens of foreign coins, for example, suggest that ships were coming to Alexandria's port from all over Europe—Sweden, Ireland, Spain, England and France—in addition to the United States, Mullen says. More clues to the international traffic include large amounts of coral, which indicate that ships were likely coming up from the Caribbean using it as ballast to balance cargo. Once onshore, there was brisk business to support that ship traffic: Archeologists found bottles near the spot where written documents listed a liquor "assayer," and recovered remnants of an oven where a bakery was said to be. Even better, Mullen adds, was the intact "ship biscuit"—later known (and loathed) as hardtack during the Civil War days—that was found near the bakery site. This diet staple made with flour, water, and salt was used aboard ships because it was so durable—taste was of little concern.
Also recovered were cowrie shells, Mullen notes, which were used as jewelry in some African cultures, but also as currency to purchase slaves from West Africa in the 18th century. Those shells, along with the coral, are evidence of the triangular slave trade between Europe, the Caribbean, and the British Colonies, Mullen explains, "or at least the tangible presence of Africans here along the Alexandria waterfront."
RT South Associates LLC is in the midst of selecting a consultant to catalogue the artifacts (which are documented here on the city's website) in an attempt to place them all within the context of what's already known to have occurred on the Alexandria waterfront in the late 18th and early 19th centuries: Was a cache of small pins and needles proof of a seamstress shop? Were old turtle shells the detritus of a restaurant that was known to have served turtle soup? How about the thousands of shards of bottles and dishes? "Every little chip of broken porcelain helps the archaeologists date and better understand the time period of the features we uncovered," says Griffin of EYA Multifamily Construction LLC. They'll ultimately be gifted to the city, he adds: "That will give them more insight to what was going on here."
Lesson Plan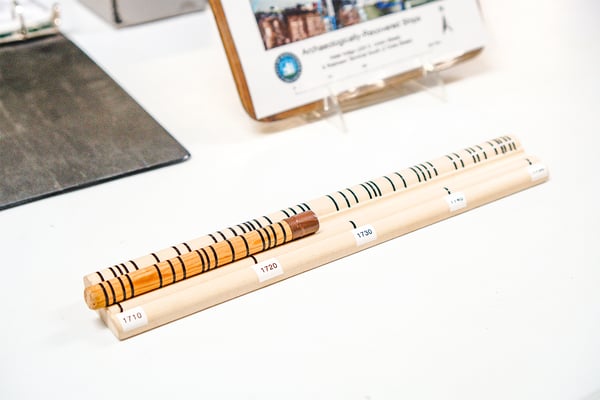 Dendrochronology activity for kids based on how the scientists take ring patterns from old wood and match them with samples of known tree species.
While scanning and study is still ongoing, The Alexandria Archaeology Museum has similar artifacts from the Hotel Indigo site already on display, such as planking and caulking from the ship's hull; original wood pegs used to secure the hull; examples of coral that was used as ship ballast; and leather shoes from a large outhouse privy near a mid-18th-century warehouse that was rented to local merchants. Richardson, the museum specialist, has also designed several educational activities for school children to learn about the history that's been uncovered at both the hotel and Robinson Landing locations.
For example, she created a dendrochronology activity using two rods striped with thick and thin lines. Kids are asked to line up the rods where the patterns match, just as scientists take ring patterns from old wood and attempt to match them to samples within a database of known tree species over hundreds of years in history and from regions all over the world.
---
13 Fun Indoor Activities for a Rainy Day in Old Town Alexandria
---
Richardson also gives students "logs" for cribbing and cobbing sand, just as ship fragments were used in structural frames to hold loose soil and sand to underpin Alexandria's expanded shore. Perhaps the most fun, Richardson says, is the baking lesson where students learn how to make the dough that was baked into those infamous ship biscuits like the one found during the Robinson Landing excavation. "It's not the type of organic matter you'd think would survive, but it lived up to its reputation!" she says.
Moving Forward
As for the original wood from the three ships, the city's still trying to figure out what to do with it once it's been catalogued and scanned. "We want to preserve the option for future conservation or study," says Breen, the city archeologist. Proposed plans include storing the timbers in a pond for the medium term, and then selectively conserving the most significant timbers. The conservation process will involve removing iron oxides, injecting the wood's cells with wax to replace the water, and freeze-drying them to eliminate any residual water. It's a laborious effort but well worth it, she explains, because "250-year-old wood is not something we find very often."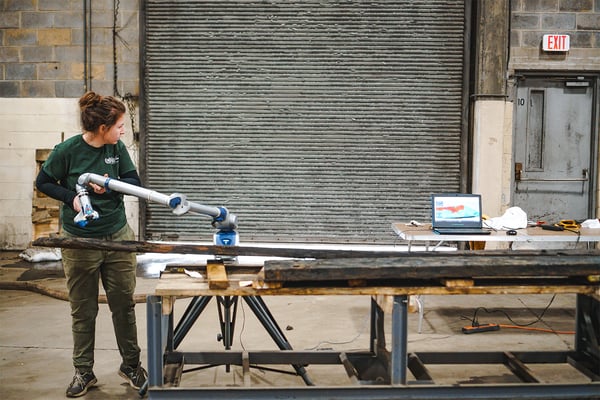 Researcher scanning a plank from one of three 18th-or-19th-century ships.
Other elements of the fruitful dig at Robinson Landing will live on, if only in name. The excavation revealed the remains of the original Strand, a long-gone lane that was marked in Alexandria's early maps. The street's unearthed cobblestones were in such good shape that its central gutter was still mostly intact. EYA Multifamily Construction LLC's Griffin says: "You were able to stand on The Strand where somebody stood in the 1800s. It was an amazing experience to see this much history uncovered." As a nod to this discovery, Robinson Landing's layout includes a new Strand Street in the same location as its namesake. Along with all the physical artifacts to be catalogued and the ship models placed on display, Griffin adds, "we'll have incredible records that people will be able to study for years and years to help inform the early history of Alexandria.
Click here for more exciting progress and updates for the condominiums at Robinson Landing.
---
Photography by: Quantized Pixels