As the D.C. region prepares to welcome Amazon and all that it promises, those relocating to the area should seriously consider making their new home in Old Town Alexandria. Rooted in American history, Old Town boasts an ideal mix of authentic architecture and storybook streets with a thriving business and retail district including some of the region's favorite dining spots. Situated right on the Potomac River, and named fourth in Condé Nast Traveler's Best Cities in the U.S. Readers' Choice Awards, Old Town has long been considered one of the most desirable places to call home.
Here are 5 of the top reasons why we think Old Town Alexandria is one of the best places to live.

---
Discover waterfront living at Robinson Landing
---
1. You Will Never Run Out of Things to Do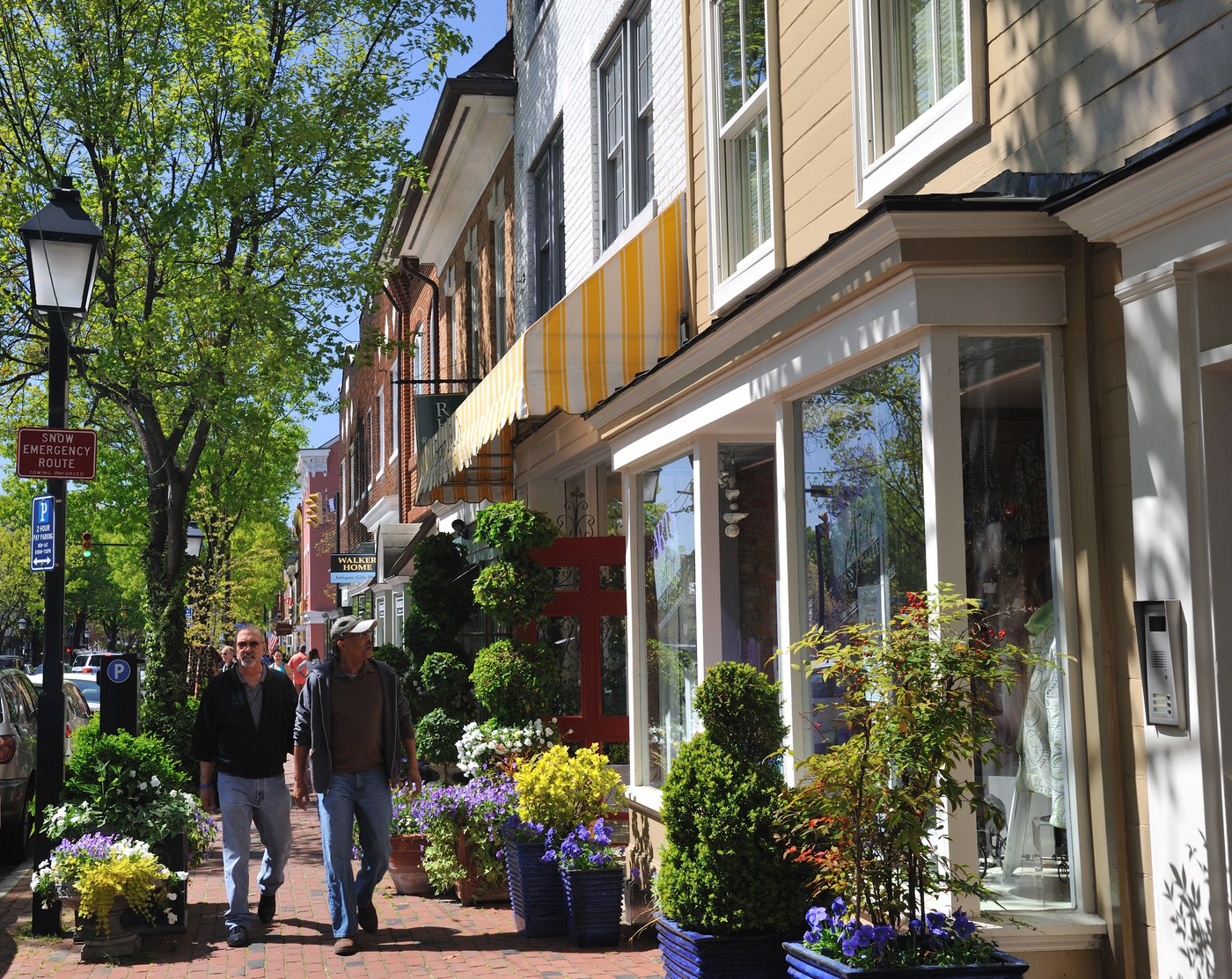 Calendar of Events
Old Town combines city living with a quieter, close-knit community. On any given day, there are a myriad of local events, workshops, and classes to try. From street festivals and holiday parades, to art shows, running groups, wine tastings, live music, comedy nights, theater performances, and museums, there is no shortage of activity. Let your inner Picasso shine at a Paint and Sip session, compete for the best score at nearby Top Golf, meet friends at Market Square to sample fresh produce and more at the farmer's market, enjoy a concert at local legendary music hall, The Birchmere, or if you prefer an adrenaline rush you can test your skills at an Escape Room. Whether a family outing, date night destination, or group activity, there's something for everyone.

Historical Roots
Strolling along the sidewalks of Old Town's iconic King Street, it isn't uncommon to see a tour guide leading a group by candlelight, dressed in full colonial garb. As George Washington's hometown, Alexandria is a city rich in history that preserves and celebrates the past 200+ years. While George Washington's Mount Vernon is less than 10 miles away, historical attractions, sites, and museums also honeycomb the bustling streets of Alexandria, intersecting seamlessly with modern streets, businesses, and homes. Museums, ghost tours, and scavenger hunts all provide educational and fun activities to discover and dig into the past. And if naval history is your passion, you'll want to plan time to sail with the tall ship Providence—arriving this summer to call Old Town home.

Art Lover's Paradise
Inspiration, creativity, and expression are the pillars of Alexandria's art scene. Old Town hosts local galleries, art installations, studios, and more. At its heart, the world-famous Torpedo Factory Arts Center sets the stage for the visual arts hub, offering three floors of artist studios and galleries, as well as hands-on art making demonstrations, music classes, and much more. You can enjoy original artwork displayed in galleries and shops throughout Old Town as well. Here's a guide that can get you started.
2. Easy Access to National Landing, D.C., and Everywhere You Want to Go
While Old Town's walkability is one of its greatest draws, it also offers easy access via multiple forms of transportation:

Metrorail & Buses – There are two Metro stations located in Old Town: King Street–Old Town and Braddock Road. Both are only a few stops from Crystal City and require a short walk to Amazon's headquarters. Metro includes an extensive bus system that offers shuttles to and from the Metro.

Rideshare, Car Share, and Taxis – Choose from your favorite Rideshare app or give a local taxi company a call to get picked up wherever you are to wherever you're headed. Car Share services are also available in the area with designated pick up, drop offs, and parking spots.
Cars – Alexandria is conveniently situated near some major driving routes including the George Washington Memorial Parkway as well as Rt. 1, Rt.7. and 1-95. In and around Old Town, you'll find garage and street parking available.

Trains – Old Town's Amtrak station is centrally located by the King Street metro station, offering routes both locally and to major cities across the country.
Planes – Reagan National Airport is only one Metro stop from Braddock Road and two stops from King Street. BWI and Dulles are both about 30 miles away and accessible via public transportation as well as by highway.

And a few special commuter options that are unique to Old Town: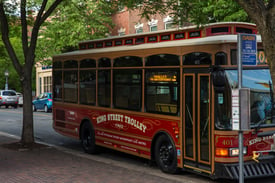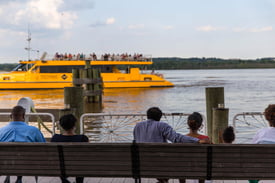 King Street Trolley – An Old Town staple, the free King Street Trolley is a unique way to explore. From the King Street metro stop to the Potomac waterfront, it stops every two blocks.

Water Taxi – Dinner in Old Town and dessert at the Wharf? You don't have to choose with the Potomac Riverboat Company's water taxis, providing service to The Wharf, Georgetown, Nationals Park, and National Harbor. They also offer seasonal sightseeing cruises, as well as private charters for group events.

Bikes & Scooters – Avoiding rush hour traffic, getting some fresh air, and exercise are a few benefits of renting a bike and pedaling along the waterfront or cruising down the Mount Vernon Trail. Hop on a scooter instead to explore side streets and pathways.

3. Safe, Walkable, Family & Dog Friendly

In 2019, Old Town Alexandria was ranked the second safest city in America (SmartAsset) and one of the most walkable (Walk Score). Both essentials and entertainment are within walking distance and residents can take pride in their friendly, walkable streets.
Old Town's main drag is the iconic King Street, which extends from the George Washington Masonic National Memorial down to the Potomac River waterfront. Lit by both street lamps and string lights strewn through the trees along the walkways, the path down to the waterfront offers residents and tourists a gorgeous mix of old and new architecture featuring boutique shops, restaurants, homes, and more.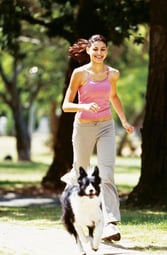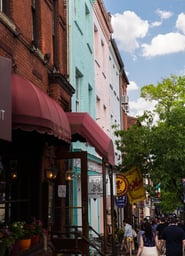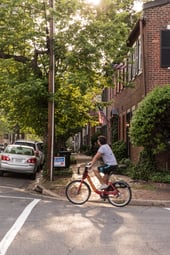 While there is no shortage of retail and restaurant options, the essentials are also close by. Grocery stores and pharmacies including Trader Joe's, Harris Teeter, and CVS are easily accessible, as well as yoga studios, gyms, and other fitness centers. The Potomac Yards Shopping Center just up the road is home to beloved chains such as Target, Home Goods, Staples, and more. Dog-friendly parks are sprinkled throughout the area and many businesses leave water bowls and treats on their doorsteps!

What makes Old Town stand out is the sense of community, safety, and accessibility it offers. Families, empty nesters, and singles have been drawn to the area for over 200 years and it will continue to invite newcomers who want to call this special place home.
4. City Meets Nature: Best of Both Worlds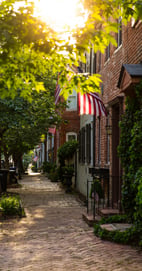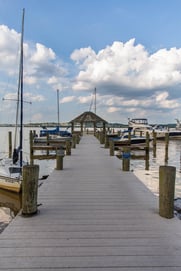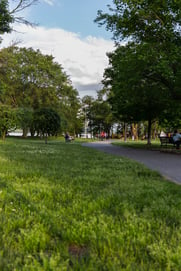 Old Town offers access the best of city and natural environments.

Shopping
A mix of locally-owned boutiques, national retail brands, and gourmet food markets offer residents a vast array of choices when shopping for gifts, home decor, clothes, and more. There is something for everyone from book lovers to fashionistas and foodies. From upscale to consignment, there is always something new to discover while browsing the specialty shops up and down the quaint and charming boutique district.

Services
Doctors' offices, urgent care, dog grooming, and hair salons are just a few of the many services located in Old Town. Post offices, banks, dry cleaning, and auto shops are all tucked away on side streets and corners, making running errands quick and easy.

Nature Trails & Parks
Old Town residents love to be active, spend time outside, and explore. While recognized as one of the most walkable cities in the country, hiking and biking trails wind along the waterfront and even all the way in to the District. Dozens of local nature, biking, and hiking trails as well as public parks offer options to commute or escape, including the beloved Mount Vernon Trail. A community treasure, Mount Vernon Trail is an 18-mile-long paved path, weaving along the waterfront that beckons to joggers, bikers, strollers, and dog walkers. It also provides a link to many of the area's top recreational assets and trails, including the Washington & Old Dominion, Capital Crescent, and Metropolitan Trails to name a few.

Waterfront
From land to sea, Old Town's waterfront is one of D.C.'s top destinations. Public parks, restaurant dining, street performances, and river cruises are just a few of the opportunities to enjoy close proximity to water. With the Washington Sailing Marina close by, it's easy to imagine filling summer weekends with kayaks, sailing lessons, and stand up paddle-boarding.

5. For Every Appetite: More Than 200 Restaurants

From fast casual to fine dining, Old Town hosts a vibrant culinary scene conducive to all palettes and tastes. From nouveau American to classic Italian, Mediterranean, Thai, and Irish–many innovative cuisine options are available. Romantic, date night spots are sprinkled along King Street alongside family friendly options. More than 30 restaurants offer garden, patio, or sidewalk seating and many offer live music, happy hour, and trivia nights. With both a summer and winter Restaurant Week, there is always an incentive to try something new.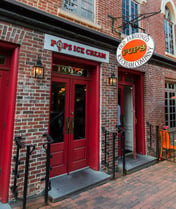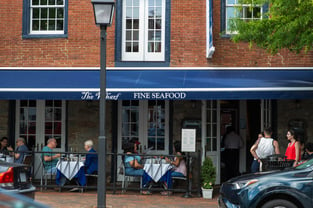 Many Alexandria restaurant owners and chefs pride themselves on a farm-to-table approach, featuring locally sourced meat, vegetables, produce, and ingredients from local farmers and artisans. Healthy, gluten-free, vegetarian, and vegan options are easy to find. Taste samples at Port City Brewery just up the road, or enjoy one of the many bars that feature local brews on tap.

Sip on a glass of wine while people watching from sidewalk seating, split an appetizer on O'Connell's rooftop, or watch the sunset over the tranquil waters of the Potomac from Vola's Dockside Grill.
Nationally recognized for its beauty, walkability, and safety, Old Town Alexandria is host to a thriving and diverse community with accessible public transportation, extensive shopping and dining options, as well as daily, weekly, and annual local activities. In addition to all these activities and amenities, Old Town offers every option for a new home: from apartment living to a charmingly restored rowhome built in the 1700's to a brand new luxury condominium or townhome situated on the waterfront.
No matter your budget or lifestyle, Old Town should be at the top of your list as a great place to call home.
If you're ready to see what's new in Old Town living, click here.