EYA and Federal Realty Close on Sale of 8.3-Acre Parcel at Graham Park Plaza
Dynamic Mixed-Use Neighborhood at Graham Park Plaza Moves Forward as EYA and Federal Realty Close on Sale of 8.3-Acre Parcel
EYA to Build up to 177 Townhomes, 12.5 Percent Affordable; Federal's Revitalization of Graham Park Plaza Underway
BETHESDA, MD (March 19, 2021) – EYA, LLC (EYA) announced today that it closed on the purchase of an 8.3-acre parcel at Graham Park Plaza from Federal Realty. EYA plans to build up to 177 townhomes, 12.5 percent of which will be affordable housing. Federal Realty's improvements to the existing retail and office space on the balance of the property will benefit from positive connectivity to future residents, creating a dynamic and authentic neighborhood offering a mix of uses.
---
Be among the first to learn about exclusive details and upcoming events at Graham Park
---
After more than a year of working closely with the Mason District Supervisor Penelope Gross, the local community, and staff, EYA secured unanimous approval for the 177-unit project from the Fairfax County Planning Commission and Board of Supervisors. The proposal includes affordable housing, significant open space and parks, and cosmetic improvements to the remainder of the shopping center to complement the design of the new townhomes and surrounding community.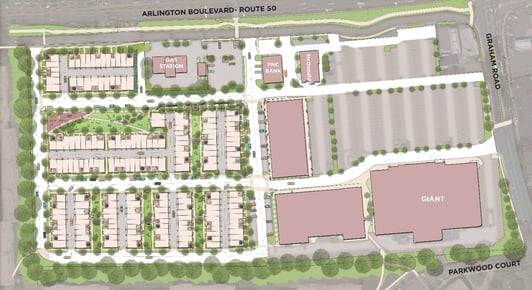 "Graham Park Plaza is an inside-the-beltway, well-located neighborhood close to major Northern Virginia job centers like Tysons and Mosaic," said Evan Goldman, EYA. "We are providing housing at attainable prices in an area that has not seen much development. Working with a fantastic partner such as Federal, which is reinventing the shopping center, will make this a truly walkable mixed-use neighborhood."
"We are thrilled to collaborate with EYA in transforming Graham Park Plaza into a walkable community featuring a mix of uses designed to meet the daily needs of the new development as well as the surrounding community," said Deirdre Johnson, Vice President, Asset Management, Federal Realty.
Graham Park Plaza is located at 7263 Arlington Boulevard, Falls Church, VA, inside the Capital Beltway and only one mile west of the Seven Corners business district. It features a mix of restaurants, apparel retailers and service providers anchored by Giant. Federal Realty is retaining 10.3-acres on the site.
"EYA's townhome developments have created significant value for our retail partners looking to augment their existing retail assets at neighborhood shopping centers such as Mosaic District in Merrifield and Cabin John in Potomac, MD," added Goldman, EYA. "We always looking for more opportunities to continue this work."
The new townhomes will be priced from the $600s. The neighborhood is further enhanced by a new library only one block away as well as a local swim club and renovated high school nearby.
"EYA and Federal Realty are bringing new investment to a corner of the county which has not seen much development in the last two decades," said County Supervisor Penelope Gross. "This will be a catalyst for further redevelopment and revitalization up and down the Route 50 corridor."
EYA plans to break ground on the project this spring.
About EYA, LLC
References to "EYA" refer to EYA, LLC. EYA, LLC through its various development affiliates, is a leader in Washington, D.C.'s urban and transit-oriented living that promotes Life Within Walking Distance®. Individual projects are developed and sold by EYA-affiliated entities, and all representations regarding the development, construction, or sale of any project refers to those affiliates. Founded in 1992, EYA LLC and its development affiliates have built more than 5,000 residences and 42 walkable urban neighborhoods across the D.C. metro area. Visit www.eya.com.
About Federal Realty
Federal Realty is a recognized leader in the ownership, operation and redevelopment of high-quality retail-based properties located primarily in major coastal markets from Washington, D.C. to Boston as well as San Francisco and Los Angeles. Founded in 1962, Federal Realty's mission is to deliver long-term, sustainable growth through investing in communities where retail demand exceeds supply. Its expertise includes creating urban, mixed-use neighborhoods like Santana Row in San Jose, California, Pike & Rose in North Bethesda, Maryland and Assembly Row in Somerville, Massachusetts. These unique and vibrant environments that combine shopping, dining, living and working provide a destination experience valued by their respective communities. Federal Realty's 101 properties include approximately 2,800 tenants, in 23 million square feet, and approximately 2,900 residential units.
Federal Realty has increased its quarterly dividends to its shareholders for 53 consecutive years, the longest record in the REIT industry. Federal Realty is an S&P 500 index member and its shares are traded on the NYSE under the symbol FRT. For additional information about Federal Realty and its properties, visit www.federalrealty.com.