With the holiday season in full swing, events, parties, and family traditions quickly start to fill up our days, nights, and weekends. While the hustle and bustle surrounding the holidays is exciting, it can get busy pretty quickly and sometimes cause more stress than splendor. While you might not have Rudolph to help show you the way, we're here to help! Whether you're hosting a gathering at home, looking for easy party dishes, or searching for the perfect gift for everyone on your list, Cabin John Village can become your one-stop holiday prep destination.
---
Distinctive New Townhomes in Potomac, MD
---
We've gathered the best steps and shops to easily zip through your holiday to-do list for a stress-free holiday season.
Holiday Party Prep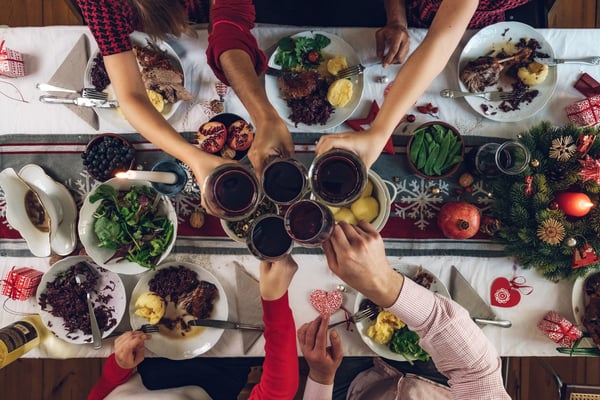 One of the most wonderful parts of the most wonderful time of year is the food. Whether you're hosting or attending a holiday party, these local shops and restaurants help eliminate the unnecessary stress of planning, cooking, and even remembering to take your Tupperware home at the end of the night.
Appetizers & Dessert
Salty or sweet, Breadsmith of Potomac is a one-stop shop for handmade, artisan breads and treats that party guests will love. Easy to pick up for potlucks, specialty breads like French baguettes or Ciabatta are made fresh daily and pair perfectly with homemade dips and spreads. For dessert, choose from a wide variety of cookies, scones, and other various treats, also made daily in the shop.
If you're hosting at home, impress your guests with a custom dessert from Sweetly Anchored Patisserie. This local bakery offers cakes, pies, cupcakes, and more - all baked in-house and made to order. They even offer private in-home cake decorating and baking classes - a great fit for any aspiring bakers on your gift list.
Drinks
Whether you're offering a signature cocktail for the evening, stocking the fridge with a new craft beer, or gifting your favorite bottle of wine, both Montgomery County Liquor and World Gourmet Wine & Beer are just steps from the shops and restaurants in Cabin John Village and make it easy to pick up libations for your party's needs.
Catering
One of the easiest ways to relieve pressure for your upcoming holiday party is to have it catered. You can rest easy knowing your guests will be treated to a delicious meal without having to worry about timing, cooking, or clean up. This allows you to relax and truly embrace the spirit of the season by spending time with family and friends.
Here are a couple of our favorite catering options in Cabin John Village:
Gregorio's Trattoria – This family-owned restaurant offers a delicious mix of Italian cuisine made with fresh, locally-grown ingredients. Their extensive catering menu allows you to pick and choose from a wide variety of Italian dishes including pasta, chicken entrees, salads, pizzas, desserts, and even sandwich platters.
The Grilled Oyster Co. – This neighborhood favorite offers special and seasonal catering options, most with a seafood twist. Shiitake mushroom and Parmesan risotto, crab cake sliders, and crab dip are just a few of the many creative catering options they offer.
When it comes to catering your holiday party, you don't have to give up on your favorite food traditions! If you have a famous spinach and artichoke dip or secret chocolate chip cookie recipe, add it to the mix. To make it even more personal, invite guests to bring their own favorite holiday staples, too.
Ingredients & More
For everything else you'll need from last minute ingredients to an extra set of baking sheets, Giant Food is conveniently on-site just a few steps from Starbucks, and an easy stop to finish up your party preparations. Stock up on supplies or browse for just the right mix of charcuterie board cheeses.
---
Where to Eat, Drink, & Shop at Cabin John Village
---
Visitors & Guest
Meals
When hosting out of town guests, it can be exhausting to prepare every meal, every activity, and every outing. Keep a few of the meals simple and head over to Cabin John Village. With dozens of restaurants, everyone will be able to find somewhere and something they'd like to try.
For breakfast, Goldberg's New York Bagels, Attman's Deli, or classic favorites like Dunkin Donuts make it easy to pick up or dine in as a group. For lunches, there are quick fast-casual choices like CAVA, California Tortilla, and the newest addition to the neighborhood, Playa Bowls. You can rest easy taking the group to Sisters Thai, Lahinch Bar and Grill, or China Gourmet Bistro for dinner.
With large groups with different tastes, you can even easily split up and pick up individual orders and meet back at the car to take it to go!
---
Discover what life within walking distance looks like in Potomac, MD
---
Shopping & Gift Ideas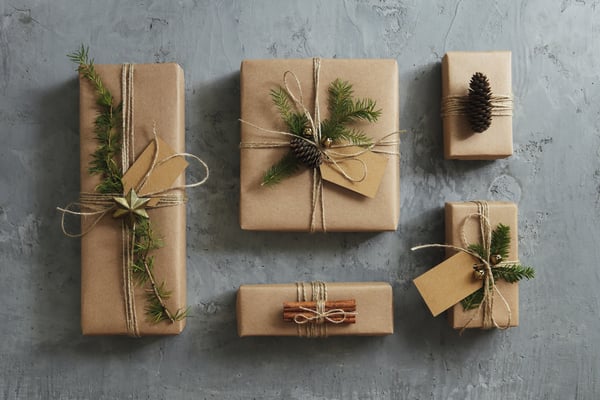 For the Coffee Lover
Give the gift of 'good taste' with a few of every coffee lovers' favorite things. While most coffee enthusiasts would love a Starbucks gift card, make it extra special by picking up one of the specialty items available at checkout. These are the type of items someone might not get for themselves, even as they eye them while they wait for their peppermint mocha. To-go thermoses, colorful mugs, and even holiday home brews are all available in the store. Stop in to get the coffee lover in your life something extra special to add to their morning routine.
For the Pet Lover – or just the Pet
For the cutest member of the family, Pet Valu has everything your furry friends could ever want from toys and treats to sweaters, collars, bowls, beds and more. With specialty and unique products for dogs, cats, birds, fish, and even reptiles, you'll be sure to find something for the pet (or pet lover) in your life.
For the Foodie
From fast casual to sit-down dinner dates, most restaurants have a special gift card deal during the holiday season and Cabin John Village has somewhere for every taste. Whether the foodie in your life loves Italian, Mediterranean, Thai, or Chinese, you can easily pick up a gift card to their favorite restaurant, or somewhere new you think they'd love to try. Not sure where to start? Click here for the full restaurant guide in Cabin John Village.
For the Kids
For over 40 years, Toy Castle has been a community favorite for finding unique toys and gifts that are not only fun, but imaginative and educational. Visitors can easily shop by age and browse the extensive selection of toys, games, crafts, costumes, books, and more in the store.
Also serving the community for over 40 years, Shoe Train has been helping families find the perfect pair of shoes for their kids for decades. With a wide variety of options from fashionable flats to comfortable running shoes, pick up a pair for all the little ones in your life.
For the Sports Lover
Located inside the Cabin John Mall, Hall of Fame Cards & Collectibles offers rare sports memorabilia and collector's items you won't find anywhere else. From autographed baseballs and posters to baseball, football, and hockey cards, you'll be sure to find something as unique and special as the sports lover on your list.
For Everyone
Full of unique gifts and accessories, Occasions Gift Store is a one-stop shop for everyone on your list. From kids clothing and candles to quirky signs and stylish stationary, this locally owned boutique is full of one-of-a-kind treasures your friends and family will cherish.
For the Host
For host and hostess gifts, the best route is to choose something personal to them. If they love wine or craft beer, pick up a bottle or a build-your-own six-pack at World Gourmet Wine & Beer. If they love sweets, Sweetly Anchored Patisserie has delicious seasonal cheesecake and pie flavors you can custom order. For coffee lovers, pick up fresh homemade biscotti or a fresh coffee cake at Breadsmith.
For something they can keep, browse the shelves of Occasions Gift Store for holiday tea towels, ornaments, or something small that they can hold on to and remember for years to come.
---
Meet EYA's Newest Neighborhood in Potomac, MD
---
Take a Break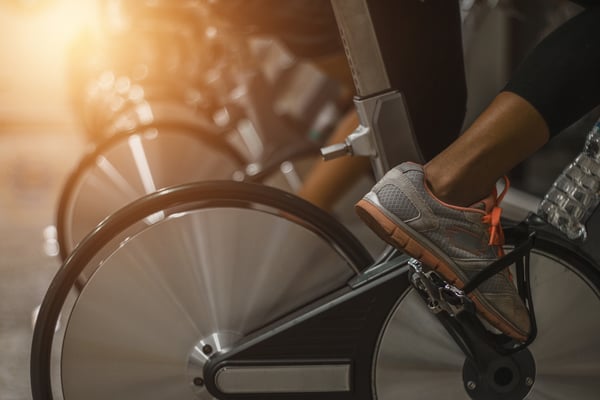 In the midst of hanging decorations, checking off to-do lists, and keeping track of schedules and preparations, it's important to take a deep breath, step back, and remember what's most important about the holiday season.
Dinner & Drinks with Friends
Don't forget to take time to relax, reflect, and recharge with friends. While the holidays bring their own set of challenges, take advantage of the opportunities to sit back and enjoy time with loved ones.
There are dozens of opportunities to meet up, catch up, and relax in Cabin John Village. Whether you're sitting down with a bottle of wine at Greogrio's Italian Restaurant, sharing a few plates of appetizers at Lahinch Bar & Grill, or chatting over a cup of coffee at Le Pain Quotidien, take time to enjoy a moment with the ones you love the most.
Treat Yourself
Take a break from the buzz and treat yourself to your favorite snack! Pick out a quick pick-me-up like an ice cream cone at Baskin Robbins, crinkle fries from Shake Shack, or a holiday brew from Starbucks or Dunkin Donuts, and take a few minutes to slow down and enjoy the moment.
Try a New Exercise Class
Sometimes there is no better stress relief than changing into workout gear and getting your endorphins flowing. A new fitness class can help relieve stress and give you a much-deserved break. Located in Cabin John Village, Biker Barre is a chance to do just that. A new fitness studio that blends together the worlds of spin class and Pilates barre classes, you can choose between the two workouts or try both back to back. They even have changing areas and showers for you to easily get back to your day after class.
Support & Give Back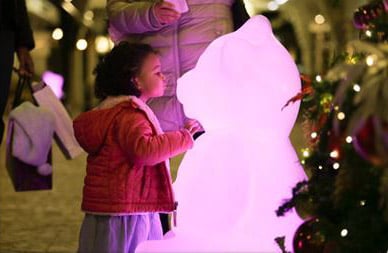 When visiting Cabin John Village, you'll notice a few light up bears have been placed near the CVS and Shake Shake. This special partnership with Children's National Hospital is a heartwarming holiday fundraising campaign to brighten up the holidays for children and their families spending their holidays at the hospital. Every time a donation is given to the hospital, hundreds of Dr. Bears in the hospital, as well as across the region, will light up simultaneously to show your support. Make sure to stop by and show your support for this inspiring cause this holiday season.
---
This holiday season, focus on what means the most to you. From giving back to spending time with the people you love most, the rest will fall into place. Whether you're hosting or attending a holiday party, running errands, or taking a moment to reflect on what's most important to you, Cabin John Village can be your first and only stop to take care of all your holiday prep.
For ideas on where to shop, where to dine, and more, click here for a full restaurant and retail guide to Cabin John.