Dear Friends of EYA,
Best wishes for a happy and healthy new year. Welcome to our inaugural issue of "Walking the Talk." Our intent is regularly to update you on EYA's current projects through its affiliated entities and more importantly to provide you with our perspectives on opportunities and challenges facing all of us in the DMV regarding residential development.
While the outlook for residential development in the Washington region continues to be positive for 2020 and beyond, there are a number of challenges. All jurisdictions are discussing a growing housing shortage, especially at lower and attainable price points. Trying to meet that challenge is a key strategic focus for EYA.
EYA looks forward to working to meet these challenges by:
Delivering more attainably priced homes in walkable locations
Designing more efficient and cost-effective homes
Identifying land opportunities that are geographically diverse and offer the potential of lower price points
Partnering with local governments and housing authorities to deliver mixed-income communities
To read my letter in full, please click here.
Sincerely,
---

---
EYA's 2020 Priorities
A Focus on Housing Attainability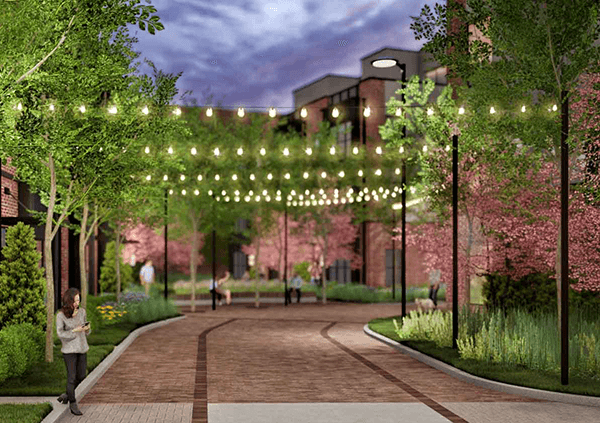 Riggs Park Place (Washington DC)
We are thrilled to be opening several new projects in DC and NOVA in 2020. This includes working closely with JBGS on a new mixed-use project near the Ft. Totten Metro and a new townhome community in the Brookland neighborhood. In Reston, VA, our upcoming development with our new programmatic equity partner, Bernstein Management, will offer 115 new townhomes within steps of the Wiehle-Reston East Metro station.
Through these new projects, EYA looks forward to meeting the challenge of delivering more attainably priced homes in walkable locations. We are working to design more efficient and cost-effective homes and identifying land opportunities that are geographically diverse and offer lower price points.
Reston Station Opening May 2020
---
Expanding Multifamily & Mixed Use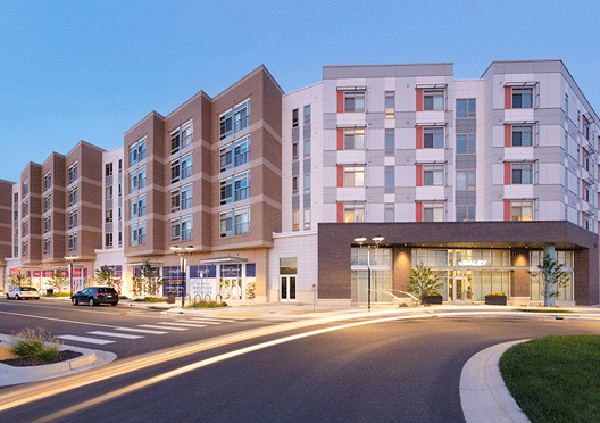 The Daley
EYA's multifamily construction activity continues to thrive. The first condominium settlements at Robinson Landing are expected this summer. In addition, EYA, Bozzuto and Carlyle successfully exited our 333-unit rental project, The Daley at the Shady Grove Metro. Our current multifamily pipeline is over 1,500 units strong and we are continuing to look for and evaluate new multifamily opportunities.
---
Densifying of Retail and Re-positioning Office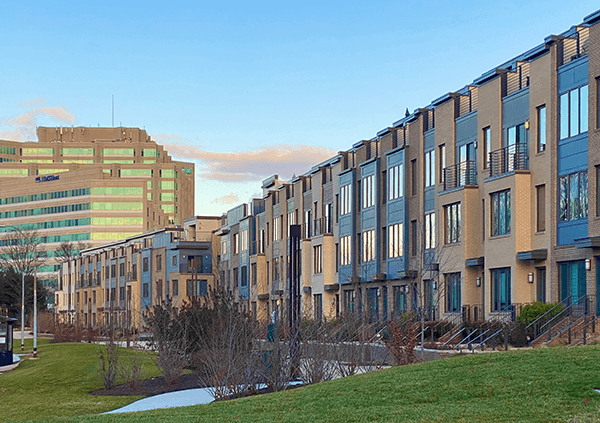 Montgomery Row
In 2019, EYA continued on its strategy of both densifying aging neighborhood retail centers and converting obsolete office density to residential uses. In concert with partners like Edens, Federal Realty and Regency, EYA created significant new land value by achieving residential entitlements through the densification of aging retail centers in well located walkable neighborhoods. Boston Properties entrusted EYA with a major conversion of unmarketable suburban office density to a thriving new residential community at Tower Oaks which opened in late 2019.
---
Public Private Partnerships & Mixed Income Housing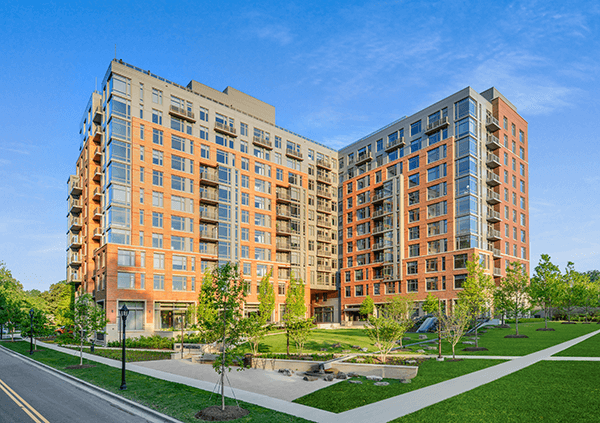 The Lindley
In 2020, EYA will continue to prioritize developing mixed-income communities by partnering with HOC on a new multi-family mixed-income partnership at our Westside Community at the Shady Grove Metro. In addition, a mixed-income multifamily building will be part of our new mixed-use development at Ft. Fotten in Washington, DC.
Completed in 2019, The Lindley represents a unique partnership between EYA, The Housing Opportunities Commission of Montgomery County (HOC), and The Morris and Gwendolyn Cafritz Foundation. As a new 200-unit luxury mixed-income multifamily building in Chevy Chase, Maryland, it is one of the first buildings of its kind to include private equity as a major funding source while remaining under the principal control of a public housing authority (HOC). Eighty of the units are designated as income-restricted, and of those 80 units, 50% are targeted to households at 50% of AMI and the other 50% are workforce units.
The Lindley was awarded the 2019 Jack Kemp Award for Excellence in Affordable and Workforce Housing from ULI.
---
Strategic Initiatives
In 2020, we will be expanding on strategic corporate initiatives. The most important of which was the promotion of McLean Quinn to President and Milli Arakawa to CFO. Additional promotions included Aakash Thakkar, Evan Goldman, and Jack Lester to Executive Vice President. These promotions represent the beginning of a multi-year sustainability initiative designed to ensure that EYA will be around for many years to come.
---
About EYA Development
For over 25 years, EYA has been a market leader in the development of large-scale, urban infill residential projects. With expertise in for-sale, multi-family and mixed-income housing, EYA has created over 40 exceptional neighborhoods that are home to more than 10,000 residents across Washington, DC, Maryland, and Northern Virginia.

To learn more or to speak with us about a potential project, email Aakash Thakkar, EVP, Land Acquisition and Development.
---