We are pleased to announce that The Lindley has been awarded the 2019 Jack Kemp Award for Excellence in Affordable and Workforce Housing. Presented by the Urban Land Institute (ULI) Terwilliger Center for Housing, this national award recognizes exemplary developments that demonstrate innovation and creativity in expanding affordable and workforce housing opportunities.
The result of a unique partnership between EYA LLC, Housing Opportunities Commission of Montgomery County (HOC) and The Morris and Gwendolyn Cafritz Foundation, The Lindley provides an innovative approach to public-private partnerships and has set a new standard for excellence in mixed-income multifamily building design.
A two-time Jack Kemp Award winner, EYA also received the award in 2010 for Capitol Quarter, built in partnership with the DC Housing Authority (DCHA) and Department of Housing and Urban Development (HUD).
About The Lindley
The Lindley is a new luxury, mixed-income multifamily building in Chevy Chase, MD. Part of the larger Chevy Chase Lake development, The Lindley was designed to anchor a new transit-oriented community adjacent to the future Purple Line light rail. The community also includes 62 new townhomes, new half-acre public park, and a new private street that will connect directly to the light rail station entrance.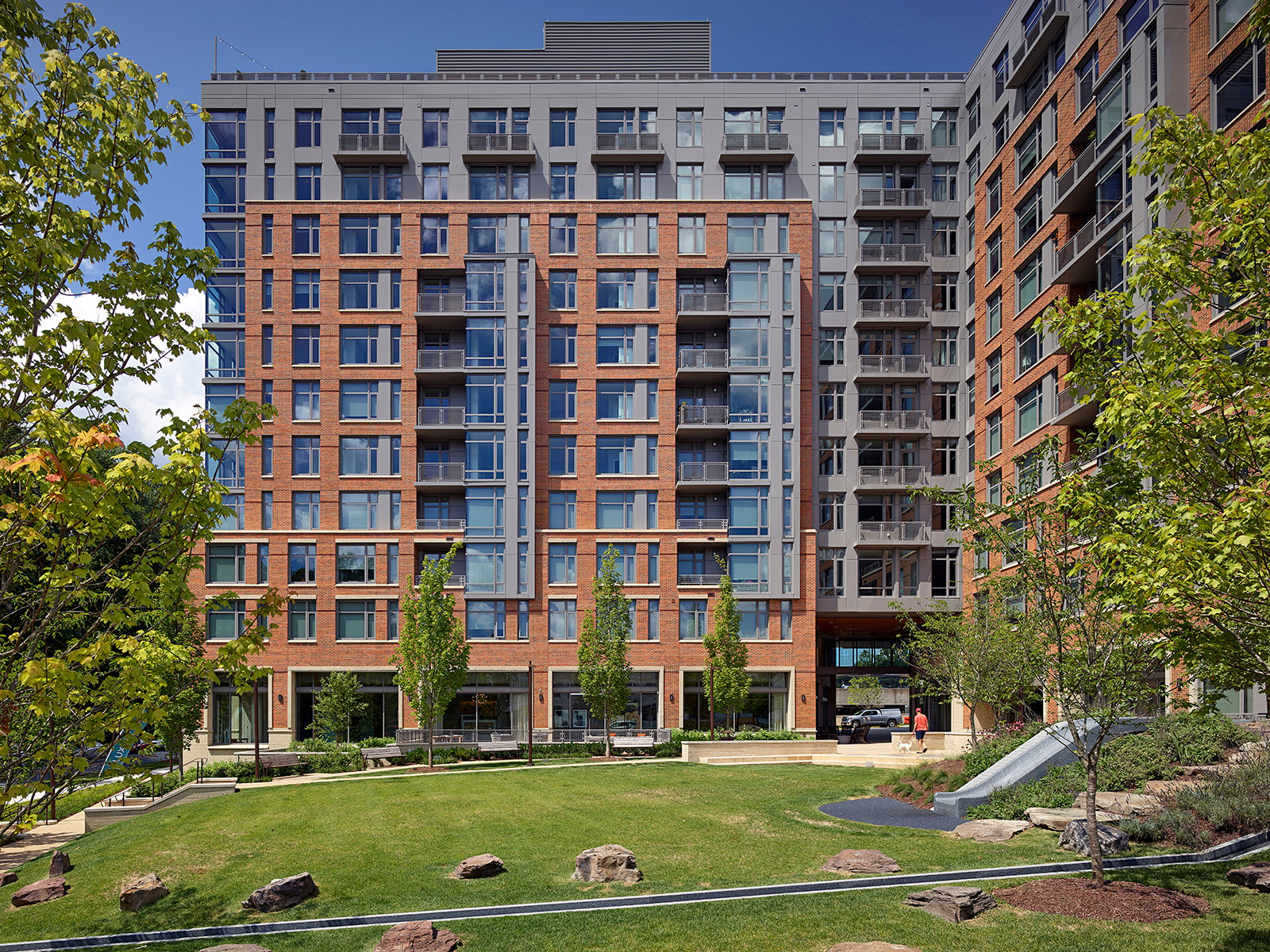 The new Jean Banks Park provides community gathering spaces, granite slide and water features.
Designed by the award-winning architectural firm Design Collective, The Lindley features 200 apartment units, of which 80 units are income-restricted, and best-in-class amenities including a high-end fitness center, children's play room, rooftop entertaining spaces, and much more—offering a multitude of opportunities for residents to interact year-round.
Conscious of the need to serve families seeking access to the strong network of schools in the Bethesda-Chevy Chase community, all of the 3-bedroom units are income-restricted, giving greater access to low- and moderate-income families in the area.
An innovative approach to public-private partnerships
While partnerships and financing from private entities have played an increasingly important role in funding the production of affordable housing, government tools such as the Low Income Housing Tax Credit have been the predominant resource used by developers to build affordable housing. In developing The Lindley, HOC recognized the opportunity to step outside of the conventional financing structure and go straight to the source for private equity investment.
The site previously consisted of 68 low-rise garden apartments in five aging buildings owned by HOC and rented at affordable levels. Looking to improve and expand the supply of affordable units and create a sustainable affordable housing model, HOC entered into a partnership with EYA (through its development affiliate) and the Cafritz Foundation to redevelop the 5-acre site into a thriving mixed-income neighborhood.
HOC sold the portion of the property on which the new townhomes are being developed to EYA to leverage the land value and support the development of the new high-rise building. The Cafritz Foundation provided financing support, as did EYA, who also served as the building's developer, overseeing all aspects of construction, financing, and lease up.
By leveraging the land value and seeking a private, mission-aligned foundation, HOC was able to secure direct capital investment and gain access to crucial capital resources by engaging a private investor with aligned mission and interests.
As a result, HOC is the first public housing authority in the nation to secure private equity funding in a mixed-income multifamily development while maintaining principal control and ownership of the property. Furthermore, this innovative partnership has provided HOC with a self-sustaining, amenity-rich, long-term affordable housing asset.
As traditional government resources for affordable housing diminish, The Lindley is a global model for public-private partnerships and creative financing, in which public agencies can incorporate private investment and harness property values for redevelopment efforts.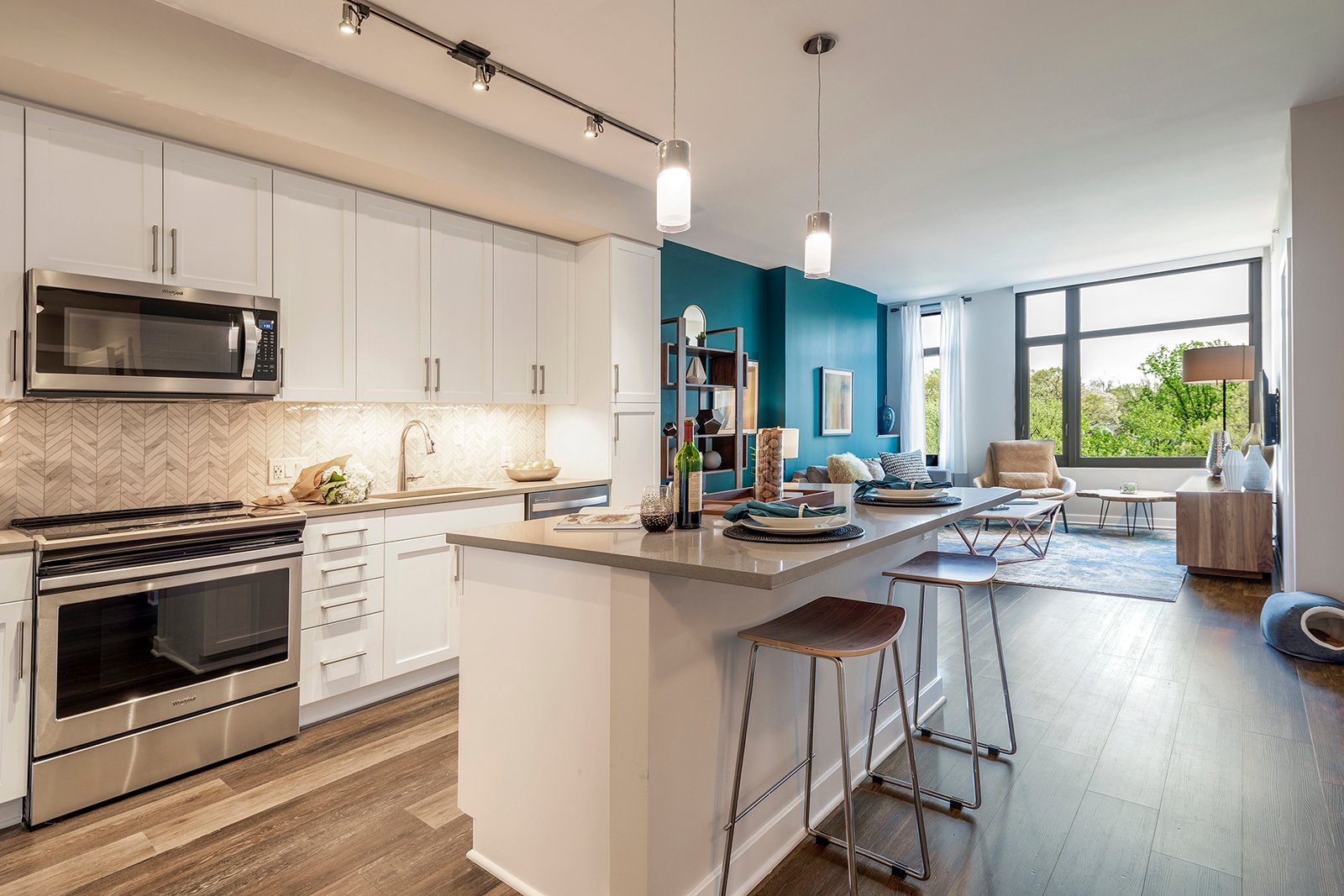 The market rate and affordable units at The Lindley are indistinguishable. Both include the same high quality features and finishes, such as granite countertops.
A new standard for excellence in mixed-income multifamily building design
The design goals for The Lindley and the broader development were to create a vibrant, mixed-income neighborhood. Creating a sense of community among residents was integral throughout the design process. Market rate and affordable units are included on every floor of the building and are indistinguishable. Both include the same high quality features and finishes, such as granite countertops, and access to all the amenities and 24-hour concierge service.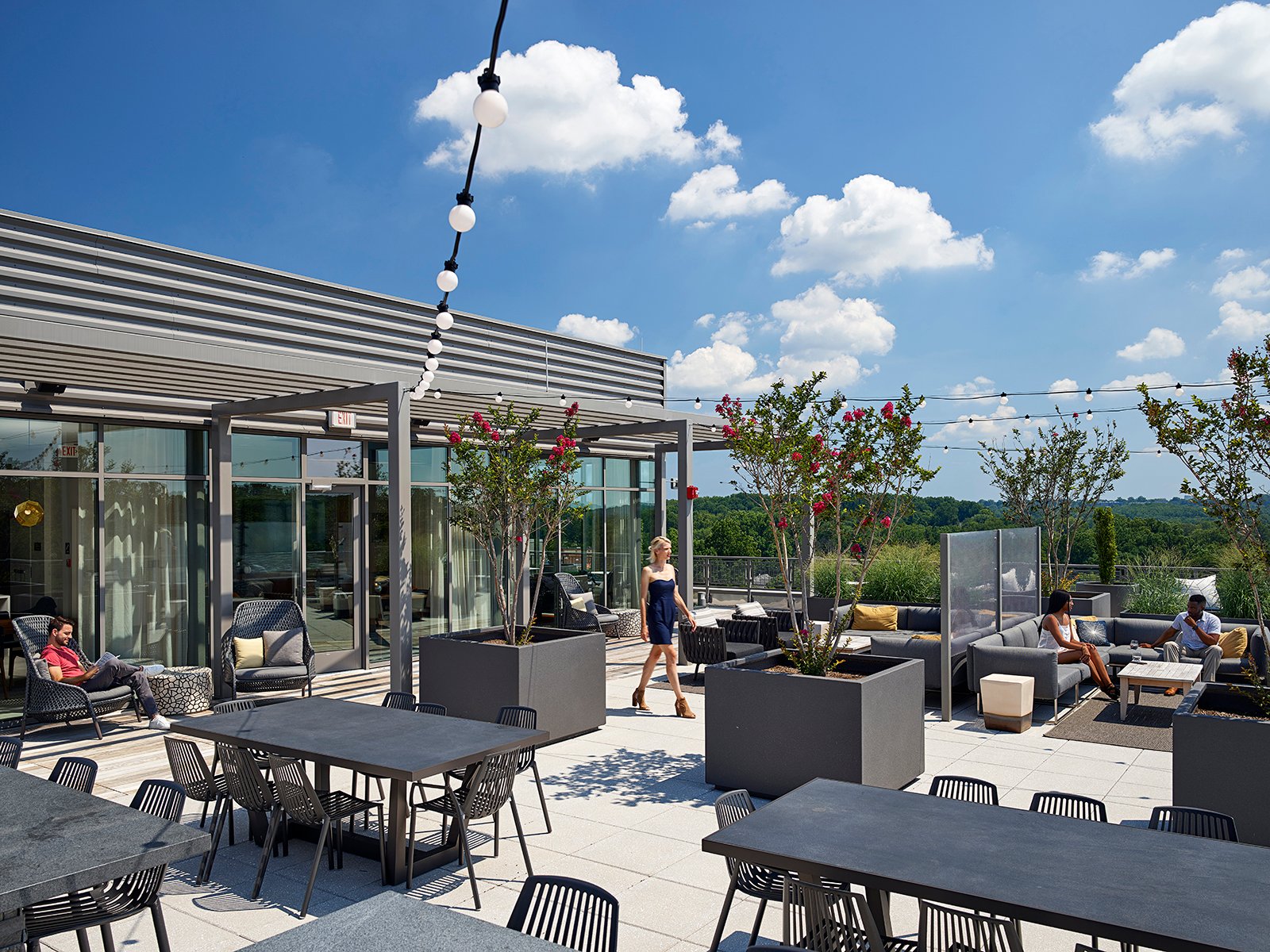 The landscaped rooftop terrace provides gathering spaces overlooking the Chevy Chase treetops.
Best-in-class amenities provide ample opportunities for residents to interact. These include a high-end fitness center, yoga studio, pet-grooming station, bike repair shop, onsite bikeshare and a 2.5-level, 232-space below-grade parking garage. Family-friendly amenities include an arcade, video games, foosball and pool tables, and a children's play room. On the rooftop, communal gathering spaces offer an indoor entertainment space and kitchen, dog park, and landscaped terrace overlooking Chevy Chase treetops. Townhome residents also have the option to use to The Lindley's gym and yoga studio, further fostering a sense of community.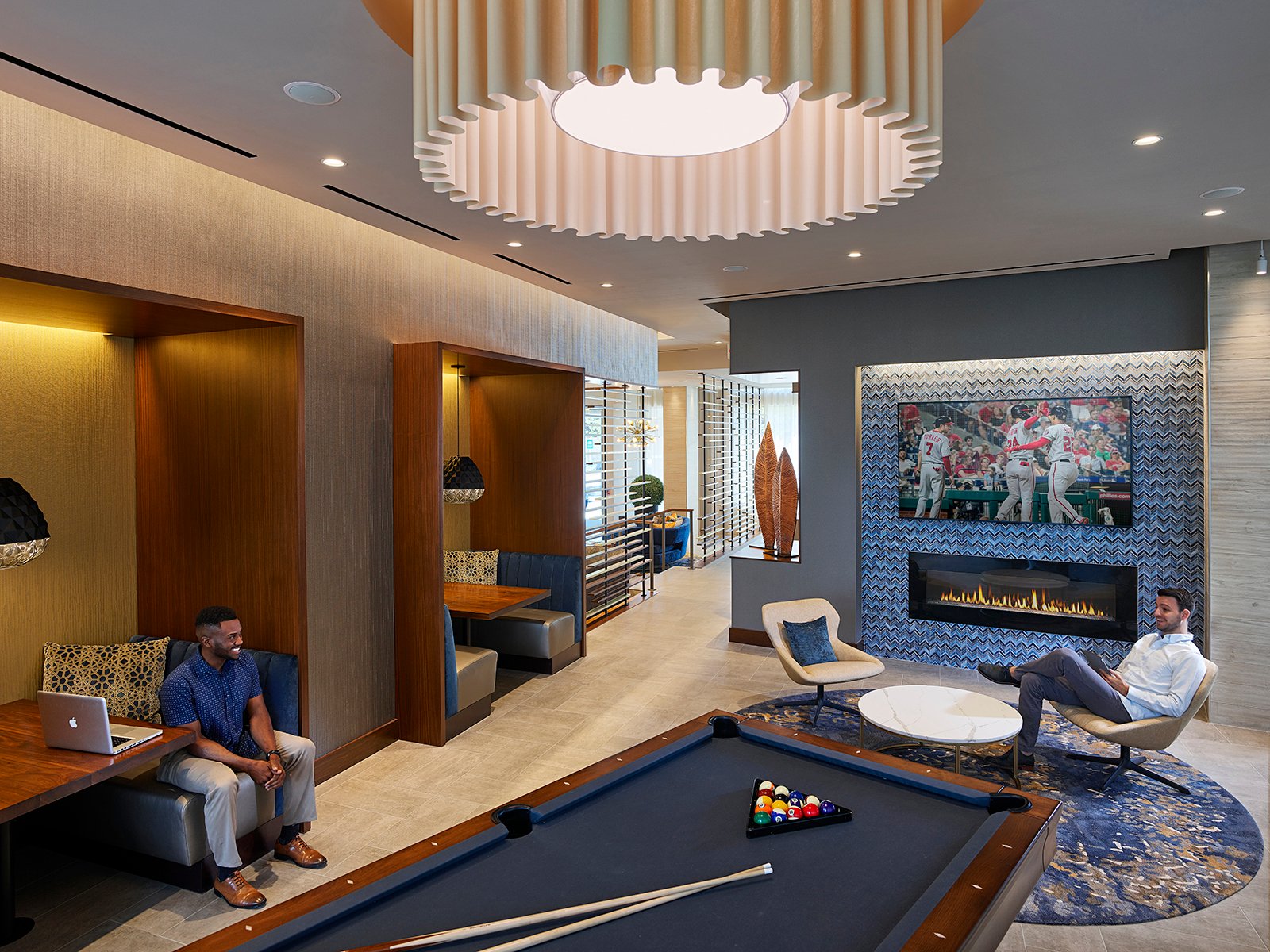 The lobby level offers family-friendly amenities such as pool tables, an arcade, children's play room and more.
The design of the building also incorporated sustainable green building practices and the property has been awarded LEED Silver certification with the U.S. Green Building Council.
Ultimately, The Lindley has increased the number of affordable units available to low- and moderate-income residents in a new transit-oriented neighborhood and set a new standard for excellence in mixed-income multifamily building design.
Click here to learn more about EYA's innovative approach to development.