We couldn't let this trend go unnoticed! Lately we've seen more than one article come across our desk about the rising demand for housing in walkable, close-in neighborhoods. With a business built around "Life Within Walking Distance," this is a familiar concept to us.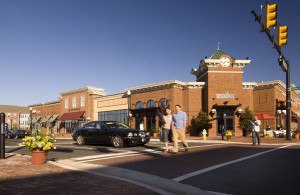 The New York Times' Op-Ed section ran two contributors' pieces over the weekend related to the topic:
In "Death of the Fringe Suburb," Brookings' senior fellow and University of Michigan professor Christopher B. Leinberger's argues that as demand for housing in walkable neighborhoods rises, we should be investing in carless transit options. He points to the expensive home prices in areas like our own Logan Circle as evidence of high demand for housing in pedestrian-friendly areas. He also calls out Arlington County, Virginia, as a jurisdiction that successfully transformed suburbs into higher-density, mixed-use developments with good transit connections.

Louise A. Mozingo, a professor of landscape architecture and environmental planning at the University of California, Berkeley, came at sprawl from a different angle in her piece, "To Rethink Sprawl, Start With Offices," by focusing on where we work. [In a similar vein, a Brookings post back in June looked at companies considering downtown relocations and asked whether Millennials -- and their penchant for the "hip, high-density walkable lifestyle" -- are driving the trend.]
Our Preferred Filter: Not City vs Suburb, Rather Walkable vs Driveable
When it comes to smart living, we like to remember the filter that this New Republic blog post ("Cities Versus Suburbs Is The Wrong Debate") put on the topic back in April. For homebuyers and renters, it's not a question of city versus suburb, rather it's about "walkable urban versus drivable suburban." In other words, it's about the built environment and a sense of place. Walkable urban doesn't necessarily mean a city's central business district. See Clarendon or Bethesda as examples of "walkable urban" in the suburbs. It's really anywhere that people can live near where they work and can walk to public transportation, green space, retail, cultural institutions and other amenities. We believe our communities now selling at Old Town Commons, Capitol Quarter, Chancellor's Row and Mosaic District (sales open in Jan 2012) fit the profile.
Want more local analysis on the topic?
Earlier this month a Washington Post article, citing a new study that warns our area doesn't have enough housing for the future wave of new workers, also touched on people's growing desires to live, work and play in a single geographic area. And in October, The Atlantic Cities ran a DC-focused blog post on why closer-in jurisdictions (namely Alexandria and Fairfax County in Virginia) have weathered the recession better than farther-out suburbs. In it, the author notes that both millennials and the empty-nester baby boomers are shifting demand to walkable neighborhoods and convenient, central locations.
Keep us posted!
We at EYA are committed to smart living and walkable communities. If you see an article or post that may be of interest to us, please share it here or on our Facebook page.