The Washington, D.C. metro area offers some of the finest retail districts on the East Coast in neighborhoods like Chevy Chase, Friendship Heights, Georgetown and Tysons. But none may rival Old Town Alexandria where a mix of quaint shops, fashionable boutiques and eclectic studios line the city's cobblestone streets in buildings dating to the Federal Period.
Accolades for Alexandria's historic district and its can't-miss shopping experiences have come from a variety of sources.
The Wall Street Journal described Old Town's King Street area as having "some of the best stores and galleries in the region."
Money Magazine, in its "20 Best Places to Go in 2018", said: "When you hit the cobblestone streets of Alexandria, you may feel like you're a world away from the hubbub of the nation's capital."
And in its America's Most Attractive Cities 2016 listing, Travel and Leisure said: "When they're not in the office, Alexandrians are walking or biking in Old Town, where boutiques and restaurants in 18th- and 19th-century buildings line the bustling King Street."
So what are the places that make shopping in Alexandria so special? Here's our recommendation for "10 Can't-Miss Shopping Experiences in Old Town."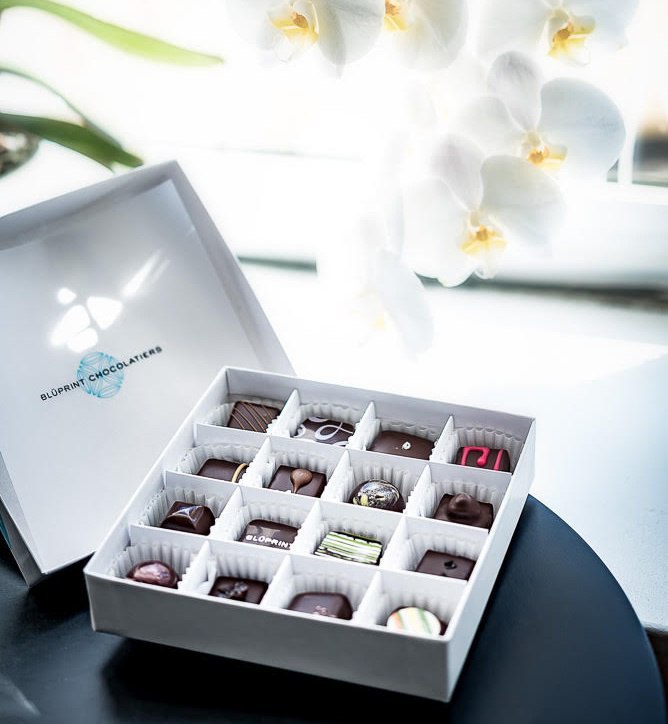 Blüprint Chocolatiers
With a retail shop upstairs and production kitchen downstairs, artisan chocolatiers Kim and Bruce Gustafson create their own truffles, bonbons and chocolates in delightfully complex and sometimes whimsical flavors, including cardamom, chili kirschwasser and whiskey. The custom pieces are available solo or gift-boxed in trios, sixes, sixteens and twenty-fours. Chocolate-coated "somethings" add to the custom creations. Espresso, coffee, tea and drinking chocolate is served at the micro-café. 1001 King Street. Open Tues.-Sat., 10 a.m. – 7 p.m.; Sun., 12 p.m. – 7 p.m. https://bluprintchocolatiers.com
Crooked Beat Records
This can't-miss shop for audiophiles has a wide selection of hard-to-find new and used vinyl records of independent and obscure label music. Relocated from Adams Morgan in the District in 2016, Crooked Beat specializes in punk, indie, reggae, soul and classic rock with domestic and import choices. The store, owned and operated by Helen and Bill Daly, also features an extensive collection of hard-to-find T-shirts. In addition to the retail operation, Crooked Beat is an independent record label that puts out music from Washington, D.C. area artists. 802 N. Fairfax. St. Open Mon., 12 p.m. – 7 p.m.; Tues. – Sat., 12 p.m. – 8 p.m.; Sun., 12 p.m. – 6 p.m. http://www.crookedbeat.com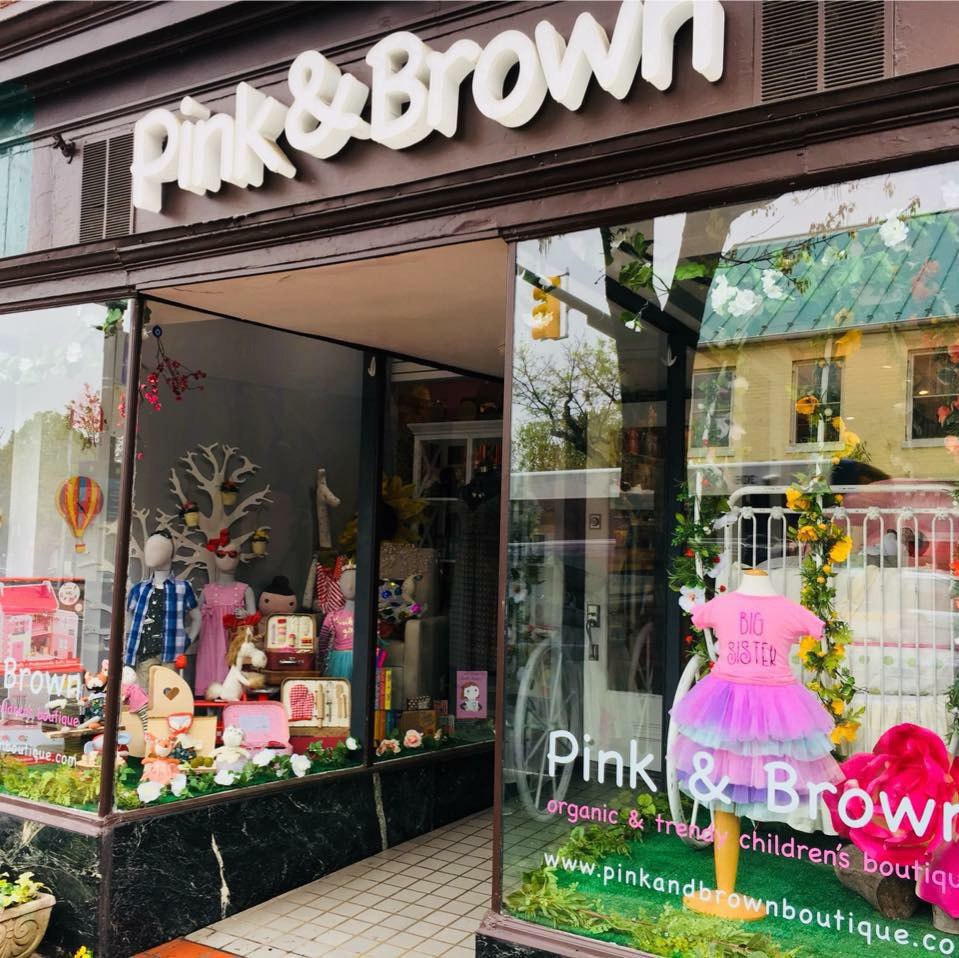 Pink & Brown Boutique
Celebrating its 10th year in Old Town, Pink & Brown is where parents and grandparents can find children's apparel, furniture, accessories and toys designed to capture the natural beauty and innocence of childhood. Owner Lan Le, who named the shop for the stripped colors in her daughter's room, emphasizes quality, safety, eco-friendly and fair trade in the selections she offers. The clothing comes from organic cottons and is allergen-free with all products using natural ingredients and dyes with no chemicals. 1129 King St. Open Mon. – Sat., 11 a.m. – 6 p.m.; Sun., 12 p.m. – 5 p.m.
https://pinkandbrownboutique.com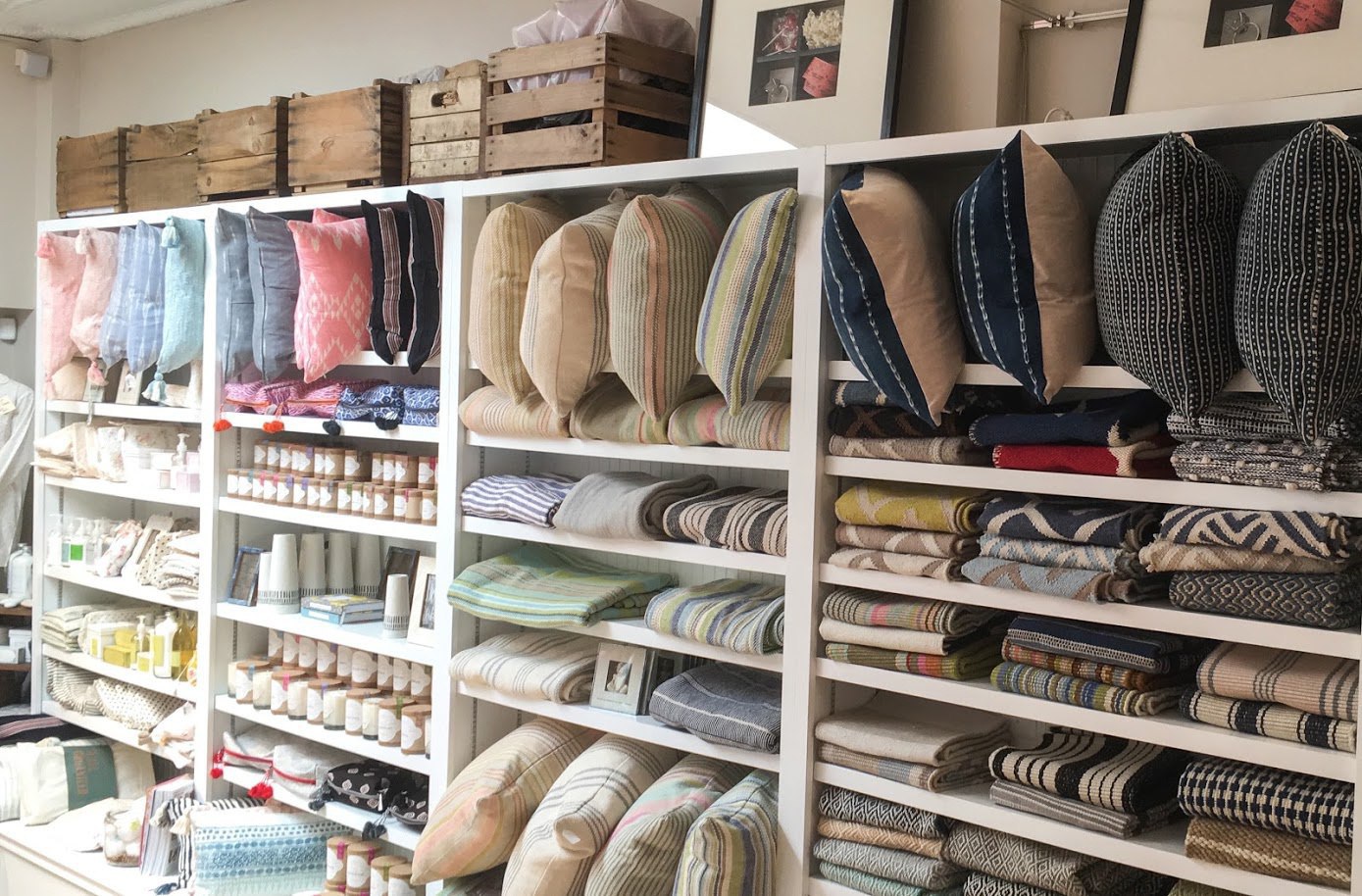 Red Barn Mercantile
The finest mix of old and new – from antiques to urban chic – is how owner Amy Rutherford describes the unique blend of home furnishings and accessories at Red Barn. Repurposed furniture, conversation starters, wall hangings and accent pieces come from off-the-beaten-track flea markets and auctions. The latest designers are the source for upholstered furniture, rugs, lighting, bedding, dinnerware, glassware, gifts and toys. 1117 King St. Open Mon. – Thurs., 10 a.m. – 6 p.m.; Fri. & Sat., 10 a.m. – 7 p.m.; Sun., 12 p.m. – 5 p.m. http://www.redbarnmercantile.com
Misha's Coffee Shop
Roasting small batches of handpicked beans daily on the premise, Misha's artisanal coffee has attracted Alexandria java lovers for 27 years. The shop offers six coffee blends and 18 varietals from Africa, Central America, South America and Indonesia that are available by the pound or made for you. A number of blends are ready to serve both warm and iced. Misha's also features pastries, cupcakes, protein shakes, bars and brownies. Free wireless and jazz music on the sound system with outdoor seating during warmer weather. 102 S. Patrick St. Open Mon. – Sat., 6 a.m. – 8 p.m.; Sun. 6:30 a.m. – 8 p.m.
http://www.mishascoffee.com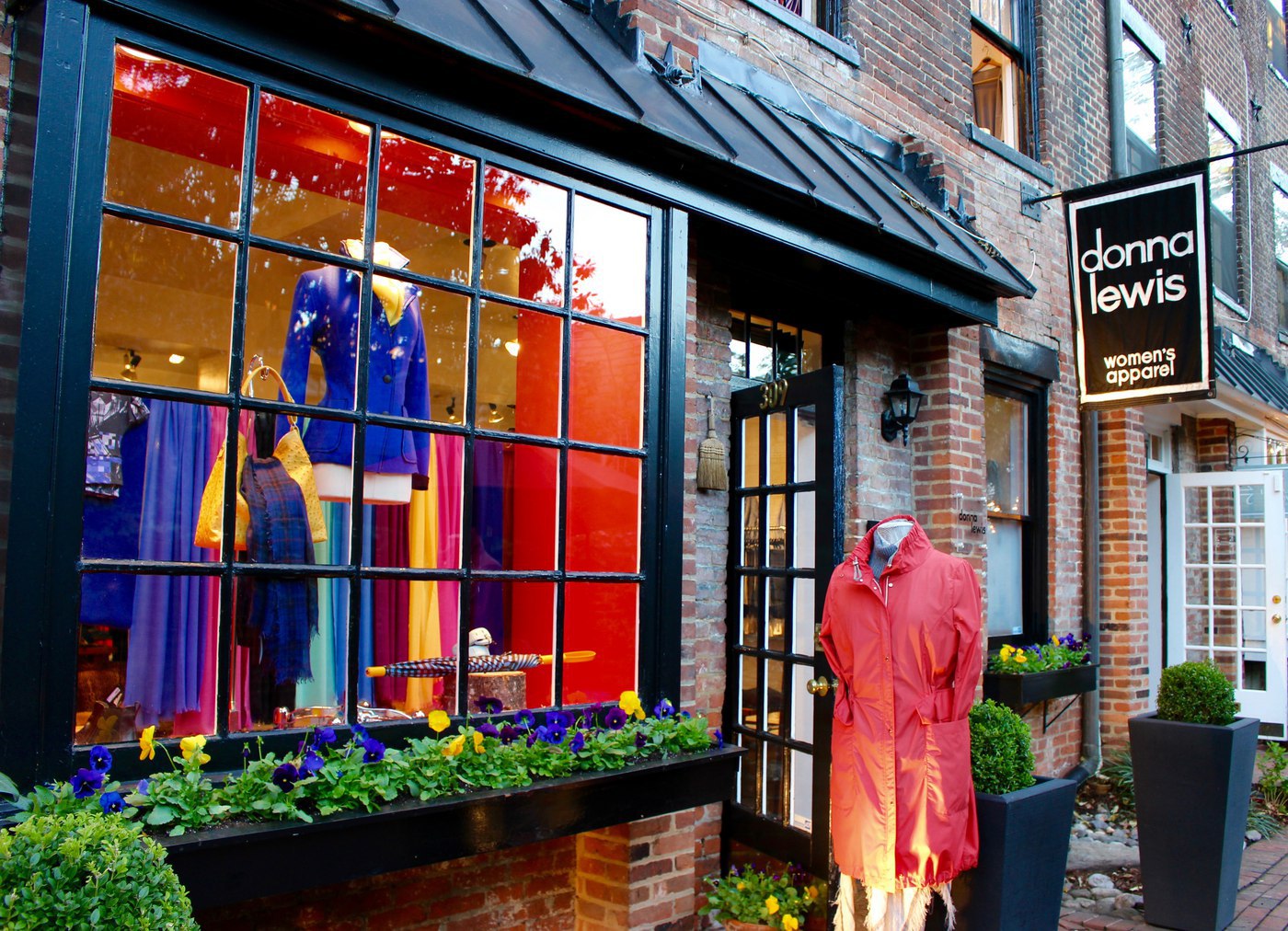 Donna Lewis
A hidden oasis tucked within an ivy-walled, brick courtyard, Donna Lewis is an independently owned and operated store offering a variety of high-end luxury clothing. Hand-selecting top European brands, owners Chris and Donna Lewis feature modern women's fashions with old world charm – dresses, suits, shoes, boots, handbags and other accessories – along with a smaller selection of men's clothing. It's all located on three floors of a former hotel. Now in their 16th year in Old Town, the Lewis' have also introduced women's yogasport clothing next door. 309 B. Cameron St. Open Mon. – Fri., 11 a.m. – 7 p.m.; Sat., 10 a.m. – 6 p.m. and Sun., 1 p.m. – 5 p.m. http://donnalewisusa.com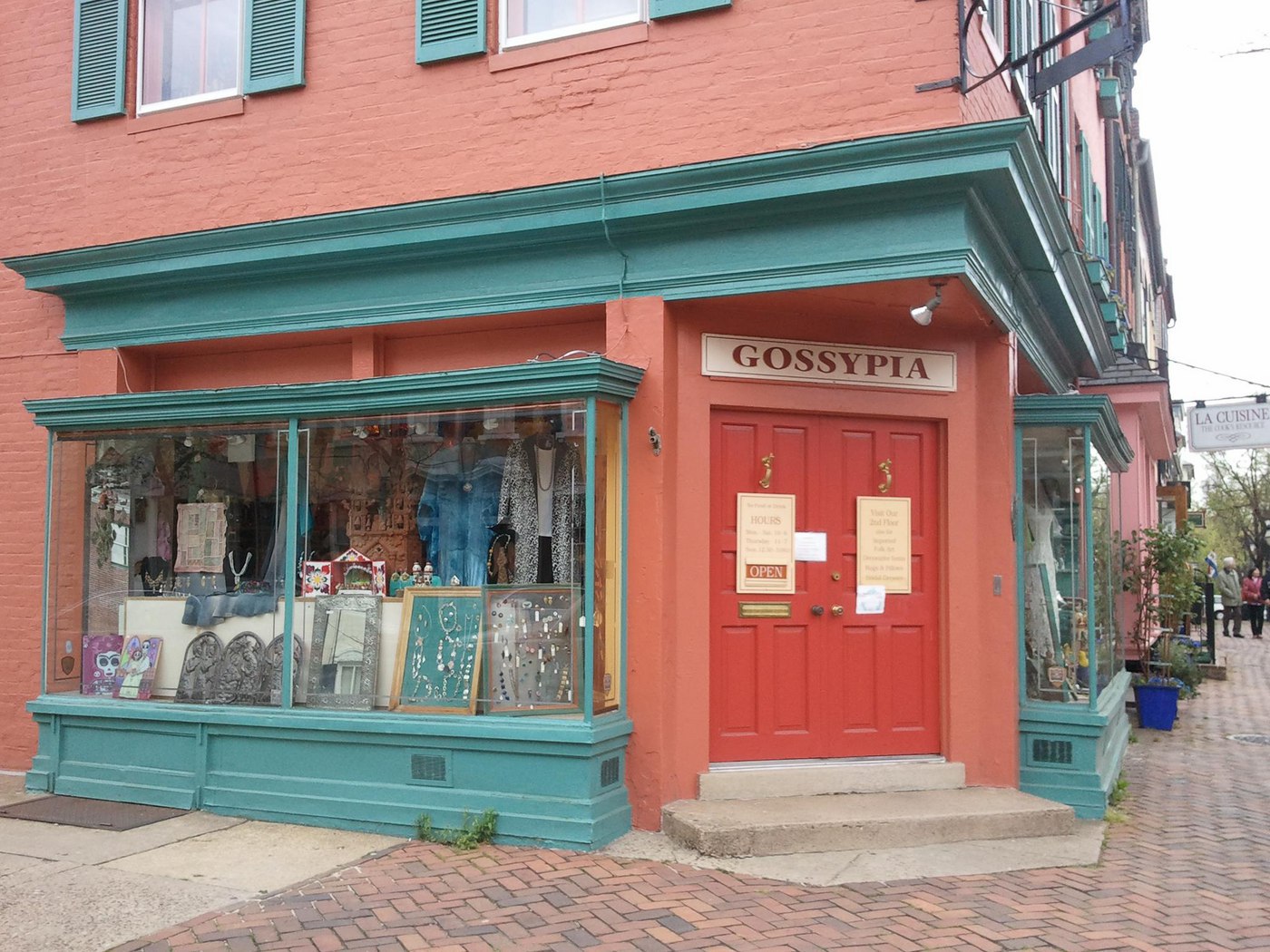 Gossypia
Celebrating its 50th year in Old Town, Gossypia offers a mix of eclectic and classic clothing, jewelry, purses, wedding dresses and formal items to Alexandria shoppers. But it's owner Amanda Lasker's collection of Latin American folk art and nativities found for sale throughout the store that make this shopping destination so special. Lasker lived in Mexico and Central America early in life and continues to travel throughout the world for art. On Oct. 31 – Nov. 2, Gossypia celebrates Dia de los Muertos (Day of the Dead) when Mexican families honor deceased loved ones. Shoppers can enjoy refreshments and live music and see the store's many Day of the Dead masks and artwork. 325 Cameron St. Open Mon. – Wed. & Sat., 10 a.m. - 6 p.m.; Thurs., 11 a.m. – 7 p.m. and Sun., 12:30 – 5 p.m. https://gossypia.com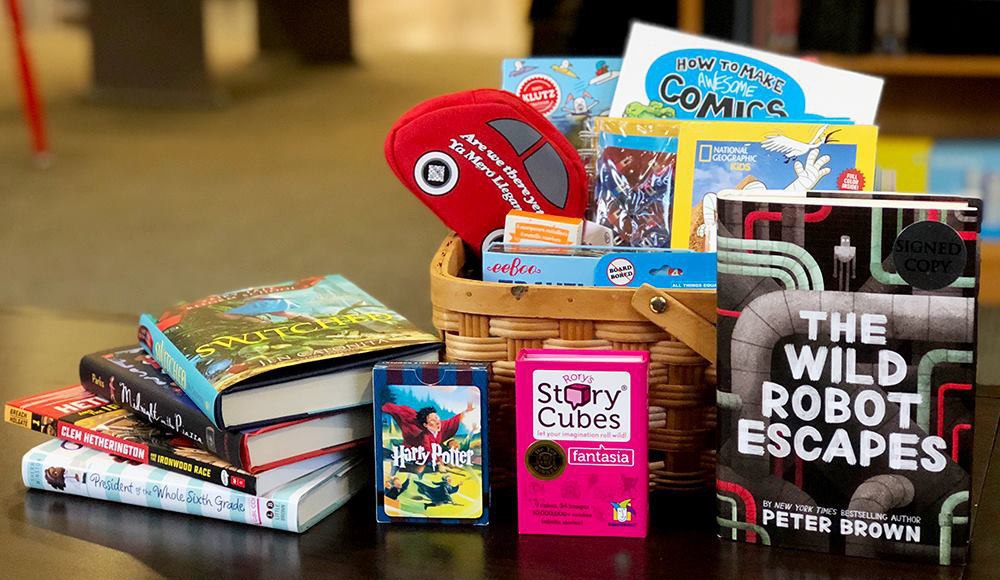 Hooray for Books
A rare locally owned and independent bookstore, Hooray for Books opened 10 years ago specializing in children's literature. Owner Ellen Klein has since expanded to include a well-curated adult section and popular YA section for young adults. Friday and Saturday story times (10:30 – 11:00 a.m.) are held for kids and author visits are frequently scheduled for school-aged children. For adults, a fiction and non-fiction book club meets the first Wednesday evening of the month, and an interactive club – when questions are directed to the author – meets periodically in the evenings. 1555 King St. Open. Mon. – Sat., 10 a.m. – 8 p.m.; Sun., 10 a.m. – 6 p.m. https://www.hooray4books.com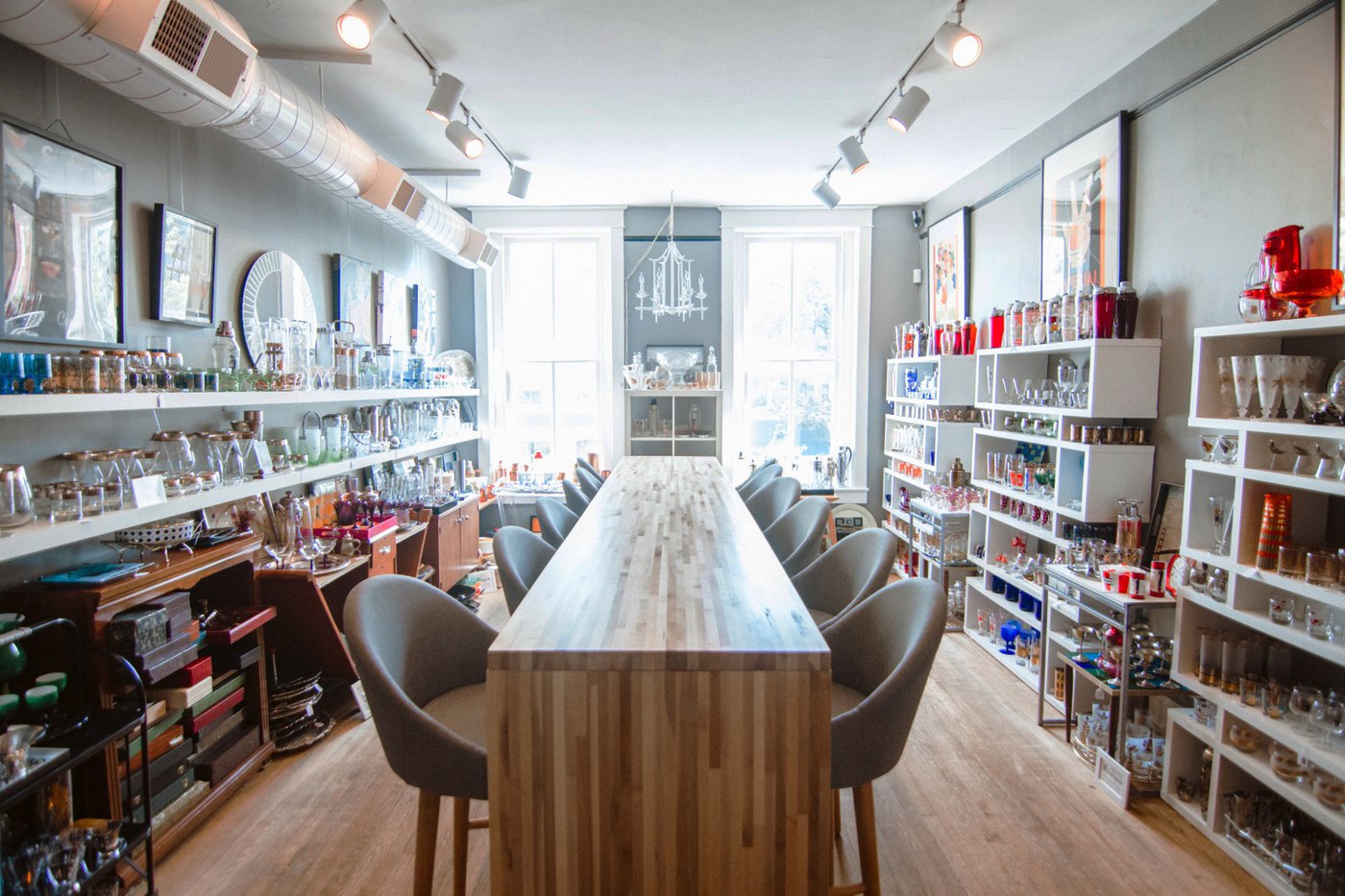 The Hour Shop
With more than 10,000 items in stock, The Hour Shop has one of the most extensive collections of vintage barware and cocktail glassware available anywhere. The store is named after Bernard DeVito's 1950s book "The Hour," which showcased America as the birthplace of the cocktail. Store pieces are sourced solely from antique markets, auctions and estate sales over the last 25 years, and many vintage pieces, are signed by the designers. Cocktail classes and other events are hosted at the store. 1015 King St. Open Mon.-Wed., 11 a.m. – 6 p.m.; Thurs. – Sat., 11 a.m. – 7 p.m.; Sun., 11:30 a.m. – 5 p.m. https://thehourshop.com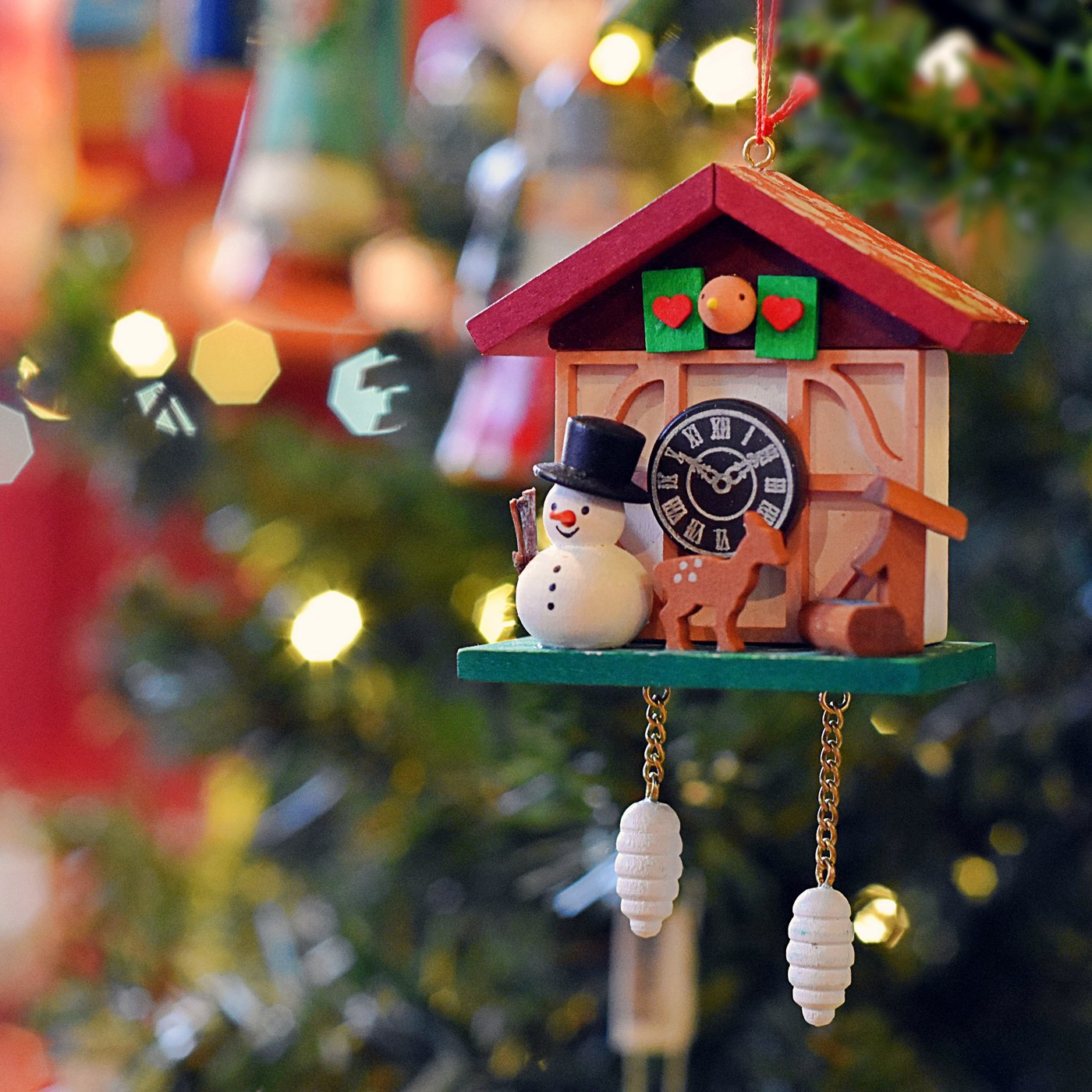 The Urban Attic & The Christmas Attic
On the first floor of this 18th century tobacco warehouse is the Urban Attic, an eccentric boutique offering a wide assortment of gifts for the home, including accessories, wine, books and decor items. But upstairs, is the magical Christmas Attic, a shop specializing in German nutcrackers and smokers, Christmas villages, caroler figurines, Italian nativity scenes, glass and pewter ornaments and other holiday collectibles. First opened in 1971, sisters Cheri Hennessy and Fay Hobbs-Carter carry on the family business today as Northern Virginia's largest offering of holiday decorations and collectibles. 125 S. Union St. Open daily, 10 a.m. – 5 p.m. http://christmasattic.com
For more information on can't missing shopping experiences in Old Town visit the websites of Visit Alexandria and the Old Town Boutique District.