Old Town Alexandria boasts a wide array of dining choices for local residents and visitors. In addition to offering enticing fare that includes steaks, seafood, pizza, Irish, Italian and Thai, many are marked by an individual history that tells the story of the Colonial-era city and its modern re-development along the Potomac River.
Robinson Landing residents will have a plethora of dining options just steps away. Here's a look at 13 restaurants located within four blocks of this brand new waterfront neighborhood.
Bon Appetite!
---
Union Street and the Waterfront
Hummingbird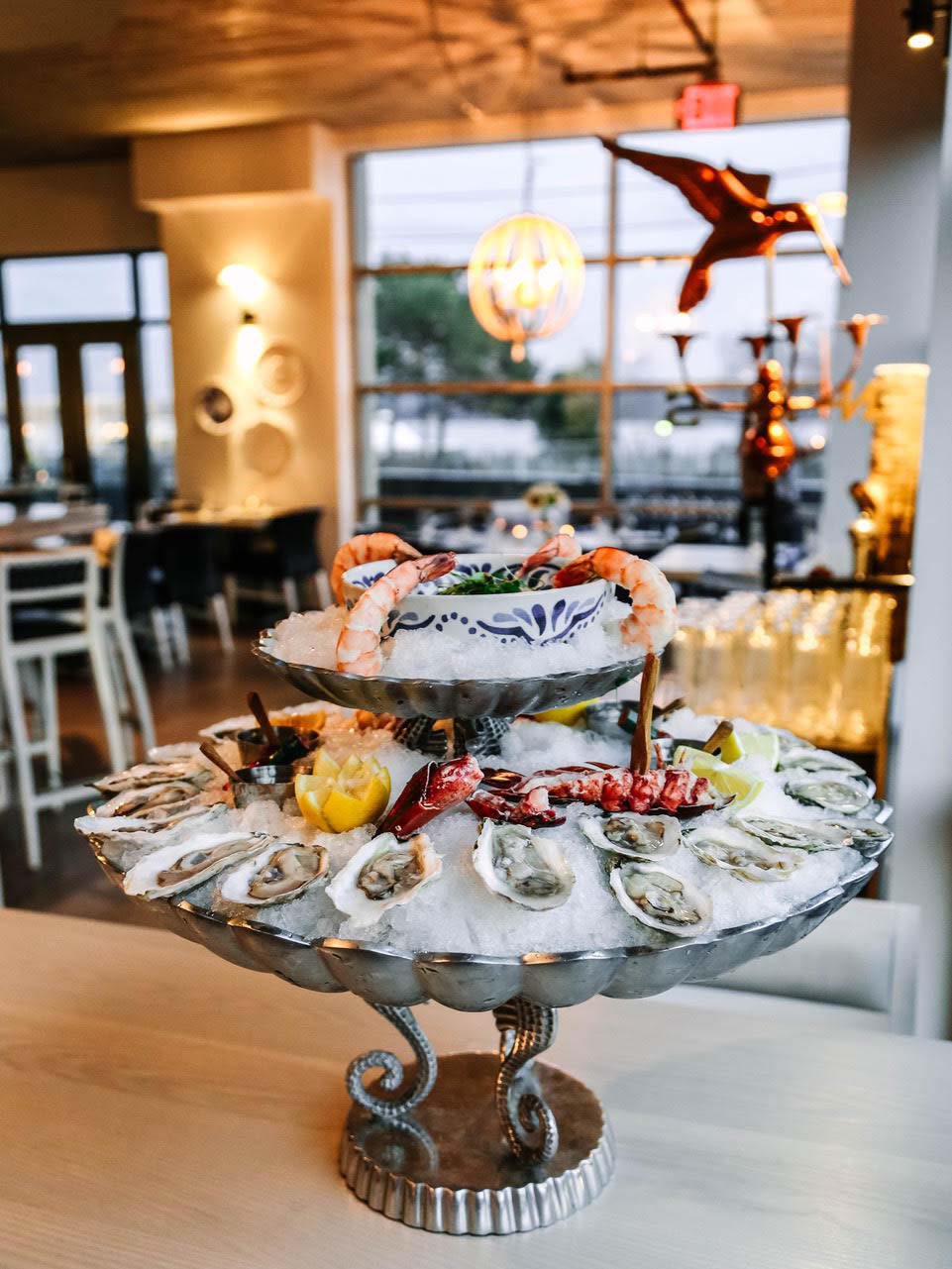 Located in the Hotel Indigo, which opened in 2017, Hummingbird offers diners a contemporary coastal vibe with unbeatable interior views of the Potomac and outdoor seating on the patio. One of five Alexandria restaurants from Chef Cathal and Meshelle Armstrong's The Eat Good Food Group, the kitchen specializes in American seafood traditions including clambakes, crab boils, fish fries and oyster roasts. The Blackboard Fish changes daily. Don't miss the early Happy Hour from 2:30 p.m. to 6:30 p.m (M-F). 220 S. Union St. Online reservations at www.hummingbirdva.net.
Chadwicks
An Old Town staple for 39 years (following 12 years in Georgetown), Chadwicks' veteran staff caters to a loyal following of local diners. Located in a 200-year-old warehouse whose foundation and bricks withstood the 1897 fire, the restaurant features a popular first floor bar and an upstairs casual dining area. Classic American favorites include Chicken Virginia with crabmeat, steamed mussels, buttermilk fried chicken and build your own Angus burgers. Open for late dinner Friday and Saturday night until 1 a.m.; Sunday brunch served until 4 p.m. 203 Strand Street east of Union Street. http://www.chadwicksrestaurants.com/.
Union Street Public House
Occupying a Colonial-era warehouse, Union Street Public House appropriately bills its fare as "revolutionary American cuisine." Open since 1986, fresh steaks and seafood are on a menu that also offers a variety of enticing oyster selections including the oyster roll, pork belly & fried oysters, shooters and locals from the Chesapeake served on the half-shell. Oyster hour is M-F, 3 p.m. – 7 p.m. Stop by for Whisk(e)y Wednesdays or choose from 125 bourbons and whiskeys available daily. 121 S. Union St. Online reservations at http://www.unionstreetpublichouse.com/.
Virtue Feed & Grain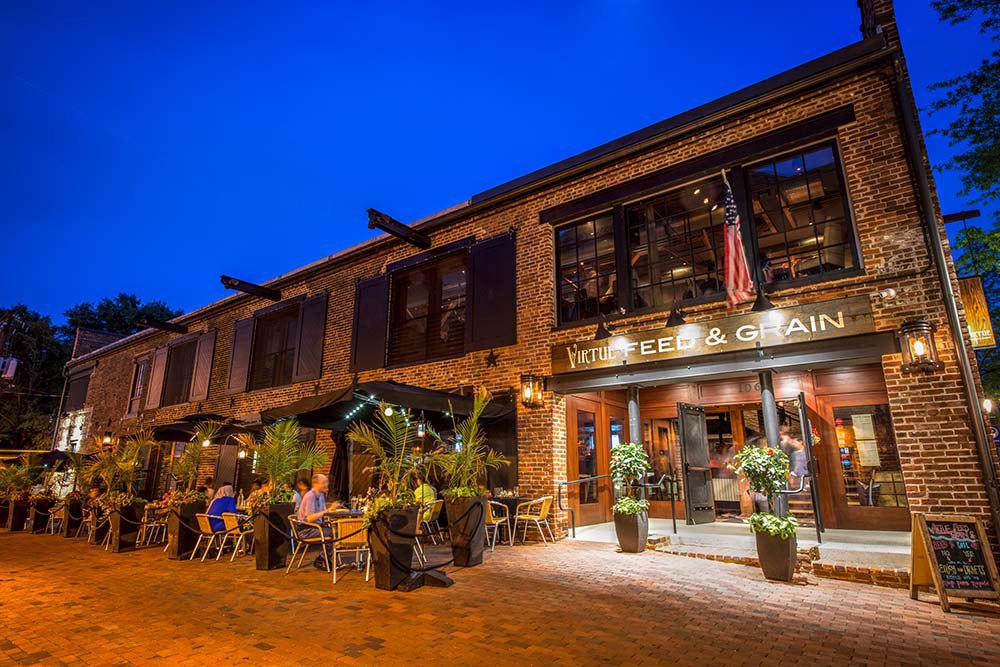 Once an 18th Century feed house, Virtue Feed & Grain serves American tavern dishes with three menus: All-Day, Brunch and Late Night (until 12:30 a.m.). Unique upscale bar fare choices include duck meatloaf, wild boar chops, umami burgers and pork Barbacoa tacos. The bi-level restaurant can host events for up to 300 people and offers three unique reserved-seating areas: The Stage Table, The Sofa Lounge and The Porch. 106 S. Union St. Online reservations at http://virtuefeedgrain.com.
Mai Thai Restaurant
Mai Thai takes diners on a journey of authentic Thai cuisine offered in a contemporary setting. Soups, appetizers, noodles and rice dishes, savory entrees and refreshing desserts fill the menu. A wide selection of vegetarian appetizers and entrees are offered. Featured house specialties include shrimp clay pot, grilled fish lemon grass, honey ginger duck, spicy eggplant and ginger tofu. 6 King St. at Union Street. http://maithai.com/oldtown/.
Vola's Dockside Grill and the Hi-Tide Lounge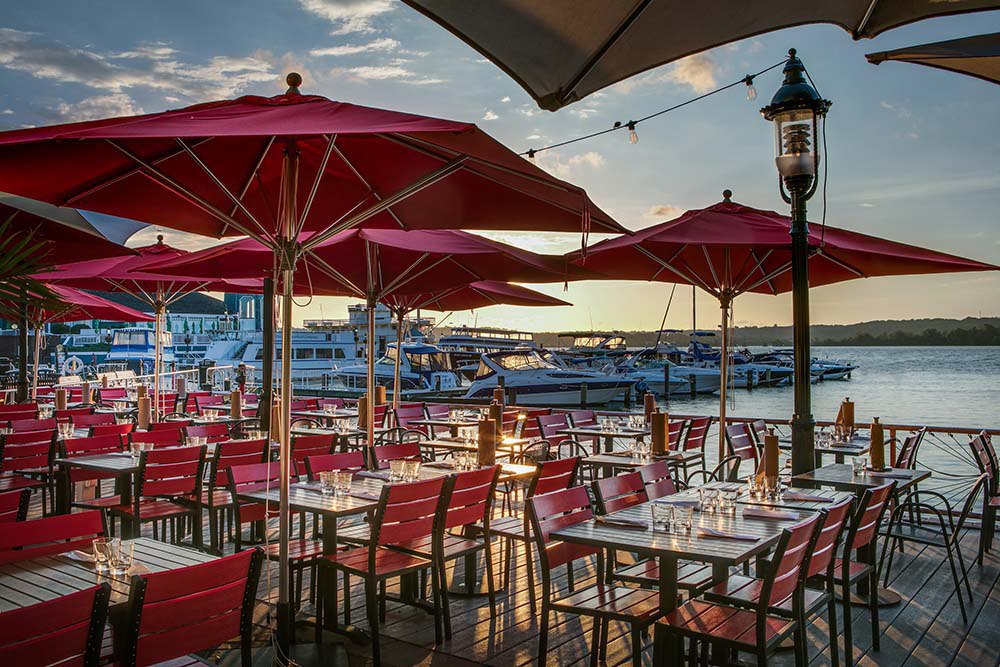 Named for Alexandria's first female city manager Vola D. Lawson who gave 48 years to public service, this casual seafood restaurant and hideaway bar offers the largest dockside dining on the waterfront. All-Day, Brunch and Hi-Tide menus feature classic seafood made with peak season ingredients. Popular selections include blackened grouper, shrimp & grits, seafood stew, oyster & shrimp po' boys and conch fritters. Oyster happy hour (M-F), Mahi & Margarita Mondays and half off wines on Wednesday. 101 N. Union St. Online reservations at http://volasdockside.com/.
---
King Street (100 Block)
Mia's Italian Kitchen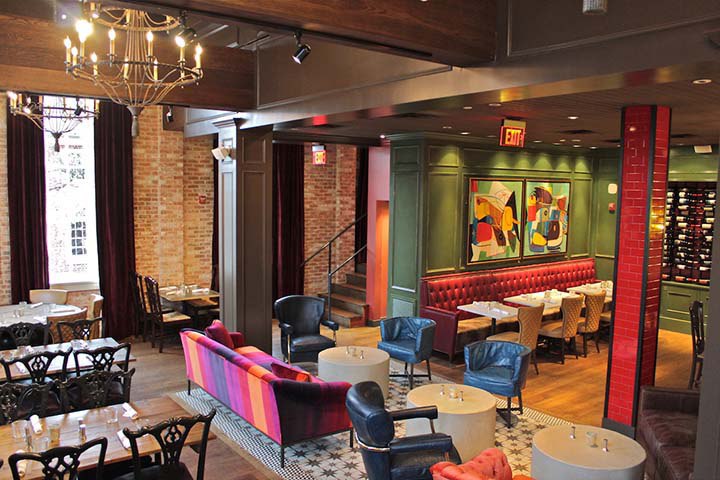 Mia's menu– a collaboration of Chef Graham Duncan and Partner Dave Nicholas – captures the essence of Dave's great-grandmother's rustic cooking in Naples. It's an approach Mia's embraces in its All-Day, Brunch and Late-Night menus, which include house-made pasta, Italian sandwiches, charcuterie, and square pizzas "by the slice." Half off wine on Wine Down Wednesday and "to go" online ordering options (including a gourmet picnic for two). 100 King St. Online reservations at http://miasitalian.com/.
Landini Brothers Inc. Restaurant
Serving brunch, lunch and diner since 1979, the Landini's offer elegant meals prepared in traditional Tuscan style. A wide selection of antipasti, homemade pastas, fish, veal and steaks are served. More than 400 varietals are available from the wine cellar. The 2nd floor wine room – with 250-year-old exposed brick walls and original sealing beams – seats 55 for private parties. 115 King St. Online reservations at http://landinibrothers.com/.
Fish Market Restaurant & Raw Bar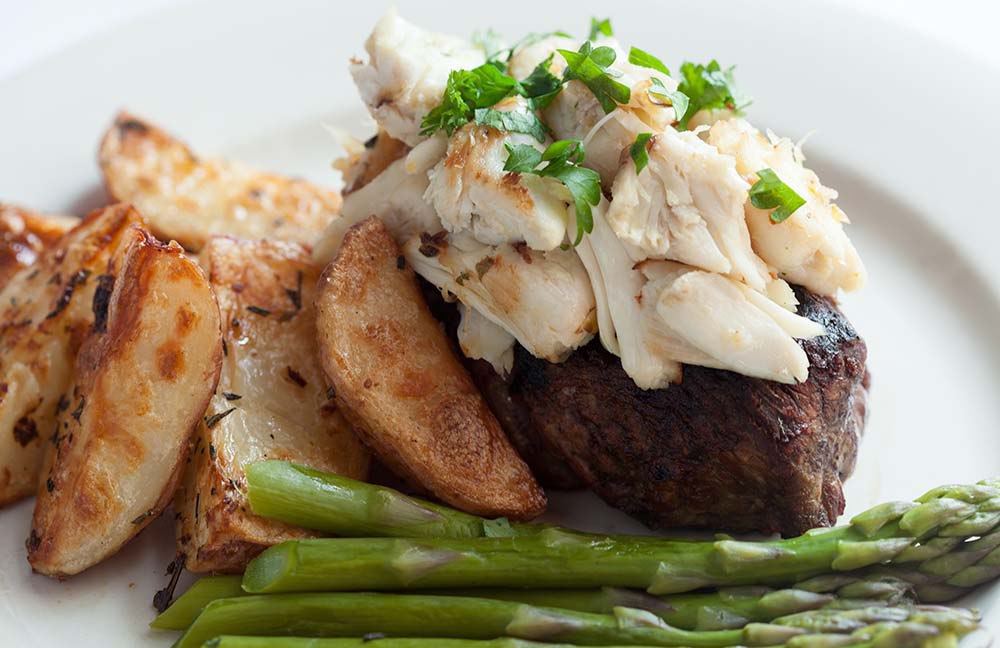 Fish Market features five different dining rooms, each with its own atmosphere and décor along with more intimate balcony and patio seating. Open daily until 12 a.m., the kitchen serves fresh seafood classics including crab cakes, clam chowder, grilled catch and fish 'n chips. The Anchor Bar is a sports mecca with 16 TVs playing all the local games. Live music on Wednesdays and a DJ on Fridays and Saturdays. 105 King St. First come first serve seating. http://fishmarketva.com/.
The Wharf
Traces of Civil War era fire can still be seen in The Wharf's charred beams dating to the 1790s when the building was first home to a crockery and china importer. Seafood is king with dishes that include the shellfish martini, shrimp and blue crab fritters, the Triple Norfolk (lobster, lump crab and shrimp), and horseradish crusted salmon. Weekly specials are Mussel Mondays with rotating seasonal flavors and whole lobster Wednesdays (1.25 pounders simple or stuffed). 119 King Street. Online reservations at http://wharfrestaurant.com/.
Daniel O'Connell's Irish Restaurant & Bar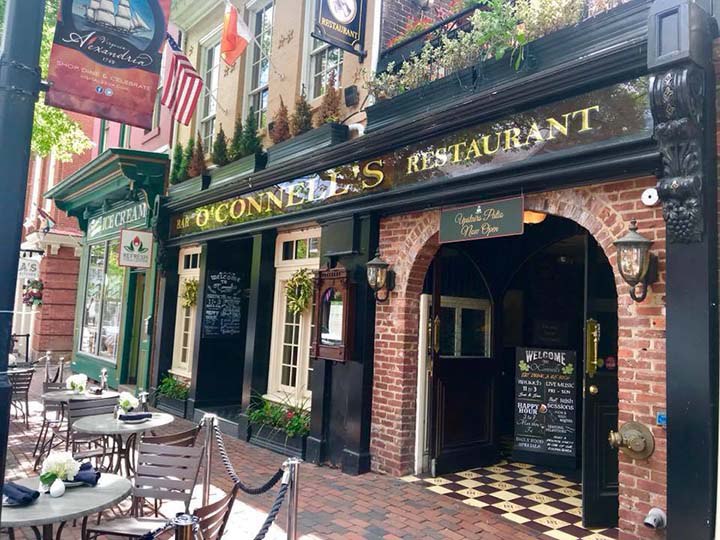 Named for the famed Irish liberator, Daniel O'Connell's is billed as a modern Irish restaurant in an ancient Irish setting. Owner John Brennan has filled the 1800s building with an array of antiques direct from Waterford that can be found in the corners, nooks and crannies that define the unique space. New dishes and auld favorites are on a menu that includes corned beef & cabbage, chicken curry, crispy Irish egg rolls, fish and chips and shepherd's pie. Live music Thursdays through Sunday. 112 King St. https://www.danieloconnells.com/menu/.
Il Porto Ristorante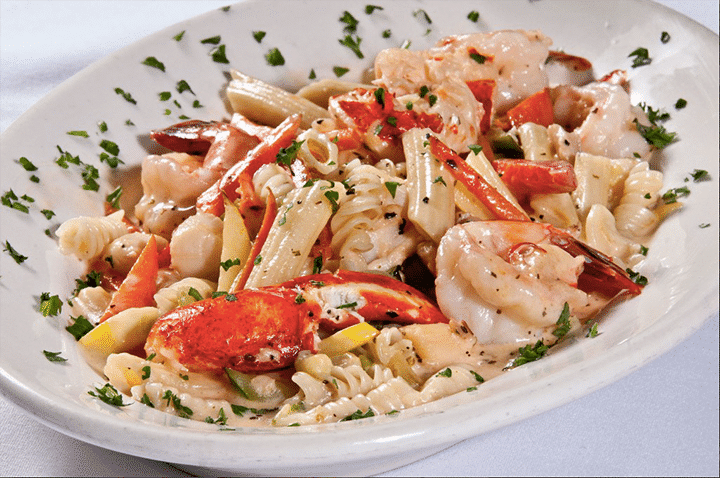 Over the years, the building has been a sea captain's home, antique store, butcher shop, speakeasy, art studio and restaurant with regular performances by ragtime piano legend Johnnie Maddox. Today, Il Porto Chef Miguel Ferman focuses on Northern Italian cooking from his homeland using modern cooking techniques. Everything is prepared from scratch, on premise, including pasta made fresh every day. 121 King St. Online reservations at http://ilportoristorante.com/.
Pizza Paradiso
One of four in the DC area, Pizza Paradiso focuses on great crust with slow rising dough worked by hand, lightly graced with toppings and cooked in a wood-burning, domed stone oven at 650+ degrees. Thirteen pizza selections with multiple options for toppings. Insalate, antipasti and panini are also on the menu. Table service for 120 with an ever-changing draft beer selection and wine list. Order online for delivery via UberEats or pick-up via Eat24. 124 King St. https://www.eatyourpizza.com/.
Visit RobinsonLanding.com to learn more about life within walking distance at this exciting new Old Town waterfront neighborhood.