"Winter is coming" means something a little different this year. While we aren't battling the night king, many of us are anxiously anticipating shorter, colder days as we continue to work, go to school, and quarantine at home. Spending more time than ever in our homes starts to look a bit different as the sun sets earlier and the temperatures drop. The changing season is a reminder of how staying safe and healthy has been at the top of our minds during these unprecedented COVID-19 times. As the temperatures shift, we look forward to refocusing and refreshing our mindsets to stay healthy, happy, fulfilled, and active throughout the winter season.
We've gathered a list of activities, ideas, and resources to stay active, healthy, and happy at home this winter season:
---
How You Can Help Your Neighbors and
Community During Quarantine
---
How to Stay Healthy, Active, & Busy this Winter

Here are a few ideas and resources to help you stay active, try new activities, take care, and keep busy during the fall and winter seasons:
Get outside (even if it's cold) – Even as the temperature changes from chilly to cold, make sure you get out of the house at least once a day. Instead of going for a walk after work, take advantage of the mid-day sun and head out for a walk around the block at lunch time. Take in the fresh air, enjoy the vitamin D, and stretch your legs before sitting down at your desk for the afternoon.


Avoid S.A.D. – Seasonal Affective Disorder, or S.A.D., is a type of depression that directly relates to changes in the seasons, typically starting in the fall and continuing through the end of winter. To help combat S.A.D. feelings while spending the majority of your time indoors, it's important to get time out in the sun as much as you can. In addition to taking walks or spending time on a porch or rooftop terrace, consider a S.A.D. LED light to keep near your desk while you're working. These ' light therapy' lamps can help keep those feelings at bay, especially on days where the weather doesn't permit outdoor activities.


Walk to pick up food from local restaurants – If you order food, consider choosing pick up instead of delivery. This can help you get outside for the day, while also supporting a local business nearby. Consider switching up your orders from your usual go-to options and try other local spots to help support them during this difficult time.


Reevaluate and set goals for the season – While the New Year and back-to-school seasons bring a natural timeline for setting new goals, take the time to do so now if you haven't. You can make your own timeline and set both long term and short term goals. Is your goal to cook more often? Fall and winter recipes are a great place to get started. Do you hope to exercise more often? Set a time every day that you can dedicate to moving your body. Whether that's an online exercise class, going for a run, or even just getting up from your desk and stretching for a few minutes, these movements get you one step closer to your goals.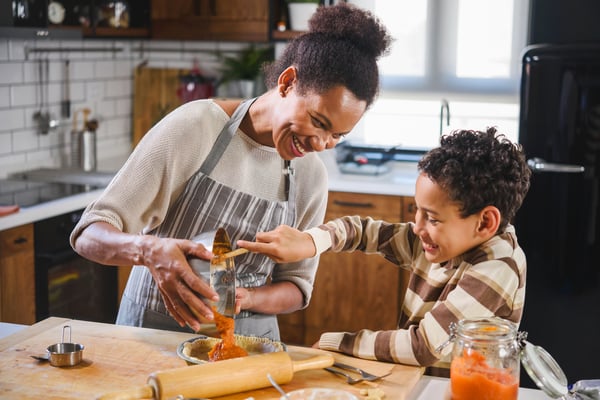 Cooking at home – Fall and winter recipes are full of comfort, warmth, and flavor. Check out these seasonal recipe ideas and consider challenging yourself to try at least one new recipe every week.


Take your culinary skills to the next level – Did you know you can do virtual cooking classes? You can take lessons from professional chefs from the comfort of home - and so can your kids. There are many different levels, options, and cuisines to choose from. Here is a list of choices to get you started.


Schedule time for exercise – As the temperatures drop, it can be harder to get motivated to exercise. Consider signing up for live virtual exercise classes. Putting this time on your calendar can help to keep you motivated, build this time for yourself into your routine, and stay committed. Treat it like a meeting and don't allow yourself to skip it.


Virtual exercise classes

– If you're a runner or enjoy exercising outdoors, you may not have tried taking virtual exercise classes during quarantine yet. There are seemingly infinite resources now where you can take fitness classes online, often with little to no equipment necessary. Some are live and others are pre-recorded so you can participate at a time that makes the most sense for you. Here are a couple lists of resources to get you started:




Enjoy the season

–Take advantage of all that fall and winter have to offer. Look into safe, socially distant outdoor activities like apple picking, hiking, going to a winery (again, double check their COVID guidelines beforehand), camping, outdoor ice skating, and more.


Date night - Get creative with your at-home date nights.



Create a theme night - Choose a theme for your date night, whether that be a romantic getaway location like Italy or Paris, recreating a favorite movie, or based on an activity like game night or camping at home. Go all out with food, drinks, and decor to create an immersive experience. For example, if your night is Italy themed, order pasta from your favorite local Italian restaurant, listen to an Andrea Bocelli playlist, and have an Italian wine tasting before you watch "Roman Holiday."
Go to a drive-in movie - Are there any outdoor drive-in movies playing in your city or town? Cities across the country are going back to this classic vehicle (pun intended) for nights out. See what's playing near you and make a night of it, popcorn and all.
Take a hike - Get out of the house and out of the city and take a socially distanced hike. If you live in the DC area, there are many options nearby with Shenandoah National Park a day trip away.
Plan a picnic and enjoy the fall foliage at your favorite park
Host a virtual double date - Order from the same restaurant, play virtual games, and simply catch up with your couple friends you haven't seen in a while.
Take a virtual cooking or mixology class
Outdoor movie night - Set up a sheet and a projector, grab your coziest blankets, get your snacks ready and enjoy a movie night under the stars in your backyard or up on your rooftop terrace.
Stay connected to your people – After months of quarantining, it can be easy to slip back into old routines. It's important to remember that this 'new normal' is not normal. Don't forget to stay connected with your people: family, friends, co-workers, etc. Here are a few reminders of how to stay in touch virtually:



Friend dates

- We are all Zoom fatigued at this point, so choose a new way to connect virtually with pals you haven't seen in a while. Choose a TV show or movie to watch at the same time and text throughout. Do you like the same mindless reality shows? Are you interested in the same new Netflix original movie? Plan to watch at the same time and text during and if you're up to it, call or hop on Zoom to chat, maybe even with the same drink or snack in hand.

Virtual game night

- If you haven't taken advantage of virtual game nights, this winter may be the time to start. Here are a few fun options to try:
Start a virtual book club - With one condition: all books must be purchased at a local bookstore.
Utilize your lunch break - Use your daily lunch break to call your mom, FaceTime your nephews and nieces, catch up with long-distance friends, or send texts to neighbors to check in on how they're doing
Create a collaborative playlist on Spotify with friends to stay connected in a new way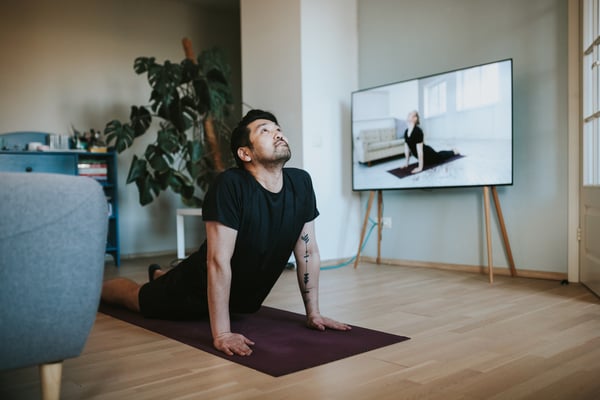 Additional Ideas to Stay Busy While at Home -



Turn your home into a cozy oasis

with these 11 easy tips

Learn something new – From dusting off your old guitar to learning how to code for the first time, there are endless online tutorials you can take advantage of to learn a new skill. Get started with these resources:
Enjoy a comedy special or streaming concert performance
Redesign, reorganize, and repurpose your home decor - If you're starting to get tired of your home set up, check out these tips for how to

redesign your home with what you already have

Try a new podcast - If you've caught up on all your favorite podcasts,

peruse this list for new ones to try

- or even start your own!



Additional Ways to Take Care While at Home -





Helping others

-

Sometimes it's a simple relief to focus your attention on helping neighbors, friends, and the community

Play with your pets

- Pets are known to help

reduce stress and make you happier

so make sure to take some time to reconnect with your furry friends each day
Practice meditation and tune out the noise
Get zen with an at-home yoga class
Pick up a relaxing new hobby - Avoid options that may cause stress or make you feel overwhelmed, as they should bring out positive feelings of accomplishment and contentment rather than negatives ones. Take up knitting, try a book in a new genre, order a couple new adult coloring books, take a class on video editing, or learn the art of scrapbooking.
Listen to calming playlists
Take more baths - Did you know

taking a hot bath can scientifically release and reduce stress?

Get some fresh air - Open your windows, sit out on your porch or rooftop terrace, go on a run, or take your dog for a walk
Don't give up on your workout routine - There are hundreds of options for free at-home workouts for all types of workouts. Here are a few resources to find the right workout for you:

---
How to Keep Kids Busy Inside this Winter

Here are a few resources, ideas, and ways to keep kids entertained, active, and busy while at home:
Create an "I'm Bored" list – Take back the power of the "I'm Bored" exclamation. Have each kid create a list of 10 activities they can do when they're bored and keep it in a prominent spot like on the fridge to refer back to any time they utter the phrase.



Take an online photography class for kids

– Keep the kids both active and creative with an online photography course.



Build a Lego masterpiece

– Legos aren't just for kids anymore. From Star Wars and Harry Potter to Disney and Marvel characters, there are thousands of choices for all skill levels and ages. Get a project for yourself and one for your kids and work on them together. Here are some of the top choices by age range.


Stay active and exercise - Competing with screen time may be a challenge, but it's important to keep kids active while at home. If you can get outside, find local kid-friendly trails and hikes to try out on weekends. Find virtual exercise classes that the kids can join in on. Have a mid-day dance party every day before lunch. Take advantage of local park areas to play catch or soccer. Go on a family bike ride. No matter the activity, get creative with it and have fun.

Donate toys, books, & clothes – If the kids are looking for something to do, have them do good for someone else. Go through their rooms, closets, and bookshelves and choose items to donate or give away to those in need.


Put together care packages – Whether it's for local health care workers, relatives who they haven't seen in a while, or even via Support Our Troops, put together homemade care packages to brighten someone's day. Include hand drawn cards, homemade crafts, and help them pick out items they'd like to include. Then, either take a walk together to drop it off or take a field trip to the post office.


At-home camping – Do you have a backyard or rooftop terrace where you can set up a tent? Turn your home into a campsite for the night. Cook s'mores, read spooky stories by flashlight, cuddle under piles of blankets, and spend the night under the stars. Set up outdoor speakers and play ambient sounds like crickets in the distance, crackling bonfire, or ruffling trees. If able, set up an outdoor projector and have a movie night before bedtime.


Virtually babysit – Help out your neighbors with kids who deserve a break from childcare. While you may not be able to physically take the kids off their hands, offer to spend an hour, or a few hours, entertaining friends' and neighbors' kids via video chat. Choose a time where parents can get some work done during the day or give them some relief in the evening so they can relax on their own. Here are a few ideas for ways to entertain the kids during your 'babysitting' session:



Read them a story
Make a craft together
Show them a magic trick
Share cute YouTube clips
Make sure they

get a glimpse of your pets
Teach them something
Play a game

like Uno or classic board games online
Write a story together

– make it fun and silly and switch off who gets to tell the story as you annotate.

Play Mad Libs

with

Mad Libs apps

or order a booklet on Amazon to have at the ready for your babysitting session. Have the kids fill in the silliest words they can think of.
Take a field trip

- Visit a zoo or museum together. National parks, zoos, and museums are now offering virtual tours, live feeds, animal updates, and more. Share your screen and navigate these resources together:

Set up an online playdate with their friends – Are the kids missing their friends? Set up an online playdate for them to see their classmates and neighbors. Plan an activity or two for the kids to do together from the list above like creating the same craft and let them take over.



Need more ideas?

Click here.
---
How to Help Older Relatives, Neighbors, & Friends this Winter

Here are a few ways to provide help, care, and kindness to your older neighbors and relatives:
Check in – As the temperatures drop, older relatives and friends will be reassessing their quarantine situations. If you haven't in a few weeks or months, make sure to check in. This simple gesture can have a big impact on those who haven't been able to venture out for days or weeks at a time. Make a phone call, leave a card, or drop off a favorite treat to let your neighbors know you're there and thinking of them.


Drop off groceries – If you are safe and able, check in with older neighbors before your next trip to the grocery store to see if they need you to pick up anything for them. Alternately, if you get groceries delivered, see if you can help set them up with the same service you use, especially if they struggle with new technology.


Pick up their prescriptions – Many grocery stores double as a pharmacy. If you are able to take your next grocery trip where they get their prescriptions dropped off, see if you can save them a trip. On your way home, leave the bag in their mailbox, on their front step, or somewhere they can safely and easily grab it.


Offer to walk their dog, deliver food, or water their outdoor plants – If you are safe and able, offer to help out with their pet care. Pet food is notoriously heavy and difficult to transport, especially during trips to the store where you're already stocking up as much as possible. See if you can either pick some up for them or help set up a subscription for delivery. If they need some help giving their dog the type of exercise they're used to, offer to take Rover on a long walk.



Send books

– Some independent book stores are now offering delivery services for their books! For example, Kramerbooks & Afterwords Cafe in Washington, DC has set up a service through Postmates where you can even send a friend a book anonymously to brighten their day. If you have any extra reading material around your house, consider dropping off a package during your next walk through the neighborhood.



Care package

– Sometimes just the reminder that someone is thinking about you is more than enough. Consider putting together a care package you can drop off. If you have kids, let them get creative with what goes in the box, as well as decorating the outside. Fill it with their favorite snacks, a few self-care items you can find at the grocery store like hand lotion or scented candles, and maybe some homemade cookies. Make sure to include a handwritten note or homemade card to top it off and make their day.



For out of town relatives

– Make use of the technology available and check in as much as you can. If you have kids, you can set them up on a video chat playdate. They can perform their latest feat on the piano, share their most recent artistic masterpieces, or just tell their grandparents about their day. Send snail mail if you can with any groceries they might not be able to find in their area, homemade cards, and more.



Help them stay connected to their community

– Whether they're your next door neighbor or your aunt living across the country, share resources you find to help them stay connected to their community. Many brands and companies are working to create easy virtual spaces to connect with those around you. Do some research and see what you can find in their area.



Facebook has created a

community support page where local residents in your community can offer and request help. Categories include transportation, food, toiletries, and even information. The page uses your profile's location to connect you with others in the area. Whether they need help or would like to offer it, this could be a great resource to keep in touch with their neighbors.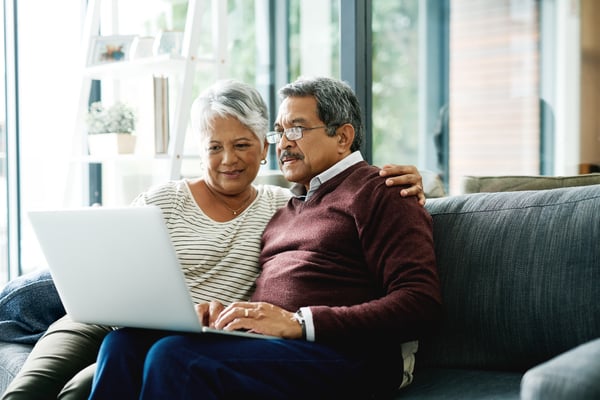 Help with digital set-up

– While they may have embraced the basics, there are more online resources than ever for entertainment, classes, and connecting with their families and friends.



TV & movies

–

If they're having trouble connecting their devices to access online catalogs of books and movies through the many streaming services available, set up a video or phone call to help them through the process.

Books & music & podcasts

–

Many services are offering more free audio books, TV shows, and more. For example,

Amazon and Alexa devices are now enabling customers to access

even more free digital books and stream hundreds of Sirius XM channels. A few other digital content channels they can explore could be setting them up with a free Spotify account or teaching them how to download podcasts that would interest them the most.

How to video chat with their families & friends

–

They might not have ever had the need for video calls and may be new to the technology. Help them set up their account and practice their video capabilities so they can get comfortable contacting their friends and family on their own.

Online games

–

From card games to board games to group games, there are seemingly infinite online options for playing games with family and friends virtually. Here are a few resources to check out:




Online classes

–

Depending on their interests, many resources have now gone online. Teach them how to access

TED Talks, help them enroll in an online poetry class, or choose from a wide variety of free educational courses.
---
How to Help Your Community this Winter

From supporting health care workers to shopping local this holiday season, here are ideas and resources for how you can support and help your community:
Volunteer & offer support within your community

– There are infinite ways to help and support your community through offering time, resources, and knowledge. We've gathered a few resources to help you find the ideal opportunity for how you can help. Keep in mind that during the colder months, as we get closer to the holidays, organizations will be looking for volunteers. See how you can do your part while staying safe and healthy.



Here are a few resources to get you started:

Shop local this holiday season - As the holiday season approaches, shop local. Whether it be picking up local produce for a big family dinner, gift cards from your favorite local restaurants, or unique gifts from local retailers, shopping small this holiday season can help keep your local favorites in business.


Continue to Care for Health Care Workers in Your Community –



Send meals

– Brands like Starbucks, Chipotle, sweetgreen, Tropical Smoothie Café, and UberEats

are giving out free meals, delivery, and more for medical workers

. If you are able, check in with the health care workers in your network to see when would be a good time to order them a meal to be delivered during their shift or let them know about these offers.



Provide a place to stay

- Airbnb is now partnering with hosts to connect healthcare providers, relief workers, and first responders with clean and convenient places to stay so they can stay close to their patients while safely social distancing from their own families.



Drop off or mail a care package

- Take a few moments and put together a special care package for them. If you are able to safely go to a grocery store, pick up a few of their favorite snacks, possibly some fresh flowers to brighten their day, and some items they may not have time to shop for like shampoo, soap, or even hair ties. Have your kids draw them a picture or include a craft project to let them know you're thinking of them.



Give them a call

- It sounds simple, but even just checking in can be enough to show your appreciation for all that they do and to make sure they're doing okay.



Offer to

walk their dog, feed their pets, or water their plants

–

If safe, see if you can help out with their pet care while they're at work. Many hospital workers have long shifts and may not be able to fall back on their typical pet care options.



If you own a business,

consider what you can do to help. Many brands are donating or offering special promotions on items to help health care workers get through their days like comfortable shoes from brands like Keds and All Birds, soaps, flowers, dry shampoos, scrubs – even wedding dresses.

Click here for inspiration on what other brands are doing to help.




For more ways you can help health care workers, click here.
Support local businesses

– Here are a few ways you can support local businesses during this time:

Order

food for delivery

or pick up as much as you can

Purchase gift cards

from your favorite restaurants and shops to use at a later date
Write positive online reviews

for your favorite businesses
Start a list of services

you'll book and places you'll go once you can like haircuts, fitness classes, concerts, & more
Think outside the box

of what types of local businesses you can support. Do you have instruments that need a tune up? Many local music shops are offering pick up and drop off services for instrument care. Can you order board games from a local toy store? New outfits from a local boutique? Home décor from a local shop?
Surprise a friend

in isolation with an order from a local shop

Share and tag how you're supporting local businesses

on your social accounts. Tag a snapshot of your delivery dinner or a photo of your pet supplies you ordered to show your support and encourage others to do the same.

You can also use

Instagram's new donation sticker

to donate directly to national and local organizations. If you aren't sure where you'd like to donate, you can easily scroll through the options and use the search bar as a first step to decide how you'd like to help.

Here are a few resources for additional ways you can support local businesses in Washington, DC, Maryland, and Virginia:
Support local nonprofits - Whether you're donating your time, clothes, food, or services, both local and national organizations are working to provide relief, help, and support to those who need it most.

The Washington Post gathered a list of several nonprofits

working to support communities in the DC region and how you can help. For details on each organization,

click here.
---
How to Keep Pets Happy & Healthy this Winter

Here are a few ways you can provide support and assistance to your community's local pets, pet stores, and animal shelters, in addition to keeping your own pets happy and healthy:
Dog park visits - Instead of just a quick walk around the block, bundle up and take your best friend to a local dog park where they roam free for a bit. Bring a book along or simply enjoy the fresh air as they get some extra time outdoors.



Keep your dog happy

- Here are a few ways to keep your dog engaged, happy, healthy, and energized during this time:

Support local pet shops

- From treats and toys to food and litter, see if you can pick up your pet supplies from a local pet store or have them delivered to your front doorstep. Rather than pick these up at a grocery store chain, take a look at how you can support local pet stores instead.


Offer to help neighbors with their pet care - If you are safe and able, see if you can help out your neighbors with their pet care, especially those who are unable to go on long walks with their dogs or go to the store to pick up supplies.



Donate & support

- There are

many ways in which you can support your community's animal shelters, including virtual adoptions and new foster programs. If fostering or adopting isn't an option for you, consider donating supplies, offering to help transport foster animals, or even coming up with a fundraising idea to help them stay afloat. Nonprofits like The Humane Society and ASPCA are also working to make it as easy as possible to provide help and support to animals in need.

Foster and/or adopt

-

For the safety of shelter staff, many local shelters are expanding their fostering programs during this time. While you're working from home, see if you can help out by offering to foster a dog, or even a cat depending on their specific programming.

Find a shelter in your community
---
If you have any questions on how to connect with EYA during this time, click here for a quick message from our team, links to our online resources, and more information.

---
Disclaimer: In any and all of the suggestions on supporting your neighbor, we stand behind the CDC's guidelines of practicing social distancing and keeping both those around you and yourself safe.