When searching for a new place to call home, it is often not only the home that one takes into consideration, but also the community that you become a part of. Well-designed neighborhoods with outdoor amenities and green spaces can impact happiness and help to bring people together.
Thoughtful community visioning integrates design elements and open spaces to connect residents with each other and their surrounding area. Amenities may include neighborhood parks, walking paths, plazas, playgrounds and seating areas to facilitate interactions among neighbors. A well-planned landscape design not only connects residents with nature and creates a visual sense of harmony, but also offers highly sought after amenities and supports community engagement.

To learn more about how landscape design can foster community, EYA's approach to neighborhood planning and features you may not have previously considered to look for in your new community, read our Q&A below with EYA's longtime landscape architect Gabriela Cañamar Clark, a partner at LandDesign.
---
New EYA townhomes in DC, MD & VA
---
What is landscape design?
In residential communities, the landscape is essentially everything that is outside—such as plazas, playgrounds or gardens. As a landscape designer, my job is to anticipate how people will use outdoor spaces. For example, people make many instant decisions when they're outside—whether to sit on the lawn or a bench, whether to head left into an open plaza or right into a more enclosed garden. Landscape design helps people intuitively understand how to best navigate these outdoor spaces.

What is your approach when designing EYA's outdoor spaces?
EYA's specialty is high density, dynamic communities, with a philosophy of life within walking distance. Their mission for residents is to create socially successful communities where people can easily mingle and get to know each other. So when working with EYA, we aim to create spaces that are rooted in the broader community and ensure that every available space contributes to the goal of building a tight-knit neighborhood. We love it when our landscapes are enjoyed not only by everyone who lives there, but also those who visit.

Can you provide an example of an interesting design solution for an EYA community?
When we worked with EYA on the Riggs Park Place community in Fort Totten, one of the safety requirements was to have alleys that were accessible to fire trucks. We asked ourselves, how can these alleys serve the community in a more meaningful way? That is how we ended up with the "woonerf" street design—a meandering alley paved with inviting textural brick detailing that can be enjoyed by pedestrians, as well as vehicles moving at low speed. And of course, by fire trucks in the event of an emergency. The woonerf concept comes from Europe as a shared-use type of public space, and are commonly found in the Netherlands, for example.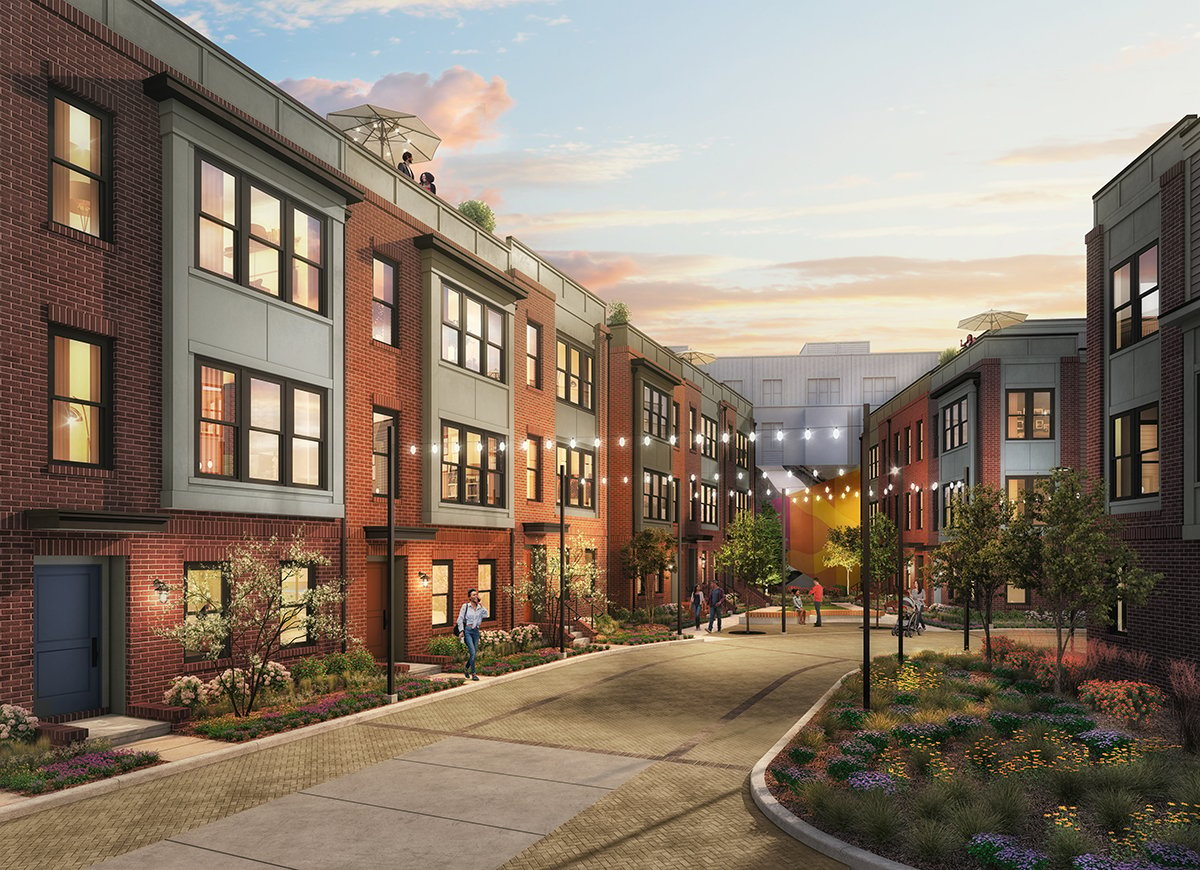 The woonerf at Riggs Park Place in Northeast DC
Is there anything that stands out to you about EYA's approach to landscape design?
EYA distinguishes itself as a development company with its attention to detail—not just when it comes to the design elements, but also with the quality of the materials and craftsmanship, and the care the company puts into implementation and maintenance. For example, some jurisdictions require developers to contribute public art when building a new project. EYA doesn't just put up a sculpture to check a box, instead EYA focuses on incorporating public artwork that fits within the look, feel and vibe of each new community, such as the one at Tower Oaks in Rockville.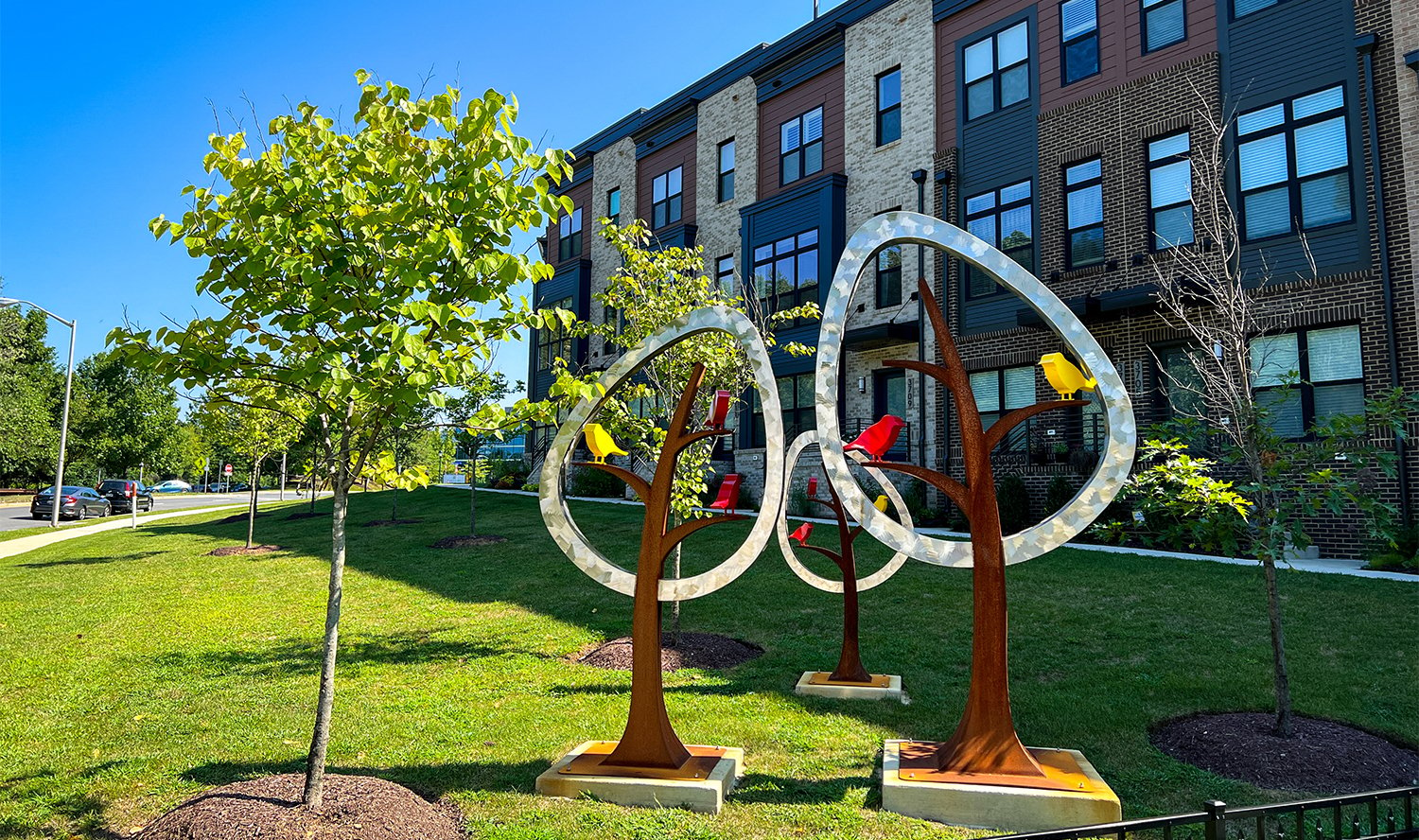 Sculptures at Tower Oaks in Rockville, MD by artist Dale Rogers
(Landscape architecture by VIKA Maryland)

Another distinguishing factor is that at EYA, landscape design is not an afterthought, but an integral aspect of the planning and design process as well as the neighborhood vision. EYA often comes to us when they're exploring a potential site and asks us, "How do you see the open spaces working?" Which exponentially increases the opportunities to discover unique site elements that contribute to the project's authentic place-making strategy.

You are currently working on EYA's upcoming Tysons Ridge community where there will be some very special landscape design features. Can you tell us about the project?
We capitalized on the unique shape and elevation of Tysons Ridge to design a landscape that offers residents a number of amenities, all arranged around a walking trail and a central lawn focused on an existing mature oak tree, pavilion, fire pit and seating. We're also planning an outdoor meditative wellness area and a children's playground.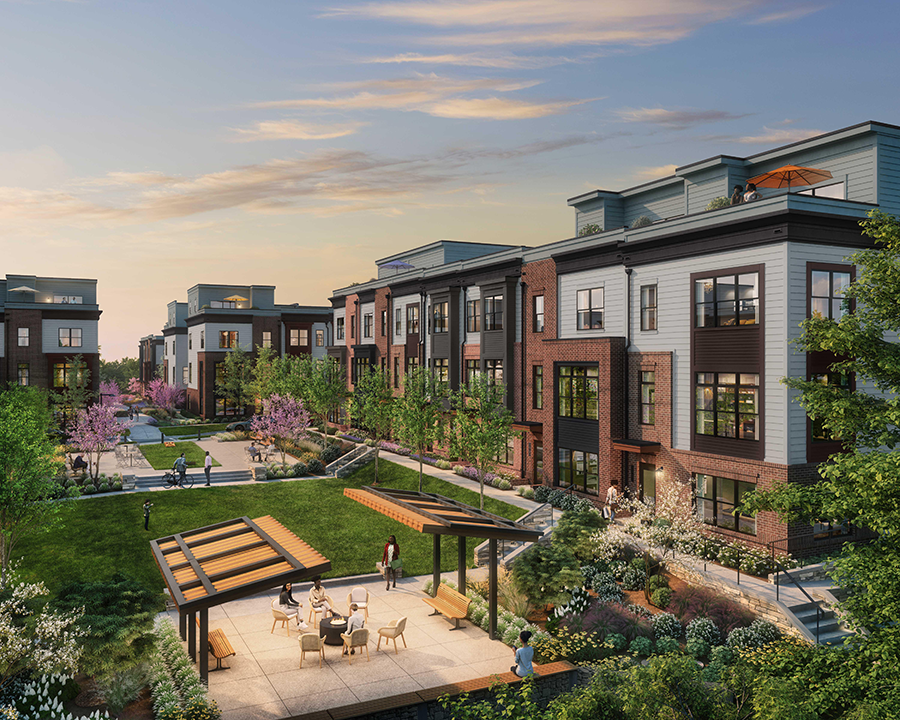 Tysons Ridge in Northern Virginia, Opening Spring 2023
How does nature feature into your designs?
Plants and softscapes primarily support the architectural design. At Tysons Ridge for example, we'll use different types of hedges or trees or plantings, depending on whether we want to mark a border around a playground or create a shady area for people to relax and enjoy the view.

We find inspiration for plantings in many places. At Tysons Ridge, because the townhomes incorporate a modern brownstone design, we took inspiration from cities such as New York's brownstone neighborhoods and we'll be adding very simple hedges or mono-culture plantings in key areas.

Whenever possible, we use native plants in our designs, because sustainability is important. Not only for the health and longevity of EYA's investment in landscape, but also sensitivity to long-term maintenance. Understanding the different types of native plants at our disposal, and how they develop through the seasons is key. Some of the plants might not stay green all year, which is ok if you know how to build a color palette for all four seasons.

Your company often states that it aims to "create moments of wonder." What does that mean?
It means you create opportunities for discovery in intimate little places, instead of just filling them randomly; experiences in public areas that make us smile. For example, if you have a small corner between an entrance and a driveway, you consider whether to add an accent element or a certain type of lighting or specimen plantings. You have to ask yourself, what will be happening in this space, and how do I make the space purposeful and memorable.

What features should buyers look for when assessing a new residential community's exterior amenities?
First impressions are key! After that, there are some basic considerations: Do you feel comfortable and safe? Are the sidewalks inviting and well-maintained? Then, think about your daily routine: How is the walk to the grocery store or the bus stop going to be? Empty nesters might value having a quiet park where you can go for 15 minute walks after dinner, whereas parents with a three-year old might really want a playground. We try to make sure that the way people want to spend time lines up with the way the space is designed.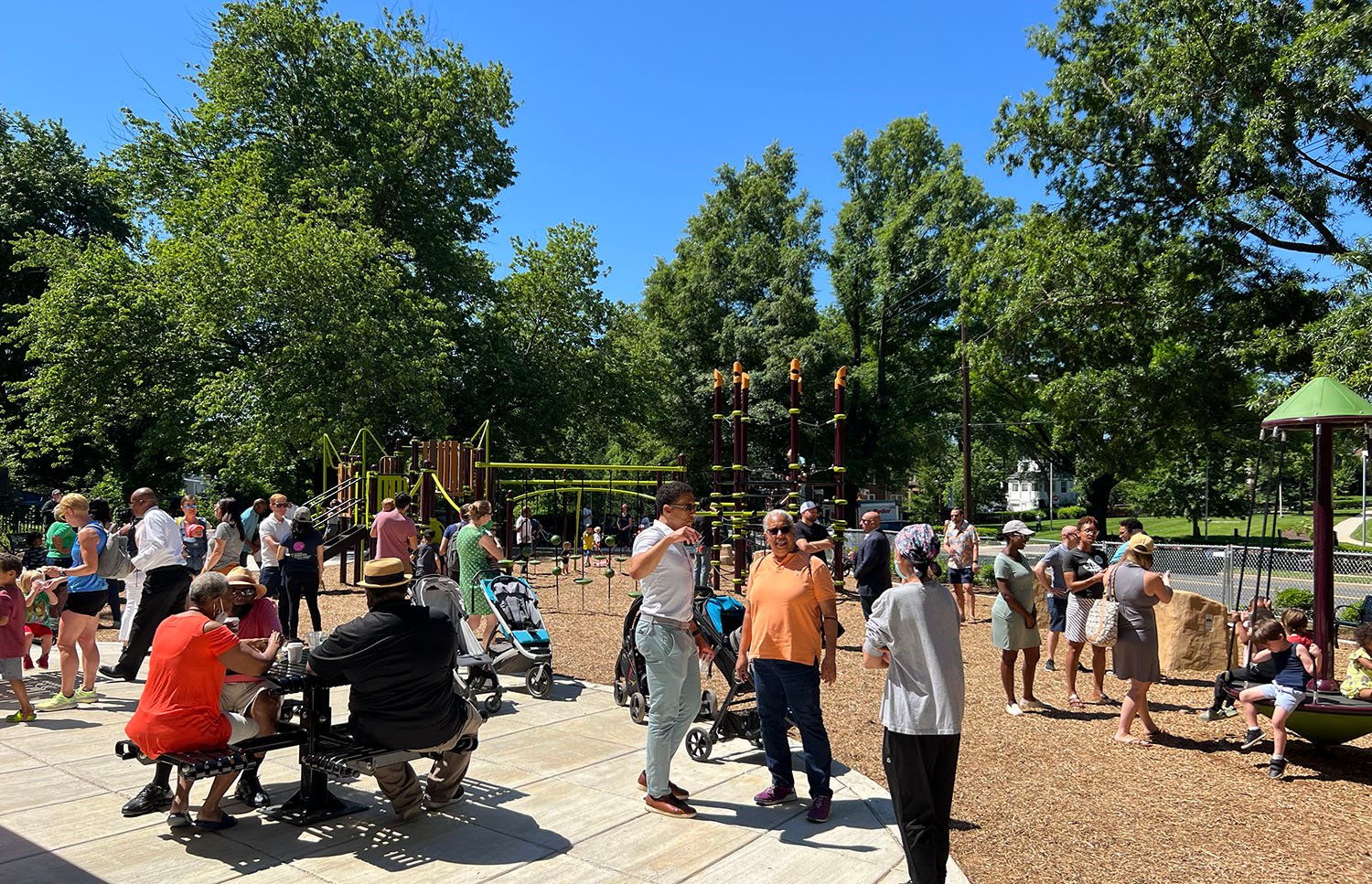 New community playground at Michigan Park in Northeast DC
(Landscape architecture by VIKA Maryland)
Another important element is connectivity and social fabric. Ask yourself, will there be opportunities for spontaneous interactions with neighbors in my immediate community? Does the development feel like it's part of the broader neighborhood? EYA's properties stand out because they never close themselves off and offer that connection to the surrounding area, which is an important goal for design and development of the neighborhoods we all live in.
Click here to learn more about EYA's actively selling communities throughout the Washington area.