Thousands of DC commuters are gearing up to pedal to work this Friday, May 20th, in honor of Bike to Work Day. This free annual event encourages the business community to come together in support of a healthy, fun, and environmentally friendly way to get to work. With nearly 100 pit stops, local events, and even pop-up bike lanes, Bike to Work Day (BTWD) offers first-time cyclists a fun and supportive alternate way to travel to and from the office.
Not sure where to start? Here are the top 5 tips on how to ride to work for this year's Bike to Work Day.

1. Find a Bike
The first step is to find your ride. If you don't already own a bike, there are a few ways to rent a bike for the day or by the hour.
Capital Bikeshare is an easy and convenient place to start. With 5,000 bikes and over 600 docking stations across the DC metro area, cyclists can rent a bike for a single trip, by the day, or even opt for an annual membership. Their website offers station maps and directions on how to use their service so riders can plan their trip ahead of time and find stations local to both home and the office.
Local bike shops offer equipment rentals (such as helmets and locks) in addition to bike rentals, providing a one-stop-shop for new riders. Bike and Roll DC, Rollin Cycles Bicycle Shop, and Big Wheel Bikes are a few locations to check out.
2. Plan your Route
When riding a bike to work for the first time, planning your route will be integral to getting to work safely (and on time!). Luckily, the DC area is home to an extensive network of trails connecting neighborhoods, regions, and streets with paths, bike lanes, and scenic nature routes to help get you there. Below, are a few local trails to get you started:
Bethesda -
Capital Crescent Trail

-

A car-free trail from downtown Bethesda to Georgetown, commuters can enjoy a scenic route of wooded areas and public parks along the way
Metropolitan Branch Trail

- Following along with the Metro's Red Line, this trail winds from Silver Spring, MD all the way down to Union Station
Alexandria -
Mount Vernon Trail

-

This extensive, 18-mile long trail stretches from Theodore Roosevelt island in DC to George Washington's Mount Vernon estate in Virginia. Access points are scattered throughout the area, with multiple route choices from Old Town Alexandria alone
Commuter Connections offers turn-by-turn bicycle routing directions. All you need to do is set up a free account and quickly access the Bicycle Route Finder. This interactive map allows members to not only find the paths, trails, and on-street lanes to get them where they need to go, but to also check the availability of nearby Capital Rideshare stations.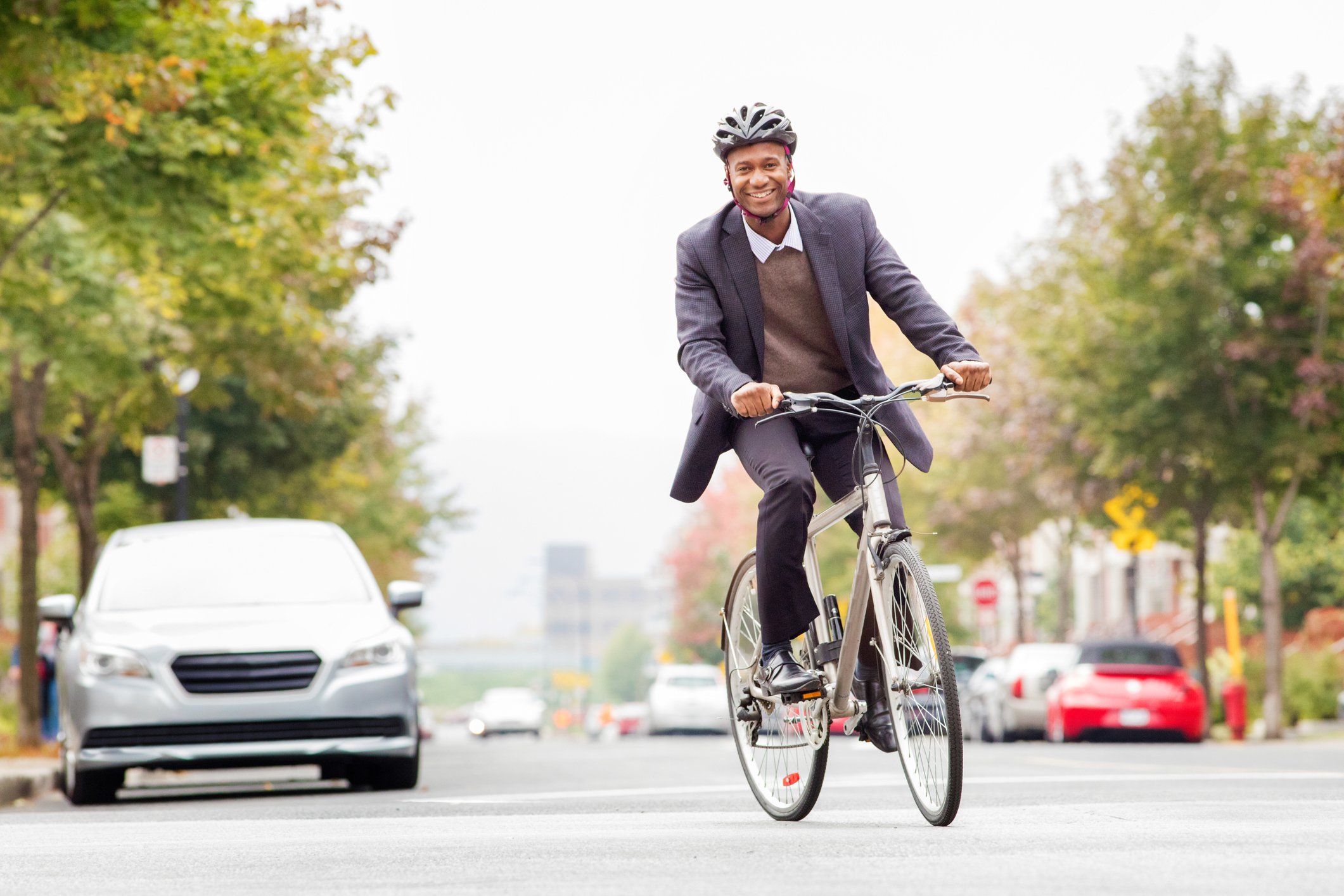 3. Take a Break at a Pit Stop
Make sure to leave some time to stop at one of the 100 pit stops scattered throughout the Washington metropolitan region in DC, Maryland, and Virginia. Riders can meet up and mingle while enjoying free refreshments, enter to win raffle prizes, and more. Some pit stops will even host inspirational speakers and all will have T-shirts available for registered riders. Have some fun before you get to work and get to know other riders in your neighborhood over coffee.
Some communities will even turn their pit stops into an event. Downtown Bethesda's morning event will offer free snacks from 6:30am - 8:30am and bike maintenance checks performed by the experts from Griffin Cycle.
4. Travel in a Pack
Recruit a friend, coworker, or neighbor to come along for the ride! One of the best parts of BTWD is the comradery. Along your route, you'll pass other riders sporting their BTWD T-shirts, cheering each other on, and reaching out for a high five as they pedal past. If no one in your circle can make it, BTWD has set up groups of bikers, called commuter convoys, all led by experienced bicycle commuters.
These convoys travel through popular employment centers, pit stops, and trails, each with specific starting points and routes, making it easy for riders to find one. Riders are welcome to meet up at the starting point or join in along the way. If the idea of biking to work for the first time is intimidating, commuter convoys are a great way to get started.
5. Prepare for the Journey
Now that you've planned your route, recruited a friend, and have your bike ready, there are a few items to remember before embarking on your morning commute. The first is to remember to register. In order to participate in pit stops, snag a Bike to Work Day T-shirt, and join a commuter convoy, you just need to register online.
Whether you're renting or already own your own ride, keep safety in mind when preparing for the day. Bike helmets, bells, reflective lights, and locks are quick and easy ways to stay safe.
Finally, while it may seem obvious, don't forget to stash a change of clothes in your backpack or at the office the day before! You (and your coworkers) will thank yourself later for thinking ahead.
Whether you're riding solo, with a friend, or meeting up with a Commuter Convoy, Bike to Work Day offers a built-in support system to try a new way to commute to the office. With the environmental, health, and economical benefits of biking to work, you might just find your new normal.
Learn more about biking to work in the DC metro area:
Top 5 Benefits of Biking to Work
7 Tips to Safe Biking in the DC Area