At EYA, we take great pride in not only creating beautiful living spaces, but also designing neighborhoods that bring people together and offer the best of life within walking distance. From the beginning of a project, we spend a significant amount of time visioning the overall design of a neighborhood with a view to fostering close-knit communities. The goal is to create a sense of belonging and provide opportunities for residents build long-term friendships with their neighbors through thoughtfully laid out walkways, parks and open spaces that foster interactions and enhance the neighborhood's cohesion.
We recently celebrated the opening of a brand new park and playground at The Townhomes at Reston Station. Homeowners mingled and got to know new neighbors while enjoying refreshments, music and lawn games. Additionally, Hunter Mill District Supervisor Walter L. Alcorn joined EYA team members for a ribbon cutting to officially open this beautiful new, outdoor amenity space. Click here to view the video recap.
Reston Station homeowner Robbin Martz spoke at the event, recounting her experience moving into the neighborhood: "I've been a part of the EYA community since September of 2022, but I felt like I was a part of it way before then. When I came over to see the property as it was being built, I met so many new people who had already moved in. They were so friendly, and they even let me come into their homes. They walked me through their homes, they gave me pointers. They let me know what to expect. So by the time I finally moved in, I already had lots of friends...It has been truly a sense of community since I've been here."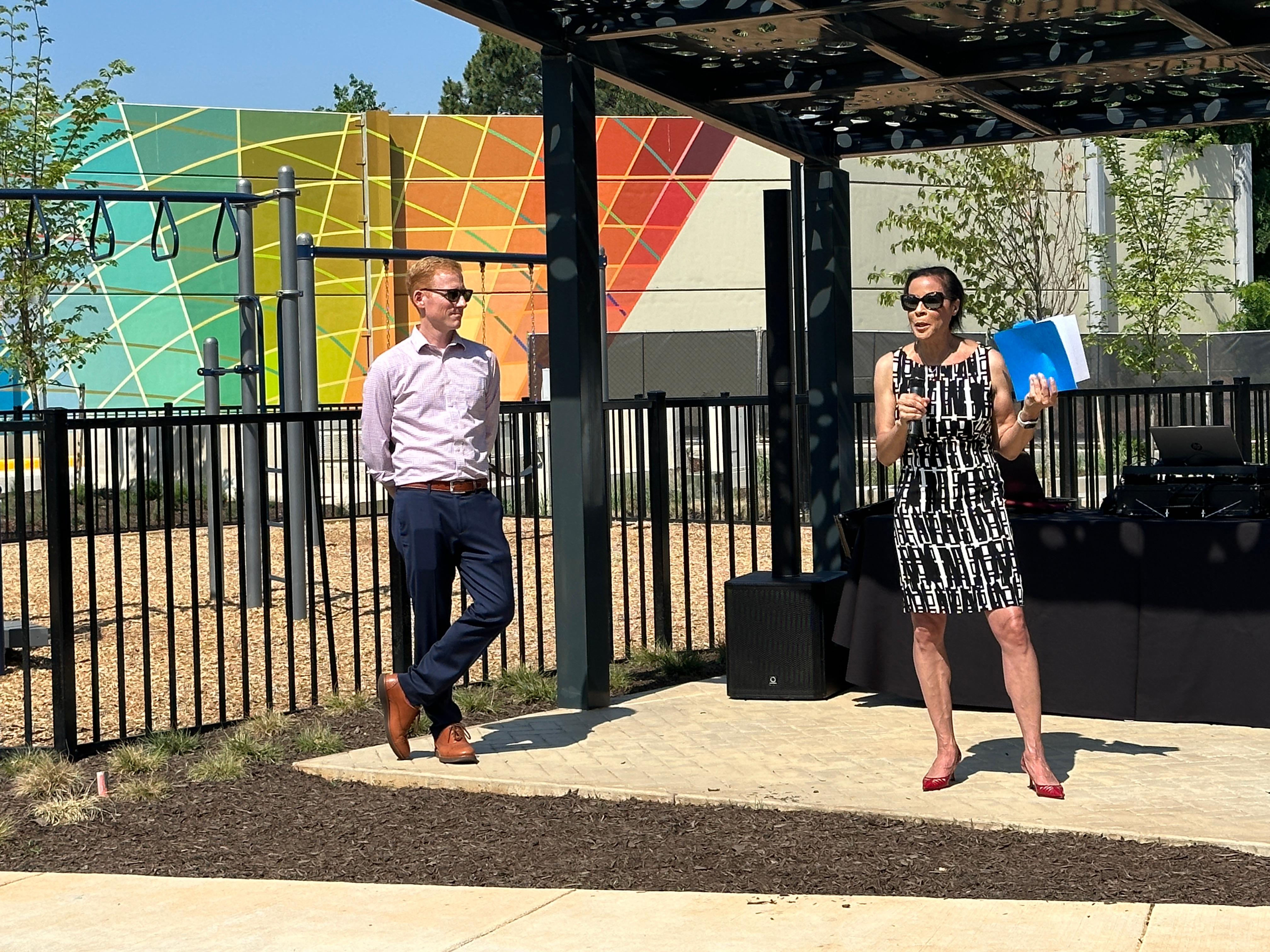 New communities such as The Townhomes at Reston Station not only offer benefits our homeowners, but the broader community as well. The property sits on a piece of land that used to house suburban style office buildings with surface parking. Many of these types of office parks have struggled over the last years as more and more people prefer to live and work in walkable urban neighborhoods with amenities right at their door.
EYA President McLean Quinn noted, "What we at EYA are really excited about, is to be able to bring redevelopment of suburban office buildings like these to places like Reston, where people want to live, work, and play. And the fact that our residents can walk down the street to go to Orangetheory Fitness, can walk to Matchbox or Founding Farmers, can live the urban lifestyle that Reston Station offers them is, I think, really a sign of hope for suburban office markets across the country."
He added, "We've been able to build community here together. And you don't have to look far to understand what a suburban office park looks like on a Saturday morning on a beautiful day. But a mixed-use neighborhood is much, much more dynamic. This is how we build community when we create urban places where people can be together and gather."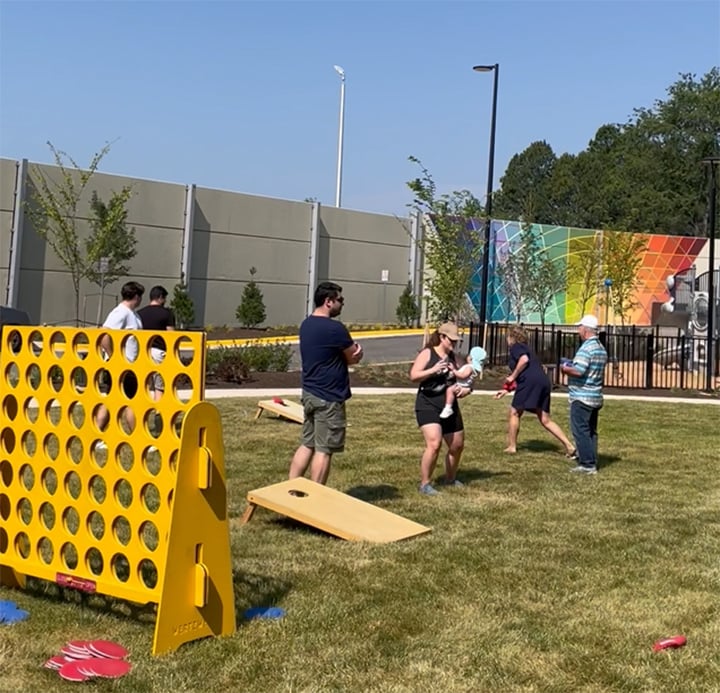 Reston Station is one of those unique suburbs that is walkable, bikeable and offers easy access to transit and trails, truly offering the best of urban living with all of the suburban conveniences.
Supervisor Alcorn said: "I know in Fairfax County, transit-oriented development and walkable communities are relatively new, at least in many parts of Fairfax County. EYA has been a real leader in helping build and plan these communities that are truly walkable....And the important thing is we want to have livable, walkable, transit-oriented communities in Reston that are near to the Silver Line. And this [community] is implementing that. It's not only places where people can live that is close to Metro, but also with amenities. Today, we're seeing the grand opening of this open space and this park area that's a usable space for members of the community. And we're already seeing families coming out here and enjoying it."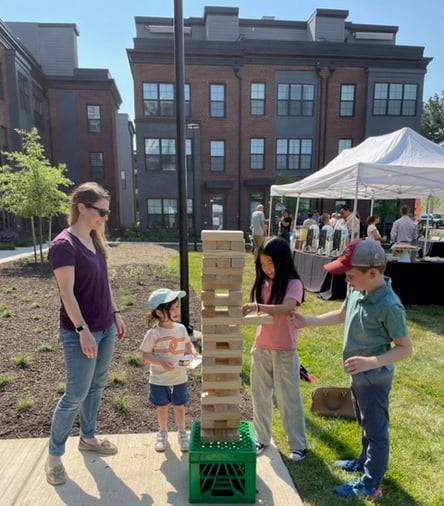 The Townhomes at Reston Station is a quick five-minute walk to a Starbucks and Founding Farmers, a 10-minute walk to the Wiehle-Reston East Metro station, and the Washington and Old Dominion Trail (W&OD) is just across the street—connecting Reston to nearby Vienna, Falls Church and Arlington (and continuing almost all the way to downtown Washington, DC).
Reston Station also has great proximity to job centers. Google offices are one block away from EYA's townhomes and the Dulles Technology Corridor, of which Reston is part, is home to dozens of employers including Amazon. With more nearby retail coming soon and the opening of the new park and playground, residents can truly enjoy the best of life within walking distance with more and more amenities just outside the front door.
McLean added: "Reston has a wonderful quality of life, with beautiful open park spaces, excellent retail amenities and really dynamic employment centers. We try to facilitate a lifestyle where you can walk down the street with your neighbor to grab a cup of coffee, or play with your kids on the playground, or have a picnic on the lawn. Those are the places where friendships are made."
Click here to learn more about The Townhomes at Reston Station.