If you're looking to live in the D.C. metro area, you may be considering whether to rent or buy. Many factors affect this decision, such as where you see yourself in five years, what type of lifestyle you prefer, the market, and of course, what you can afford. So, what are the costs of renting in D.C. vs buying in a neighboring area like Bethesda?
Renting in D.C.
A simple search will tell you that rent prices in D.C. are high, and are expected to keep rising. D.C. ranks 5th for highest income needed to pay rent only behind San Francisco, New York, Boston, and Los Angeles. But what exactly does this ranking mean for local residents?
According to RentCafe, the average monthly cost of renting a 2-bedroom apartment in D.C. is $2,527, with only about 2% of all D.C. apartments falling into the rent range of $701-$1,000 per month. That's over $30,000 spent annually on rent.
Average Rent in D.C.

(Source: rentcafe.com)
Of course, rental costs can differ by neighborhood. Below, you see that many neighborhoods in D.C. like Georgetown, Dupont Circle, and Penn Quarter can cost well over $3,000 for a 2-bedroom rental.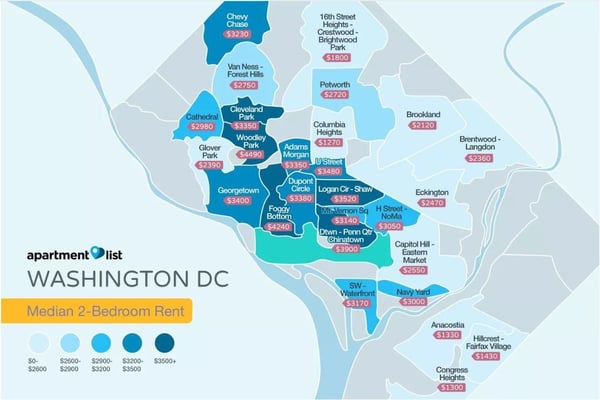 (Source: apartmentlist.com)
While these numbers may be intimidating for someone looking to live in D.C., there are reasons to rent rather than buy. If you see yourself moving around a lot in the next few years or changing jobs frequently, renting may be the better option regardless of costs. But if you see yourself in more of a stable place, ready to settle down for at least 5-10 years, investing in a home may be the right choice financially.
Benefits of Home Ownership
Buying a home has many benefits. For one, purchasing a home is a good investment in general, and the D.C. area housing market is relatively strong. Owning a home builds equity as you make monthly payments on your mortgage and has tax benefits because the interest payments on your mortgage (as well as certain other costs) are tax deductible. Rather than throwing away money that you'll never get back on rent, you will be making a solid investment that will benefit you down the road.
Home ownership is a great option for people with stable jobs looking to stay in one place for a significant amount of time. With your own home, you also get the freedom to customize it however you'd like so you'll be happy for years to come.
Buying a Home in Bethesda, MD
Living in a D.C. suburb rather than the city itself doesn't have to mean the end of your urban lifestyle. Bethesda is minutes from the D.C. border and is an exciting, urban city on its own. It has seen a shift towards more mixed-use developments in recent years, keeping residents in close proximity to restaurants, shops, entertainment, and transportation. A suburban area home also likely provides much more living space than a D.C. apartment would.
So what does it cost to own a home in Bethesda, MD? According to Zillow, the median sale price of a single family home in Bethesda is $869,800 and the median listing price is $1,199,950. The overall value of Bethesda homes has increased steadily and is expected to grow by 2.5% in the next year. Bethesda continues to be a popular place to live, and the homes continue to become more valuable.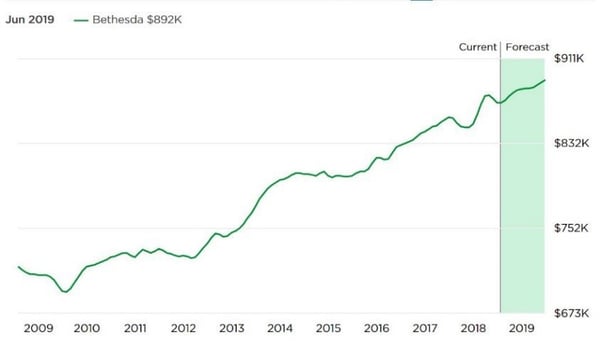 Zillow Home Value Index, Bethesda (Source: Zillow.com)
But what about a new home? According to Realtor.com, the median listing price of new homes for sale in Bethesda is $1,062,765. Bethesda real estate is in high demand due to the city's proximity to Washington, D.C. and access to great schools, shopping, and dining, while still maintaining a suburban feel.
The Burch at Montgomery Row
One practical option for living in Bethesda is the newly constructed Burch model townhome at Montgomery Row. Priced from $754,900, the Burch features 3-4 bedrooms, 2.5 - 3.5 baths, and approximately 1,678 square feet of living space on four levels. The Burch is more affordable than most new homes (priced at over $1 million) and older, resale homes in Bethesda, which have a median sale price of $869,800.
Let's say you currently rent an apartment in D.C. and are looking to make the move to Bethesda for more space. What would the monthly mortgage payment on a Burch look like?
We did the math for you using Zillow's Mortgage Calculator. We assumed a 30 year fixed loan with a 20% down payment and an interest rate of 4.5% You'd be looking at roughly $4,001 a month, including interest, taxes, and insurance. With potential after-tax savings, you may realize even more savings benefit.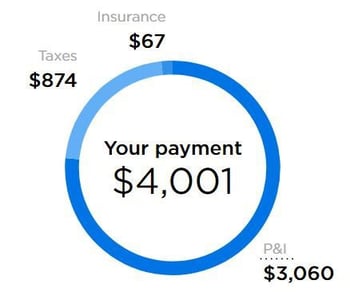 (Source: Zillow Mortgage Calculator)
Zillow has another useful tool for calculating how many years it would take for buying a home to be cheaper than renting to help you visualize this investment. Using the cost of the Burch and assuming your current rent in D.C. was the average of about $2,500, after 4 years and 8 months, buying would be the cheaper option. So, if you are thinking of staying in the home for more than 5 years, buying this home offers a better option than continuing to rent.
In addition to more bedrooms and living space, The Burch model at Montgomery Row features:
Up to 3.5 bathrooms
2-car garage
A rooftop terrace attached to the loft on the fourth level
9 foot ceilings on the main level
Brand new fixtures and appliances
Energy efficient features that keep you comfortable and your utility costs low
Another benefit of owning a new construction townhome is that you don't have to give up your lock-and-go lifestyle. Many things, such as snow removal, are provided by your HOA and the builder's warranty offers peace of mind knowing that you will have limited repairs to take care of.
Montgomery Row is convenient for commuting because it's located near Tyson's Corner, D.C., 270, and 495, and has a free shuttle to the Metro*. The community is within walking distance from the Shops at Wildwood, Montgomery Mall, and the highly ranked Walter Johnson High School. You can keep the perks of urban living while upgrading to more living space.
Ultimately, the choice whether to rent or buy is a personal decision, but we hope we provided some tools to help make your decision simpler.
*Shuttle service is provided by Montgomery County during weekday rush hours and is subject to cancellation without notice.