EYA, LLC (EYA) celebrated The Lindley's award from the Urban Land Institute (ULI) Terwilliger Center for Housing's 2019 Jack Kemp Excellence in Affordable and Workforce Housing with partners and community leaders from DC, Maryland, and Virginia. The Lindley represents a unique partnership between EYA, The Housing Opportunities Commission of Montgomery County (HOC), and The Morris and Gwendolyn Cafritz Foundation. As a new luxury, mixed-income multifamily building in Chevy Chase, Maryland, it is one of the first buildings of its kind to include private equity as a major funding source while remaining under the principal control of a public housing authority (HOC).
EYA President McLean Quinn said, "The project is innovative on many fronts. It is mixed-income in one building, proximate to the Purple Line, retail amenities and good schools, and is a public-private partnership in which HOC owns the building. Innovation and good partnership won this award."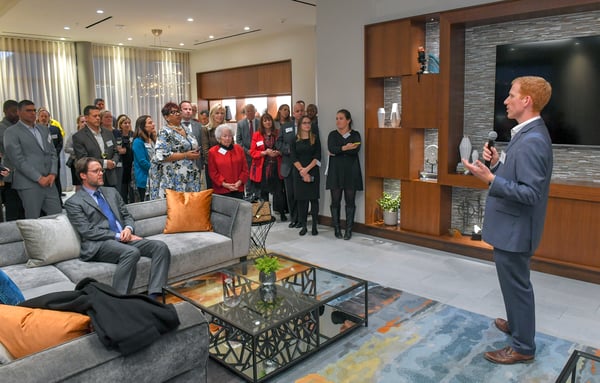 McLean Quinn, EYA President
Prior to The Lindley's construction, the Chevy Chase Lake site consisted of 68 low-rise garden apartments exclusively rented at affordable levels. With the goal of expanding the supply of affordable units in Montgomery County and creating a sustainable affordable housing model, EYA, HOC, and the Cafritz Foundation partnered together to create a thriving mixed-income neighborhood.
The results of this new partnership have made The Lindley a global model for public-private partnerships and creative financing, in which public agencies can incorporate private investment and harness property values for redevelopment efforts.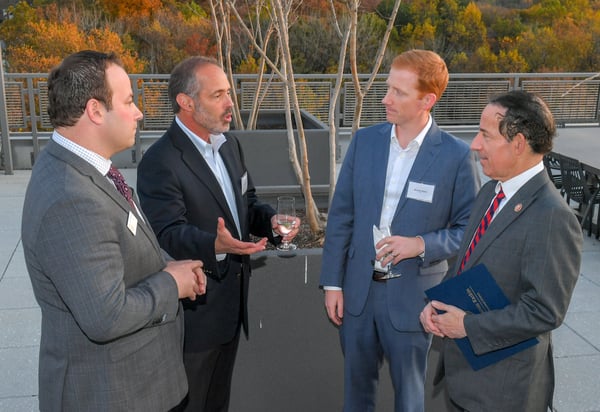 L-R: Montgomery County Councilmember Andrew Friedson, Bob Youngentob, EYA,
McLean Quinn, EYA and Congressman Jamie Raskin D-Md
During the reception in recognition of The Lindley's award, Congressman Jamie Raskin, D-Md., surprised attendees with a proclamation of Congressional Recognition for The Lindley, which he said, "is presented to The Lindley in recognition of the high honor of receiving the Jack Kemp Award for Excellence in Workforce and Affordable Housing, a testament to HOC and EYA's extraordinary and innovative work in addressing housing inequality and advancing affordable housing."
---
---
The Lindley features 200 units, with 80 of the units designated as income-restricted. Of those 80 units, 50% are targeted to households at 50% of AMI and the other 50% are workforce units. Market rate and affordable units are included on every floor of the building and all units include the same high-quality features and finishes, such as granite countertops, and access to all the amenities and 24-hour concierge service. Due to the strong network of schools in the area, all of the 3-bedroom units are income-restricted, giving greater access to low- and moderate-income families in the area.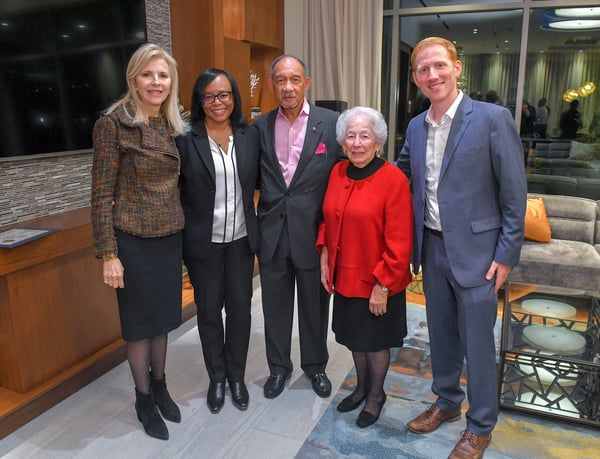 L-R: Jane Cafriz, The Cafritz Foundation, Kayrine Brown, Jackie Simon,
Roy Priest, HOC, and McLean Quinn, EYA
Kayrine Brown, Chief Investment and Real Estate Officer at HOC said, "HOC and EYA have a shared desire to get creative and innovate, with a keen focus on providing access to housing, schools, and amenities to ensure residents have the opportunity to succeed and thrive."
This is not the first time that EYA has partnered with nonprofits, municipalities, housing authorities, and other institutions to deliver mixed-income housing and shared social and economic outcomes.
EYA's mission is to create best-in-class urban lifestyle, walkable neighborhoods that positively impact individual lives and communities in a socially responsible way. In his remarks, Quinn said, "Projects like The Lindley are embedded in our DNA and have increasingly become a part of what we do at EYA. These public-private, mixed-income projects are now a full quarter of what we do."
In 2005, through a partnership with the Alexandria Redevelopment and Housing Authority (ARHA), EYA developed Chatham Square, a mixed-income redevelopment of an older public housing site, creating an integrated new neighborhood with 152 indistinguishable, mixed-income homes. That project won the ULI Award for Excellence. In 2015, again through a partnership with ARHA, EYA completed the transformation of 194 units of aging public housing into an inviting neighborhood of over 400 mixed-income homes that again reflect the charm of historic Old Town. These new neighborhoods, not only preserved and provided new affordable housing but also enhanced them by providing stability and amenities residents had never been able to enjoy.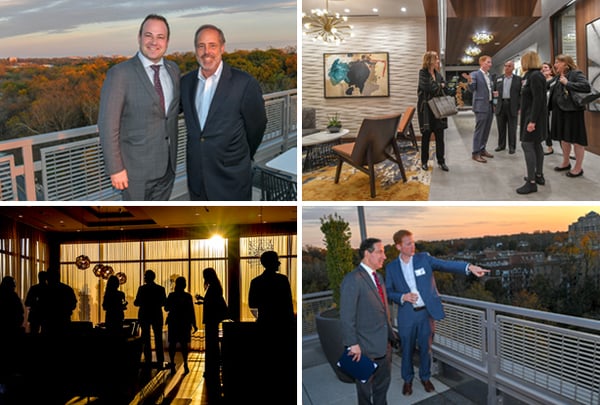 HOC Commissioner Roy Priest was formerly the Executive Director of ARHA and partnered with EYA on seven projects in that capacity, including the development of Chatham Square and Old Town Commons. He said, "EYA is not just a business partner, they actually work with housing authorities and residents to ensure the resulting projects are high-quality and meet the needs of residents."
In 2010, EYA received its first Jack Kemp Award for Workforce and Affordable Housing when it partnered with the DC Housing Authority (DCHA) and the Department of Housing and Urban Development (HUD) on Capitol Quarter. A critical component of the HOPE IV redevelopment effort, Capitol Quarter spans seven city blocks with a mix of 212 market-rate and workforce rowhomes, 25 subsidized for sale rowhomes, and 86 affordable rental units. Today, Capitol Quarter is a vibrant, pedestrian-friendly neighborhood just moments from the Navy Yard Metro, the Southeast Federal Center, Nationals Park, home of MLB's Washington Nationals and Audi Field, home of MLS' DC United.
EYA continues to partner with municipalities and housing authorities throughout the region to build the next wave of innovative, mixed-income projects.
For additional information about EYA, visit www.eyadevelopment.com.