A place to retreat, to refresh, and to reconnect, the CORE will be an exciting destination for residents of EYA's newest Rockville, MD community, Tower Oaks to gather and to relax. Designed with these values in mind, this unique space will not only feature state-of-the-art-amenities, but a unique community benefit: a full-time lifestyle coordinator.
---
What is a Lifestyle Coordinator?
Click here for our first Q&A with NFC
---
In addition to the exceptional on-site features such as a fitness center and yoga studio, neighborhood cafe, and outdoor pool, the lifestyle coordinator from NFC Amenity Management will be available to support the community in every way, from organizing and booking special events to working closely with residents to bring the neighbors together. NFC is the nation's largest full service amenity management provider, serving hundreds of high-end condominiums and clients such as The Ritz-Carlton and Hilton across the country.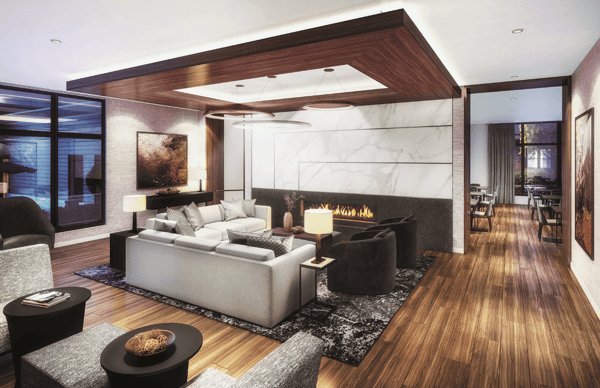 Interior rendering of the clubhouse at the CORE
At Tower Oaks, NFC will provide a full-time lifestyle coordinator to support the community. Their office will be located right at the CORE, so they will be available for residents to stop by with any questions, suggestions for events, and more at any time. Typically available in high-end condominiums with expensive condo fees, the NFC services are included in the low monthly HOA fee at Tower Oaks.
We checked in with Nancy Cuccaro from NFC for updates on the lifestyle coordinator role, what the social programming will look like at the CORE, and how NFC will bring their expertise and experience to the residents and homeowners at Tower Oaks.
---
Explore the CORE:
Learn more about the amenities & features of the CORE
---
Since the last time we spoke, are there any updates on how the lifestyle coordinator role will be set up?
Yes! The lifestyle coordinator will officially be based on-site at the CORE where they will do all of their planning, organizing, and coordinating. As the interior design plans are being finalized, we will be able to determine if they will be operating out of a private office or an open front desk, but either way, residents will easily be able to stop by with any questions or concerns.
While construction on the CORE is ongoing, we are looking forward to additional and alternative ways to host and organize events to connect new residents. Whether they are hosted out of the future model homes at Tower Oaks, outside under a tent on the lawn, or even off-site, we are already coming up with a calendar of events, both on-site and off. These would almost be preview events of what they would be like on a smaller scale before the CORE officially opens. Events like happy hours for residents to meet their neighbors, home organization seminars, or organizing a trip to a local summer festival are just a few examples of what those could look like.
What are some examples of the types of events NFC has put on in the past with similar communities to Tower Oaks?
There really is no limit to the types of events the lifestyle coordinator will be organizing for residents. At some of our previous communities, we have set up everything from fall festivals with live music and pumpkin carving contests to weekly yoga and Pilates classes at the on-site studios. We've organized trips to seafood festivals in the Chesapeake Bay area. We've invited local distilleries to orchestrate rum tastings. The lifestyle coordinator will also help set up and facilitate ongoing clubs and activities. A few examples from previous communities have been both men and women card leagues, bike clubs, and monthly themed trivia nights.
Programming and events can range from all ages to more structured and specific. For example, we have set up babysitting courses for teens, where they can learn the fundamentals of child care while receiving their CPR certification. For kids, we can implement swimming lessons during the summer, craft nights while parents can take advantage of date night, and soccer games on the lawn.
Meditation classes, financial planning seminars, on-site guitar lessons - the sky really is the limit on the types of social events and programming we can set up at the CORE.
---
New Modern Townhomes in Rockville, MD
---
What categories of social programming and events will be set up at the CORE?
We have taken the essence and ideation behind the CORE's values and determined a few fundamental themes and categories that our programming will fall into. We try to come up with a wide range of ideas and then break them down by category to fit what people's interests are. Once we get to know the community, we will tailor and personalize both the categories and the types of events and programming to their wants and needs.
Here are the categories we came up with and a few examples of what types of events would fall within each:
Enlighten – Continuing education seminars, foreign language classes, brain fitness workshops, how-to classes
Culture – Clubs and interest groups, culinary classes, performing arts, trip and tours, photography, visual arts, dance
Conscious – Charities, pets, people, environment, community outreach, fundraising opportunities
Fit – Personal training, group exercise classes, incentive programs, wellness assessment, mind/body classes, wellness lectures
Play – Parents and tots, kids crafts, kids night out, fit kids, teens night out, summer holiday day camps
Signature Events – New resident mixers, spring fling, harvest fest, New Year's masquerade, concert/movies in the park, farmers market
These are initial ideas and baselines for the programming, then once we get to know the community we will tailor and personalize it for them!
---
Top Things You Need to Know About Living in Rockville
---
How will residents be able to communicate with the lifestyle coordinator?
As we mentioned, the lifestyle programming will be planned and organized according to the specific needs and wants of this community. For us to do that, the lifestyle coordinator will be in regular communication with residents through a variety of methods. What we like to do, especially with new communities such as Tower Oaks, is start off by sending our new residents a survey to gauge interest in everything from fitness to social programming. Typically, we will start off with a detailed survey. Then, we take all of that data and build our programming around it. We will then create very comprehensive programming that's unique to this community - what they would like to see, and what their needs, wants, and wishes are.
For ongoing communication, residents will have easy accessibility to the lifestyle coordinator for all of their needs and questions. Not only will they be available by phone and email, but since they will be working full-time from their dedicated space within the CORE, residents can always stop by on their way to the gym, the cafe, or specifically to check in.
How will NFC's experience and history come into play with this new role at Tower Oaks?
NFC has been around for about fifteen years, and in that time we've grown from a small fitness company into a full lifestyle, fitness, concierge, spa, and amenities service. We've been able to expand on our knowledge over the past several years and grow into this multifaceted company that offers such a wide variety of opportunities and services. We will continue to add on, expand, learn, and implement new techniques, new programming, and new innovative ideas. Every community is different and unique. We will be taking all of that background and knowledge that we've learned along the way and bringing something completely new and different to Tower Oaks that we've never done before as well. And that's pretty exciting.
I think everybody is very, very excited when it comes to lifestyle. It's just fun for everybody. It's social, it's active, it's learning – and people are excited to participate. NFC and the lifestyle coordinator role takes the reins and makes it easy for everyone to find activities and experiences they love. This person will do all this wonderful planning and coordinating for residents to enrich their lives and the community they live in. We hope to see it grow, not just with the lifestyle coordinator but with group exercise instructors, personal trainers, seminar leaders, and so much more. There's just so much that we can do under the lifestyle umbrella and we're really excited to get started.
---
For more information on how the lifestyle coordinator role will work at the CORE, click here to read our companion Q&A with NFC.
Interested in learning more about the Tower Oaks community? Click here to get to know the neighborhood, the townhomes, and more.