This September, a brand new community is taking root in Rockville, MD. In addition to distinctive new homes, the Tower Oaks neighborhood will offer a special amenity at its center. Named the CORE, it is designed to inspire recreation, relaxation, engagement, and connection, and it will quickly become a favorite destination for Tower Oaks residents.
---
Be among the first to learn about exclusive updates at Tower Oaks

What is the CORE?
Designed as the heart of the community, the CORE will offer numerous opportunities to focus on well-being, recreation, and engagement. Every detail of the CORE has been thoughtfully considered—from interior spaces to outdoor recreation areas, the state-of-the-art amenities offer something for everyone to enjoy.
A place to refresh. A place to retreat. A place to reconnect.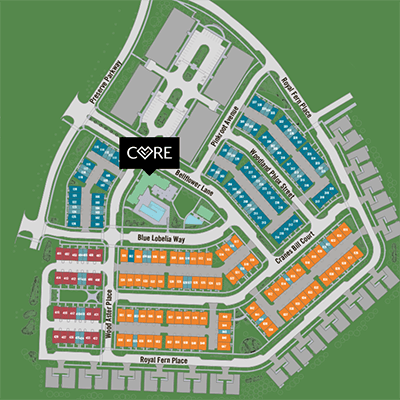 What will life be like at the CORE?
At the CORE, there will be something for everyone, every day. On Sunday mornings, you may head to the neighborhood cafe to enjoy a cup of coffee and bagels with friends. On a Saturday afternoon, groups may enjoy the recreational sport court for pickle ball, basketball, and more. Cozy seating nooks may become your favorite spot to read or catch up with neighbors. A seasonal outdoor pool will be the perfect place to spend a summer day with family, followed by an evening with friends gathered around outdoor fire pits. For fitness gurus, the latest in fitness equipment and tech will be found in the fitness center and yoga room.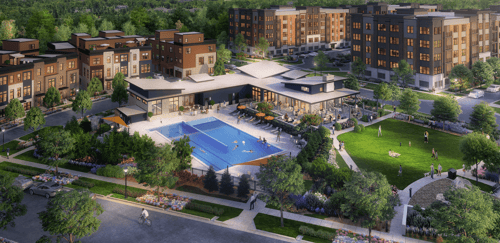 What amenities will be at the CORE?
With these exceptional amenities and spaces to relax or be active, residents may find everything they're looking for within steps of their front door. The CORE at Tower Oaks will feature:
Neighborhood cafe
Fitness center
Yoga studio
Outdoor pool
Cozy seating nooks
Outdoor fire pits & grilling stations
Covered patio seating
Sport court
Play area
Open lawn space
Amazon hub
Full-time lifestyle coordinator
What is a Lifestyle Coordinator?
To ensure full enjoyment of the many amenities, the CORE will feature an onsite lifestyle coordinator whose goal is to organize and coordinate neighborhood events and activities. From weekly, monthly, and seasonal events to private parties, seminars, and classes—they'll be onsite to help create a true sense of community.
To learn more about Tower Oaks' opening plans and the CORE, join our VIP list. You'll be among the first to preview detailed information on the community and be invited to the VIP opening event in September.
---
Discover your ideal Rockville stay-cation with our fun new quiz!
---