Beneath a canopy of twinkling lights, the most wonderful time of the year has begun in Old Town Alexandria. With holiday festivals, parades, and performances, this storybook setting reflects the festive spirit of the season. Recognized by Oprah Magazine as one of the Most Charming Christmas Towns Across the World and by Southern Living as the Perfect Southern Town for a Hallmark Christmas Movie, there is so much to explore and celebrate during the holiday season in Old Town.
---
Distinctive Waterfront Living in Old Town Alexandria
---
Here's a look at the top events taking place on the merry & magical streets of Old Town this holiday season:
Kick off the Holiday Season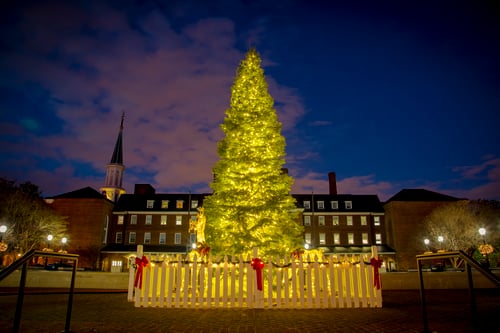 Photo credit: K Summerer/Visit Alexandria
Saturday, November 23rd
6pm – 8pm
Alexandria City Hall & Market Square
301 King St., Alexandria, VA
Kick off the holiday season with the annual Tree Lighting Ceremony in Old Town! During the free celebration, attendees can enjoy a variety of musical and dance performances, as well as a visit with both Santa and Mrs. Claus. At 6:45pm, the ceremony will begin, with festivities continuing throughout the evening.
Black Friday & Small Business Saturday Shopping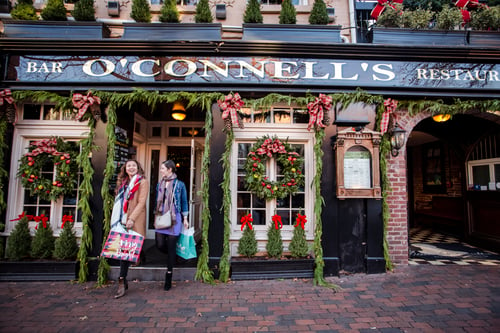 Photo credit: K Summerer/Visit Alexandria
Black Friday, November 29th


Throughout Old Town & Del Ray
Enjoy exploring the charming streetscapes of Old Town while you shop small this Black Friday. Find the perfect gift for your loved ones as you explore the local shops throughout the boutique district. Dress in plaid for the day and receive special discounts, gift cards, savings, and more. Make sure to stop in one of the many local coffee shops for a seasonal brew or enjoy a relaxing lunch at one of the nearby restaurants and cafes.
Saturday, November 30th
Throughout Old Town & Del Ray

Celebrate Small Business Saturday in one of the most beloved boutique districts in the country. More than 40 independently owned shops in Old Town and Del Ray will be offering special savings and discounts, as well as offering special in-store activities throughout the day. Visitors can also take advantage of free parking meters for the day.
Stroll the historic streets of Old Town under the twinkling lights as you meet local authors and designers, sip and snack on free treats, and pick out the perfect gift for loved ones – or for yourself!
A free performance by the Alexandria Arts Alliance will take place from 1pm – 3pm and visitors can even participate in a Small Business Saturday Scavenger Hunt.
Events & Festivals
Sunday, November 24th
12pm – 6pm
Port City Brewing Company

3950 Wheeler Ave., Alexandria, VA
Located outside of Port City Brewing, a variety of designers, crafters, creators, and more will set up booths for the Alexandria Makers Market. Visitors can enjoy a pint or two from the brewery as they browse the unique items and gifts from the vendors. Food trucks will also be on site and family-friendly DIY workshops will take place throughout the day.
December 1st – December 6th
11am – 7pm
John Carlyle Square, 300 John Carlyle St., Alexandria, VA
This annual signature event transforms John Carlyle Square into a lively, open-air festival that welcomes the wonder of the season. On December 1st, the first day of the festival, Santa, Mrs. Claus and the town crier will ring in the season with a live appearance.
Friday, December 6th
6:30pm – 10pm
The Atrium Building, 277 South Washington St., Alexandria, VA
Nothing says Scotland better than a smoky glass of single malt. Guests attending Friday evening's Taste of Scotland can sample a variety of whiskeys from the country's finest distilleries. Ale tastings, wine and food are also on the menu. The event is held from 6:30pm - 10pm at The Atrium Building.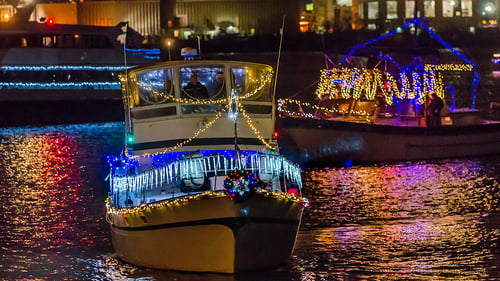 Photo credit: R Kennedy/Visit Alexandria

Saturday, December 7th
Boat parade begins at 5:30 pm
At the waterfront in Old Town Alexandria
Activities at Waterfront Park from 2pm – 8pm

One of the most magical and spectacular holiday events in Old Town is the annual Holiday Boat Parade of Lights. At 5:30pm, dozens of brightly lit boats will cruise along the Potomac River shoreline, lighting up the skyline.

Before the impressive procession begins, dockside festivities will take place throughout the day, beginning at 2pm at Waterfront Park, including a pop-up beer garden from Port City, holiday music, giveaways from 97.1 WASH-FM, and more. Hands-on activities will include a Letters to Santa postcard station, a bookmark making station, holiday crafts and photos with Santa and Mrs. Claus, who will arrive by fireboat at 3:30pm. Local restaurants and vendors will be on-site, serving hot chocolate, cider, and bottomless bites, all included in admission.

Saturday, December 7th
2pm – 8pm
Torpedo Factory Art Center, 105 N. Union St., Alexandria, VA

Families are invited to explore the Art Center and join in on the fun during Alexandria's most festive holiday weekend of the year. Music and singing will fill the halls all evening, and visitors are encouraged to visit all three floors to find special holiday gifts. Santa and Mrs. Claus arrive for photo ops at 3:30pm and after sundown, the Holiday Boat Parade of Lights passes by, right outside the Torpedo Factory's riverfront doors.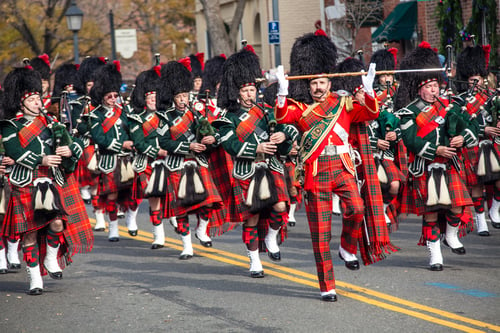 Photo credit: R Nowitz/Visit Alexandria

Saturday, December 7th
Beginning at 11am
Throughout Old Town

From the stirring sounds of bagpipes and drums to the magnificent colored tartans worn by more than 35 family clans, the parade transforms the cobbled-stoned streets of Old Town into a setting that rivals anything you'd find in Glasgow and Edinburgh. More than 100 units are expected to step off in this year's event beginning at Wolfe and St. Asaph streets. Stand or set up a chair along the route that winds through Old Town and ends with a mass band concert at Market Square on King Street!

Saturday, December 7th
12:30pm – 4pm
Location depends on your first stop along the route

For those looking to extend Saturday's festivities beyond the parade, the Holiday Home Hour takes place between 12:30pm and 4pm. It's a rare opportunity to step inside some of Old Town's most spectacular homes decked out for the season by acclaimed interior designers and local florists.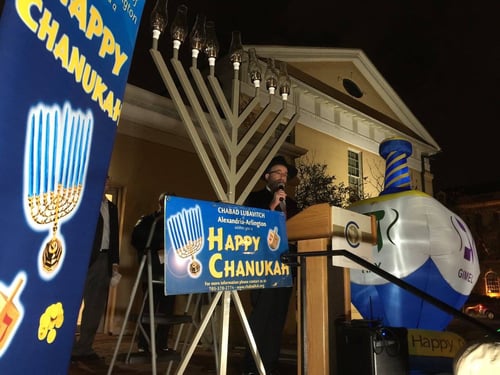 Thursday, December 26th
6:30 pm
The Lyceum, 201 S. Washington St., Alexandria, VA
Join in the annual lighting of Alexandria's giant menorah at The Lyceum. Admission is free, and families are invited to enjoy delicious potato latkes, musical entertainment, and more. Free light sticks will be available for every child, and everyone can enjoy complimentary chocolate gelt and dreidels.
Historical Holidays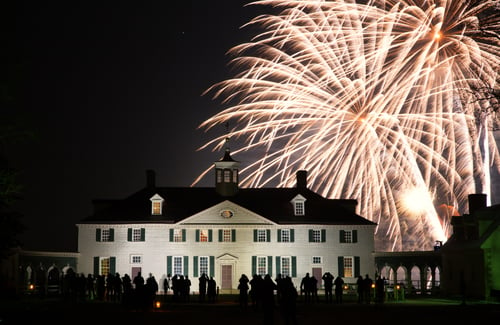 Photo credit: George Washington's Mount Vernon/Visit Alexandria
Throughout the month of December
George Washington's Mount Vernon, 3200 Mount Vernon Hwy, Mt Vernon, VA 22121
Throughout the holiday season, explore the historic grounds of Mount Vernon with a variety of themed events, both day and night. While touring, you'll learn more about the holiday traditions of the 18th century and meet Lady Washington who will share stories of past holidays on the estate. After the tour, guests will have the opportunity to participate in 18th century dancing, enjoy live music, cider, cookies and more.
Click here for more holiday events at Mount Vernon, including an illuminating fireworks show.
Sunday, December 1st
Throughout the day at participating shops
From Colonial to Civil War-era to modern history, find the perfect gift for your favorite history buff. Throughout the day, nine Old Town shops will be participating in Museum Store Sunday: Archaeology Museum; Black History Museum, History Museum at the Lyceum; Visitor Center, Carlyle House Historic Park, Gadsby's Tavern Museum, Friendship Firehouse Museum, Lee-Fendall House and Stabler-Leadbeater Apothecary Museum. Special discounts and giveaways will also be available throughout the day.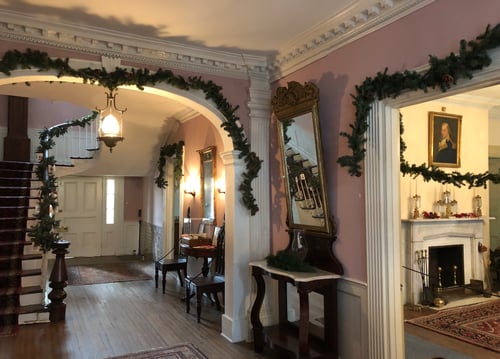 Saturday, December 14th - Sunday, December 15th
Starting times range: 11am, 12:30pm, 2pm
Lee-Fendall House Museum & Garden, 614 Oronoco St., Alexandria, VA

A full day of events is planned at this educational center and museum that interprets history through the experiences of those who lived and worked on the property from 1785 to 1969. Parents and children are invited for the morning and afternoon Victorian Christmas celebration with three admission times: 11am, 12:30pm, and 2pm. It's a chance for families to enjoy the home's traditional decor, join in craft-making and story time, take photos with Santa and engage in some holiday shopping. The home then opens its doors to welcome visitors joining in Alexandria's Yuletide by Candlelight tour from 5pm - 10pm.
Saturday, December 14th
5pm - 9pm
Gadsby's Tavern Museum, 134 North Royal St., Alexandria, VA
Discover holiday traditions through the centuries as four historic sites open their doors for an evening of tours and dancing: Gadsby's Tavern Museum and Ballroom, Carlyle House Historic Park, Lee-Fendall House and Stabler-Leadbeater Apothecary Museum. Begin at any site and walk to the next or take the convenient shuttle bus that runs throughout the evening. The sites are open between 5pm - 9pm.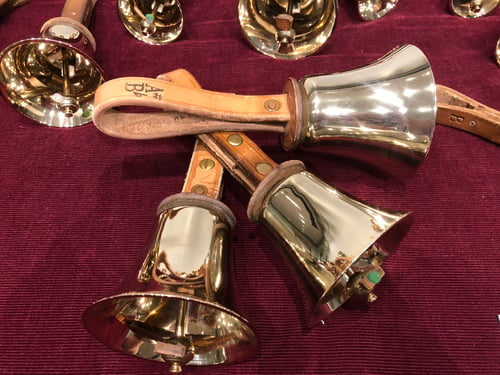 Sunday, December 15th
Starting at 4pm
The Lyceum, 201 South Washington St., Alexandria, VA
Enjoy children's classics, timeless holiday tunes and original showstoppers performed by the Colonial English Handbell Ringers beginning at 2pm at The Lyceum. Clad in colonial attire, the ringers perform with an 80-handbell-collection from the world-famous Whitechapel foundry in London. No admission and no reservations required, but seating is limited.
Winter Wonderlands
November 21st – January 5th
Daily from 5pm – 10pm
Cameron Run Regional Park, 4001 Eisenhower Ave., Alexandria, VA
Enjoy ice skating, light displays, holiday music, and more at this winter wonderland set up. Roast a marshmallow at the fire pit, walk through the dazzling displays, and even warm up in a toasted igloo.
November 29th – January 10th
Daily from 4pm – 10pm
The courtyard between The Alexandrian and Jackson 20 on King Street

Be transported to a winter wonderland this holiday season when you visit the shared courtyard between King Street's iconic Alexandrian and Jackson 20. Decked out with colorful decor and lights, visitors can enjoy small bites, crafted holiday cocktails, local vendor pop-up shops and more. Heat lamps, fire pits, and warm blankets will help keep you cozy as you enjoy an afternoon or evening in the courtyard.
Holiday Performances
December 6th - December 22nd
Performance times range by date
Little Theatre of Alexandria, 600 Wolfe St., Alexandria, VA
Charles Dickens' beloved story of Ebenezer Scrooge's transformation into a kinder, gentler man, who discovers the true meaning of the holidays, is performed by the award-winning Little Theatre of Alexandria. Attend one of 19 performances over a three-week period.
Tuesday, December 10th
7pm - 9pm
Begins at Market Square and ends in front of Chadwicks
Hear the Harmonizers stop and sing your favorite carols as they lead a crawl from King Street's Market Square to the waterfront, stopping at different shops and restaurants along the way.
Santa Sightings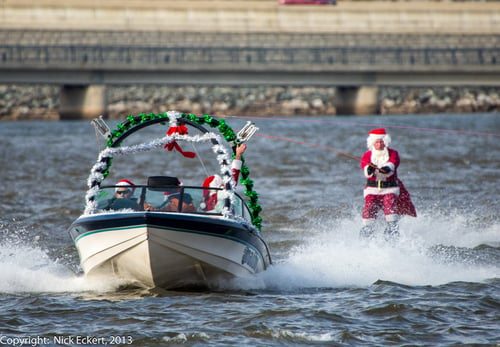 Photo credit: Nick Eckert/Visit Alexandria
Tuesday, December 24th
Begins at 1pm
Views from the Alexandria waterfront including Waterfront Park, Alexandria City Marina, Founders Park, and Point Lumley Park
No Christmas Eve Day in Old Town is complete without taking a few minutes to gather along the waterfront to view Santa and his merry crew skiing the Potomac. Prime viewing areas are Waterfront Park, the Alexandria City Marina, Founders Park and Point Lumley Park. The event begins at 1pm!
Saturday, Dec. 21st
12pm – 3pm
Hooray for Books!, 1555 King St., Alexandria, VA

Before Santa sets off on his journey around the world, he'll be stopping by one of Old Town's favorite local shops, Hooray for Books! Make sure to reserve your slot to meet with Santa and get your family's photo taken by local photography studio, Tisara Photography. Donations from the event will be used to provide books, toys, and games for the Alexandria Domestic Violence Programs' Holiday Party.
Explore Del Ray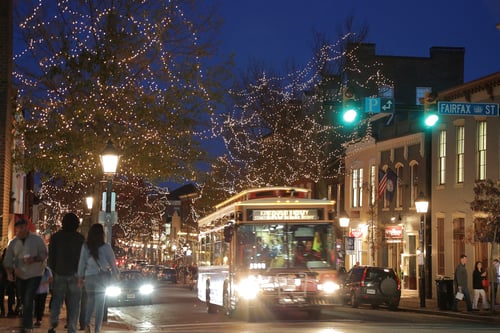 Photo credit: M Enriquez/Visit Alexandria
Sunday, December 8th
Starting at 6pm
Pat Miller Neighborhood Square
Mount Vernon Ave. and E. Oxford Ave., Alexandria, VA
Just up the road from Old Town, the Del Ray neighborhood is known for it's independent shops, eclectic restaurants, and legendary live music venue, The Birchmere. During the season, the main street becomes a destination for holiday cheer, all beginning with the Holidays on the Avenue annual event. Starting at 6pm, guests can enjoy the annual tree and menorah lighting, followed by visits with Santa and performances by carolers. Local shops will also be open late for some holiday shopping during the event.
Saturday, December 14th
1pm - 4:30pm
Along Mount Vernon Ave., Alexandria, VA
Grab your holiday sweaters, Santa hats, and light up necklaces for the annual Candy Cane Bar Crawl in Del Ray! Take a break from holiday preparations and relax with friends as you enjoy specialty cocktails, beer, and food specials at select Del Ray restaurants.
Saturday, December 14th
1pm - 4:30pm
Pat Miller Neighborhood Square
Mount Vernon Ave. and E. Oxford Ave.
Alexandria, VA
Get creative with your gift list this year and stop by the Del Ray Holiday Pop-Up Market! Local artisans, entrepreneurs, and vendors will all have their unique creations on display, right off of Mount Vernon Ave., the main street of Del Ray.
New Year Celebration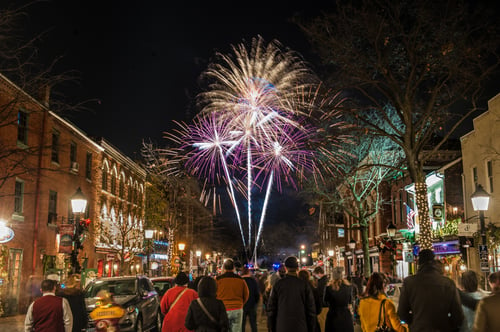 Photo credit: J Clifford/Visit Alexandria
Tuesday, December 31st
Variety of activities with different times and locations
Click here for more!
It's the 25th anniversary of Alexandria's New Year's Eve music and entertainment festival – the largest family-friendly, safe and fun celebration in the region to welcome 2020! See more than 100 performances on 30+ indoor stages throughout Old Town. From Americana roots and rock & roll with the legendary Bill Kirchen and Too Much Fun, to Mike Rose (a.k.a. "The Magic Kinda Guy) to the Earth Wind and Fire Tribute Band, it's time to party. Take your pick among Caribbean, rock, reggae, jazz, swing, folk and acapella concerts. Kids Karnivals run from 6pm to 9pm, while live indoor entertainment take place from 7pm to 11pm.
Outdoors, the "Rockin' on the River" street party with DJ Ray Casiano begins at 10pm followed by the midnight fireworks display over the Potomac. Metro is open until 2am and free DASH trolley shuttles will run to King Street Station. There's something for everyone as you ring in the New Year among friends & family!
---
With winter wonderlands, cheerful celebrations, Santa sightings and more, there are endless opportunities to celebrate the holidays in Old Town Alexandria. Named the 3rd Best Small City in the U.S. by the 2019 Condé Nast Traveler Readers' Choice Awards, you'll never run out of things to do in Old Town throughout all four seasons.
---
Top 5 Reasons Why You Should Live in Old Town Alexandria
---
*Header photo credit: K Summerer/Visit Alexandria