Over the past year, our homes have become our offices, schools, restaurants, gyms, and much more. The way we live in our spaces, interact with our families, and cope with new co-workers (we're looking at you, attention-seeking pets) has fundamentally changed, making it important to create designated rooms and spaces for different activities that are all now done under one roof.
---
How You Can Help Your Neighbors & Community
---
When the quarantine began, many of us found quick solutions for working from home, whether it was a card table set up in the corner of the kitchen or throwing together a makeshift office as quickly as possible. As many of us continue to work from home, the lines have begun to blur on space for work and space for relaxation. Having a designated workspace gives your brain the mental divide between home and work, while also creating a room dedicated to productivity. Whether you're setting up a home office for the first time or revamping your current set up, these tips for how to design your home office will help you set up the ideal workspace to foster productivity and creativity, as well as find comfort and inspiration.
---
Tips from an Interior Designer:
Redesign, Redecorate, & Reorganize
---
Light & Lighting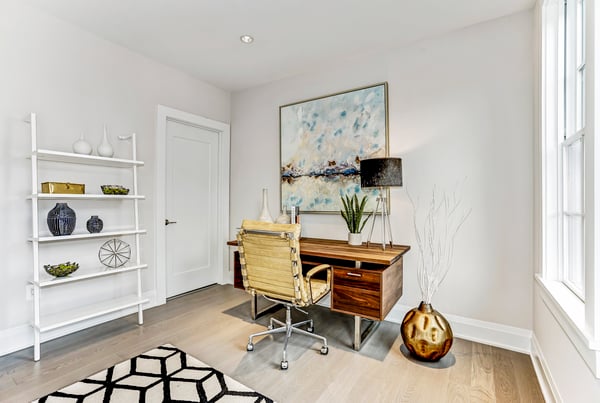 The lighting in your home office affects more than your ability to see the task at hand – creating a pleasant and vibrant ambiance can effect your mood and even help reduce eyestrain throughout the day. First, think about how you intend to use the space. Will you mostly be working on your laptop? Participating in video conference calls? Working on paperwork? Keep each of these tasks in mind as you begin to assess your lighting needs. As an overall tip, consider cool-white LED light bulbs for a clear and bright illumination that has the effect of giving energy to the space, promoting alertness, productivity, focus, and energy.
Natural Light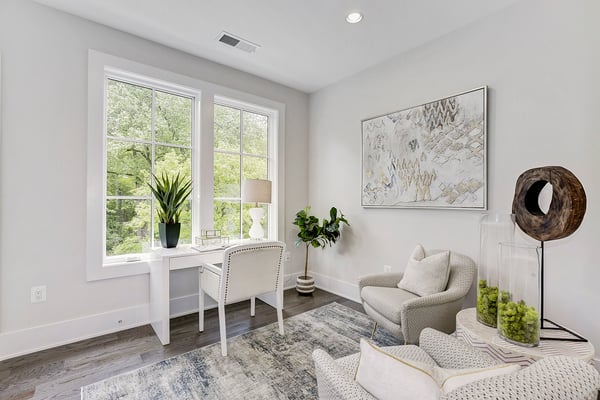 To start, evaluate how natural light affects the room throughout the day. Does it cast shadows in certain corners? Could it create a glare on your computer screen during the afternoon? Will you need curtains or shades to give you more control over the light coming in? Taking stock of where and how the light filters through the room will help you decide where to set up your furniture. For example, you most likely won't want a window to be behind your desk chair, making it difficult to see a computer screen through most of the day. Before setting up your furniture, experiment working on your laptop in different areas of the room to make sure you choose the optimum placement for your desk.
If you don't have access to natural lighting, make sure you add light sources thoughtfully to enhance visibility while simultaneously reducing glare and making sure the space is bright and well lit.
Overhead Lighting
Overhead lighting can help complement your natural lighting and establish the room's overall ambiance. If you already have an overhead light installed, consider swapping out the default shade for a flush mount lighting option like a geometric pendant or a classic chandelier. This is an easy and unique way to pull together the style of the room and add something unexpected and special.
---
6 Contemporary Interior Design Ideas You'll Want to Try
---
Task Lighting
Task lighting doesn't have to be a traditional desk lamp. Look for simple fixtures with clean lines and a small base so it doesn't take up too much room on your desk. If possible, choose one with an adjustable head and arm, ideal for light changes throughout the day. To add a pop of interest, consider a metallic base, either gold or bronze, that matches the style you're going for. By placing your task light on the opposite side of your dominant hand you can avoid casting shadows while you write, type, or move your mouse.
If the majority of your day is spent on video calls, a ring light can be a great tool to utilize, no matter what time of day it is. There are a variety of options to choose from, ranging in size, temperature control, tripod lengths, and more. Keep it set up as an accessory or easily store it in a desk drawer or cabinet while not in use.
Ambient & Decorative Lighting
Lamps provide an easy way to add to the ambiance and design style of your office while also helping to take the stress off any eyestrain from looking at a screen all day. Get creative with your accent lighting, whether it be wall sconces, floor lamps, or table lamps.
---
How to Get the Minimalist Interior Design Look in Your Home
---
Furniture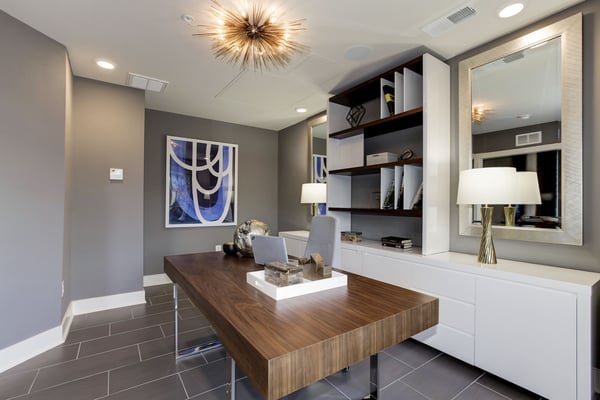 When choosing your office furniture, remember you don't have to sacrifice style for function. You'll be spending the majority of your weekdays at your desk so make sure you choose pieces that are both comfortable and functional, while still fitting in with the aesthetic of your design.
First, think about how you'll be using the space and make sure you set your desk up in the ideal location. Can you look out a window while you work? Is there enough space to easily get in and out? Will you need a filing cabinet or storage cabinet nearby for easy-to-grab supplies? From there, consider the individual pieces.
Invest in a great chair. While there are endless options and styles available, this is one place where functionality needs to take the front seat (pun intended). While trendy items are tempting, some of these options might not have the back support and long-term comfort you'll need for long days.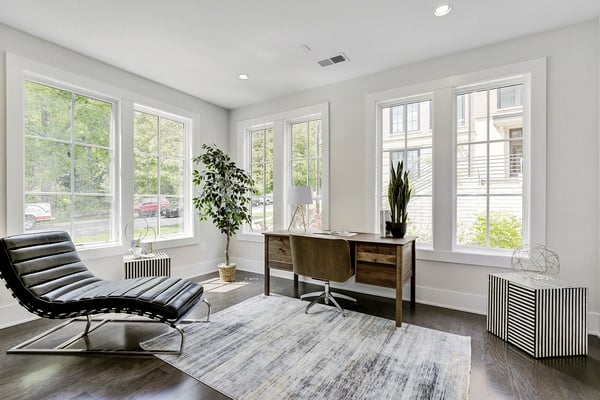 Your desk is also a top priority. Do you need built-in drawers? Will it hide your computer cords and chargers? Is there enough leg room? Will you need space to spread out or will you primarily be using a laptop? Will there be room for a lamp or other decorative accessories? You will most likely have items you'll need to plug in like chargers and phone cords. Many desks now offer built-in grommets to feed cords through, offering an easy way to hide and avoid a tangle of cords behind or under the desk.
From there, add in additional pieces to make the room your own. Consider a cozy lounge chair in the corner for reading reports. Set up a bookshelf and decorate it with your favorite novels, travel souvenirs, and eye-catching accessories for inspiration throughout the day. Including a personal and comforting touch helps to make this a room you want to spend time in, whether you're working from it full-time or not.
---
Urban Modern Design: Ideas, Examples, &
How to Get the Look
---
Storage & Organization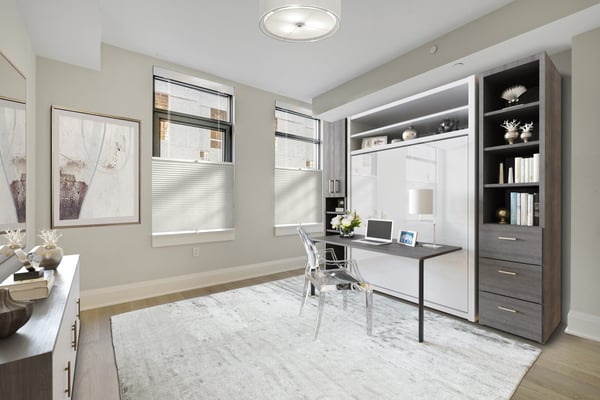 When setting up a home office, both storage and organization will be top priorities. While a traditional filing cabinet does the job, you can choose beautiful pieces of furniture to not only do the job, but look nice doing it.
Think about how you can utilize pieces you wouldn't typically find in an office. An antique dresser could become your supply closet. A bookcase could become storage shelves. Nightstands could take the place of your desk drawers. You can even go vertical, and stackable cube shelves are an easy way to do so. Modular storage systems come in all shapes, sizes, and colors, with drawers, baskets, and even doors to hide away papers and supplies.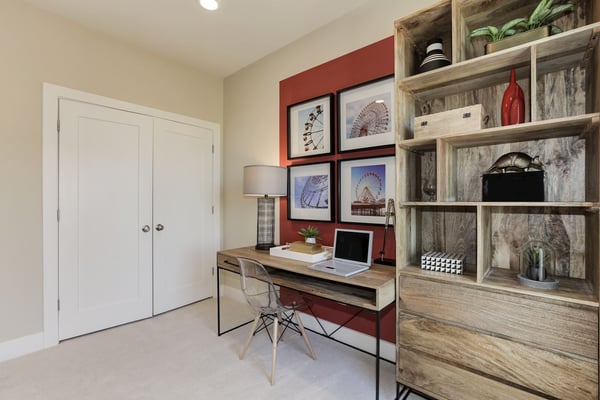 If you prefer to have your items on display, use an open bookcase or install floating shelves. You can style these to not only include items you'll need to use, but mix in accessories, artwork, and other items that you'll enjoy looking at each day. Small accessories like baskets, mason jars, magazine files, and even bowls are great to clear away clutter in a stylish way that also makes office supplies easy to access.
Another way to keep the room clean and organized is to hide away bulkier items like printers, along with their cords. When setting up your space, place your desk close to outlets so you don't need to run extension cords throughout the room. Fabric cord covers come in different colors and sizes and can be fed through a built-in desk grommet. While common in desks, many cabinetry pieces also offer a grommet where cords can be hidden safely behind the piece. Hide your less attractive electronics in a stylish cabinet and close the door while not in use.
---
Expert Tips on How to Get the Transitional Design Style in Your Home
---
Adding Color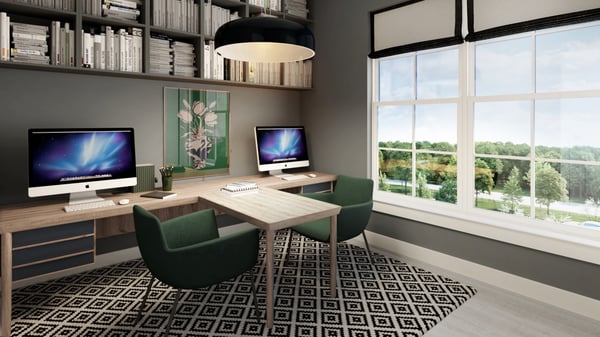 Most of us have heard the general psychology between color and mood - blue and green are more soothing, while red and yellow are more stimulating. It's actually not quite that black and white. According to Angela Wright, the psychologist and author of "The Beginner's Guide to Colour Psychology," what defines how stimulating or soothing a color is, is the intensity of the color rather than the color itself. Colors with a high saturation are much more stimulating than colors with a lower saturation.
For general color rules, blue is typically best to stimulate the mind and boost productivity, especially for 'mind-work.' Whereas, yellow boosts creativity, positivity, and optimism. Green is ideal for creating a strong sense of balance as it creates a calming and reassuring atmosphere.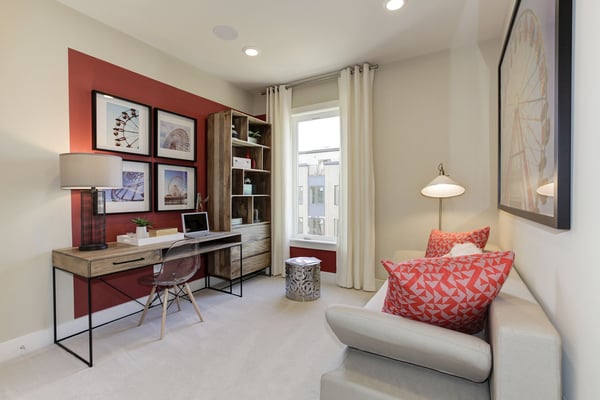 When choosing a color for your home office, consider this simple, yet effective way to choose: what's your favorite? While there is psychology behind different shades and hues, creating a space you love and feel comfortable in will enhance your personal productivity and creativity. Once you have your main color, branch out from there. Accent walls, large area rugs, throw pillows, and even desk chair fabric can all make a color statement. Disperse your color of choice throughout the room without going too overboard. Artwork and accessories are also a seamless way to incorporate complementary pops of color, diverging from your main color while still working within your chosen palette.
Just remember to keep your color scheme on the simpler side. While colors, patterns, and textures add to your space, air on the side of less is more to eliminate distractions and create an environment that inspires focus.
---
Tips from an Interior Designer:
Contemporary Cool Design Style
---
Accessories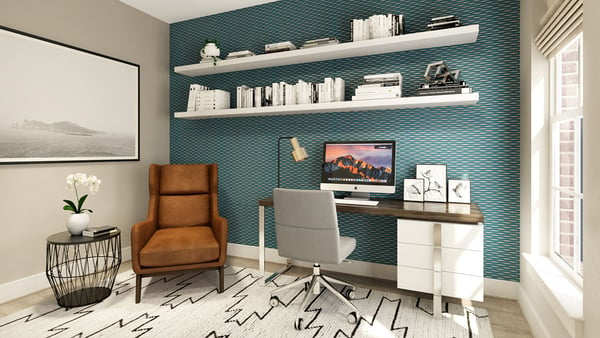 Now for the finishing touches. Once you've made the big decisions, it's time to look at the details. You'll be spending the majority of your day here – it's important to make it your own. If you like listening to music while you work, set up portable speakers. If you like to meditate during ten-minute breaks throughout the day, keep a basket of yoga mats nearby. Display treasured items on a floating shelf or built-in bookcase, surround yourself with framed family photos, put together a gallery wall of your favorite prints and artwork across from you so all you have to do is look up to feel creative – there are endless opportunities to enhance the style of your office.
Plants
Plants are an aesthetically pleasing and simple way to elevate your space, while also creating a healthy and productive environment. Natural stress relievers, plants improve air quality, health, mood, and productivity. When choosing which indoor plants to include in your design, pay special attention to your placement for both space and lighting reasons, and do your research on how much maintenance each one needs. Common office plants include spider plants, succulents, cacti, air plants, peace lilies, and snake plants.
Artwork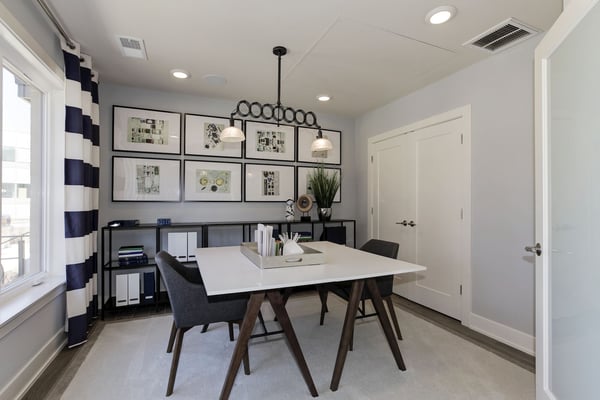 Hanging artwork is an easy way to add your personal style to your office. Whether you go for a classic grid or a gallery wall, choose pieces that bring you inspiration, pieces that you look forward to seeing every day. A great way to get started is to pick a theme and go from there. This could be a color palette, a specific decade, or prints from your favorite artist. Don't be afraid to mix and match. Typography images, travel photos, abstract line drawings, paintings – try different variations to see what works best. Your artwork is a great place to add some color and have fun with your office décor.
You can also try a new twist on a traditional office corkboard. If you've picked up prints or postcards from your travels, consider pinning a few to the corkboard for a new take on a gallery wall or collage look. You can even consider adding mirrors to the mix for an extra element of shine.
---
Insider Tips from an Interior Designer: Recreate Looks from Model Homes
---
Desk Accessories & Shelf Styling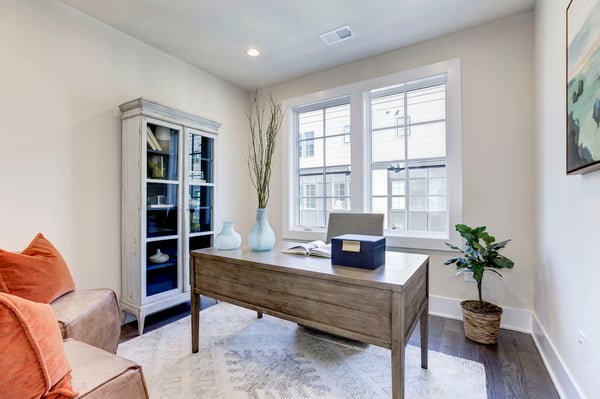 Next up will be styling your shelves. To start, focus on scale and balance. Mix tall, eye-catching objects like candlesticks or vases with smaller groupings of objects like a stack of books, small plants, or decorative clocks to vary the scale. Incorporate a variety of materials like translucent glass and shimmering metals to contrast more traditional colors and materials like greenery and matte book spines. Choose sculptural forms that will stand out and add a visual difference to groupings of books, balancing between sturdy and delicate objects and items.
Do you have a collection of vintage cameras to put on display? Pottery you've picked up throughout the years? See how those fit into your styling. You can even frame pieces of your favorite artwork to set on the shelf rather than hanging on the walls. While adding, make sure to balance the mix of books, objects, and any office supplies and make sure to leave some breathing room along the way. Get creative and don't be afraid to experiment.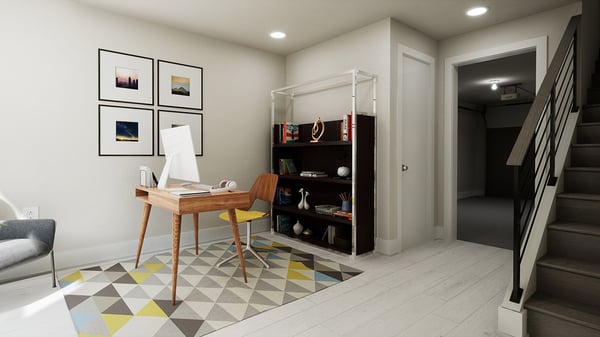 Finish up with your desk accessories. Be strategic when picking out your desk necessities. There are so many sleek and chic office accessories in varieties of materials and sizes to fit your style and needs. From small planters for succulents and marble vases for fresh flowers to metallic pencil cups and vintage inspired mini globes, there's endless opportunity to swap out your typical desk accessories for beautiful and stylish pieces instead.
One Last Tip - Don't Forget Your Video Call Background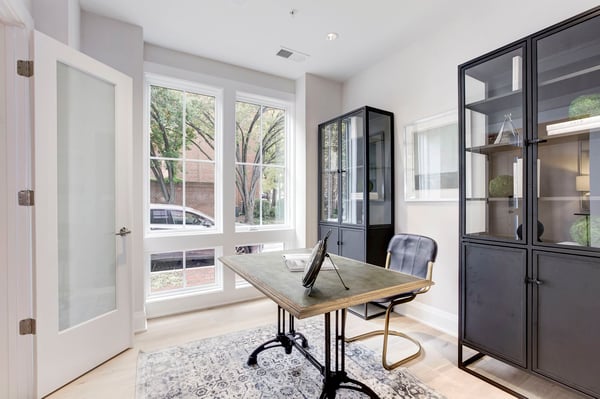 In this new world of video conference calls, don't forget your background when designing your space. A sleek and simple gallery wall, a packed bookcase, a simple painting, or your newly styled shelf displaying a mix of plants, frames, and accessories can all provide the perfect backdrop for your calls.
While setting up your home office for both longevity and productivity, the most important tip to remember is to make it a place you want to spend time. Incorporating items you love will help you feel inspired and creative throughout your work day.
For more tips on how to redesign, repurpose, and reorganize your home decor, click here.