There is no doubt that Alexandrians love dogs. A quick stroll down the sidewalks of Old Town, and you'll see shops, artisans, and restaurant owners have left an assortment of water bowls and biscuit jars outside their doorsteps, welcoming dogs to take a break, and sometimes even to come inside.
---
Interested in living in a top dog-friendly neighborhood?
---
Named one of the top 10 dog-friendly destinations in the U.S. by Expedia, Alexandria offers dog-friendly activities for the whole family where no man (or man's best friend!) is left behind.
Here are the best places to eat, play, and stay with your dog in Old Town Alexandria:
Dog-Friendly Restaurants and Treats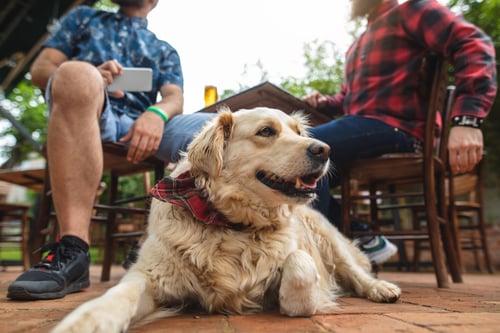 Food & Drinks
Pup-friendly patios, special dog menus, and 'yappy' hour events are just a few of the ways Old Town restaurants celebrate and encourage dog owners to bring their furry friends along. While most restaurants offer water bowls and even treat jars out front, Old Town is home to over 90 pet-friendly restaurants.
Chadwicks, Bastille, Hen Quarter, and Blackwall Hitch are just a few local establishments that invite dog lovers to bring their four-legged companions to sit out on the patio. Even local hot spots without a full patio, like Myron Mixon, often allow dogs at their coveted sidewalk seating tables.
Virtue Feed and Grain, Haute Dog and Fries, and the aptly named Lost Dog Café step things up to another level by offering special dog-friendly menus so Fido can have something to eat while you do. Vola's Dockside down by the waterfront not only allows dogs to join you on the dock, but offers a menu 'For the Pooch' that includes tasty options like "Doggie's Dream" and "Pupsicles and Apples."
In the mood for a drink? Head over to Port City Brewing Company for local craft beers, and bring your best friend along to join you on the patio. On King Street, restaurants like Jackson 20 host a Yappy Hour, every Thursday night from 4pm – 7pm in their courtyard with dog-themed cocktails for both you and your dog to enjoy.
Coffee & Desserts
On a morning walk with your furry friend and need an energy boost? Or maybe you're looking to post up at a coffee shop and finally finish that novel you've been working on? Alexandria is home to dozens of locally owned cafes with coffee from all over the world and while dogs are always welcome outside on nearby benches and sidewalk seating, some actually allow pups inside. Killer ESP is a great place to grab a cup to go or post up for a productive morning in one of their comfy chairs - with your dog by your side.
For dessert, there's nothing better than a cool treat on a hot summer day. After walking the city and spending the day in the dog park, head over to Casa Rosalda Artisan Gelato for a scoop of Argentine gelato and sorbet for yourself, and an order of Henry's Dog Gelato for Fido. Made with lactose-free milk, alongside other dog-safe ingredients, Hungry Henry Dog Gelato is a specialty frozen dog treat made on-site! Dogs and their owners can sit back and enjoy their frozen treats together on the patio.
Active Activities:
Going on an adventure is twice as much fun with your dog in tow. Take advantage of your surroundings this summer with Alexandria's parks, trails, and waterfront activities. With dozens of dog-friendly parks and outdoor activities, there's no shortage of things to do and places to go with your favorite travel companion.
Best Alexandria Dog Parks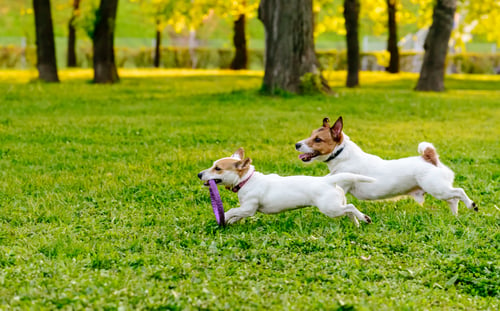 If your dog likes to socialize, a dog park is a great place to meet and mingle with other dogs and their owners. Founders Park is a beautiful, spacious spot situated right on the Potomac waterfront, with picnic areas, volleyball courts, and benches along paved pathways. While dogs must be leashed on walks, there is an off-leash dog park area where dogs can play and run free. This impressive area is just steps from the hustle and bustle of King Street and offers a peaceful and unexpected quiet environment to relax, walk, and enjoy time with a furry pal.
Waterfront Park combines the tranquility of river views with the excitement of the city. Located next to the marina, visitors, locals, and tourists alike will be running, biking, touring, and exploring nearby. Play a game of Frisbee or fetch with your dog, jog along the pathways, or attend a local festival held throughout the summer on the green. Busker performances, restaurants with pet-friendly patios, and canine cruises are all available at the waterfront.
Just a few hundred feet from Reagan International Airport's landing runways, Gravelly Point Park sits on the Potomac River, making it a unique spot for an unusual activity: airplane-spotting. Watch as planes fly overhead, play a game of flag football, or bring a blanket for relaxing on the green. Rollerbladers, runners, and dog walkers swear by this spot for a fun summer afternoon.
A few more dog-friendly parks to check out just up the road from Old Town are Montgomery Park, Windmill Hill Park, and Dog Run Park at Carlyle. For a complete list of dog-friendly parks in and around Old Town, click here. While most parks have stations with doggie bags, make sure to come prepared.
Best Dog-Friendly Trail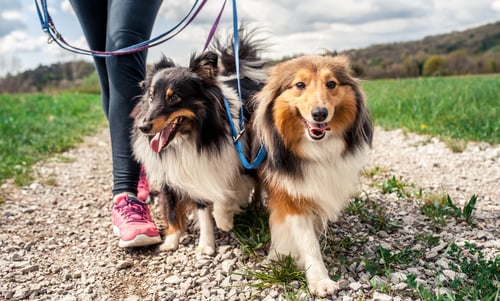 Looking to escape the city without going too far? Dogs are more than welcome on the George Washington Mount Vernon Trail. Whether you're going for a run or a bike ride, take a break at one of the many dog-friendly parks along the route, with a mix of fine gravel and paved paths along the way. Pack a picnic lunch (and a doggy bag!) or take the trail all the way into the city.
Best Waterfront Activity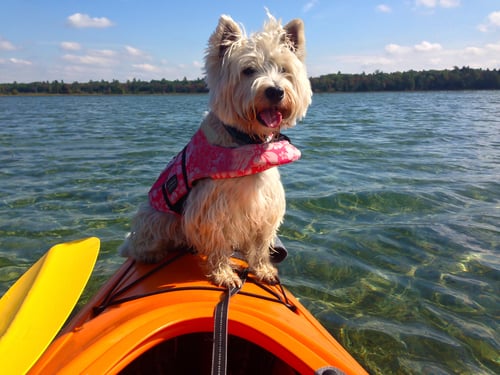 Take your adventures to sea with the Washington Sailing Marina. Offering activities from kayaking and canoeing to sailing and paddle boarding, your dog will be the best first mate. Dogs are not only welcome to hop aboard, but the marina even offers doggie life jackets.
---
New dog-friendly townhomes in the heart of Old Town Alexandria
---
Shops & Art Galleries Where Dogs Are Welcome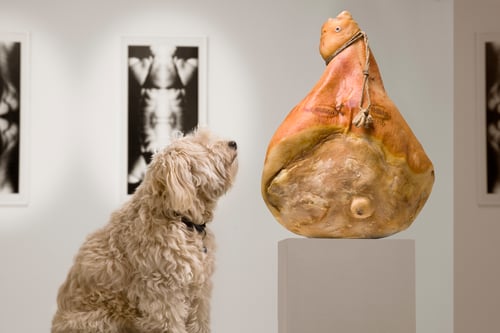 Old Town is home to a unique boutique district with specialty items for your home, your closet, and, of course, your dog.
One store that loves man's best friend as much as you do is The Dog Park. Dogs are welcome to come in and browse by your side, while enjoying a freshly-baked doggie treat. Find the perfect gift for your dog (or cat!) loving friend, from pet-inspired décor, artwork, and mugs to accessories like collars, sweaters, and food bowls.
Olde Towne School for Dogs is a unique one-stop-shop for pet owners. Offering grooming, training, and daycare services, their experienced staff can answer all your questions from how to equip your home for a new puppy to what food supplements are best for your dog's diet. From treats to toys, their retail shop also has a variety of carefully chosen products with your dog's health and well-being in mind.
Shops like Red Barn Mercantile, Hooray for Books, and Penny Post also allow your furry friend inside, and might even have some goodies to offer while you shop. While many of the shops throughout Old Town allow dogs to wander by your side, it's always best to ask and double check before bringing Fido in with you.
One of Old Town's most iconic attractions is the world-famous Torpedo Factory Art Center. Located on the waterfront, this former naval plant is now home to over 82 working artist studios, galleries, and workshops. You can spend hours walking through the rustic hallways, but you don't have to explore alone— dogs are welcome in the Torpedo Factory as well as the shops inside. Stop by the café, visit with artists, and enjoy a day of art and culture with your best friend by your side.
Summer Activities & Events for You & Your Dog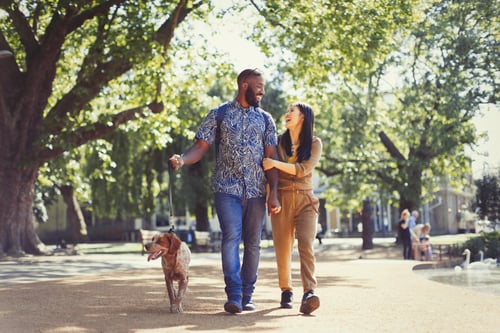 From historical walking tours to dog-friendly happy hours, there is always something fun to do with your dog in Old Town. Here are a few activities and events that both you and your dog can enjoy this summer:
Canine Cruise – Yes, you read that right! You and your pup can enjoy a 45-minute cruise around the Alexandria Seaport alongside other dog lovers. Fresh water and tasty treats are provided on board, along with snacks and drinks for purchase. Tickets and prices are available online through Potomac Riverboat Company.
Barks, Brews, and Bites– Every Thursday, trot over to Jackson 20's outdoor courtyard for Barks, Brews, and Bites, featuring pup-tinis and doggie treats. Happy hour cocktail specials and dinner options are also available for their humans.
All the Presidents' Pups Walking Tour– Did you know George Washington was a dog lover? From Dalmatians to Greyhounds, spaniels, and terriers, dogs held a special place in his heart – and home. Now, dogs are welcome at historic Mount Vernon, especially for the "All the President's Pups" 60-minute walking tour, where you can learn about his love for dogs, unusual pet names, and more.
Since Mount Vernon is a museum at its heart, dogs are not allowed to enter the buildings, but they are welcome on surrounding grounds, walking trails, and gardens.
King Street and Footsteps to the Past Walking Tour– Alexandria is rich with history and the Footsteps to the Past Tours are an educational and entertaining way to learn more while exploring the city. These tours are pet-friendly and even walk through and by sites with water bowls and treats out front for Fido to take a quick break along the way.
Explore the Farmer's Market – Keep your Saturday morning routine fresh and visit the Old Town Farmers' Market, located at Market Square, in front of Alexandria's historic City Hall. Local farmers, artisans, and vendors offer locally grown fruits, vegetables and so much more. Take your pup on a walk, pick up something delicious, and enjoy the start to your weekend together.
Dog-Friendly Lodging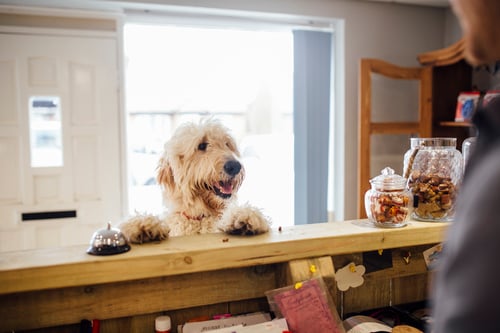 For out of town visitors, or local residents looking for the perfect stay-cation, Old Town hotels love furry guests. With over 2,000 pet-friendly hotel rooms, there are plenty of choices for you and your valued family members to spend the night.
The Alexandrian (previously known as Hotel Monaco) is a beautiful, charming, and historic hotel located in the heart of Old Town, right on King Street. With over 240 rooms, they allow and encourage guests to bring their pets when they visit. With a gorgeous center courtyard, dogs are welcome on the patio, especially when they host one of their doggy happy hours.
Another pet-friendly option to explore is Kimpton Lorien Hotel & Spa. They not only welcome dogs, but all pets, no matter the kind, size, weight, or breed. They even offer plush pet pillows, food and water bowls and mats, courtesy bags for dog walking, and special hangers to let their staff know your pet is in the room.
Summer is the time for adventure, and what better companion than your four-legged best friend? Just walking around Old Town's charming storybook streets, you and your dog will have fun exploring, taking photos, and meeting other friendly pups along the way. For more events happening in Old Town this summer, click here.
Considering a move to the DC metro area, but not sure which neighborhood would be right for you and your pets? Take our neighborhood quiz to help you select a new location to call home.