This weekend, the 16th annual King Street Art Festival will bring more than 220 exhibiting artists to Alexandria to display their creations and crafts. Festival go-ers will be treated to an array of fantastic paintings, sculptures, jewelry, photography, ceramics and more.
But once the festival concludes, there are plenty of arts-related attractions and activities in Old Town for residents and visitors to enjoy throughout the year. From theater troupes to galleries and studios, here is a Must-See Arts Guide to Old Town to help you discover some of the most inspiring and entertaining artists found in the Old Dominion and throughout the D.C. metro area.
PERFORMING ARTS
Our Must-See Arts Guide to Old Town begins with two well-established theater groups with a loyal following throughout the region.
The Little Theatre of Alexandria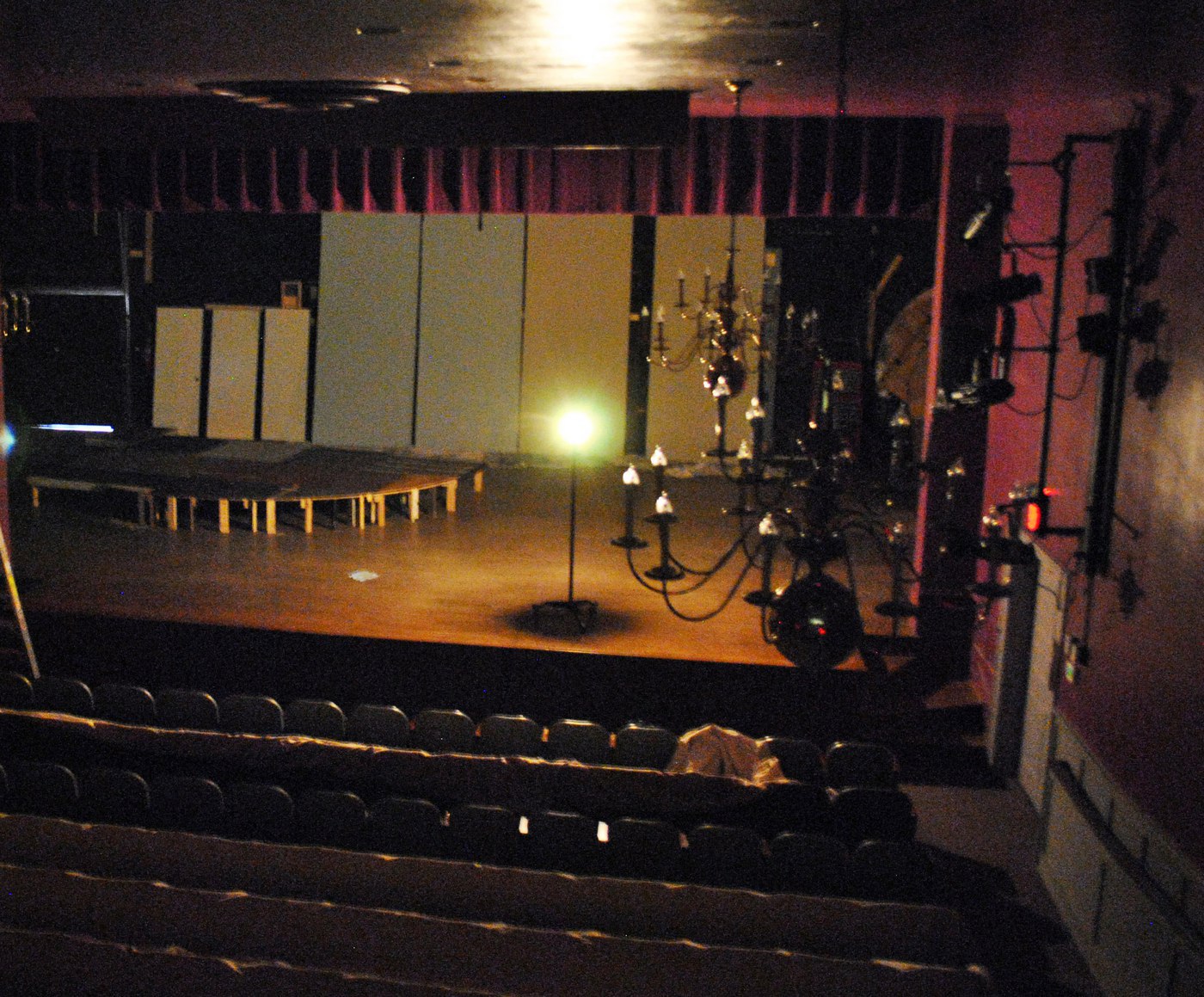 Celebrating its 84th year, The Little Theatre of Alexandria has mounted more than 350 productions in its history. Seven musicals and plays remain in the 2018/2019 season. The current show is "August: Osage County," a powerful Tony award-winning family drama set in rural Oklahoma that runs through Sept. 23. "Dracula" follows for the Halloween season and "A Christmas Carol" in December. Productions in 2019 are the musical "The Fantasticks;" and comedies "You Can't Take It With You" and "The Savannah Disputation." The season concludes with "A Fox on the Fairway," a madcap adventure about love, life and man's eternal love affair with golf.
Subscription and single show tickets are available. Performances are held Wed. – Sat. at 8 p.m. and Sun. at 3 p.m. (schedule varies for "A Christmas Carol"). In addition, adult and youth acting and improv classes are offered at the theater during the year, along with acting classes for tots. The theater is located at 600 Wolfe St. www.thelittletheatre.com
Metrostage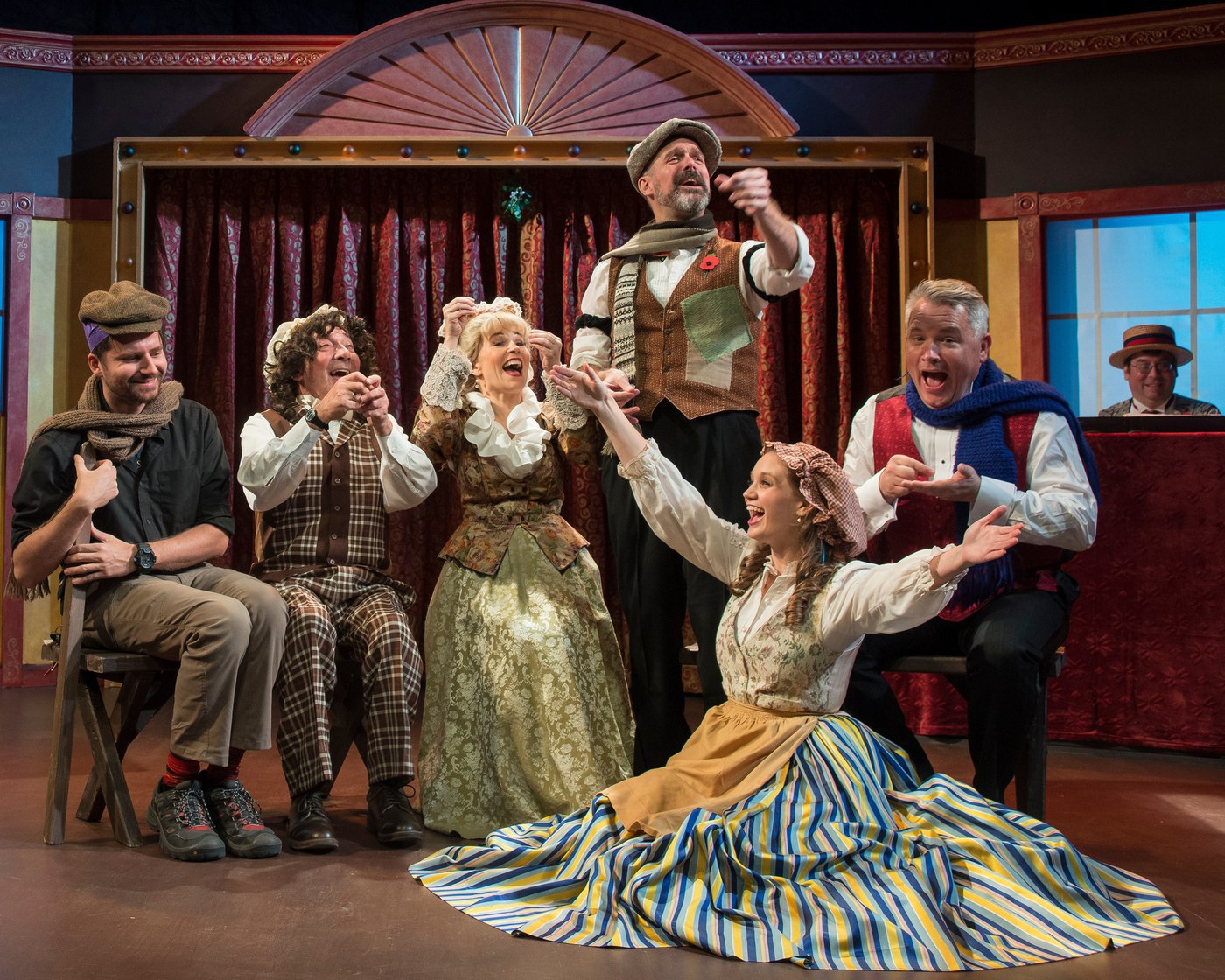 Billed as "Off Broadway on the River's Edge," Metrostage is a theater company dedicated to producing an eclectic season of contemporary plays and musicals. The work – performed in an intimate 130-seat theater converted from a lumber warehouse in North Old Town – is unpredictable and non-traditional. This year's 30th season features four shows. Running through Sept. 23 is "The Painted Rocks at Revolver Creek," which depicts the brutality of 1980s apartheid in South Africa and the years that have followed. Future shows are: "Rooms," a gritty rock romance musical; "Christmas at the Old Bull & Bush," a night of British music hall songs, carols, corny jokes and funny sketches; and "Three Sistahs," a musical exposing the souls of three women in an evening of gospel, R&B, bebop and funk.
Flex passes of four shows or single tickets are available. Productions are held Thurs. & Fri. at 8 p.m.; Sat. at 3 p.m. and 8 p.m.; Sun. at 3 p.m. and 7 p.m. The theater is located at 1201 N. Royal St. www.metrostage.org.
LITERARY ARTS
Earlier this month in a City Dweller article on 10 Can't-Miss Shopping Experiences in Old Town, we wrote about Hooray for Books, an independent, locally owned bookstore that hosts weekly readings for children and monthly book clubs for adults at its King Street location. For those who want to take the next step and actually pen their own works, our Must-See Arts Guide to Old Town includes a community writers group that is supporting local authors.
Charles Houston Community Writers
This creative fellowship of authors, publishers, poets and screenwriters meets at the Charles Houston Recreation Center in Old Town where it holds literary talks and adult writing classes. On Sept. 29, the Writers will host Author John Tieso. The Catholic University Busch School of Business management lecturer, veteran and former defense department and government agency director is the author of five books, including four novels on fictional terrorism scenarios. The center is located at 901 Wythe Street. https://www.facebook.com/chcwriters/
VISUAL ARTS & GALLERIES
No Must-See Arts Guide to Old Town would be complete without highlighting some of the galleries and exhibition spaces that have attracted art lovers to the streets of Old Town for many years.
The Athenaeum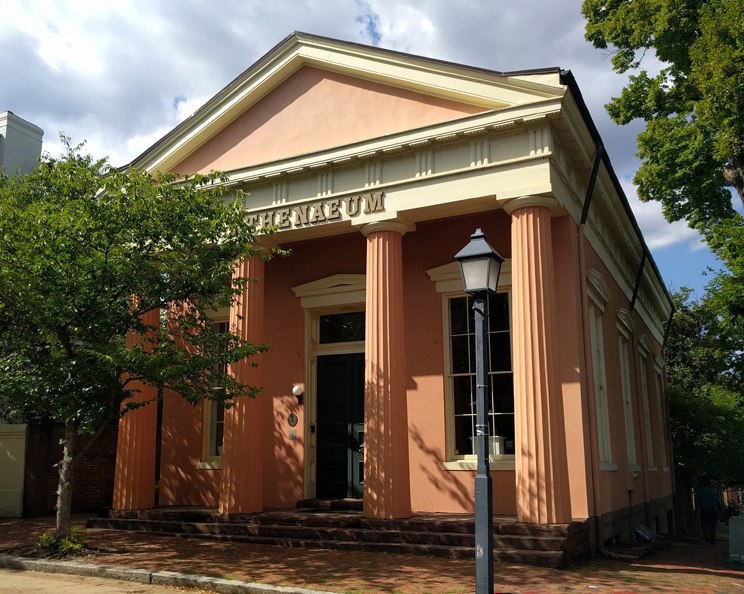 This Greek Revival building constructed in 1851 for the Bank of the Old Dominion is now the residence of the Northern Virginia Fine Arts Association. On the Virginia Trust and National Register of Historic Places, The Athenaeum's unique history includes a period when it also served as the commissary headquarters for the Union Army during the Civil War and a triage facility for wounded Union solders.
Today, it holds a variety of exhibitions, workshops, arts programs and regional performances by musicians and actors that enrich the cultural life of the region. Through November 11, the Arts Association will host the Athenaeum Invitational, an annual theme-based celebration of invited visual artists from Virginia, West Virginia, Maryland and the District. This year's event asked participants to explore any aspect of "Cabinet of Curiosities," both literal and abstract. Other upcoming events include "Write Like a Woman Workshop" by poet and author KaNikki Jakarta (Sept. 22); "Banned Books Readout" with Alexandria Mayor Allison Silberberg and others (Sept. 24); and the United States Navy Band Concert (Sept. 27).
The gallery is open Thurs. – Sun., 12 p.m. – 4 p.m. at 201 Prince St. www.nvfaa.org.
Principle Gallery
Focusing on oil paintings and bronze sculptures, the Principle Gallery represents works by creators of high quality, contemporary realism art. Opened nearly 25 years ago, Principle has become a place where emerging, mid-career and established artists gain exposure through solo exhibitions, group fairs and national art fairs. Upcoming gallery events include a group exhibition from the Washington Society of Landscape Painters that debuts Sept. 22 and features 37 local artists. Some of the artists will feature plein air demonstrations at Founders Park on the afternoon of Sept. 21.
The gallery is open Mon. 12 p.m. – 5 p.m.; Tues. – Thurs., 10 a.m. – 6 p.m.; Fri. – Sat., 10 a.m. – 8 p.m.; Sun. 11 a.m. – 6 p.m. Located at 208 King St. www.principlegallery.com
Torpedo Factory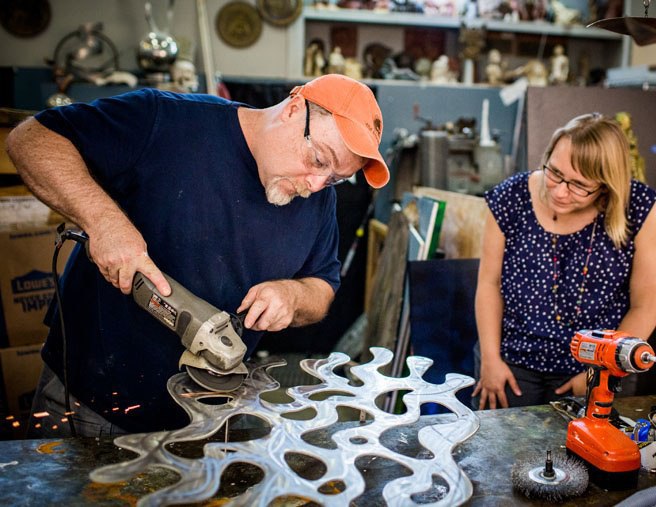 The world famous Torpedo Factory Art Center is home to the nation's largest collection of working-artists' open studios under one roof. Housed in an old munitions plant along Old Town's waterfront, more than half-million visitors pass through the building each year. In residence, are 82 artists' studios where you can find a wide variety of media, including painting, ceramics, photography, jewelry, stained glass, fiber, print-making and sculpture. In each studio, you can observe the creative process, ask questions and purchase original works of art as a gift or for your own collection.
Installations currently on display at the Torpedo Factory gallery and exhibit spaces include: "Art in Common Spaces," activating public spaces with immersive art; "Juxtaposed," investigating opposing or conflicting themes through art; The Art League September Open Exhibit, featuring member pieces of all media and subject matter; and "Healing the Body," a group exhibition of abstract figure paintings.
The building is open 10 a.m. to 6 p.m. daily with extended hours on Thursday until 9 p.m. at 105 N. Union St. www.torpedofactory.org
For anyone attending the King Street Art Festival on Sept. 22-23, stop by Robinson Landing's exhibitor booth to learn about the exciting archaeological finds discovered onsite and the vision for the Old Town waterfront. We look forward to seeing you there!