Our next homeowner spotlight is Everett and Angelita at Chancellor's Row. Empty-nesters, Everett and Angelita moved into the city from the suburbs and love their new urban neighborhood. They have enjoyed exploring the Brookland community and the ease of taking public transportation to museums, restaurants and music venues.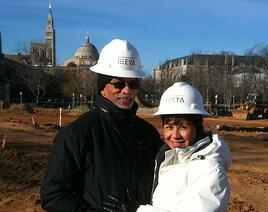 1. Why did you choose an EYA property?
We chose Chancellor's Row even before the models were built. Chancellor's Row met all of our needs by being walking distance to the Metro, restaurants, leisure activities and entertainment. With our move to Chancellor's Row, Everett's commute went from a 'grueling hour' to 10 minutes on the metropolitan bike trail to his office just 3 miles away.
2. What attracted you to the area?
We were attracted by the diversity of the community and the opportunities being in the city would bring. We had lived in the suburbs with a focus on family-centric activities for 20+ years but our lifestyle had changed and as empty-nesters it was time to make a change.
3. What do you like most about your EYA home?
We love everything about our home. It's an Elliot end unit with lots of natural light and great views. From our rooftop terrace, on one side we look over green space and St. Paul's College and from the other side, we have an open view of the Chancellor's Row community.
On the inside it's the perfect size for the two of us with a great kitchen, fantastic loft space, room for each of us to have telework space and a dedicated guest room. The guest room is essential now that we live in the city and are a destination for family and friends to visit. We do like to go out, but home is so nice that after a busy week we are also very happy to just stay near home, go for walks and visit the local shops and restaurants.
4. What is your favorite restaurant/bar/store/etc. in the area?
To be honest, our favorite place to eat is at home in our gorgeous kitchen. We have a classic kitchen with a combination of white cabinets and black quartz countertops. We love to troll local stores for fresh and interesting ingredients while trying out new recipes or making traditional family meals.
When we do go out, we enjoy the Atlas Room on H Street, or for a quick bite, we like the Good Stuff Eatery, Union Market or Luke's Lobster in Penn Quarter. Live jazz is a favorite pastime for us so whenever possible we go out to hear jazz and have dinner before a show at the Kennedy Center Café, Blues Alley, Bohemian Cavern or Twins Jazz on U Street.
5. Have you met your neighbors? If so, how did you get to know them?
We've been to several get-togethers in the Chancellor's Row community and already made some great friends. Last spring and summer we also attended events held in Brookland and we were able to get to know more about the larger community in terms of the rich history, arts, music and gardens.
6. What are your personal interests/hobbies?
We both share a love of music, theatre and gardens. Everett is an avid cyclist, loves photography and is a science and history buff. With access to the city and all it has to offer, we've gotten much more spontaneous and changed plans on the run because there's always something to do. We'll take the Circulator bus to Georgetown to see a movie, take Metro to Foggy Bottom, the shuttle to the Kennedy Center or walk to the mall from Union Station without knowing exactly which museum we'll end up visiting.