EYA Homeowner Spotlight: Veronica & Rob @ Old Town Commons
Ever wonder who else is buying an EYA home? This month we are highlighting Old Town Commons homeowners Veronica and Rob. Outdoor enthusiasts and world travelers, Veronica and Rob enjoy the Old Town Commons walkable urban lifestyle and sense of community built among neighbors.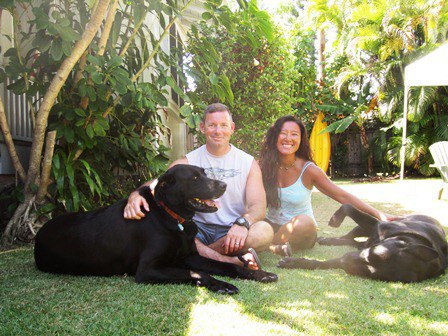 1. Why did you choose an EYA property? What attracted you to the surrounding neighborhood?
Before relocating to the DC-metro area, we purchased a home and ended up spending a considerable amount of time after work and on the weekends renovating and upgrading. We were extremely disappointed with the time lost that could have been spent enjoying life with friends or exploring the local area, and we were determined that our next purchase would be move-in ready to our personal style. Additionally, having lived abroad in Europe and Asia for much of our adult life, we missed the urban lifestyle where transportation, recreation, entertainment, and subsistence were only a few steps away from the front door. Lastly, as avid dog owners, a dog-friendly neighborhood was a must. EYA's Old Town Commons development has met all of these requirements.
2. How long have you lived in this neighborhood, and what do you like about it?
We have lived here since September 2011. Besides the pedestrian friendly amenities already discussed, what makes Old Town Commons special is the sense of community. Reminiscent of bygone times in an American culture, with so many people living disconnected lives in the "burbs," Old Town Commons offers a wonderful opportunity to connect with fellow neighbors, building a sense of community where everyone looks after one another building a strong bond that will last over time.
3. What is your favorite restaurant/bar/store/etc. in the area?
We like La Tasca and Murphy's Irish Pub for their food and live music. La Madeleine is trés bon for weekend breakfast/brunch. My personal favorite unique King Street shops are 3 Sisters, Lou Lou's, and Why Not (a great source for fun and interesting children's toys and stuffed animals).
4. What neighborhood activities, if any, do you participate in?
We have attended community block parties, hosted an outdoor movie night behind the houses, routinely gathered at our residences for cocktails and hors d'oeuvres, or we've gone out together as a group celebrating promotions, birthdays, and other moments of significance. We love local races (running, biking, etc.) and we also are big fans of the Old Town Theater and the Old Town/DC restaurant weeks!
5. Have you met your neighbors? If so, how did you get to know them?
We know most of our neighbors through our dogs. Old Town Commons is a very dog-friendly neighborhood. Additionally, we are all very active and often run into each other during the evenings. We also have a neighborhood community Facebook page where we share our thoughts, concerns, and community events.
6. Tell us a bit about yourselves. What are your personal interests / hobbies?
We are both career soldiers having served in the Army for over 20 years. We have traveled the world; both hostile and friendly places! We love to travel and anything outdoors… skiing, biking, running, scuba diving, motorcycling, etc. Most of all, we love our two boys; weighing in at 145 pounds, they are a Newfoundland-Labrador mix and taking them on long walks in the evenings and on the weekends is a great way to unwind from the hectic pace of the world we live in.