Patrick Foley moved to Michigan Park in 2001, lured by the Northeast DC neighborhood's safety, quiet and green space. "It had such a nice feel to it – lots of large trees on the streets – you didn't feel like you were in a city," says Foley. "I'm from Brooklyn – this is like living in the country for me!"
In fact, this section of the city was once nothing but country – rolling hillsides that were divided as British land grants in the 17th century, producing whimsically named holdings such as Cuckold's Delight and Turkey Thicket. (The latter title lives on as a modern recreation center in bordering Brookland.) Fast forward to the 19th century, when other parts of the city were fast developing into tight urban grids of homes and businesses, this section retained much of its open space in the form of Civil War forts, farms, and later, large Catholic institutions that settled around the Catholic University of America after it was established in 1887.
---
New DC Townhomes from the mid $600s
Located in Michigan Park
---
"Catholic orders and organizations came in and bought really big pieces of land with the idea of expanding," says Hayden Wetzel, a Michigan Park resident who's researched the area's history. When the former farm estates were being sold and subdivided, he says, "the fact that you had so many religious organizations with lots of land put a stop to that division." One of those institutions is St. Joseph's Seminary, built in 1929 by the Catholic sect that was founded in 1893 to serve newly freed African Americans. It was an especially good fit for Michigan Park, considering the "long-established black landownership and homeownership here," according to a history of Brookland by John J. Feeley Jr. and Rosie Dempsey.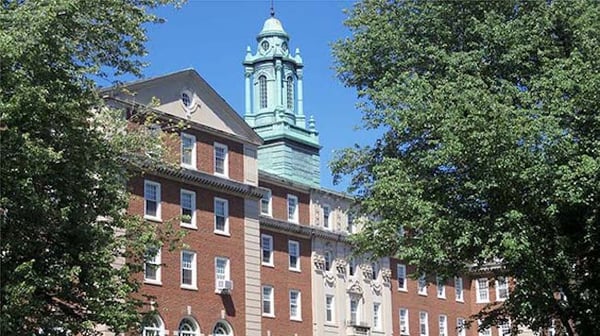 The seminary would serve as a role model for its architecture as well as its advocacy. Saint Joseph's Society of the Sacred Heart hired the renowned Boston architectural firm Maginnis & Walsh to design its building; the firm had also designed the nearby Shrine of the Immaculate Conception and the Trinity College chapel – not to mention the famed "collegiate Gothic" towers at Boston College, Princeton, and Yale; and the chapels at Sewanee and Duke. In this case, the architects took a more modest approach, designing the structure in a Georgian Revival style with simple red brick and limestone detail. Once developers started building nearby houses, duplexes and triplexes as soldiers were returning from World War II, the seminary would come to inform Michigan Park's signature style, Wetzel says.
These homes are set back from the street with wide, manicured lawns shaded under a canopy of tall, mature trees. Many have front porches and slate roofs. Others that came after the war represent the International Style, with flat roofs, wide windows, and terraces that form a canopy over the driveway. Everywhere you walk, the views across the rooftops toward the north and east are mainly of hills and trees.
---
Interested in new construction townhomes in Michigan Park?
Click here
---
It's within this setting that EYA is building 80 new three- to four-bedroom townhomes on four acres behind the seminary, says Evan Goldman, the developer's executive vice president for acquisitions and development. "Every neighborhood has a certain essence to it, and in Michigan Park, almost every home is red brick and white trim. It was clear as we met with the local residents, that our new project in Michigan Park should reflect that character."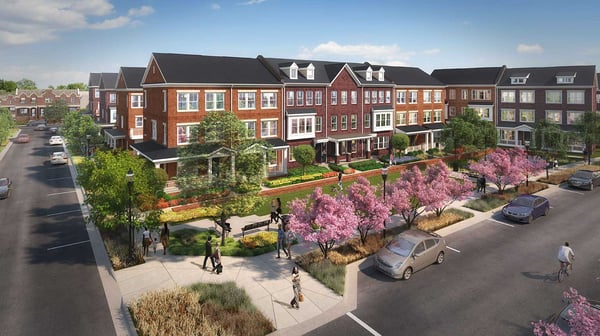 The Townhomes at Michigan Park will feature similar brick, white trim and front porches as their neighbors. This new enclave also includes 10 townhomes that will be classified as restricted affordable units, and EYA will provide property-tax relief for area residents on a restricted income. It's also filed an application to protect the seminary as an historic landmark and preserve the green space surrounding it for public access in perpetuity.
A few blocks away, Robert Oliver lives in one of the original "tidy brick buildings," as Wetzel describes them, that inspired the new townhomes. Oliver moved to North Michigan Park in 1998 to escape the hustle and bustle of 14th Street. "We decided to go somewhere where we could raise our family," he says, noting that many residents have lived here for generations. "This neighborhood is very stable. People come and they've not left. Everyone keeps an eye out for each other – they know everyone and everyone's kids," says Oliver, a former president of the North Michigan Park Civic Association.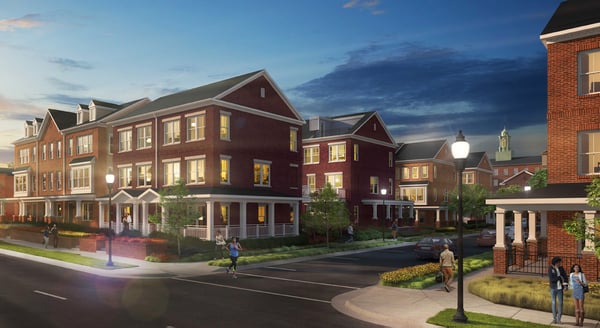 Michigan Park enjoys another legacy as a transportation crossroads. Its modern roads are built on historic thoroughfares that carried commerce, travelers -- even Civil War troops -- from Maryland into the city. Michigan Avenue, for example, used to be Fort Bunker Hill Road. The B&O Railroad – the nation's first – came to the Capitol along what is now Bladensburg Road to the south, according to a Ward 5 heritage guide written by the District of Columbia Office of Planning. Twelfth Street, the neighborhood's commercial artery whose 1920s-era buildings are still intact, was once a busy trolley route that also took passengers into the city. And now the neighborhood is bookended on the west by two Metro stops: Fort Totten and Brookland/Catholic University. The No. 80 Metro bus has also been traveling much the same route for decades, ferrying residents from Michigan Park and Brookland to city stops including Union Station and the Kennedy Center. "You can pretty much get anywhere you need to be by living here," Foley says. And not just by motorized transport: The Metropolitan Branch Trail takes pedestrians and cyclists from Fort Totten Park down to Union Station, and the city is currently working on an extension that would stretch up to the Silver Spring transit center. EYA is installing a bikeshare station and new bike lanes along 12th street so cyclists can better navigate the neighborhood; it's making intersection improvements and installing speed displays to calm traffic as well, and the new development will include car-sharing space.
---
Explore the Neighborhood Around The Townhomes at Michigan Park
---
These conveniences are among the reasons Emily Lucio moved to the area. "It's a very quiet, safe residential area, but it's in the city, which allows you all the amenities of the city – it's easy to get places," says Lucio, the city's Advisory Neighborhood Commission representative for the Ward 5 section that includes Michigan Park and St. Joseph's Seminary. She emphasized the area's green space as its most important draw. "What people love around here is how friendly people are, the neighborhood feel to it, and without a doubt, the trees and green space," she says. Lucio is working with EYA on behalf of the area's residents to make sure the project is delivered as envisioned by the project approvals. "We want to make sure the development fits into the neighborhood, which means what we wanted when we moved here."
The developer is working with Brookland-based Casey Trees to preserve the trees on the new parkland in front of St. Josephs, in addition to other plantings such as African fire bushes to honor the seminary's historic mission. The desire to preserve and improve the area's green space is deeply rooted in community activism: Its residents famously beat off plans to run Interstate 95 through the area in the 1970s, and they've always been passionate about protecting their historic buildings and landmarks.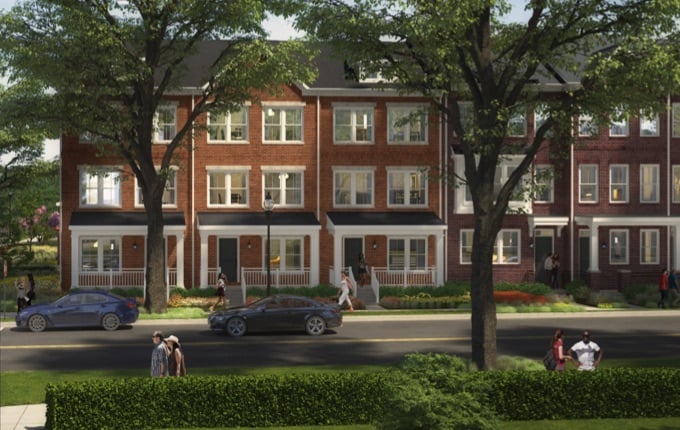 Longtime resident Sabooh Hikim has made it his own mission to preserve and beautify the parks and open space throughout Ward 5. His inspiration came from attending the famous Million Man March on the National Mall in 1995. "When I came back home, I said, 'What can I do to keep my community at a level with the environment?' I just voluntarily took over the parks. It makes a big difference environmentally. You can breathe." As a result, he says, "I know most of my neighbors, and since I'm always working in the parks, I get to see people."
Change brings welcomed additions: Residents such as Hikim, Oliver and Foley are all seeing new generations move in. Young parents pushing strollers mingle with old timers who've been here since the '60s. Shops and services that closed or moved away in the '90s have come back with the development of apartments and condos in Brookland and around the borders of Michigan Park. "Everything has rebounded," Oliver says. With the influx of younger families, Lucio adds, "there's a very large concentration of high-quality charter schools." As ever, she adds, "The Catholic community are very good neighbors – one of the things that adds to the peacefulness and serenity of the neighborhood is their properties and grounds." The renewed and beautified presence of St. Joseph's Seminary no doubt will enhance that attraction.
---
To stay up-to-date on what's new with The Townhomes at Michigan Park, join the VIP list. As a VIP, you'll be among the first to receive neighborhood updates, access to floorplans, an invite to our VIP opening event and more.
*Imagery is for illustrative purposes only. Features, finishes, and prices are subject to change without notice.