When we heard that one of our Robinson Landing homeowners had founded the ALX Dog Walk to not only raise awareness about sustainable living and reducing plastic use, but also to raise funds to beautify the City of Alexandria and protect its environment, we knew we wanted to learn more and support her efforts. EYA proudly sponsored the 2022 inaugural dog walk, and we're excited to sponsor the second annual walk on April 29, 2023 in Oronoco Bay Park in Old Town Alexandria (you can register here). And, we have been so impressed with her work that we wanted to share her story.
We hope you enjoy the following Q&A with Robinson Landing resident and ALX Dog Walk executive director, Julie Chapman, to hear about her work and learn how you and your pup can participate in this year's walk!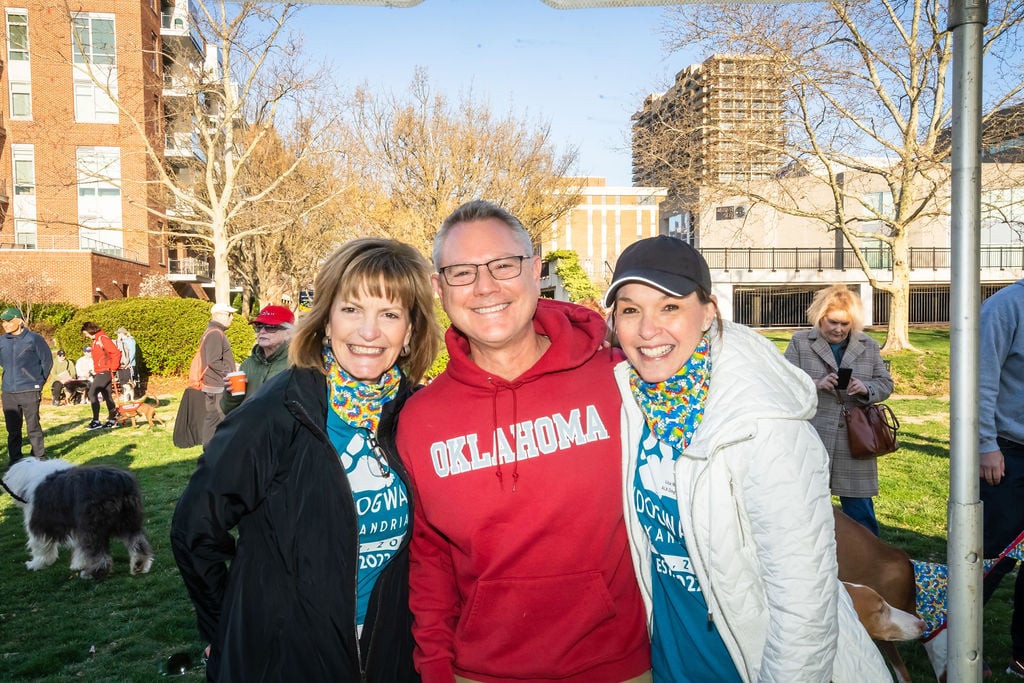 Julie Chapman (ALX Dog Walk executive director), NBC Meteorologist Chuck Bell (Presenter) and Lisa Novick (ALX Dog Walk board member)
You are the executive director for the ALX Dog Walk, an event that raises money for education about plastic-free living and best sustainable practices, as well as beautification projects for the City of Alexandria. Tell us a little bit about the founding of the organization and how a dog walk event has been catalyzed into an organization working to support environmental issues.
When we moved our family to Old Town (and soon to be empty-nesters), I began searching for a cause that I could embrace in the years ahead. Living along the Potomac River and enjoying daily walks, I noticed more and more plastic in and around the River. I gradually became acutely aware of my family's plastic consumption, and I started researching the plastic pollution problem. The more I studied the field, the more passionate and clear I became about the critical importance of the problem/crisis and the need to support the cause.

I felt the plastic pollution crisis overwhelms people, creating a sense of hopelessness. I wanted to offer community education that provides information in a light-hearted format to open people's minds to the issue while also inspiring hope that, by working together, we truly can impact the problem. I'm a believer that it takes many different voices to address various social problems, and all voices play a special role.

And, living in a city filled with dog lovers who enjoy spending time in the outdoors with their pups, I thought that a fun and engaging grassroots event would be the perfect platform for an educational and awareness campaign. Thus, the idea for the ALX Dog Walk was born.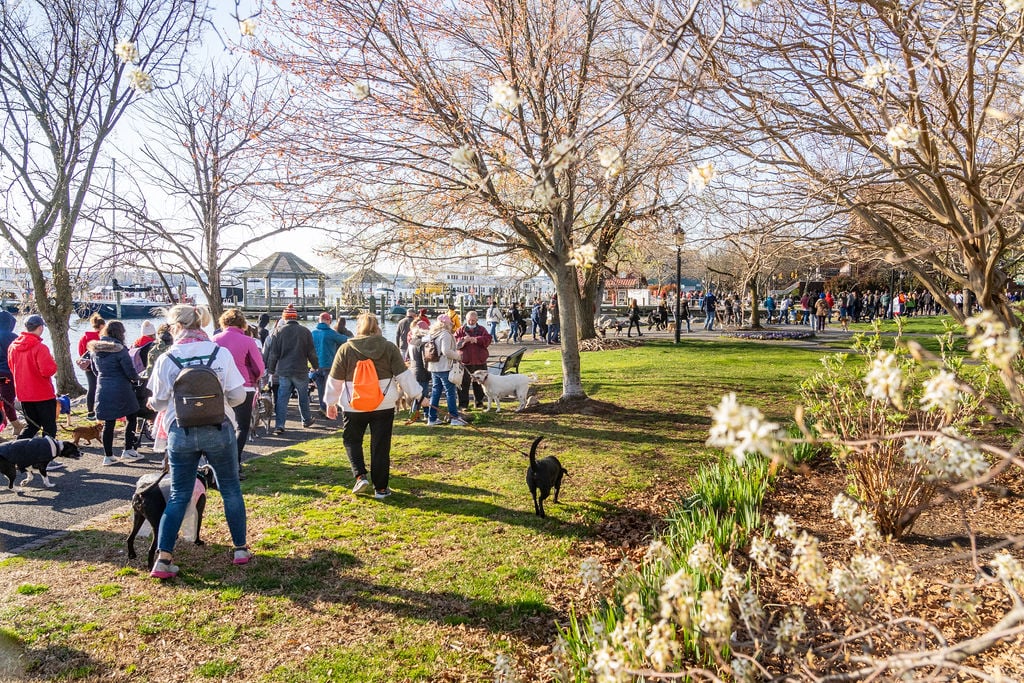 The inaugural 2022 ALX Dog Walk impressively had over 700 participants and raised over $50,000. What types of projects did you do with the funds raised and what do you have planned for this year?
We used our year one funds to 1) Launch our Green Team Community Service Program that provides residents and businesses with a FREE community service kit of supplies to empower groups to form and pick-up litter/plastic in their community on a regular basis. We're starting this program in Alexandria with the hope of expanding throughout the DMV area in the future; 2) Purchase 21 trees for a hot spot in the City of Alexandria (Edsall Rd/South Reynolds St – due to be planted in Spring 2023); 3) Donate $20,000 to the restoration of the King Street Garden's original rain garden and corresponding educational sign; and, 4) Develop our website and other necessary operational elements for our new nonprofit organization.
We were particularly grateful to the City of Alexandria for helping us to identify community projects to support in our first year, and for also collaborating with us in our inaugural Walk event.
With funds raised from the second annual ALX Dog Walk (April 29, 2023), thus far, we've committed to: 1) Donate $10,000 to the Potomac Conservancy's Today's Seeds for Tomorrow's Trees, a program that helps conserve riverside lands and keep the Potomac River vibrant; 2) Expand the Green Team Community Service Program, providing 40 FREE kits to residents and businesses interested in picking-up litter and plastic in their community; and 3) Launch a plastic pollution education and awareness campaign. Other programs will be announced!
We're so thankful for the way in which the community has rallied to support our event and cause, and also thankful to our many sponsors who have demonstrated incredible support. To date, they include Top Dog Sponsors: ZEBRA Press, NBC Washington, PASS LLC; Pack Sponsors: Robyn Porter Realtor, Morgan Stanley, Dominion Energy, The Dog Store; Tail Wagger Sponsors: Theoharis Management, Carahsoft Technology, Robinson Landing; and Puppy PlayZone Sponsors: Chippin, Wegmans, Fairway Independent Mortgage Corporation and EYA. We still have a few additional sponsorships available, if you are interested please email us at: bestfriends@alxdogwalk.com.
We also are thankful to our nonprofit collaborators as they help us to expand our educational messages throughout the DMV and achieve our mission: The Animal Welfare League of Alexandria, Humane Rescue Alliance (Washington, DC), Leashes of Valor, Blinded Veterans Association, the Potomac Conservancy, Alexandria Police Foundation, and The Dunbar Olympic Boys & Girls Club.
Plus, we are thrilled to have honored guests attend and celebrate the event with us, including: Mayor Justin M. Wilson (Alexandria), NBC-Washington Storm Team4 Meteorologist, Chuck Bell, and Monte Durham, host of "Say Yes to the Dress Atlanta".

Finally, as a volunteer-led 501(c)(3), we rely on the energy and enthusiasm of our volunteers. This year, we have 35 of the very kindest and committed volunteers from Virginia to Maryland.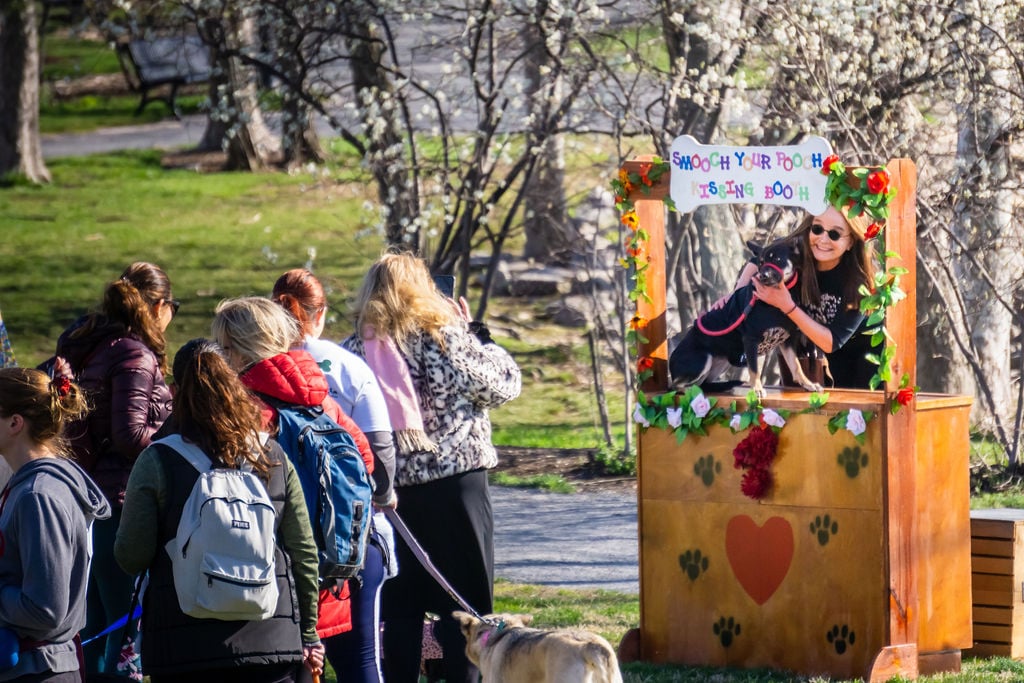 Where is the 2023 walk taking place and what do you have planned for this year's event?
The ALX Dog Walk happens during Earth Month on Saturday, April 29, 2023, from 8 am – 11 am in Oronoco Bay Park, Old Town Alexandria. Several fun and new aspects to the April 29th Walk include:
New Walk Route! Starting from Oronoco Bay Park in Old Town, we'll parade down historic Union Street, take a left onto Pioneer Mill Way, and then walk along the beautiful waterfront back to Oronoco Bay Park for the Awards Celebration, music, treats and more.
Doggie Competition: Dogs will parade by a judging panel and compete for the following categories: 1) Dog that most resembles its owner; 2) Biggest ears; 3) Fluffiest tail; 4) Best personality; 5) Best groomed; 6) Best sustainable costume. Winners receive a $100 gift card from The Dog Store in Del Ray and a year-long supply of Earth Breeze laundry detergent valued at $250!
Puppy PlayZone: Kids will love getting doggie tatoos and playing spin-the-wheel for prizes.
Coffee and Baked Goods: Walkers will enjoy kick starting their morning with treats.
Smooch Your Pooch Photo Booth: The Dog Store/Del Ray will bring back its beloved photo booth.
Dog Obstacle Course: The Dog Store will feature an obstacle course for dogs.
Dog Training Tips: Dogs will enjoy receiving tips from master trainers courtesy of The Dog Store.
Raffle Prizes: We've got the best sustainable raffle prizes!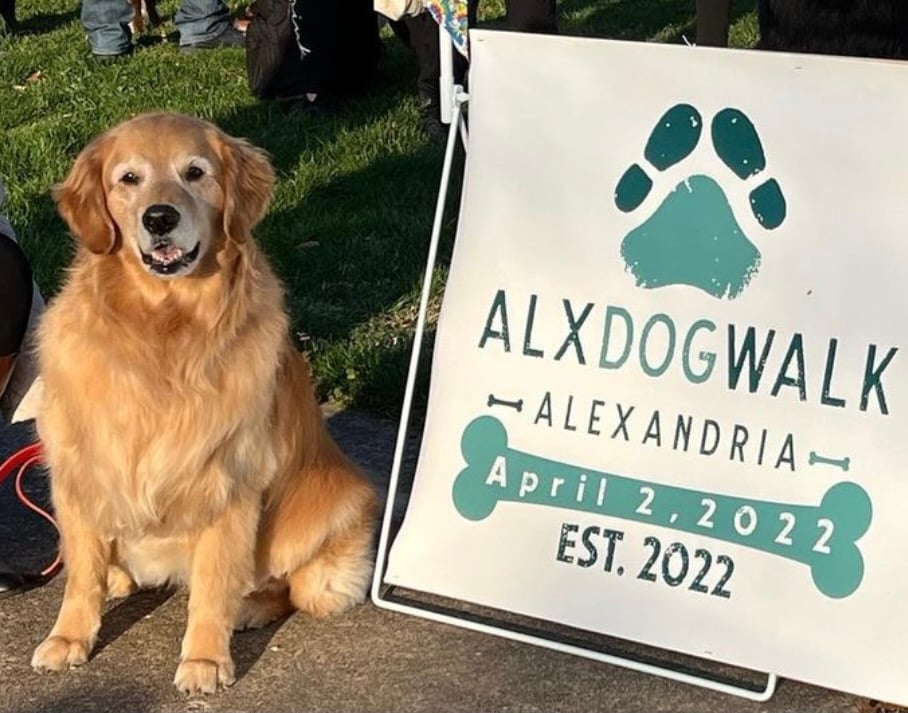 Tell us a bit about your own dogs: their names, what breeds, what are their favorite things to do?
We're a Golden Retriever family as we enjoy their fun-loving and friendly dispositions. Kirby, our four year-old English Cream Golden retriever, has a sensitive personality and wants close companionship…always. While our dogs look identical, Kirby always has a stuffed animal, sock or shoe in his mouth. Indy, our 7-year old English Cream, loves to compete for attention, bones, and food—his appetite is insatiable, and we've learned to be very watchful of food placed on the counter!
You are a Robinson Landing resident. Why did you decide to return to Old Town and choose this community?
We raised our kids in the suburbs while keeping an eye on the possibility of retiring in a walkable, friendly and community-focused city like Old Town. When we learned about the Robinson Landing community, we fell in love with the idea of living near the Potomac River and being within walking distance to shops, restaurants, museums, theatre and more. We also love our elevator!
What do you like most about living at Robinson Landing?
First, the location of Robinson Landing on the waterfront appeals to us a great deal. Second, moving into a brand new community provides a unique opportunity to meet neighbors experiencing similar lifestyle changes, and we've formed a close-knit community. Third, our homes have the latest smart technology which we love. Finally, Robinson Landing homeowners association offers homeowners many interesting activities from book clubs and guest speakers to concerts on the pier. We're also lucky to have two beautiful restaurants to enjoy at our fingertips—BARCA Pier & Wine Bar and Ada's on the River.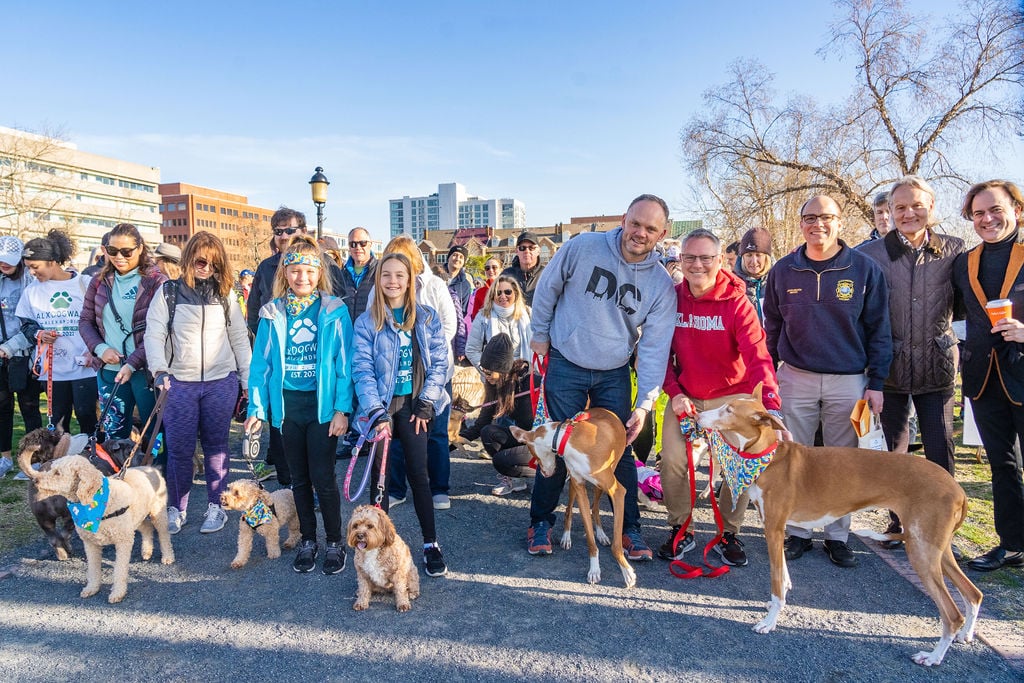 If people would like to sponsor/donate to the walk, or sign up with their pup, where can they do so?
Registration for the April 29, 2023 ALX Dog Walk is now open, and people can register at www.alxdogwalk.com/register. The dog walk also provides an outstanding platform for companies to demonstrate their interest in plastic-free and sustainable living. To learn more about our sponsor opportunities, please send an email to: bestfriends@alxdogwalk.com. You can also follow us at @alxdogwalk on Instagram, Facebook and Twitter and share our posts to help us expand our educational messages and achieve our mission.
We look forward to seeing you and your pups at this year's walk!
Photo credits: The Zebra Press