A lot has changed in 2020, including how people shop for and purchase homes. Today's technology offers home shoppers the ability to take virtual tours of model homes, chat directly with sales managers via video calls and complete the purchasing process online. All done from the comfort of your home.
Read on to learn more about our online tools and virtual appointments that make shopping for a home safe, easy and convenient. Whether you're more comfortable with video chats, phone calls, texts, or emails, we're just a call, tap, or click away.
Online Tools for Home Shopping
For many, the home shopping process begins online. Whether you prefer to view floorplans and photos or take a virtual tour of the model home, check out the online resources available to learn more about our current communities.

The Townhomes at Reston Station
New townhomes in Reston, VA steps from the Wiehle-Reston East metro
Priced from the upper $700s, elevator townhomes from the upper $900s

Schedule an Appointment
Phone: 703-215-2641

The Townhomes at Michigan Park
New townhomes in Northeast DC, moments to Brookland metro
Priced from the $700s

Schedule an Appointment
Phone: 202-960-1550

Riggs Park Place
New townhomes in Northeast DC, moments to Fort Totten metro
Priced from the $600s

Schedule an Appointment
Phone: 202-335-6031

Robinson Landing
New condominiums along the waterfront in Old Town Alexandria
Priced from $1.25 million
Schedule an Appointment
Phone: 703-596-0680

Tower Oaks
New townhomes in Rockville, MD (elevator options available)

Priced from the $800s
Schedule an Appointment
Phone: 301-615-1900

EYA Townhomes at Cabin John Village
New townhomes in Potomac, MD
Priced from the mid $900s, with elevator option from $1.25 million
Schedule an Appointment
Phone: 301-615-1800
---
Hear what EYA homeowners have to say
View our Video Gallery
---
Virtual Appointments
After browsing online, perhaps you are ready to learn more and would like to speak with a sales manager. We have both in-person and virtual appointments available for your convenience.

But what does a virtual appointment mean?
A virtual appointment operates the same way as an in-person appointment, except for one thing – you'll be participating from the convenience of your own home. Just as always, our sales managers are ready to answer any questions, provide information, and support you through your home buying journey.


The way it works: We'll coordinate with you to schedule a meeting and then email you a link to connect. It's that simple to hop on a scheduled video chat via Zoom, Skype, or any preferred video chat service. And then we will use that time much the same as we would during an in-person appointment. Depending on where you are in the homebuying process, we will explore your specific interests, needs, and questions. We can review floorplans together, discuss contract information, talk over options, and more. We can also lead you through a virtual tour and email links to any other information you may want to review.
"The virtual process has been amazing and extremely efficient for everyone involved. We are able to cover everything a prospective buyer needs to know in order to make an educated purchasing decision in an easy, safe, and comfortable way," says Matthew McGinley, Sales Manager at Riggs Park Place.
To book a virtual appointment, you can follow the same path as you would for an in-person appointment. Choose which neighborhood you would like to learn more about, fill out the online form, and you will receive a confirmation from a sales manager, during which time they will work with you to schedule your virtual appointment for a time that works best for you.
For those wondering if virtual appointments will be as comprehensive as in-person appointments, Nadia Purvis, Sales Associate at Riggs Park Place, commented on the tools EYA has in place to guarantee just that.
"Using Zoom coupled with our virtual reality tour have been brilliant tools during this time. Folks are able to browse through a virtual model home with ease and better imagine the finishes inside a new home at Riggs Park Place. Realtors are also able to easily join virtual meetings alongside their clients. It's great because everyone gets to learn about the homes and stay informed throughout the process. It's also a great way for realtors to preview the homes for their clients that are interested in the project."
For those apprehensive on the virtual buying process, McGinley added, "I was surprised just how easy it has become being able to conduct a full meeting over video. Being able to share my screen allows me to talk through and access all the same tools I would use during an in-person meeting. For those unsure about the process, I would say, 'don't knock it until you try it!' Give it a try, you may be surprised about how much you can learn during one of our Zoom meetings."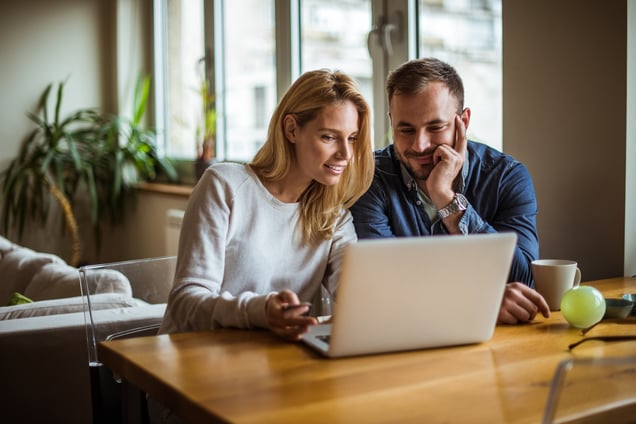 Prefer an in-person appointment?
Our priorities remain the health, well-being, and safety of our team, homeowners, neighbors, and community and we have redesigned our sales centers for safety and social distancing. The new design of the sales centers has been thoughtfully reconfigured to ensure a seamless appointment. Each sales center is now divided into two zones: a sales manager zone and a guest zone. They also feature new 6-foot wide tables with seats on each side to ensure safe social distancing during meetings, strategically placed monitors, and displays for optimal viewing. All visitors must bring and wear their own face covering for the entire duration of the appointment.
Click here to learn more about our safety protocols for in-person meetings.
No matter what stage of the process you're in, we are here for you to answer all of your questions, provide information, and support you through your home buying journey.